Bright fiery colors, sunbeams breaking through the dust, stones of bizarre forms: by this description, many travelers will guess, that it is Antelope Canyon, located in the United States. Today's article from Travellizy is about what to expect from this attraction and whether there are any alternatives.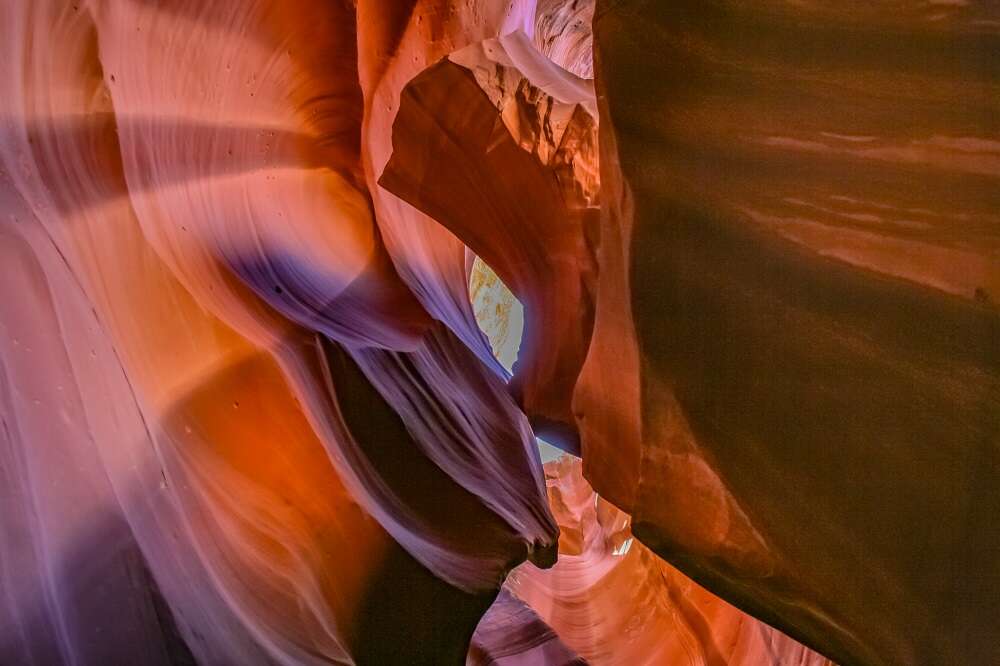 Navajo people
Antelope Canyon is located in northeastern Arizona (southwestern United States), on lands that belong to the Navajo Indians. The huge reservation area of 70,000 km² can be compared with the size of Ireland or the Czech Republic.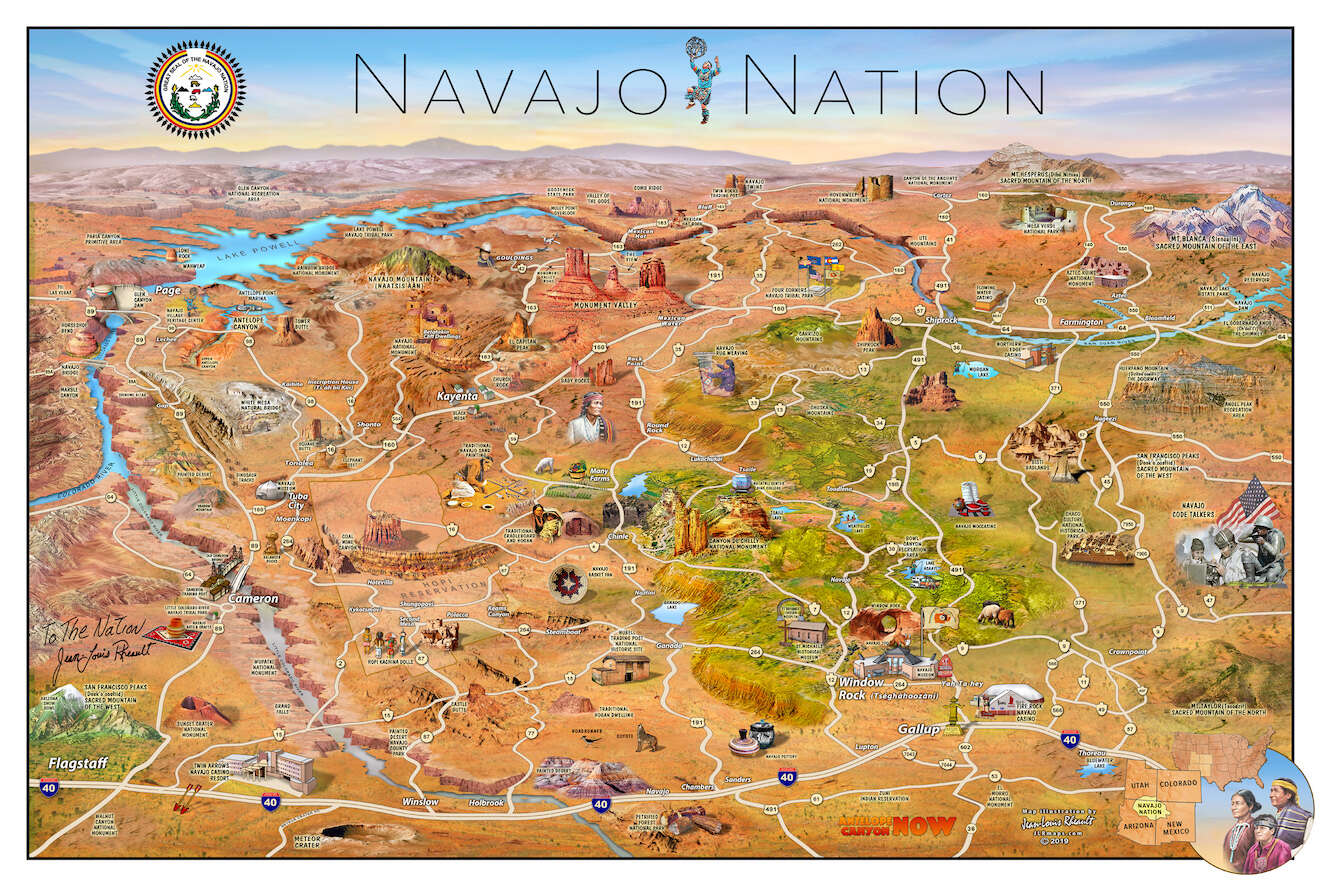 Photo from jlrmaps 
The main part of the Navajo reservation is occupied by dry prairies and rocks in the territory of three states at once: Utah, Arizona, New Mexico.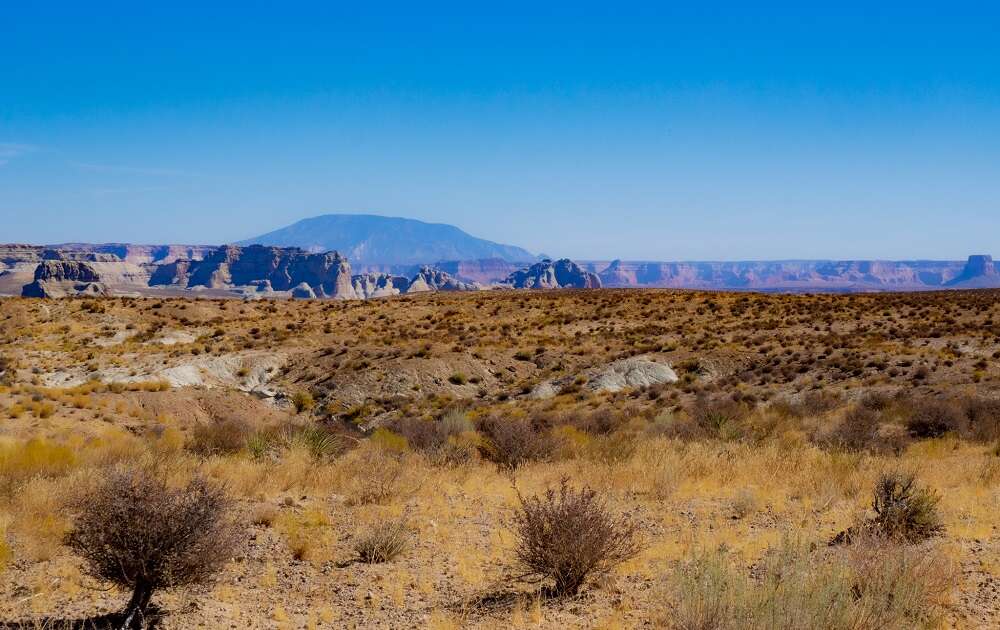 Reservation status guarantees many privileges to Navajo people. They have their own government, police, administration. Living on lands without Indian blood is only possible, if work requires it. Most often, such outsiders are health workers and teachers. The remaining posts are occupied by Native Indians and their descendants.
Slot canyon
Antelope Canyon is part of a group of geographic objects called slot canyons. The main features of this miracle of nature are a narrow crevice and high walls. For thousands of years, water has passed through stones, expanding cracks - this is how slot canyons were formed.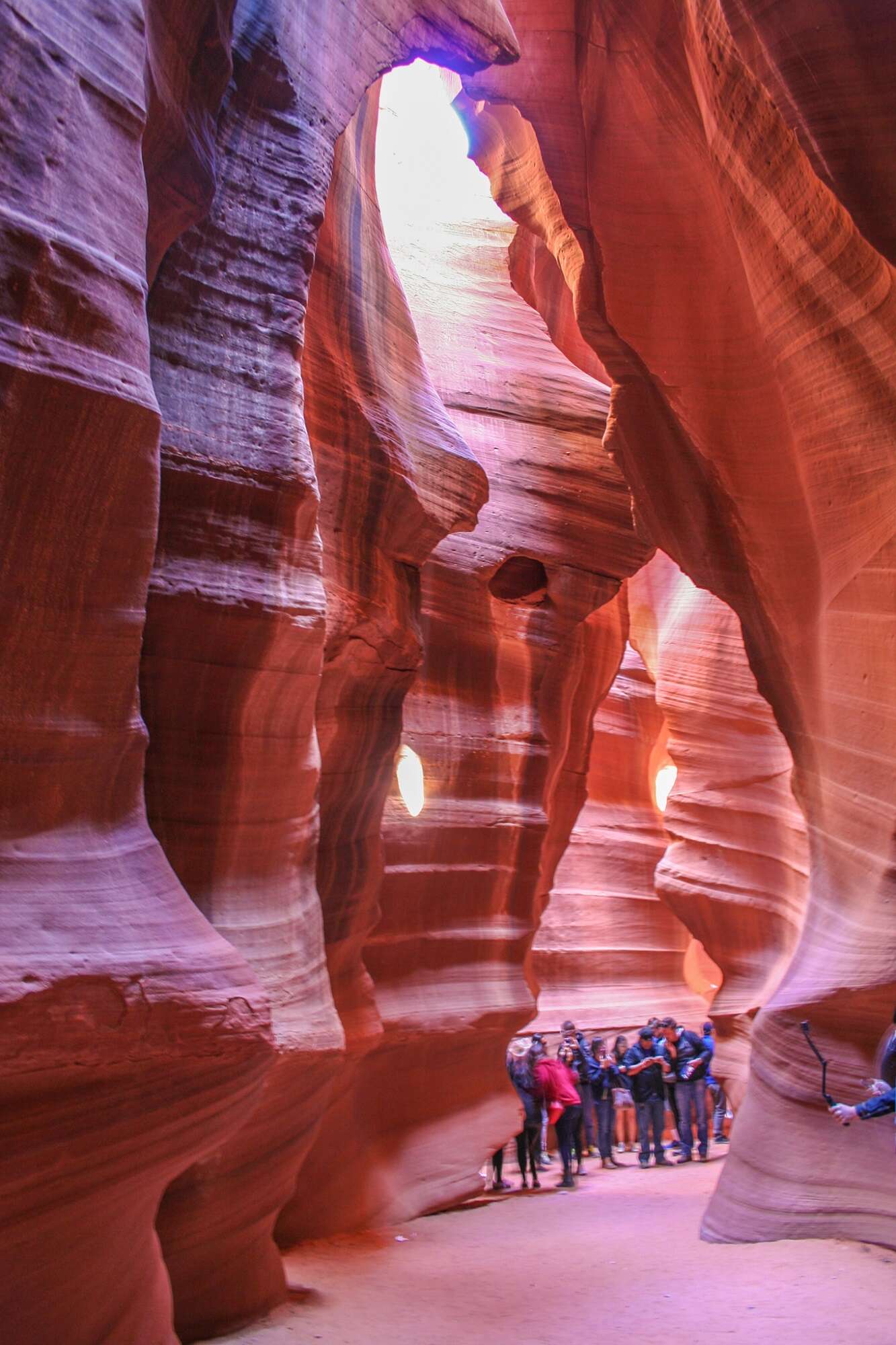 Antelope Canyon is not the only one in the region corresponding to this name. But thanks to marketing and a convenient location, it has become super-popular, overshadowing other equally beautiful slot canyons. A list with many alternatives can be found at the end of this article.
City of Page 
Most of the tourists visiting these places stop in Page, located on the shores of Lake Powell, bordering Utah.
A small town, where all the attractions are connected with natural beauties, provides food and accommodation for almost all travelers, who explore this part of Arizona. It is located on the border of Utah.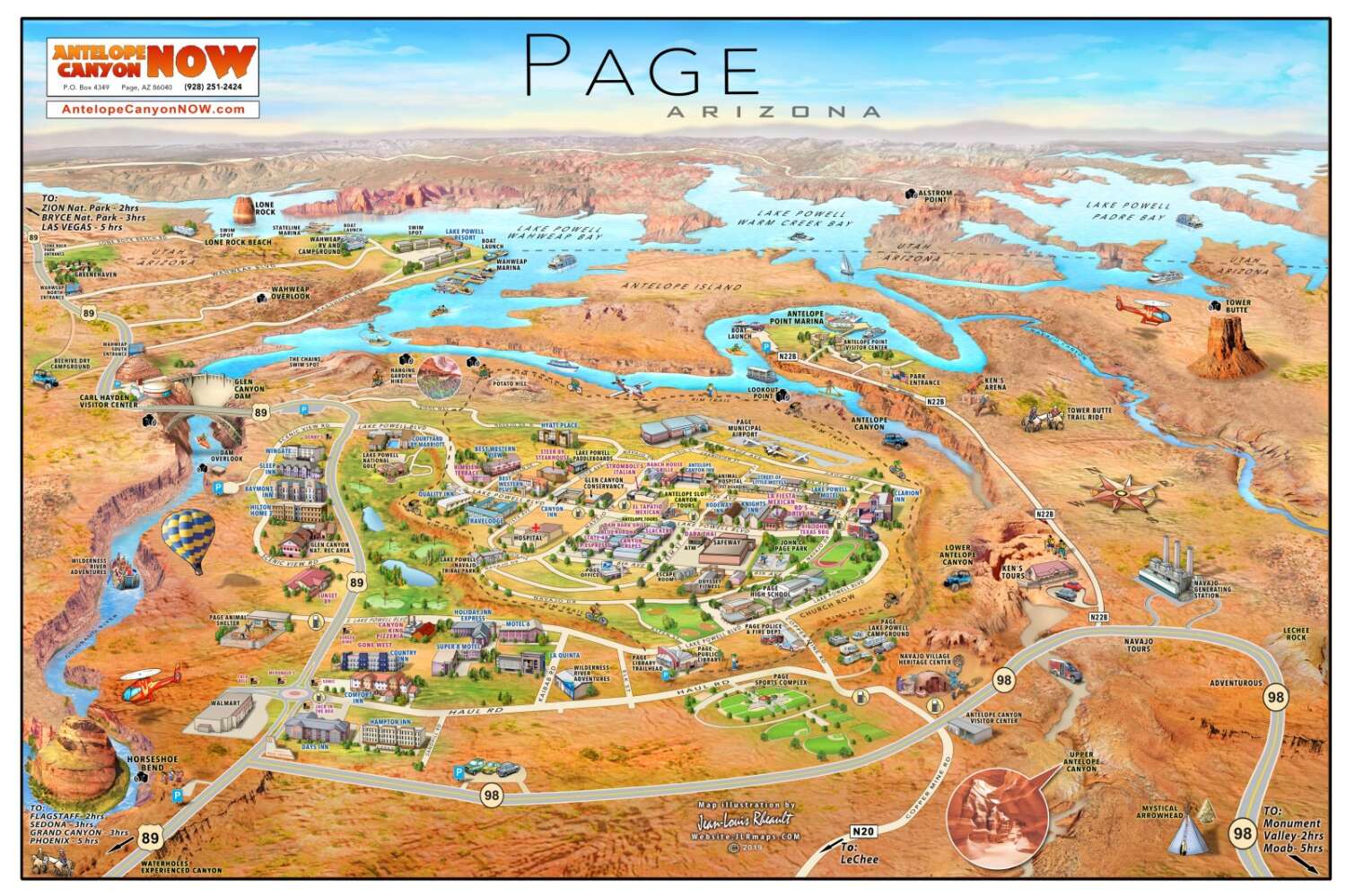 Photo from jlrmaps
To get here from Las Vegas, you must overcome 450 km. Another major city you can come from is Los Angeles, but the road will take you at least eight hours (almost 900 km) through endless deserts.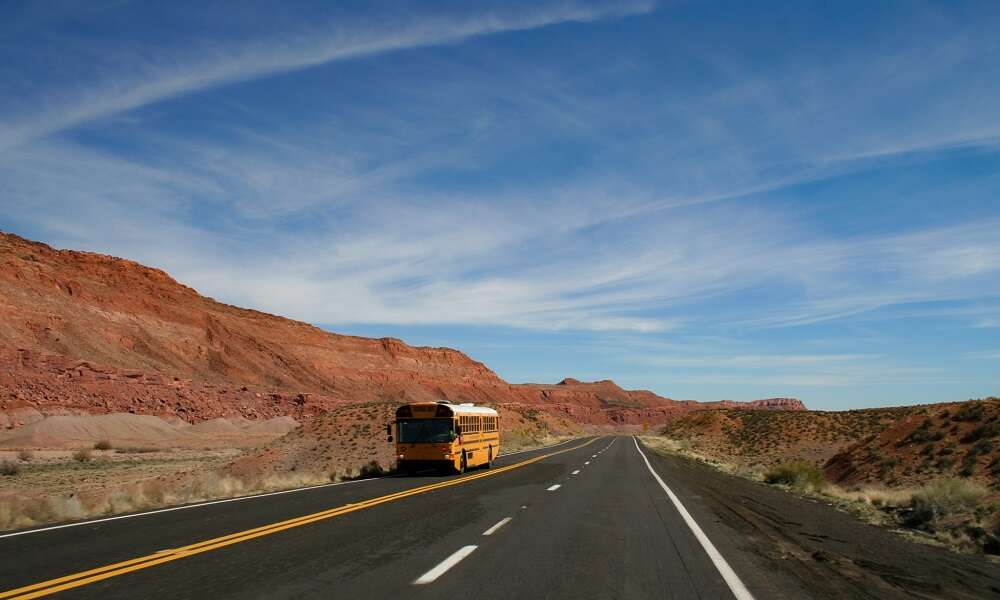 There are many motels and restaurants in Page, but expecting a super-service will be naive: it is customary to earn money on tourists.
Status of the Holy Land 
Antelope Canyon received the official status of a sacred place of the Navajo tribe in 1997. Every four years, a blessing ritual is held here to express gratitude to nature for creating such an amazing and beautiful place. Being here, you may not litter, drink alcohol, eat and behave disrespectfully towards nature. Smoking is impossible too, although the Indian guides smoke, waiting for the group.
The name should not mislead you: you will not be able to see the antelopes. But in these parts, there are indeed pronghorns: large red-headed artiodactyls with the size of a roe deer. This is an endangered species, so it is very rare to see it. Pronghorn is the fastest land animal in North America.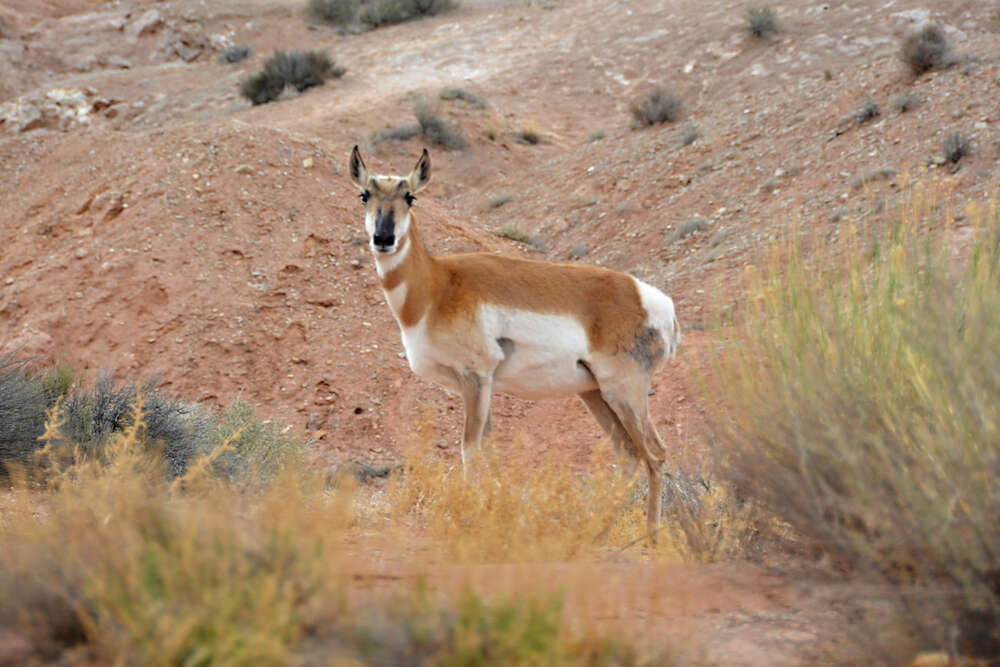 Two entrances to one canyon
Tours to Antelope Canyon start at two different places. The first option is Lower Canyon: you leave your car here, wait for the group and go with a guide.
The second option is Upper Canyon. To get to its entrance on your own transport will not work. You must leave your vehicle in the parking lot and wait until a special car is filled with tourists, which will bring you to the canyon.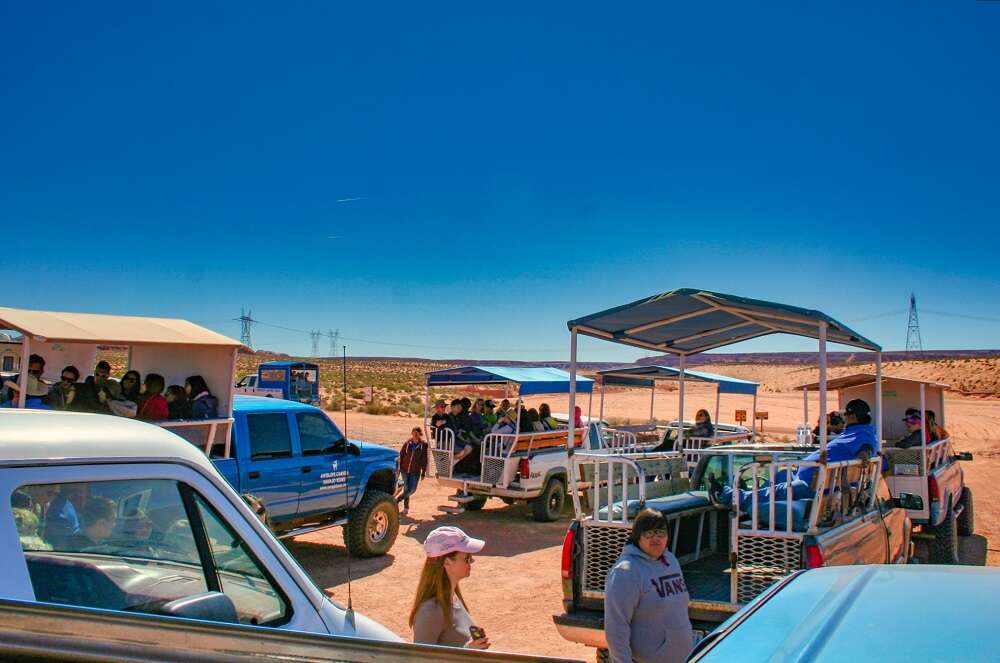 There are no seat belts, just like no roads. So get ready to hold on tightly to the seat, when you are tossed about on numerous bumps and potholes. If pregnant women travel with you, it is better to choose the option without a trip by car. The same applies to those with back pain.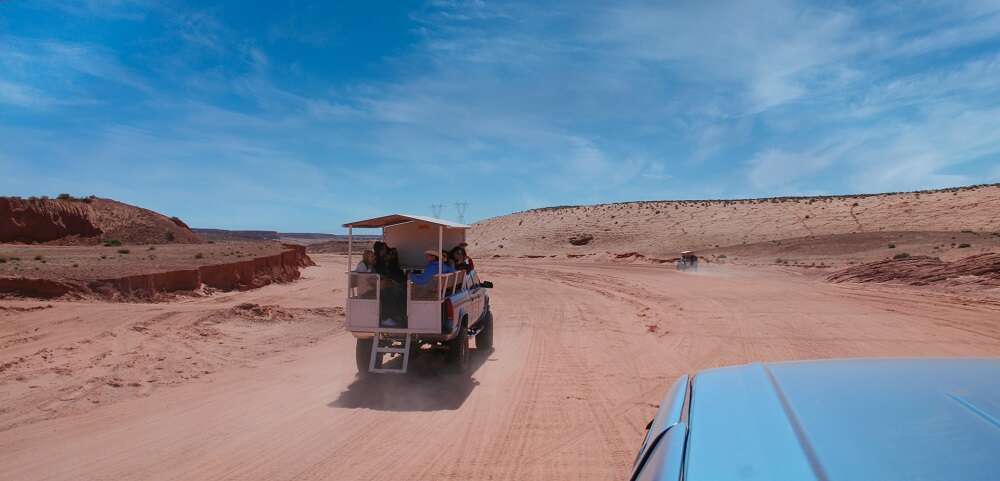 When choosing which canyon to visit, your wishes and your willingness to spend a more or less significant amount are taken into account. Upper Antelope Canyon is easier in terms of walking: there are no ups or downs. In Lower Antelope Canyon, you have to make little effort to get through the stones.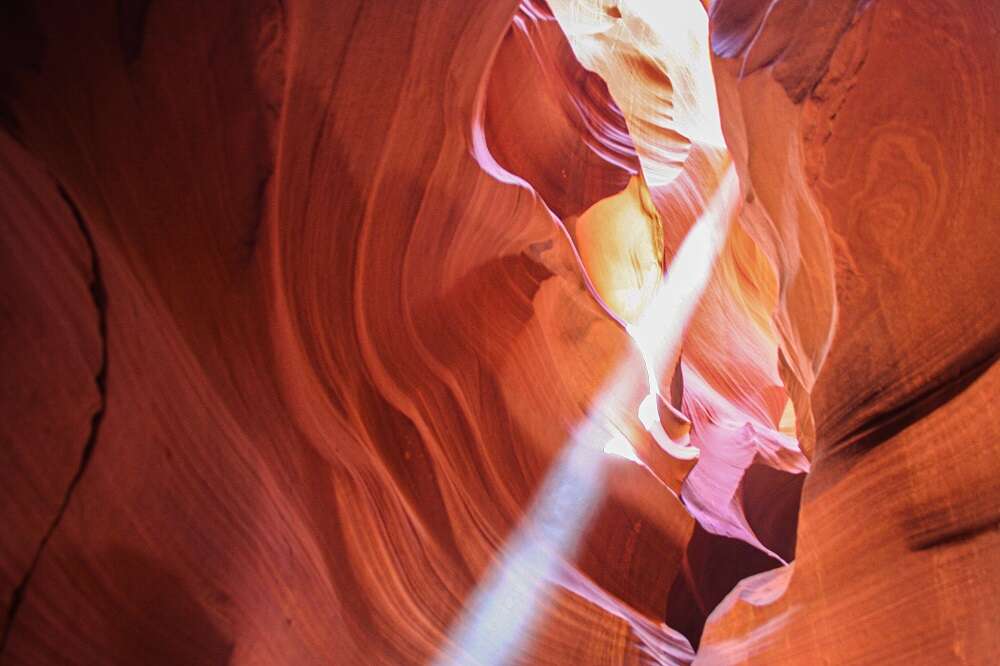 The length of Upper Canyon is 200 meters, Lower Canyon - 407 meters. In both canyons, the duration of the tour for photographers is 2 hours, a regular tour lasts 1 hour 15 minutes, a maximum of 1.5 hours.
In order for the dust to get on camera, the guide uses a small scoop and throws it up. At this time, you must click the shutter as quickly as possible.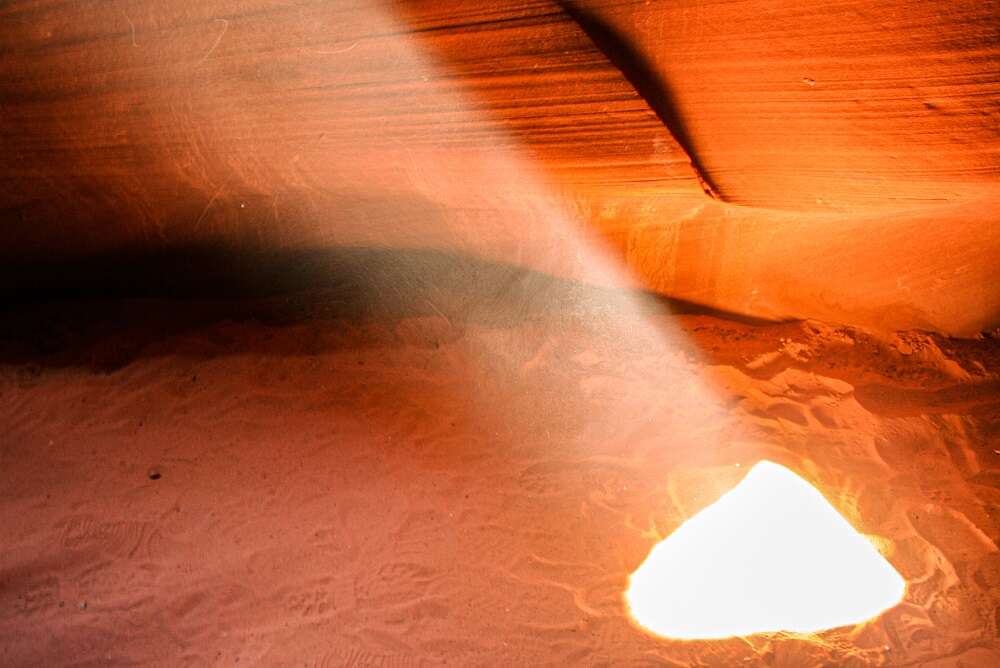 For those who paid for the photo tour, the guide provides an additional service: yelling at other groups so that they do not linger and step out of the shot as soon as possible.
Preliminary planning
Independent visits to the canyon have been prohibited since 1997. Everyone who wants to visit this place must pay a tour. When choosing a date and time, make sure you consider the weather and position of the sun. One day before the visit, check the status of your reservation, as it can be canceled. In this case, it is necessary to postpone the visit to another day.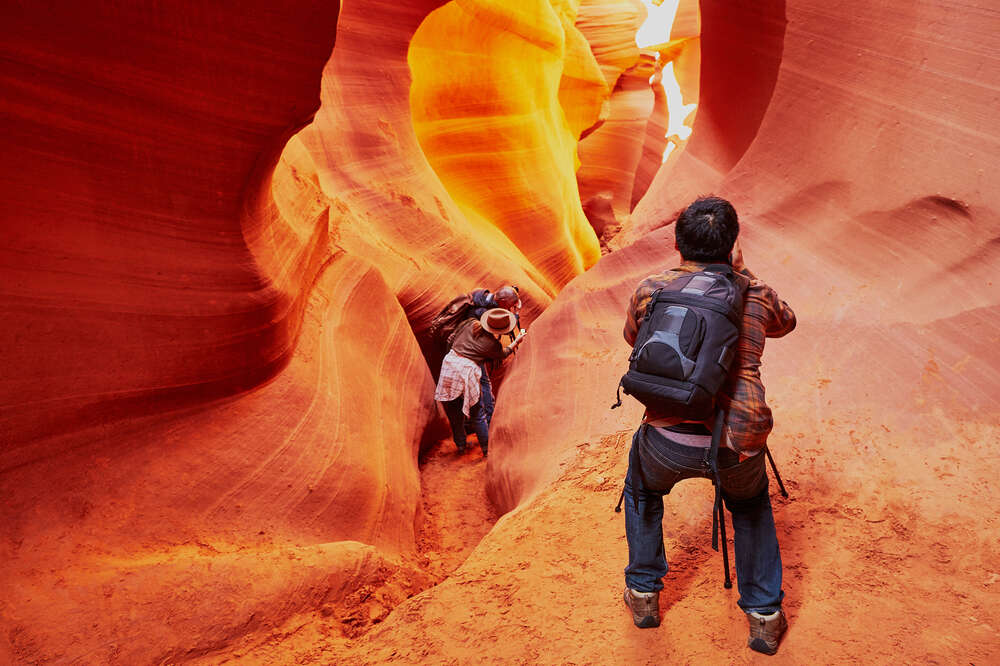 It's not so easy to see the famous sunbeams breaking through the dust. You need to be in the canyon at a certain season (the period from May to September is recommended), in addition, at a certain time from 11:30 to 12:30 in the Upper Canyon, and from 12:30 to 13:30 in the Lower Canyon.
If you made the decision to visit it at the last moment without booking a place on the tour, be prepared to spend several hours waiting in the parking lot.
Before arriving at the place, make sure you check the local time: not all areas of Arizona observe Daylight Savings Time. Therefore, focusing on smartphones is necessary taking into account local traditions.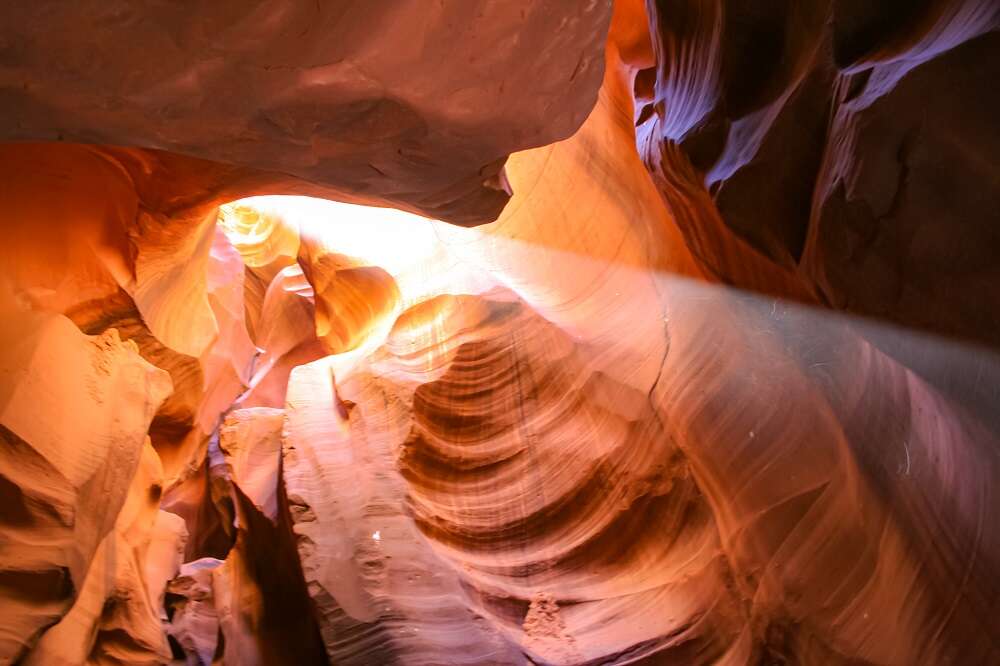 On cloudy winter days, the canyon loses its beauty and does not make a special impression by its color scheme. But cheer up: filters in graphic editors add colors and impress your friends and relatives!
Risks and precautionary measures
In general, visiting the canyon is available to guests with any level of physical fitness. The exception is people who use strollers, or with other restrictions on movement: narrow corridors can hardly accommodate groups of tourists slowly walking in one direction. It is impossible to turn around and go in the opposite direction.
It is also better to refuse this excursion, if you have the fear of confined spaces.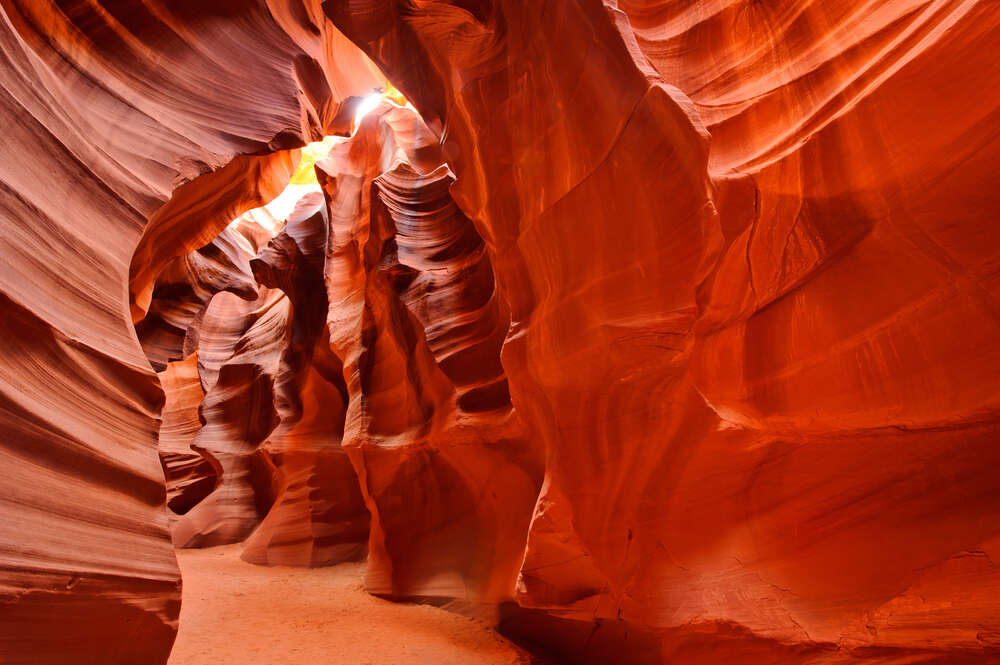 But the greatest danger is not obvious to many guests: flash floods. How unpredictable flooding in Arizona can be is shown in an amateur video made in 2013:
Antelope Canyon is associated with a disaster that killed 11 people. In August 1997, two groups of tourists examined the canyon and took photographs. Despite the fact that the meteorological forecast was made in advance and the water had already leaked into the canyon, the guide decided to conduct a tour. Meanwhile, a powerful downpour took place 25 kilometers away from the place of the excursion. Streams of rain quickly overcame this distance along the channel and a powerful wall of muddy red water flooded the narrow crevice of Antelope Canyon in just 3-4 minutes. Only one participant out of 12 survived, and some bodies were never found: they were carried away by the current. The legal proceedings did not result in any penalties or fines, but a memorial sign was placed honored to the dead tourists.
After this tragic incident, great care is taken in rainy weather in Antelope Canyon. Safety standards were revised: now, if it rains in the area, tours are canceled. In order to facilitate exit from the canyon for visitors during emergency situations, a ladder with handrails was installed.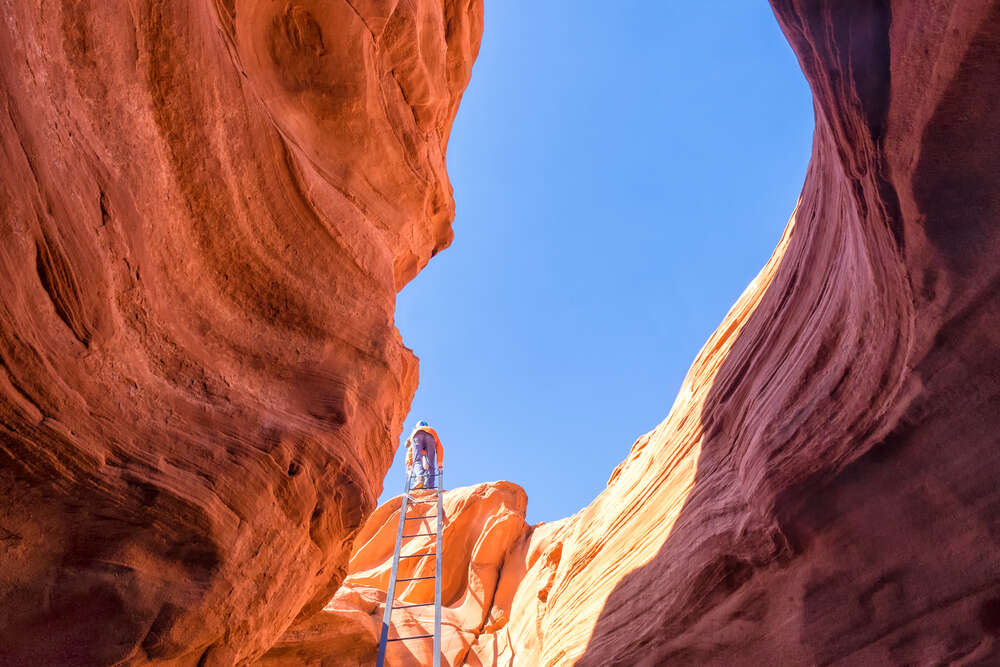 Despite the fact that the guides are specially trained, try to pay attention to the weather conditions on the spot, as not all accompanying guides speak English well and understand foreign accents.
On this tour, you will need comfortable closed-toe shoes. Clothes should be selected depending on the season and weather. It may snow here in the winter, and the temperature drops to 6-10 ° C. A hat, sunscreen and a bottle of water are required in the summer.
Personal items
Make sure to check in advance, whether you may take a backpack and other personal items with you on a tour. Sometimes, when a lot of people gather in the canyon, the guides allow you to take only a bottle of water with you. But since the tours are carried out by different operators, it is better to check with them.
Selfie sticks, tripods and lighting kit for taking photographs can only be carried with, if you have paid for the photo tour.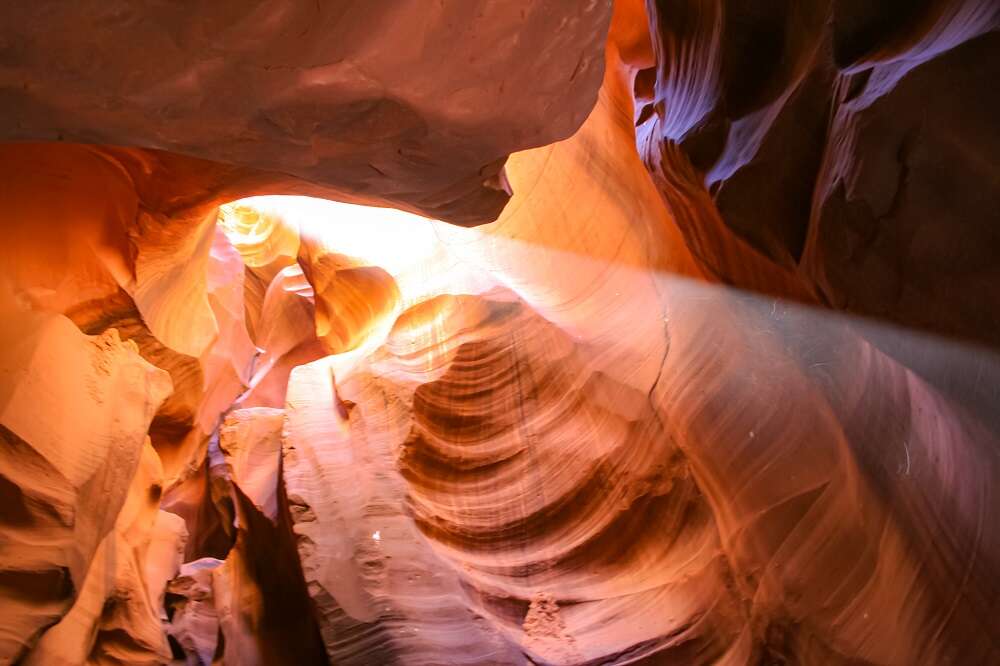 Other canyons - choose according to your preferences!
If you want to see other options for slot canyons and regular canyons in this region, there are more than twenty options at your service. You can enjoy the same red-fiery colors, high walls and bizarre rocks, but without a crowd and a race against time.
For your convenience, we have grouped the canyons by the states in which they are located. Detailed information about each place must be searched on the Internet, but the rules for visiting are about the same: local guides, security, planning. Here is a good website for getting such information.
Each of these options has its own nuances: complexity, route duration, remoteness and inaccessibility. Thanks to many videos on Youtube, you can see in advance what to expect.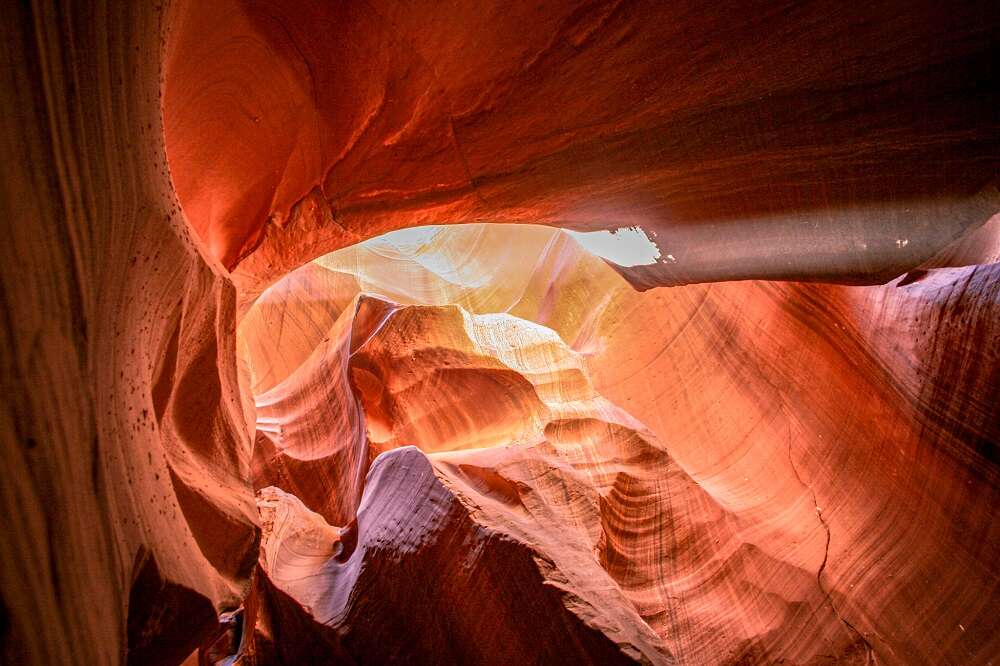 Alternatives in Arizona
- Cardiac Canyon
- Rattlesnake Canyon 
- Mountain Sheep Canyon
- Water Holes slot canyon
- Hike Cathedral Canyon
- Upper Waterholes Canyon
- Owl Canyon 
- Antelope Canyon X
- Rams Head Canyon
- Wind Pebble Canyon
- Navajo Slot Canyon
- Secret Canyon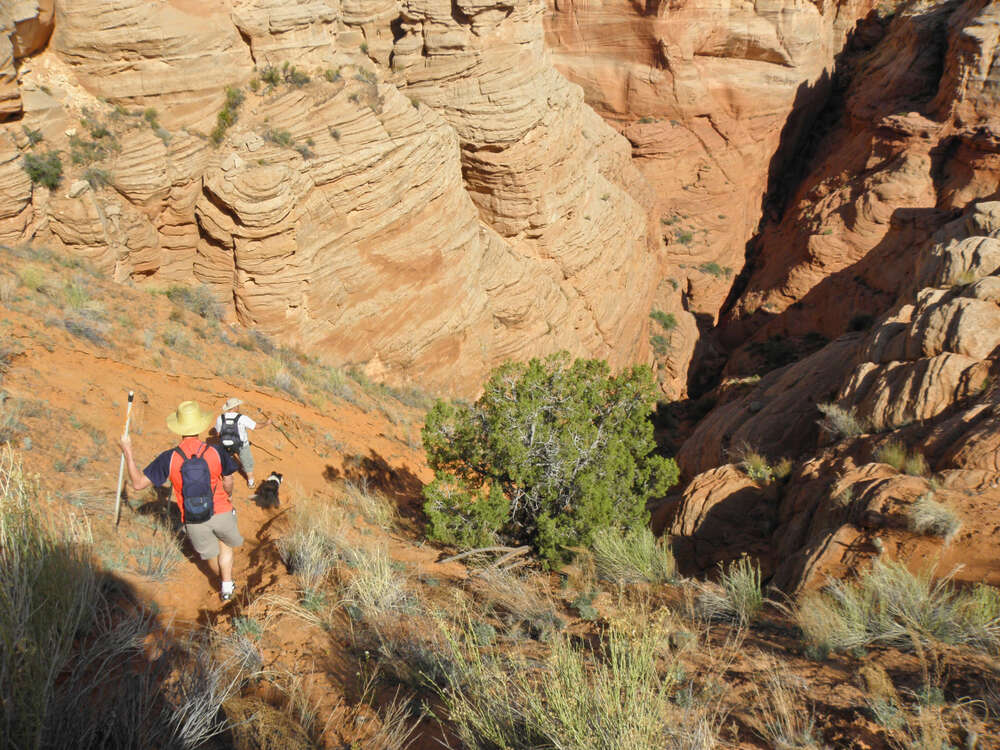 In Utah: 
- Wire Pass Trailhead, Buckskin Gulch 
- Little Wild Horse
- Red Canyon
- Zebra Canyon
- Long Canyon
- Peek-A-Boo Gulch
- Kanarra Creek
- Willis Creek
- Zion Narrows 
- Spring Creek Canyon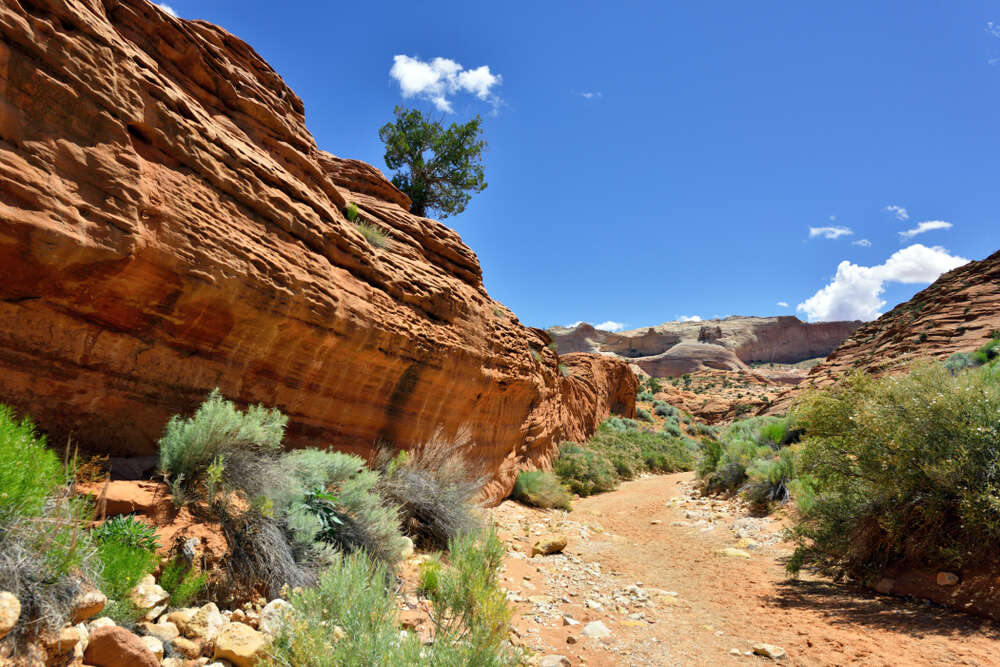 In Nevada:
- Pastel Canyon, or Pink Canyon
- White Domes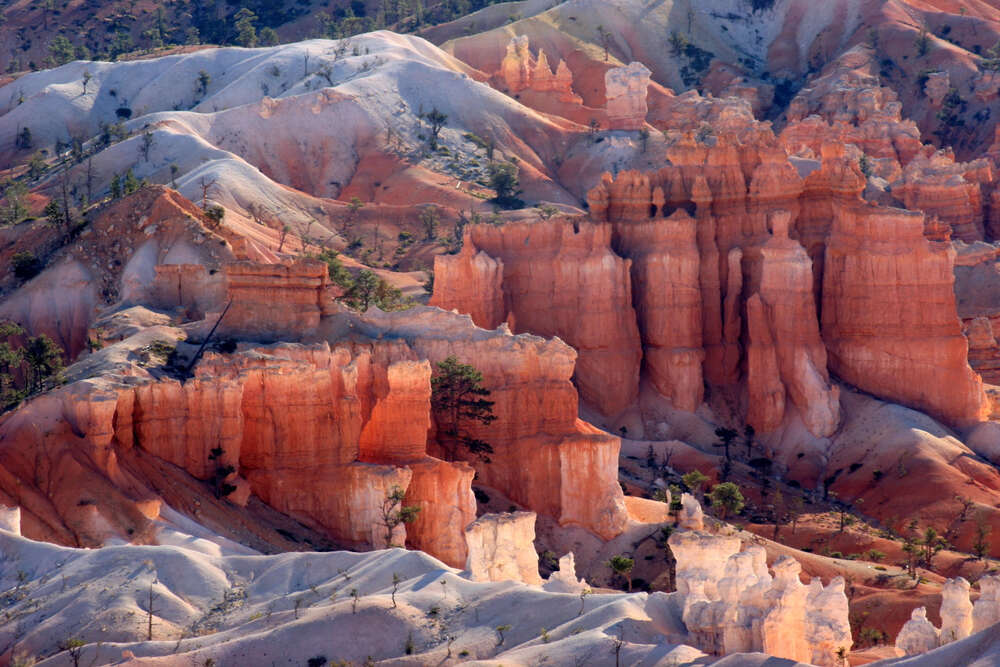 Payments and prices
As we have already mentioned, these lands belong to the Indian community. Accordingly, visitor tickets to the National Parks do not apply here. The cost of the tour is from $ 80 per person for visiting the Upper Antelope Canyon, the Lower Canyon is cheaper. A photo tour costs from $ 130 per person.
We recommend taking cash with you to pay for tours, as Navajo people refuse to accept bank cards sometimes.
Route logistics
A visit to Antelope Canyon is often combined with a trip to the North Rim of Grand Canyon or Monument Valley.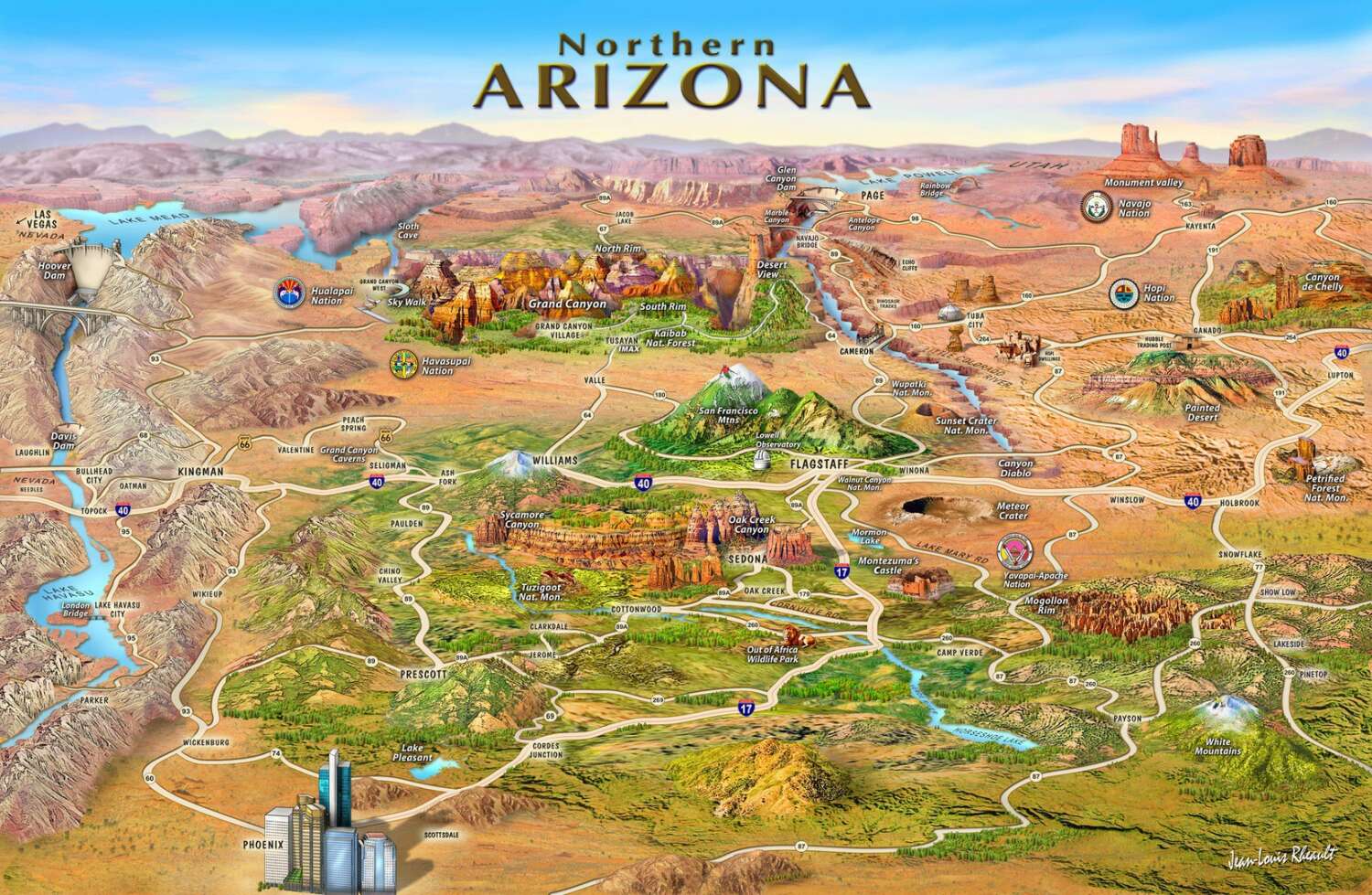 Photo from jlrmaps
Our recommendations for visiting Grand Canyon can be found here. Arizona is a large state with many attractions. Travellizy Team is always ready to help you plan a trip to such beautiful places!