Autumn Weather for Austria
• Autumn averages +9-12° С / humidity 80%
• highest was +30°С 
• lowest was -15°С 
• expected – +7-10°С
Early autumn is still sunny and warm, almost no rain. It becomes cold and gloomy in October. First snow falls in the Alps. In November it is usually cloudy, very cold and damp at nights. Heavy rains are in the west of Austria.
Downtime in Austria in Autumn
September is still high season in Austria, while the rest of the months are low season time. There are less tourists in autumn, it is easier to find cheaper hotel rooms you like. Prices for leisure and entertainment are reasonable.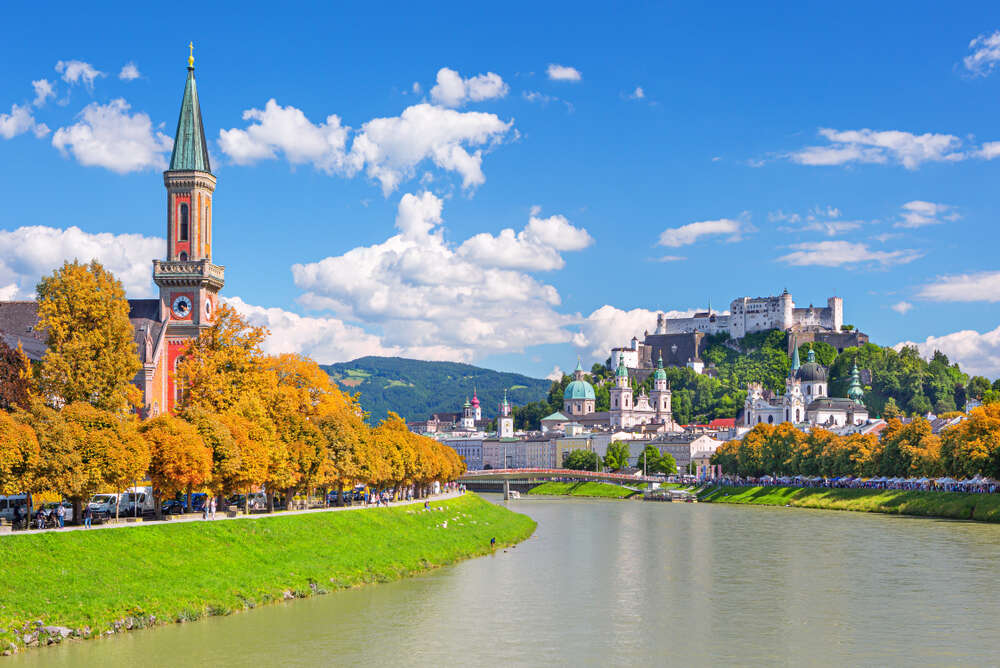 Mountain biking is especially popular until mid-October. 
Several routes:
• Leutenberg Singletrail through mountain meadows, forest and rocks. Travel time: 30 minutes
o Ötztal Alps mountain range
• Blindsee Trail without artificial elements. Travel time: 1 hour
o Lechtal Alps mountain range
Join ecotourism in the first half of the season and visit:
• Rathaus Park on Rathauspark W, Vienna
• Mountain lake of Sameranger, Tyrol, not far from Innsbruck Airport
• Krimml Waterfalls, a few kilometers from the village of Krimml in Salzburg, on the border with Italy
The beginning of the ball season in the country falls on November 11, 11:11 am. An open-air ball is held on Graben Street, Vienna city. Participation is free, no dress code. 
Autumn is winemaking time and guests of the country visit the best Vienna cellars:
• Wine cellar in the Coburg Palais at 4 Coburgbastei. Tasting fee is ~€90 per person, covers 5 wines and a guided tour
• Schlumberger sparkling wine cellar at 39 Heiligenstädter Street. Tasting fee is ~€27 per person, covers 5 wines and a guided tour
• Villon Wine Cellar at 4 Habsburgergasse. Tasting fee is € 60, wine and guided tour 
Travelers go to the most beautiful and interesting cities of Austria:
• Steyr is a historic capital
• Linz is a city of modern art
• Graz is a city of design 
Some rush to Austria for the wedding of the dream. The cost of the service is ~€ 1900, it covers: 
• organizing a ceremony, place renting, musical accompaniment, photo shoot, buffet and transfer.
Make choice among the grand halls of the castles or open air ceremony, in the park or on the shore of the lakes. Popular venues are: 
• Leopoldskron Palace at 56-58Leopoldskronstraße, Salzburg
• Mondsee Lake with fabulous views of green meadows, mountain ranges and historic architecture
• Belvedere Palace at 27 Prinz Eugen-Straße, Vienna 
In the autumn tourists have a great time with children, visiting:
• Chocolate Museum at 5 Riesenradplatz, Vienna. Ticket fee is € 8. Workshops for children and adults are €21-70. Opening hours: Monday-Saturday, 9 am - 4 pm
• Archaeological Park Petronell-Carnuntum at 1 Hauptstraße, Carnuntum. Ticket price is €12, free for children under 11. Opening hours: March-November, 9 am - 5 pm
• House of Nature at 5 Museumspl, Salzburg. Opening hours: 9 am - 5 pm, day off is on December 25. Ticket fee is € 8.5, for children under 15 – € 6
Packing List Items
For early autumn take T-shirts, light dresses and sandals. Do not forget about the jacket with long sleeves, sneakers and jeans for the evening.
In the mid-season, especially in the mountains, a warm jacket, sweater and closed shoes are needed.  
To the ski resort take lip balm, sunscreen and nourishing cream.
Organize your own holiday, visit the majestic halls of the palaces and walk through the royal parks. Get to a huge ball for free. Ski and afterwards find a cozy wine cellar and arrange a delicious tasting. Book tickets to Austria – everything will be great!