October Weather for Austria
• October averages +8-15° С / humidity 80%
• highest was +20°С 
• lowest was -10°С 
• expected – +10°С
It is partly cloudy in October. There are often rains in the Alpine region. It is foggy and snows sometimes. In the east of the country is warm until mid-October.
Downtime in Austria in October
The off-season begins in Austria in October. Less tourists. Prices for hotels, sightseeing tours and entertainment are lower in comparison with the high season.
Events in October:
• Long Night of Museums throughout Austria in early October. Duration: from 6 pm to 1 am. Visit the Vienna museums on a single ticket for ~€ 13-15, fee covers free travel on special buses working during event hours
• Vienna Sparkling Wines Season opens in late October. Location: Ovalhalle, Arena 21 in the Museum Quarter at 1/5 Museumsplatz. Opening hours 4 pm - 9 pm. Entrance fee is~€ 20
• Salzburg Jazz Festival takes place at the end of October. Free admission. Location: 30 sites in the Old Town, among them:
o Salzburg State Theater at 22 Schwarzstraße 
o Event Pavilion Kavernen 1595 at 27-29 Gstättengasse 
o Republic Cultural Center at 2 Anton-Neumayr-Platz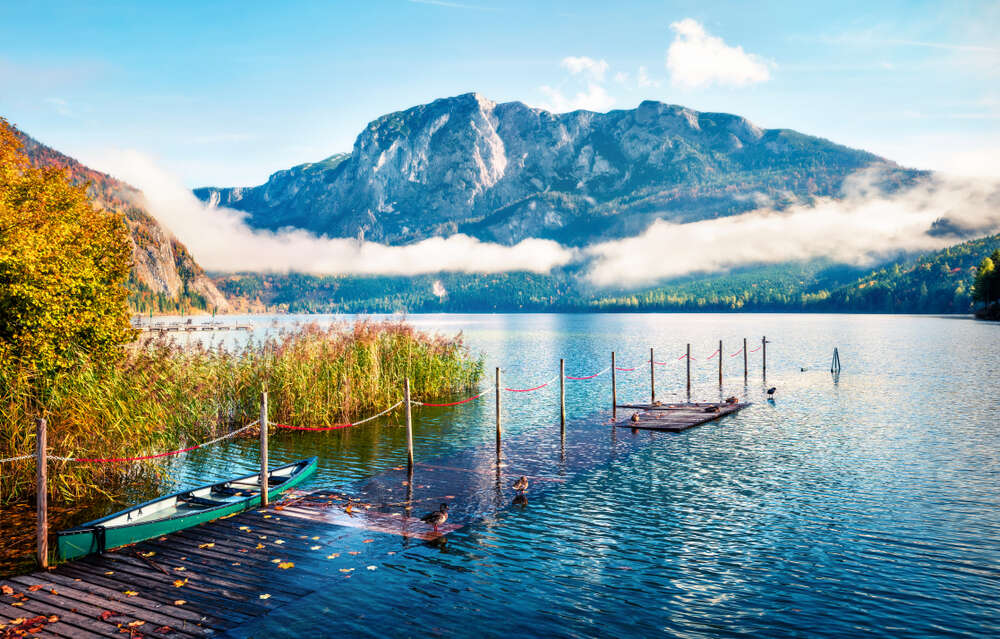 October is interesting by excursion programs, travelers like the castle of Herberstein in Styria. Ecotourists go to Tauern, the largest nature reserve. Lechtal Alps mountain biking is still popular till the mid of the month. Thermal resorts are in great demand.
Packing List Items
In the first half of October in Austria, one needs a coat, jackets with long sleeves, closed shoes and an umbrella.
In the second half of the month one needs warm clothes: warm jackets and sweaters.
In the mountains one needs winter clothes: a scarf, a hat and a winter jacket.
To visit a lot of museums for a night or taste sparkling wines in the capital, or maybe go to the wild nature and improve your health at the hot springs. What is on your mind? Buy tickets to Austria today!