Spring Weather for Austria
• Spring averages +10-15° С / humidity 60%
• highest was +25°С 
• lowest was -18°С 
• expected – +12-15°С
It is still rainy and cool in early spring. It becomes sunny and warm in the late of the season. Often avalanches are in the mountains due to the snow melting. High probability of flash floods.
Downtime in Austria in Spring
Spring in Austria is a low season with moderate tourist flow. High season starts at the second half of May. The end of the ski season. The beginning of the swimming season on the lakes of the country. Prices for entertainment, tours and accommodation are reasonable.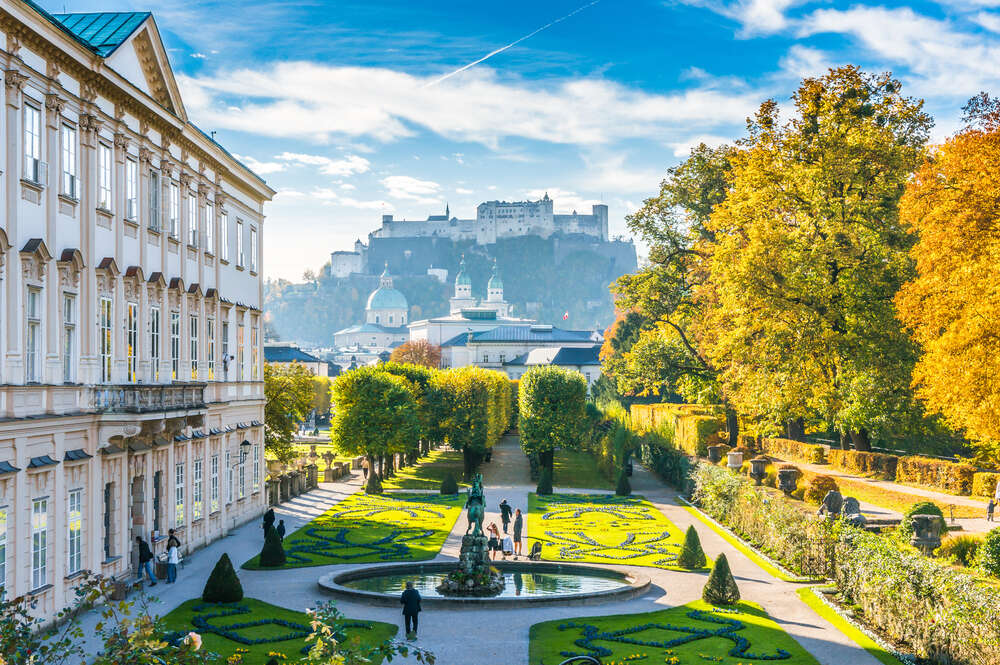 Vienna Art Festival Foto Wien lasts from the end of March to the end of April. It is held every two years. The main festival location: Museum Postsparkasse at 2 Georg-Coch-Platz. As a part of the event:
o Exhibitions and workshops
o Discussions
o Symposium
 Art Night im MQ event in Vienna on May 30th. Entry ticket is €15. Includes visits to three museums at 1 Museumsplatz: 
o Kunsthalle Contemporary Art Showroom. Tour starts at 8 pm
o Art Museum Leopold. Tour starts at 7:15 pm
o Museum of Contemporary Art Mumok. Tour starts at 6:30 pm
Panoramic High Mountain Road Grossglockner opens in May. It connects the lands of Carinthia and Salzburg and passes through the High Tauern National Park.
Road fee covers a parking place: € 35 for a car, € 25 for a motorcycle. 
Travelers choose the best lakes of Carinthia:
o The warmest lake is Klopeinersee. Hotel price 3* starts at € 50
o The largest lake is the Wörthersee. Hotel price 4* starts at € 80
o The most picturesque Alpine lake is Weissensee. Hotel price 4* starts at € 85 
Tourists visit unusual museums of the country:
o Salzburg exhibition hall of old airplanes "Hangar-7" at 7a Wilhelm-Spazier-Straße. Opening hours: Monday-Sunday, 9 am - 12 am. Free admission
o Vienna Museum of Illusions at 4Wallnerstraße. Opening hours: Monday-Sunday, 10 am-8 pm. Ticket price is € 12-30 
o Hinterbruhl Seegrotte Museum. Opening hours: Monday-Sunday, 9 am - 5 pm. Ticket price is € 12-33
In spring fans still go in for skiing in the ski resorts:
o Full ride on the Rettenbach and Tiefenbach glaciers in Sölden. 1-day ski pass is € 33-44
o Stubaital attracts by the Stubai glacier. 1-day ski pass is € 15-20
o Kaprun is famous for the Kitzsteinhorn glacier. 2-day ski pass is € 41-83 
Vienna attracts visitors to the country with special balls, such as:
o Bonbonball or Candy Ball
o Ball of Lawyers
o Spring Ball of Life, in support of people with disabilities
Locations in the capital:
o The Hofburg Imperial Residence on Michaelerkuppel
o Vienna Concerthaus at 20 Lothringerstraße 
o Coburg Palace at 4 Coburgbastei 
Ticket price: 
o € 155 includes a glass of champagne, no reservations
o € 215-385 covers reservations, a glass of champagne and snacks
o € 480-680 covers reservations, a glass of champagne and dinner 
Packing List Items
To the spring Austria take a coat, sweater and umbrella. In the evenings it will be cozy in a warm jacket.
To the spring ski resort, take: thermal underwear of pure synthetics, breath thin fleece jacket and sunscreen.
To the country lakes you need: swimwear, sun hat and sunglasses.
To a ball dress according to the dress code. Classic case:
o For women: full dress of silk, crepe or lace; white color only for debutantes
o For men: black tail-coat, trousers without turn-ups, white suspenders, silk bow tie
In spring one can get everything at reasonable price: skiing, and rest on the lakes, and the Austrian cities sights. No need to pay more! Book tickets to Austria in a good time!