Hurghada is an Egyptian city on the Red Sea coast and the country's second most popular resort after Sharm el Sheikh. Many tourists arrive in Hurghada with a package tour and leave the hotel only as part of an organized tour. But there are those who have lived in this city for several months, renting an apartment, buying food in the markets and visiting cafes for locals. If you belong to the second category, then you should know the best places to live, the best beaches, cafes and walking areas in order to get the most out of your stay in Hurghada.
Where to live in Hurghada
The choice of the area for living is very important, especially if you are not going to rent personal transport in Hurghada. The city stretches along the coast for several tens of kilometers, but only a few districts have developed infrastructure.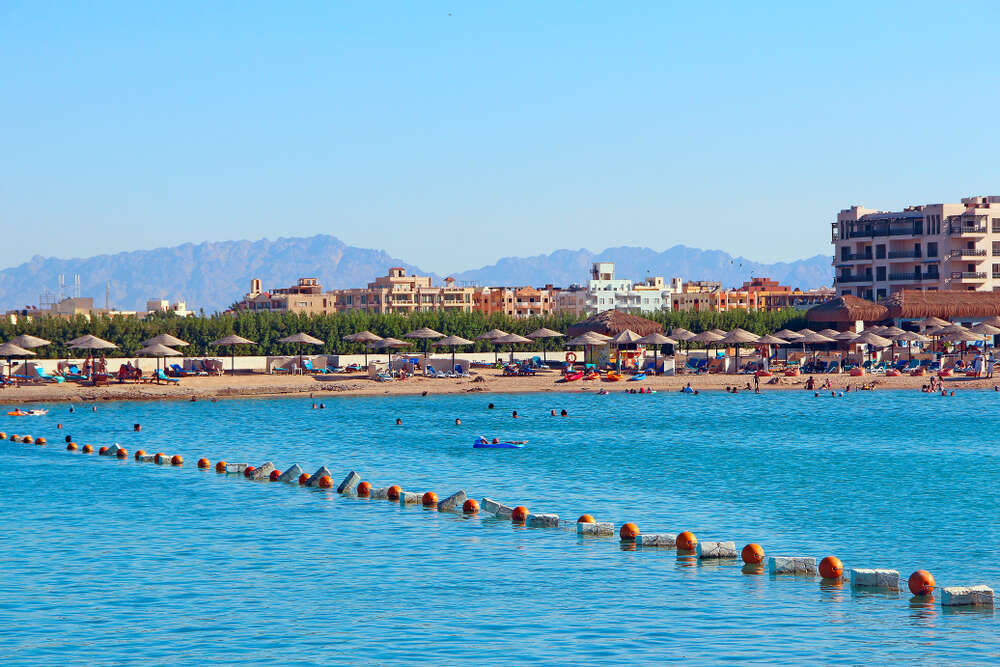 The El Dahar area is the oldest in Hurghada and the only one with a national color. Housing is cheaper here than in most central districts, but apartments are often "tired", reminiscent of our grandparents' apartments, furnished in Soviet style. Advantages: good infrastructure, many small shops and cafes, brand new shopping center Hurghada City Center within walking distance. Cons: there are few souvenir shops, it's noisy and dusty.
The Hurghada Marina area is the edge of the center of Hurghada. It is located very close to the busiest and most touristic places of the city, while it is fenced off with a high fence, and the entrance to the territory is prohibited for roaming strangers. A huge number of cafes, restaurants and shops are concentrated in the Marina, but the main advantage of the area is a long comfortable promenade along the sea. Housing is not cheap here.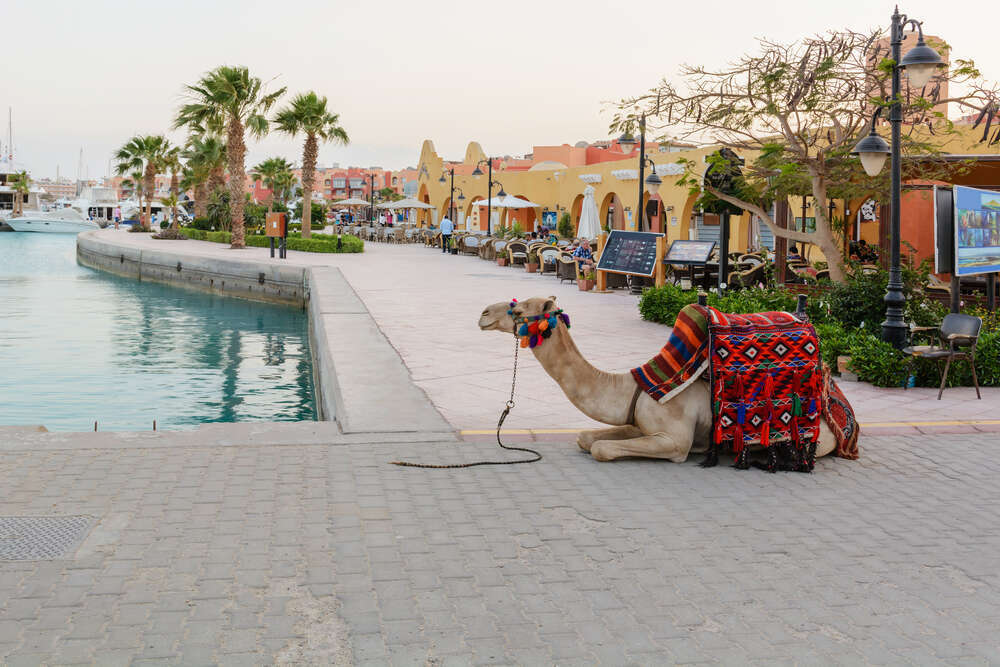 El Kawther is a perfect area, if the two most important criteria for you are an abundance of shops nearby and good beaches. Along the edge of the district, El Mamsha Street stretches for several kilometers. It's a wide promenade full of shops, shopping centers, restaurants and clubs. You can buy here everything you wish, from black cumin oil to a several meters high statue of a pharaoh. You can also party at the disco in the famous Little Buddha club, go shopping at the Esplanade Mall. Apartments in El Kawther are expensive, but the area is located right next to the airport.
The Sakkala area will appeal to those who like to settle in the midst of local life. This is a concentrated Hurghada with a huge number of local cafes, travel agencies, shops, hookah bars and street fruit stalls. The most significant minus of life in Sakkala is that at first literally everyone you meet will bother you with the offer of goods and services. But as soon as you become familiar and learn a couple of phrases in Arabic, they will wish you good morning and make discounts in local shops. Sherry pedestrian street is located within Sakkala with an increased concentration of cafes.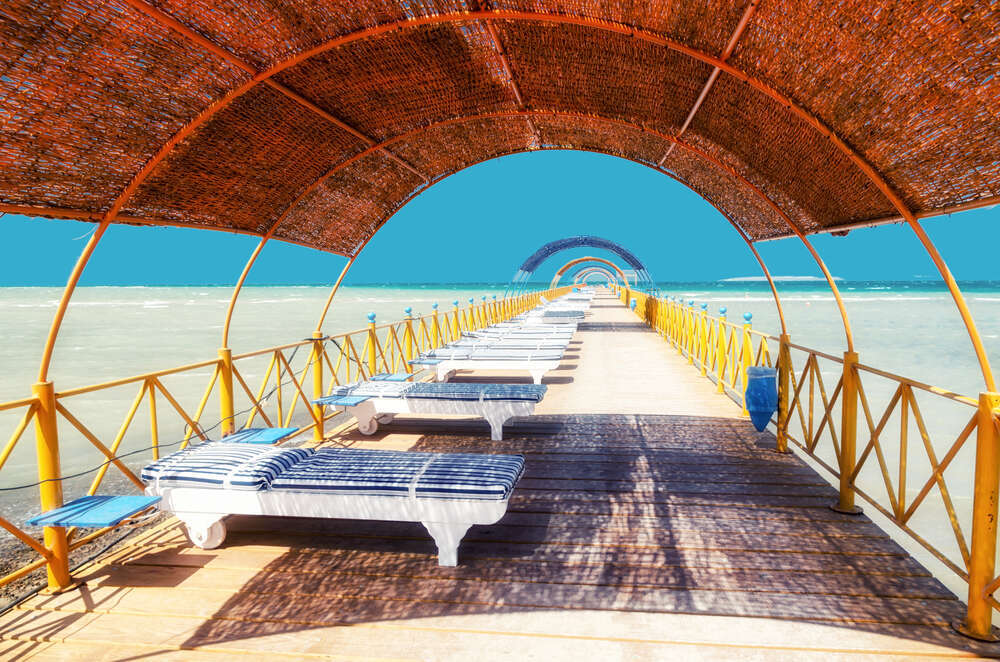 If the proximity to the central streets is not a matter of principle for you, then you can settle in the Mubarak, Makadi Bay or Soma Bay areas. They are located 30-40 minutes drive from Sakkala. They are quiet, calm and you can rent a good apartment at a nice price. Minus -  you will have to go to the city for shopping, parties or souvenirs.
The wealthiest expats prefer to settle in the El Gouna area, 20 km north of central Hurghada. In fact, it is a city within a city, an isolated settlement built specifically for the life of foreigners. It is Egyptian Venice, a very beautiful, clean, safe and comfortable place, but very expensive to live in.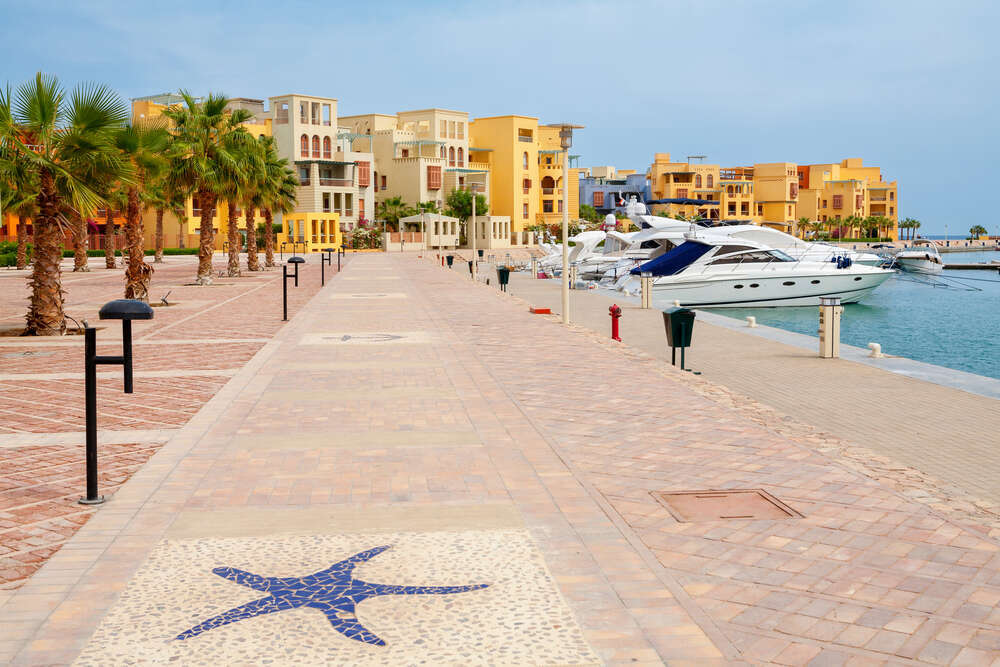 Where to swim in Hurghada
To begin with, accept the fact that there are no free beaches in Hurghada, as in all of Egypt. Most of the coastline belongs to hotel complexes, but those who do not live in a hotel can visit these beaches. To do this, you need to buy a day pass online or at the reception. The pass price includes not only access to the beach, the ability to use a sunbed and an umbrella, but also lunch, fruit and unlimited drinks all day.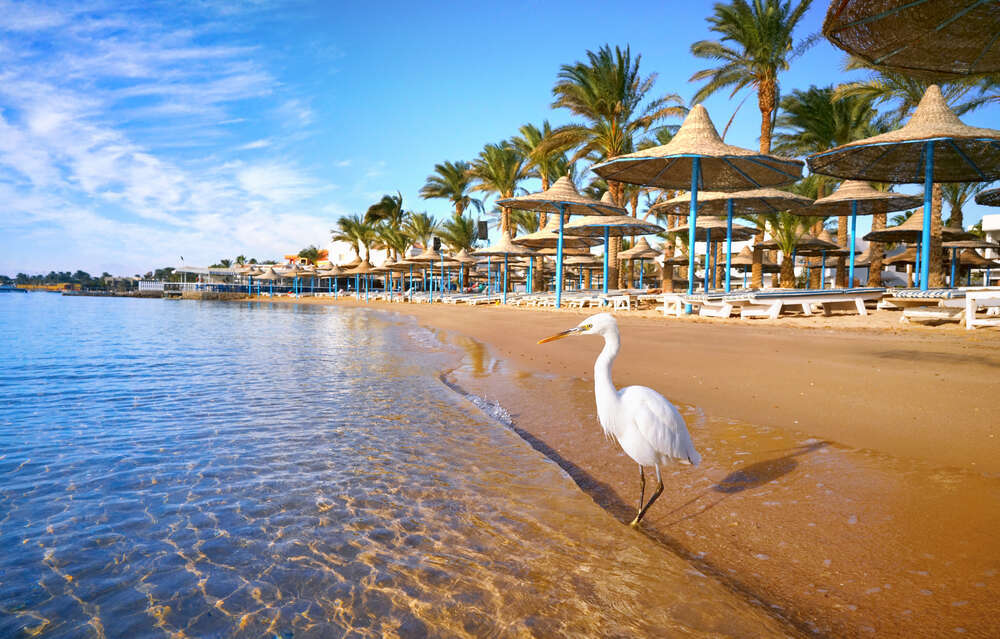 The cheapest beach in Hurghada is Paradise Beach in the area of ​​the Arabia hotel, it is also considered public. You can get there for a symbolic fee of 0.3 euros, but don't expect any amenities there either. There are not many umbrellas, so you will have to sit on the blanket you bring with you (there is an area with sun loungers, but you will have to pay extra to enter it), and noisy and numerous Egyptian families will make your company. The beach is far from the cleanest, it's also rocky, there are sharp corals in the sea, so it is worth entering the water in special slippers.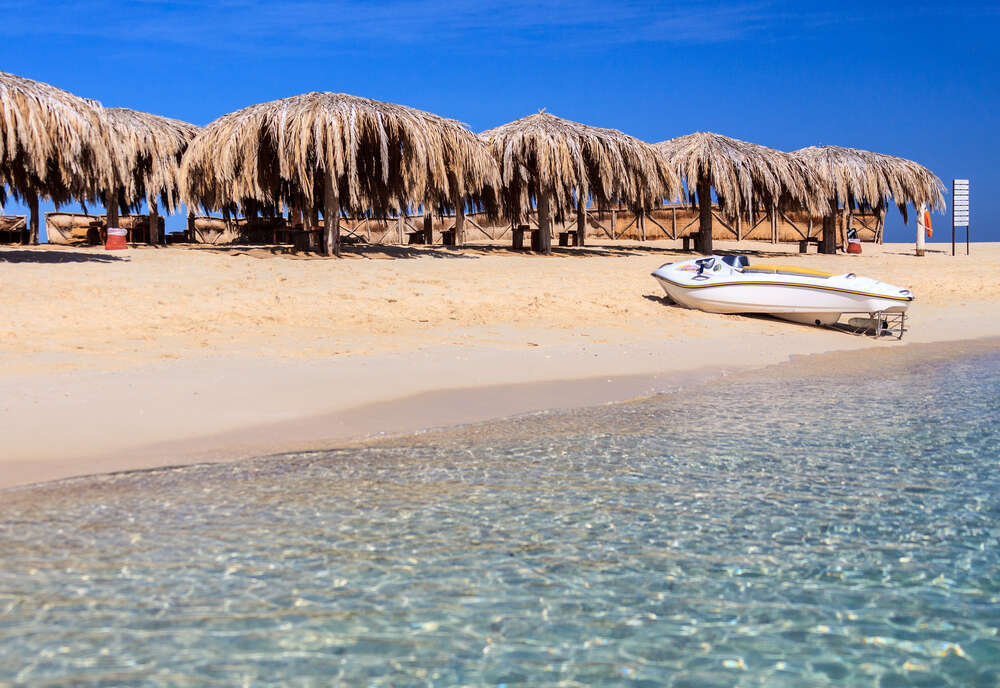 One of the most comfortable and expensive beaches in Hurghada is Dream Beach at Elysses Hotel. On its territory, there are not only umbrellas with sun loungers, but also a bar, water slides, a spa center, in general, everything you need for a quality and not boring vacation. After sunset, the beach hosts regular parties with live music.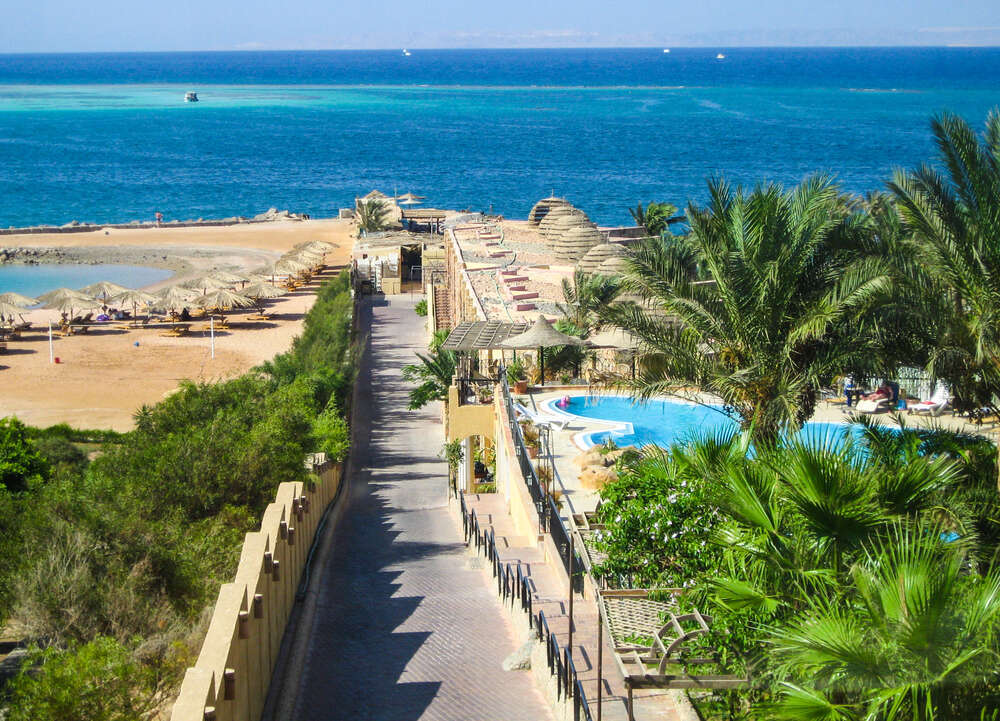 Mojito Beach at the Roma hotel is not just a beach, but a whole entertainment center with billiard, a gym, a club and night discos. And Coral Beach on the territory of the resort of the same name will appeal to those who like exploring the underwater world with a mask or scuba diving. The hotel's house reef is distinguished by its beauty and diversity of inhabitants.
Beautiful beaches with good infrastructure are located at the hotels on Sheraton and El-Mashma streets. For those who want to relax away from the hustle and bustle of the city, there are beaches on Giftun Island and other small islands nearby. They can be reached only by boat.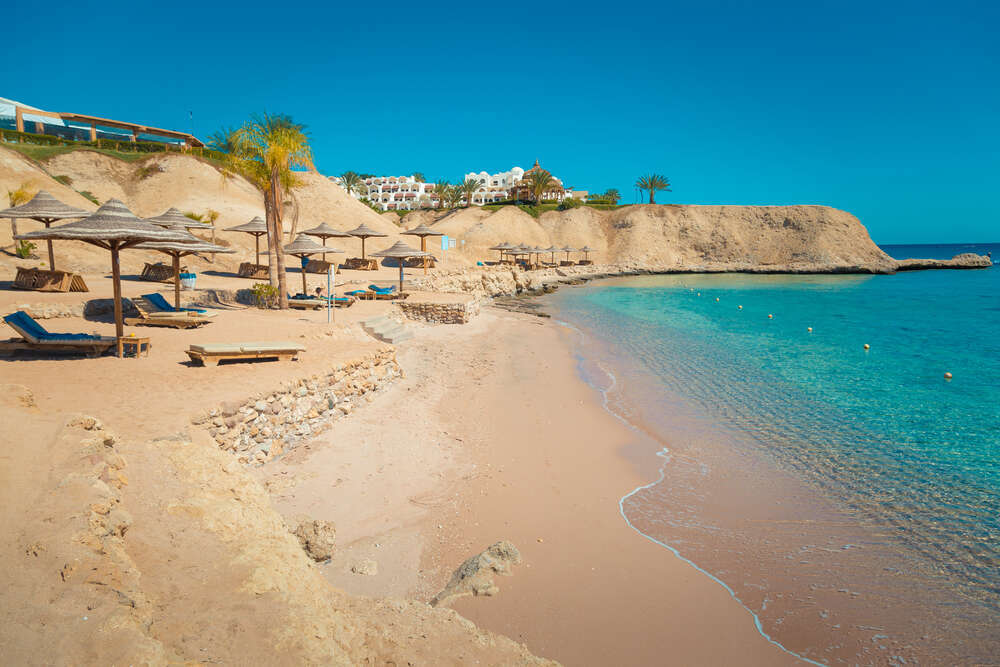 If you really want to swim in the sea, but do not want to pay for a pass to the hotel beach, where you will stay at most for a couple of hours, then catch a small life hack. For the same money, you can buy a yacht tour, which will include a couple of stops on the high seas for snorkeling and an hour and a half rest on the beach of one of the islands. The money is the same, but you will get more entertainment.
Where to eat in Hurghada
There are many cafes and restaurants of different price categories and with a different range of dishes in Hurghada. Simpler establishments are located in the El Dahar area or in Saqqara. More expensive restaurants serving not only Egyptian, but also Thai, Mexican, Italian and other cuisines are in the Marina and El Kawther areas. There are chain coffee shops and fast food - Costa, McDonald's, KFC. Please note that not all establishments accept bank cards, so take cash with you, when you go to have a snack.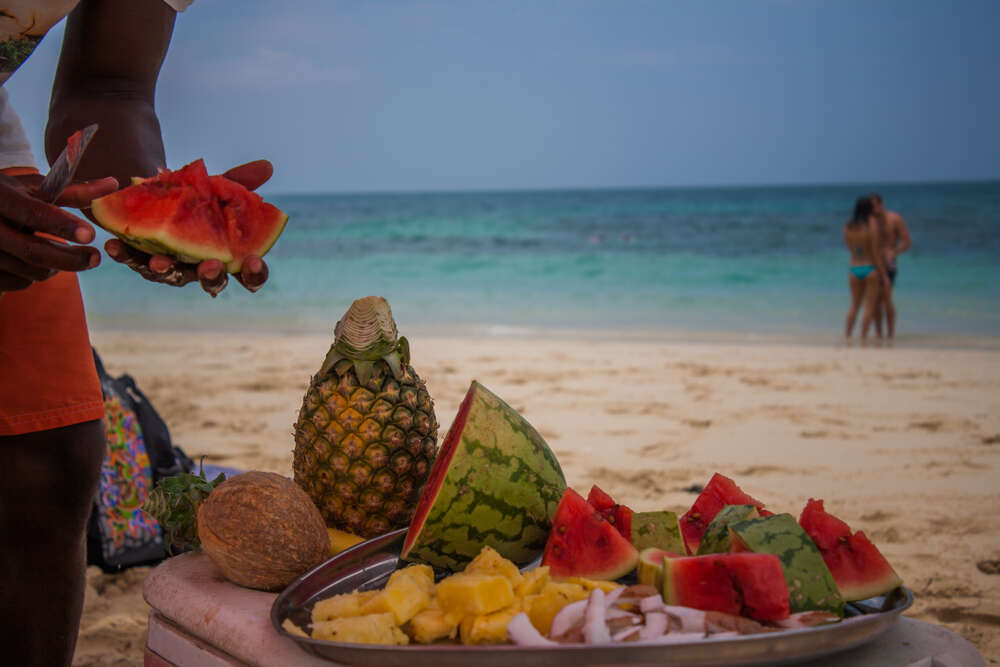 Delicious and affordable Egyptian-style breakfasts are served at Gad Cafe, at the start of Sherry Street. A little further down the same street, El Sayed Restaurant serves a specialty of roast or stuffed pigeon.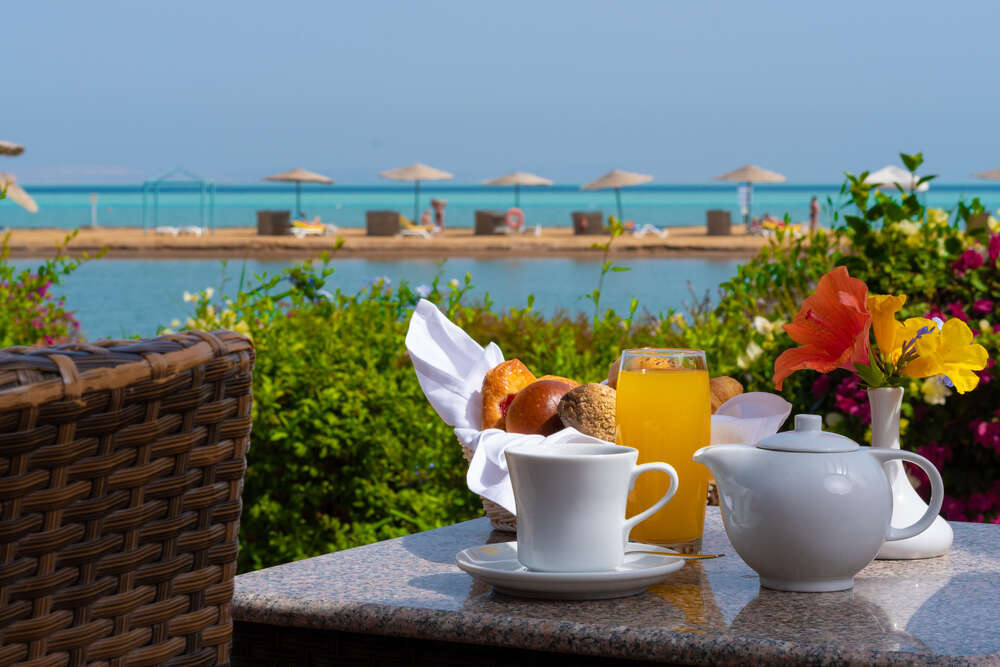 When it comes to seafood dishes, the Star Fish restaurant in the Sakkara area stands out for its delicious fish soup and you can choose fresh fish to be cooked right in front of you. For authentic English pastries, go to Purrfect Cuppa. It is distinguished not only by its cozy interior, but also by an abundance of cats - the owners of the establishment feed and care for the street purrs. In addition, the café regularly hosts expat meetings, master classes and other events.
You can sit with a view of the sea in the Caribbean Bar, which is accessed through the Bella Vista hotel grounds. The El Khema Café, near the Sunny Days Resort, is furnished in a unique Bedouin style and is the perfect setting for a photo shoot.
Where to go shopping in Hurghada
There are a lot of small shops and mini-markets in Hurghada, but there are not many real shopping centers. You can buy groceries, cosmetics and quality clothing in the Hurghada City Center and Senzo Mall, an excellent selection of products in the Carrefour and Metro supermarkets.
Fresh vegetables and fruits can be bought at stalls, of which there are a lot in the city. Spices, teas and oils are sold on the same stalls. But before buying, you should learn the local numbers, because the price tags are written in them, and a gullible tourist can easily be cheated. For fresh fish, you need to go to the fish market near the Marina area, but you should be ready to desperately bargain for every fish.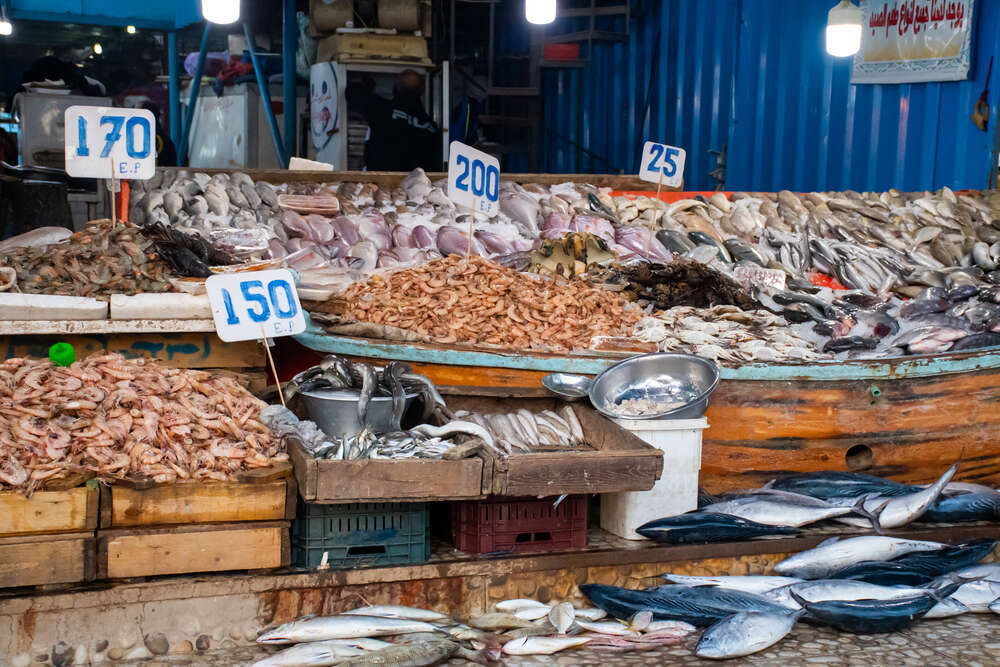 The best Egyptian sweets are available at El Zahraa stores, while real black or corn bread can be bought at the German Bakery opposite the King Tut hotel. For cottage cheese and kefir, locals and expats go to the Globus Frozen Food store. There are large quantities of cotton products in the Karkusha Cotton House, but the service there is very intrusive.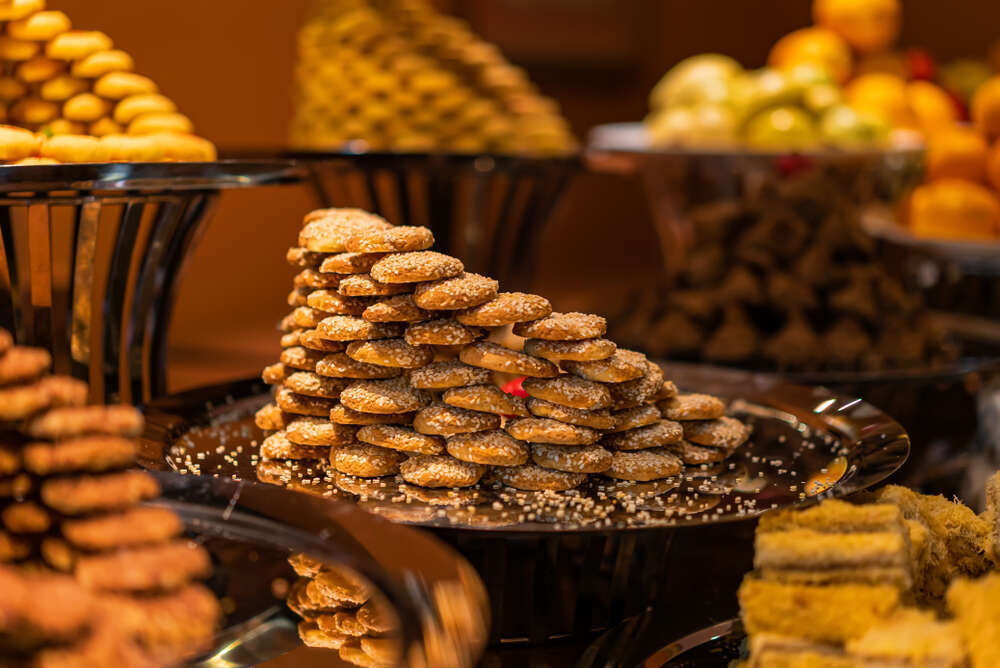 You can buy quality alcohol in Hurghada only in one place - in the Duty Free center. Do not risk your health by buying alcohol from shabby-looking illegal street shops.
Where to walk in Hurghada
Walking in Hurghada is not very good, after all, the city was built in the desert, there are no green parks or forests in the vicinity. And the climate is not conducive to long walks. In winter, a cold wind blows from the sea, in spring, the same wind often brings sand and dust storms, and from May to September, the temperature easily exceeds +40 during daylight hours. Therefore, locals go out for a walk after sunset, and many cafes and establishments open in the late afternoon.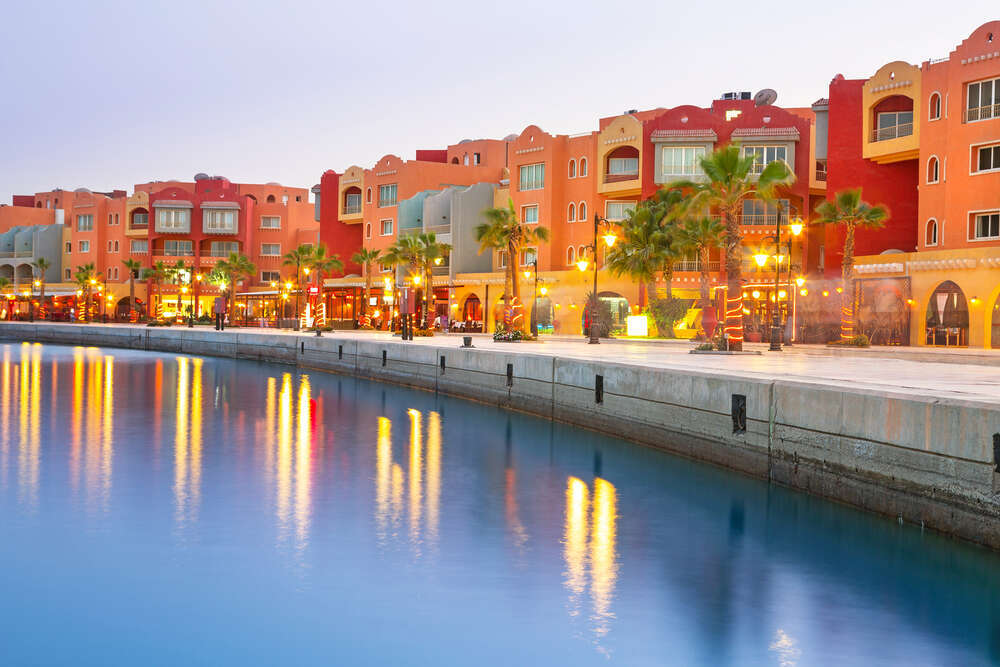 If you really feel like walking, then go to the waterfront on Sheraton Street or between the hotels Beirut and Sunny Days. The Marina area is well suited for leisurely sailing along the sea, you can walk along the pedestrian Sherry Street or, if you want to combine a walk with shopping, along El Mamsha (aka Village Road). It is better to walk along the latter only in the evening, as during the day, there is not a piece of shadow, and the scorching Egyptian sun mercilessly presses on your head.
The most beautiful, the cleanest and the safest area for walking is located on the outskirts of Hurghada (or even outside it, as it is marked differently on different maps) and is called El Gouna. This is a veritable oasis in the desert, a walled resort city with numerous canals, beaches, luxury establishments and a huge number of shops. The quality of goods in El Gouna is of a much higher order, than those in stores in Hurghada, but the price tag is also appropriate.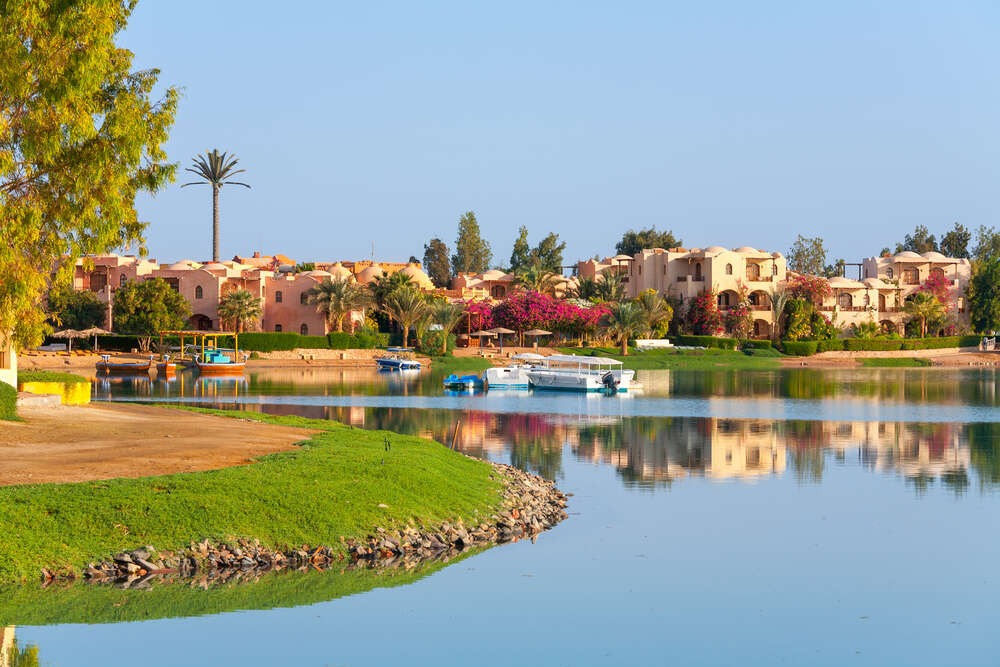 Nuances and peculiarities of Hurghada
To move around the city and suburbs, you can use a regular orange and black taxi or an online Uber taxi. In the first case, you will have to bargain or insist on turning on the counter, while Uber can be tied to a bank card and not used at all for cash payments. The only drawback of online taxi is that in some areas, it will take a very long time to wait for it, while orange and black cars are constantly plying around the city in huge numbers.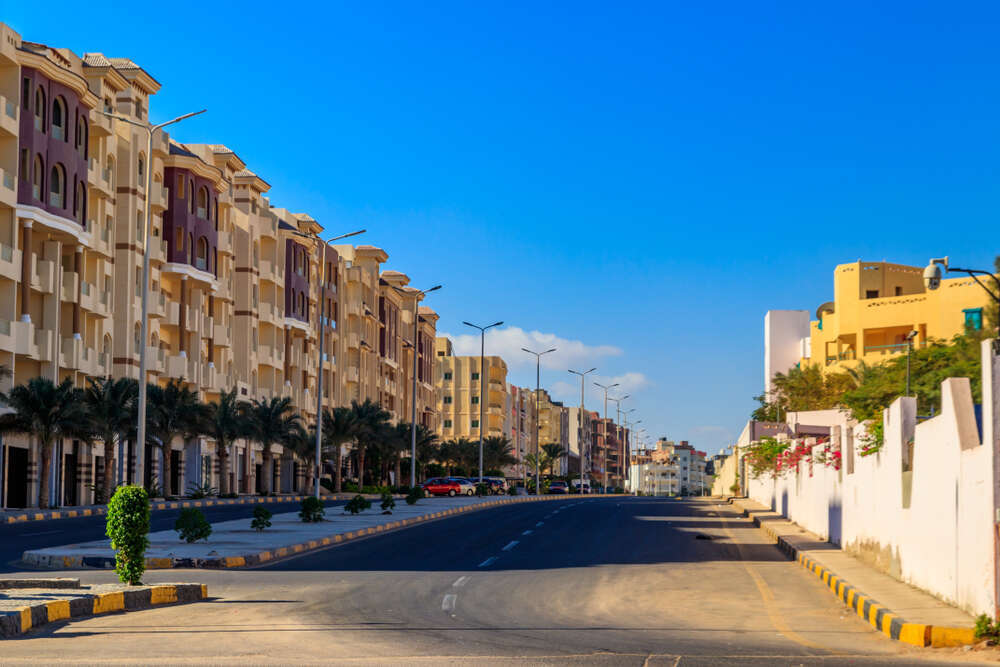 Frisky minibuses with a dozen seats go along the main street. The fare is less than 0.5 euros, but the route should be double-checked with the driver. To do this, learn the names of the main streets and districts of Hurghada.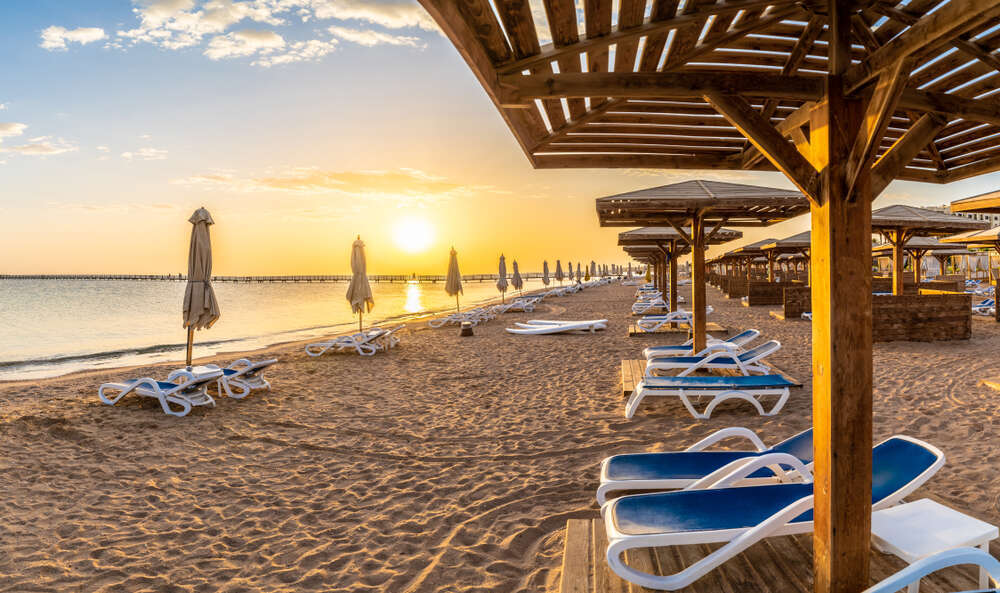 It is better to book tours online on the websites of agencies. This, as a rule, is cheaper than in agencies on the streets, the price is fixed, you can read reviews of other clients, calmly read the tour description, watch photos and videos.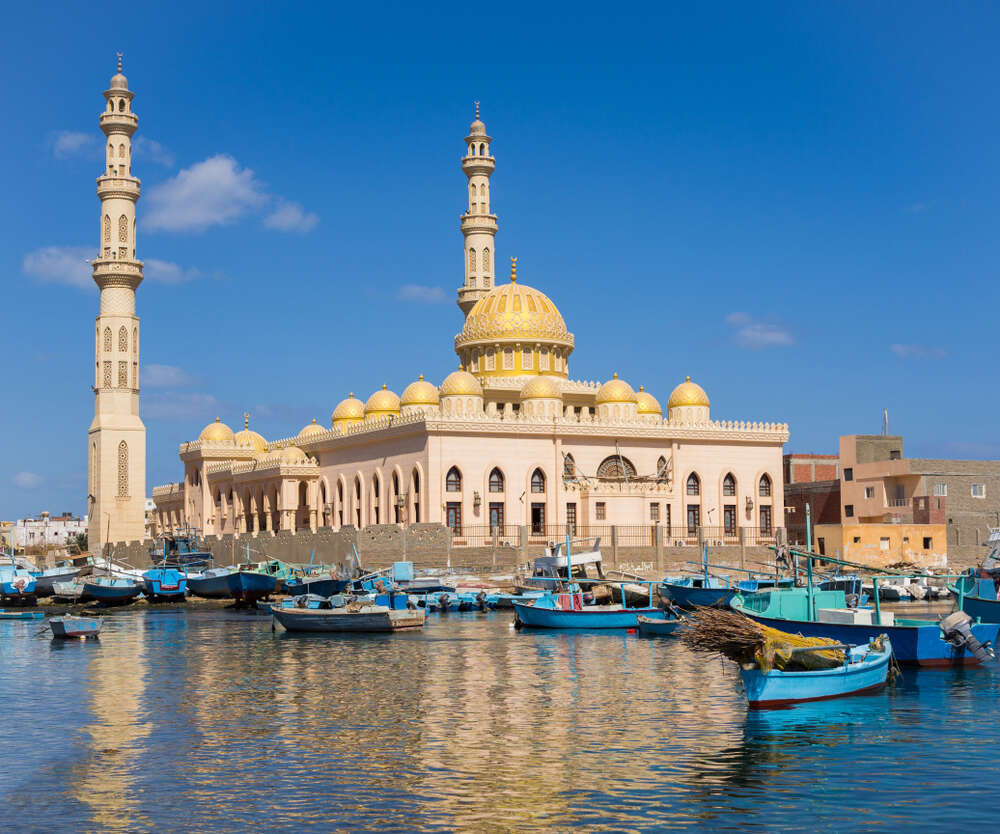 Hurghada is a developed and comfortable city for a long stay, if you understand all its nuances, scout out places and learn to greet the residents in Arabic. It is also a great place to spend a few months by the sea, enjoying the warm climate.