December Weather for Finland
• December averages -5-10°С / humidity 90%
• highest was +9°С 
• lowest was -27°С 
• expected – -2°С
In December it is cold: snowfalls, humid winds and hail showers. There are severe frosts in the north.
Downtime in Finland in December
High season begins in the later December. There are many tourists in the ski resorts. Prices for celebrating Christmas in the country are high.
Stores, cafes, banks and souvenir shops are closed on December 24-26.
Events in December:
• Christmas Country event runs in December. Location: 3 Ojaniityntie street, ski center Miellaka. Opening hours: 10am-6pm. Free admission
Within the program: a meeting with Joulupukki, Finnish Santa Claus, riding a pony or sleigh, Christmas musical performances.
• New Year tree is held on December 15th. Location: City Hall at 10 Torikatu str, Kuovola city. Ticket price is €10, free for children under 14.
Within the program: New Year's fairy tale, a show of magical umbrellas, confetti, a show of soap bubbles, a show of giant balloons, performances of a circus school, New Year's photo zone
• New Year's program takes place on December 31st on Inkeri Square, Imatra city. Firework is within a holiday.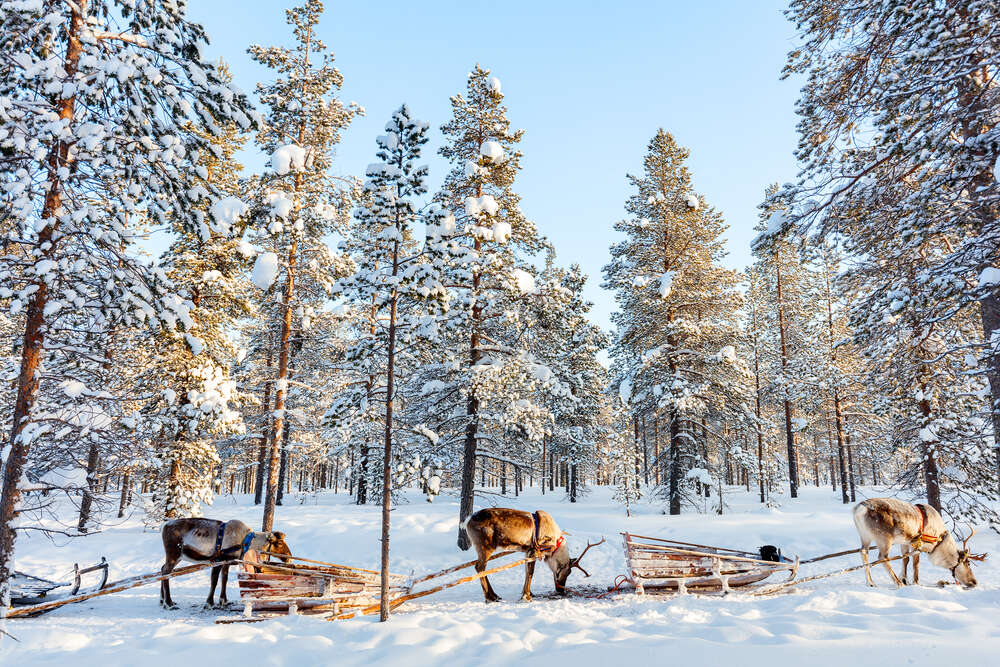 In December tourists take part in rally rides on snowmobiles, dog and deer races, competitions in Finnish sledges and ice skating. Celebrate Christmas and New Year in the company of Santa Claus and his faithful deer-helpers. Go on hunting the Northern Lights. As a relaxation part go to spa centers, water parks, saunas, solariums and sport centers.
Packing List Items
In December Finland clothes should be warm and windproof: a winter jacket with a hood and a high warm collar, warm winter pants, thermal underwear, high winter boots, a hat and a scarf.
For skiing choose thermal gloves.
If it is -20°С better put on extra layer of fleece or wool.
December is mulled wine and cinnamon at Christmas fairs, bright Christmas trees and toy deer, Finnish sleighs and dog sleds, a sauna and cozy evenings by the fireplace. Buy tickets to Finland in a good time!