The French Alps are the most comfortable for a beginner skier. The width of the runs is suitable for practicing the technique, and the views and beauty of the snow-capped peaks are impressive.
Today, Travellizy Team will tell you about the Three Valleys resort (Les Trois Vallées), the highest mountain ski center in Europe.
How many valleys are there in Les 3 Vallées
In fact, there are not three of them. Three Valleys unite 6 main resorts - Les Menuires, Val Thorens, Meribel, Courchevel, Brides les Bains, La Tania). They are all connected by a network of lifts.
Three Valleys are visited by over a million skiers and snowboarders every winter. The largest number of lifts, runs and snow cannons are collected in one place on the European continent.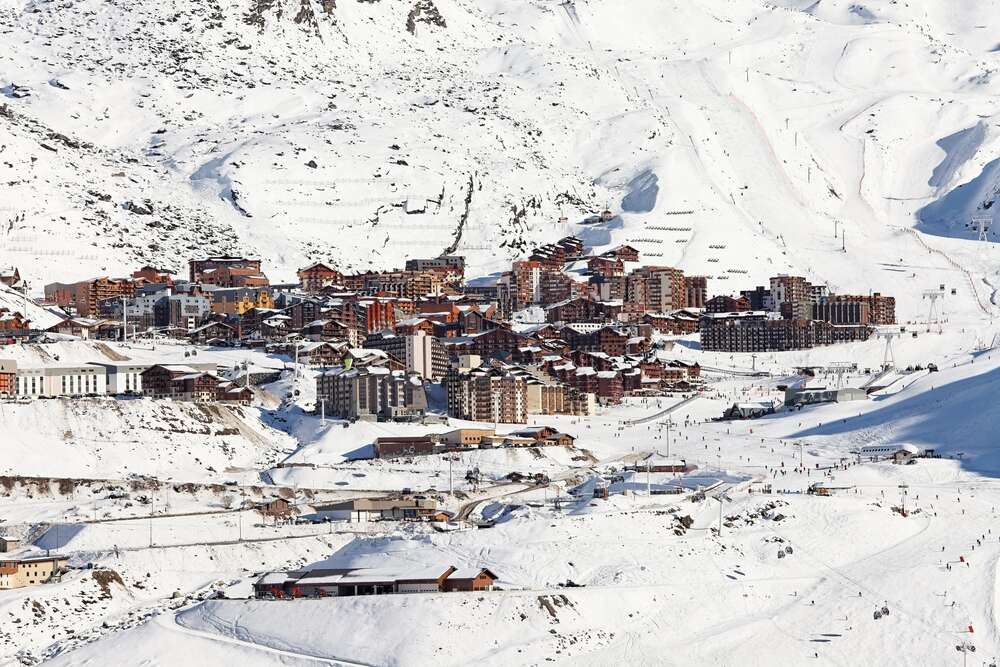 Courchevel is located at 3 different heights, each with its own unique atmosphere. Courchevel 1300 (Le Praz) is a traditional mountain village, Courchevel 1550 and Courchevel 1650 are focused on families and youth. Courchevel 1850 is a favorite vacation spot for world stars.
Meribel in France is located at an altitude of 1450-2950 m and includes 4 ski areas. Central Méribel (1450 m), Méribel Village (1400 m), Méribel Mottaret (1750 m) and Méribel Altiport (1700 m).
It is no coincidence that Val Thorens is called the Roof of the Three Valleys - it is one of the highest ski resorts in Europe, stretching at an altitude of 2300 m. It has the longest skiing season.
Why skiers choose Les 3 Vallées
The Three Valleys in the French Alps are the largest skiing region in the world.
On this territory, there are resorts that are completely different in their characteristics - fashionable Courchevel, sporty Val Thorens, sunny Meribel. But they are all united by 600 km of first-class runs and a common lift system. Every skier will find here a suitable place for skiing and recreation.
Skiers call Les 3 Vallées the best snowboarding/skiing destination in the world. And that's why:
More than 600 kilometers of ski runs. They are wide and groomed, perfectly suitable for all riding levels, from beginners to professionals. By the way, black slopes in the Three Valleys are not groomed. Here is such a French "feature" - natural descent, which provides free ride, one of the most extreme and at the same time popular types of skiing. In addition to the adrenaline rush, the immense pleasure of flying in the snow and on unpredictable slopes, there are some dangers awaiting riders.
The best off-piste skiing: huge open spaces and no bans! There are slopes of any level of complexity - calm blue ones prevail; there are also interesting, wide and high-speed red ones, and for extreme lovers - black and conditionally red mogul run (a run along a bumpy slope).
Accommodation is right on the slope. Houses in the Alps can be rented not only at the very bottom of the lifts, but literally on the slopes, with incredible views. Ski-in & ski-out: put on your snowboard boots and go.
The best place to live is Méribel Mottaret: it is located exactly in the middle and is very convenient for skiing in any of the valleys. From a logistics point of view, this is a perfect place.
No queues at the ski lifts.
The best valley for skiing is Courchevel: its advantages are long and very wide slopes, beautiful views.
Courchevel and Méribel have large spa complexes with thermal water and various saunas and pools. Wellness centers with healing springs offer obesity treatment, rejuvenation courses, wellness treatments, all types of massages, mineral water pools, various baths and healing mud treatments.
Restaurants with French cuisine. It is impossible to visit France without trying national dishes. In the French Alps, this is all the more inexcusable, because the best restaurants in Courchevel know firsthand about the real Michelin stars.
Book a table and visit the two-Michelin-starred Restaurant Le Bateau Ivre. Le 1947 is also popular. Many of its visitors value the establishment for its special atmosphere - there are only 5 tables here. Of course, the average bill for a dinner is € 300-400.
In Courchevel, there are expensive boutiques of world-famous brands. In all the valleys, there's plenty of shops with a huge selection of equipment and ski clothing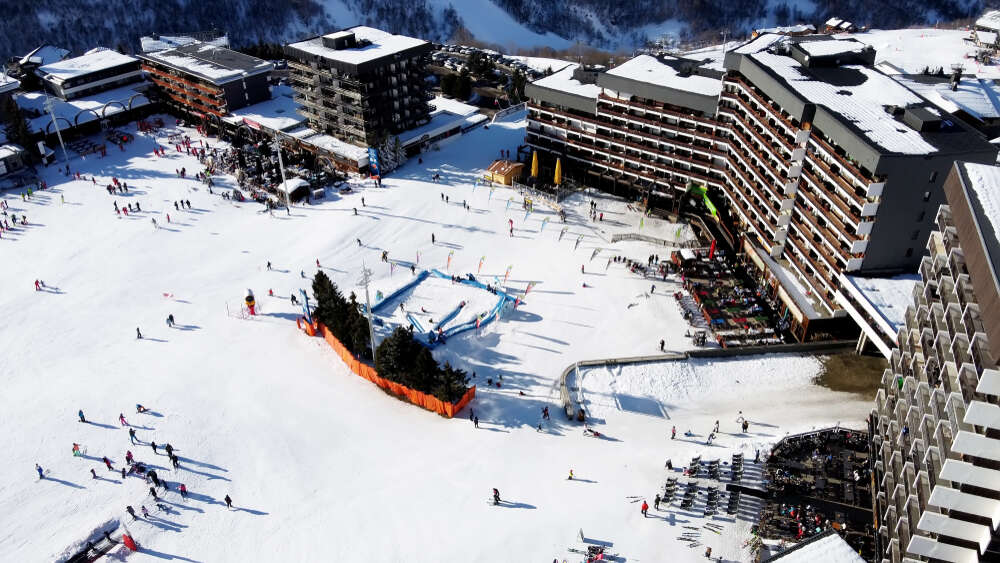 The atmosphere of an alpine fairy tale. Wonderful mountain peaks, old chalets decorated with colorful lights and a lot of snow. The sun-drenched expanses of Courchevel are a delight. This is precisely the vastness: the landscapes truly please the eye.
By the way, you can fly to the ski resort by plane or helicopter, as there is a small airfield here.
Where to ski
For beginners, it is best to ski in the Pralong and Bellecote ski areas, which have long and soft slopes.
There are many green and blue runs under the Jardin Alpin.
For intermediate skiers, the slopes in the La Vizelle area are suitable, especially the red Creux and Marmottes.
The descent of Bouc Blanc is very beautiful, passing through the forest and ending at La Tania.
The easy black runs of the Pyramide and Grandes Rousses are classified as black, but in fact they are red runs of increased difficulty.
How much it costs to stay at Les 3 Vallées
Courchevel has become famous all over the world as a prestigious vacation spot, chosen by celebrities and millionaires. In fact, you can find both luxury and budget accommodation here. A hotel room can be found from € 70 per day. It's better to book them in advance.
Hotels that offer all the facilities for a luxurious getaway auch as huge rooms, spa, fitness center, pool, sauna, kids club and great food will cost you at least € 450 per night. In addition, you will find a hairdresser and shops here, and, of course, a beautiful view from the windows.
Prices for a ski-pass and ski equipment rental in Les 3 Vallées
Ski-pass "3 Vallées" includes the use of lifts in all resorts of the Three Valleys: Val Thorens, Orelle, Les Menuires, Saint Martin, Meribel, Meribel Village, Meribel - Mottaret, Courchevel, La Tania, Brides-les-Bains.
The price of a day pass is € 56 for an adult, € 44 for a child and € 50 for a senior (over 65). A 6-day ski-pass will cost € 278 for an adult, € 222 for a child and € 250 for seniors.
There are tariffs for couples, companies and families (Duo, Pass Tribu and Pass Famille, respectively).
Consider the rental costs of equipment: full equipment will cost 250-300 euros per week.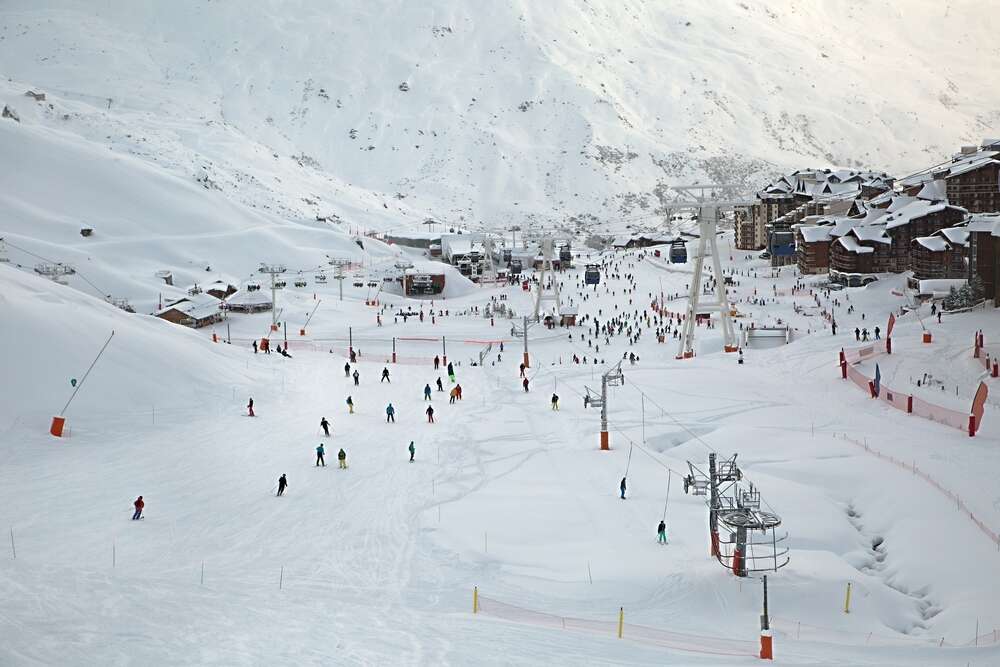 How to get to Les 3 Vallées
Towns and cities closest to the resort:
Chambery - 110 kilometers
Geneva - 188 kilometers
Lyon - 209 kilometers
Milan - 380 kilometers
Paris - 667 kilometers
When to go skiing in Les 3 Vallées
Heavy snowfalls begin in November. The thickness of the snow cover reaches eighty centimeters in a few days. In winter, the temperature is around -10°C. The best time to relax in Courchevel is February and March. During these two months, the snow thickness reaches about 240 centimeters, and it is almost always sunny.
What to try at Les 3 Vallées
The most popular local dish is fondue, a pot of melted cheese where slices of bread are dipped. In French, fondue means "melted". It is believed that it was invented by Alpine shepherds who decided to throw the remaining cheese into the pot, adding garlic and white wine there, and then decided to dip bread in this mixture. Nowadays, fondue is made from several types of cheese with the mandatory addition of spices.
Meat lovers will appreciate the fricasée de caïon, a pork stew pre-marinated in onions and wine. Try farcement, a loaf of onions, raisins, plums and potatoes flavored with cream and wrapped in bacon, boiled and served, and sliced.
Things to do at Les 3 Vallées besides skiing
The ski resort is renowned for its rich nightlife, offering tourists a very varied entertainment program. Nightclub Les Caves de Courchevel is open every evening from 23.00 until the early morning.
After skiing, it's nice to go shopping or visit a restaurant in the evening. It's not that there is a lot of establishments, but there is still where to go. The Forum sports complex houses a gallery of prestigious brands boutiques.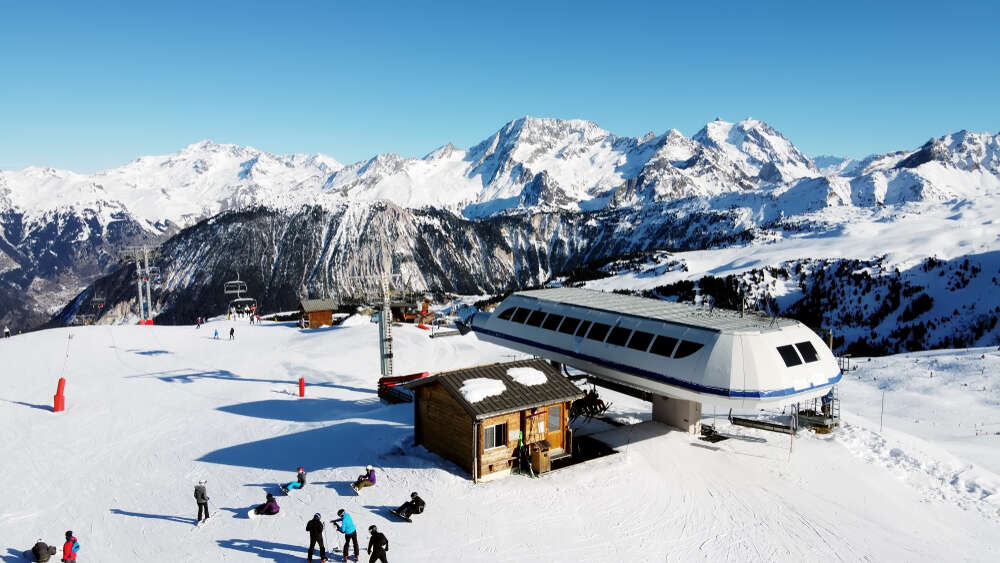 There are many sports shops right in the vicinity of the Alpira les Grandes Alpes. Supermarkets are open from 10.00 to 12.00 and from 14.00 to 20.00.
Take an excursion to Lyon, Annecy, Geneva or nearby castles. In the evenings, you can take a bus running until late at night and go for a walk to the Méribel Center. If you have a ski-pass, you can use the bus free of charge. Buses run from 8.00 to 23.30 throughout the valleys.
Near the resort, there is a very beautiful Vanoise National Park, with thickets of European cedars and a ski run laid along Lake Tueda. It is the first French national park, founded in 1963. The park is located in the heart of the Alps on the border with Italy. The park is also known for its wild alpine ibex. In addition to them, many different animals are also found here: chamois, alpine marmots, lynxes, white hares and ermines. It's a corner of the most real wildlife!