Autumn Weather for Georgia
• Autumn averages +18°С / humidity 72%
• highest was +38°С 
• lowest was +9°С 
• expected – +18°С
It is summer-like warm in early autumn, but sea-water cools down. Rare rains and colder weather are from mid-October. It's cold in the mountains and frosts are possible in late October. Rains and fogs are usual by the end of the season.
Downtime in Georgia in Autumn
Despite the beach velvet season the low time comes to the country by the end of September. There are few tourists. Prices for accommodation and entertainment are reasonable. Sightseeing tours are in full swing.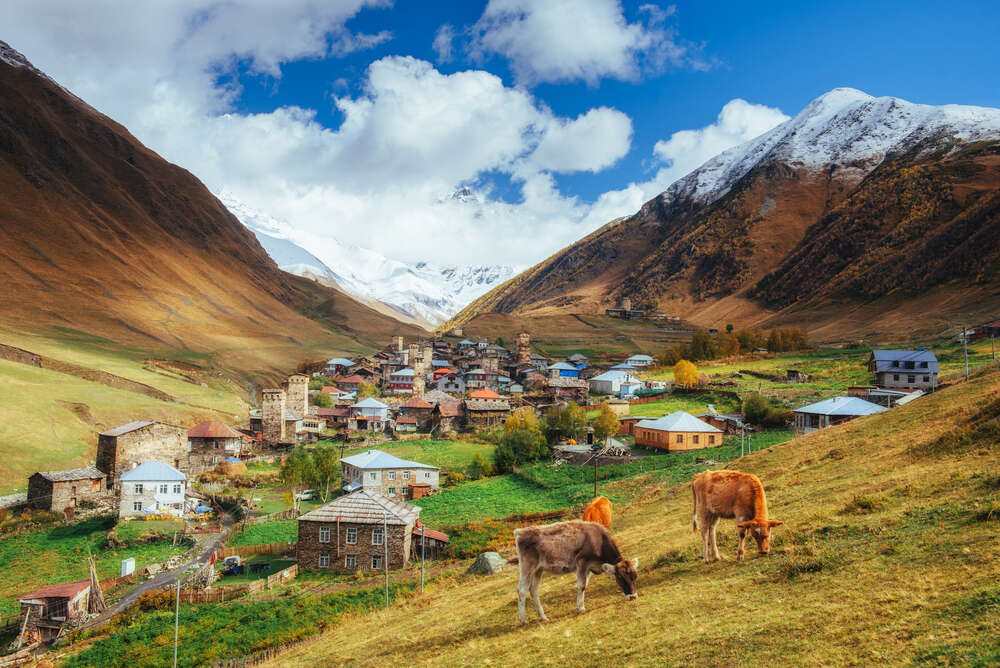 Rtveli Grape Harvest Festival runs in September and October. The date of the event is unique for each year and for each region of the country:
• Grape picking in Gori city, eastern Georgia, begins in September
• Grape harvesting in Adjara and Guria, the western part of the country, begins in mid-October 
• Vintaging in the region of Kakheti is held before frosts
As part of celebration:
o grape harvesting
o getting ready of qvevri, huge jugs for wine
o feasts with folk songs and dances
Popular wine festivals in cities:
• Telavino Georgian Wine Festival. Begins at 12 pm. Location: Cholokashvili Street, Telavi city. Free admission.
Within the festival:
o wine tasting
o ethnographic expositions, folk and musical performances
o exhibition and sale of wine products
• Traditional wine festival in Sighnaghi city. Begins at 12 pm on the main street of the city. Free admission.
Within the festival: wine tasting of local wineries and dishes of Georgian cuisine, concert
Tourists stroll through the canyons in autumn:
• Okatse Canyon is located 50 km from Kutaisi city. Gorge length is about 3 km, a suspension bridge through the gorge is about 1 km long. Entrance fee: ~€ 2 adults, ~€ 1,5 children
• Martvili Canyon by Martvili city, 60 km from Kutaisi city. Gorge length is about 2.5 km. Entrance fee ~€ 5.3, free for children under 6Y 
• Dashbashi Canyon is located in the southern part of the country, in the Khrami River Valley. Gorge length is about 8 km. Free admission
Guests of the country are engaged in diving:
• In the beautiful caves of Prometheus in Tskaltubo city, with picturesque cave lakes, grottoes with frozen waterfalls, stalactites and stalagmites
• Exploring underwater mussel farm, the flooded ship Vladimir Pachulia, with coral reefs in the Black Sea, by Kvariati village
• Exploring an underwater stone site known as 'Stone Alley' in Sarpi city 
The cost of a diving tour for 10 days is ~€ 1000, covers accommodation, breakfast and diving equipment.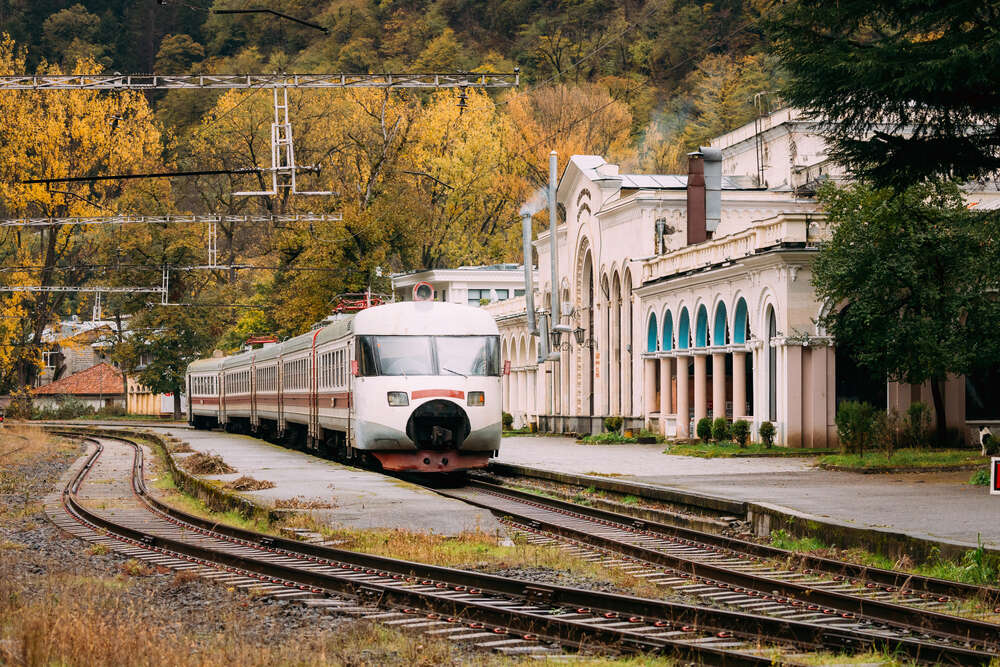 Rafting fans float with pleasure:
• Choloki River. Duration: 12 km, 2-3 hours. Level of difficulty: low. On the way: Adjara villages, birdy spots. Price is ~€ 35
• Keda River. Duration: 6 km, 40-60 minutes. Level of difficulty: low. Price is ~€ 25
• Rioni River:
o Chrebalo-Nikordziri route. Duration: 23 km, 2-3 hours. Level of difficulty: low. On the way: canyons of Alpan, Orkhvi and Tvishi, the river Tskhenistskali. Price is ~€ 55
o Ambrolauri - Shareula route. Duration: 27 km, 2-3 hours. Level of difficulty: medium. Price is ~€ 50
Hiking fans rush to the Borjomi hiking trails:
• Borjomi - Marelisi trail. Duration: 3 days, 43 km. On the way: Mount Lomi. Difficulty: medium
• St. Andrew's trail. Start point: Atskuri village. Finish point: Marelisi village. Duration 4 days, 54 km. On the way: Sametshvario mountains. Difficulty level: high
• Wake of animal's trail. Duration: 6 hours, 13 km. Start point: Likani village. Finish point: Kvabishevi village. Difficulty level: medium
Packing List Items
Take a swimsuit, flip flops and a panama for early autumn. A jacket and jeans one needs in the evenings, Long-sleeved raglanas, a demi-season jacket and an umbrella are necessary from the middle of the season.
When going to the mountains, remember: the higher is the colder is. Choose winter clothes: a jacket, cold-proof boots, a hat and a scarf.
Wear comfortable trekking shoes and grab a bottle of water to stroll through the canyons.
For rafting choose: a neoprene suit which saves from cold water and sun heat, a hermetic bag for phones, comfortable shoes with thick soles.
Authentic people and culture, wow views and wow photos, trekking on shaggy cliffs, rafting and fishing ... Booking tickets to Georgia means booking a great vacation and cheerful mind! Do not take a word – see for yourself!