June Weather for Georgia
• June averages +21-25°С / humidity 71%
• highest was +37°С 
• lowest was +13°С 
• expected – +21°С
Weather is warm, clear, sunny and dry in June. It's cool in the mountains, frosts are still possible at nights.
Downtime in Georgia in June
June is the beginning of the high season and the fullest beach holiday in Georgia. There are many tourists. In great demand are excursion programs. Rental prices are significantly increasing by the end of the month. 
June events: 
• Art-Geni Festival takes place in several regions of the country in mid-June:
o Akhmeta city
o Keda town, Adjara Autonomous Republic
o Gordi village, Imereti region
As part of the event: folk musical and famous artist performances.
• International Ballet Festival runs in June. Location: Opera and Ballet Theater at 25 Rustaveli Ave, Tbilisi city. Ticket price is €3-30
• International Festival of Children and Youth Creativity is held in June. It takes place in the following cities: Tbilisi, Batumi and Kobuleti.
Within the program: folk and ballroom dancing, theatrical shows and songs.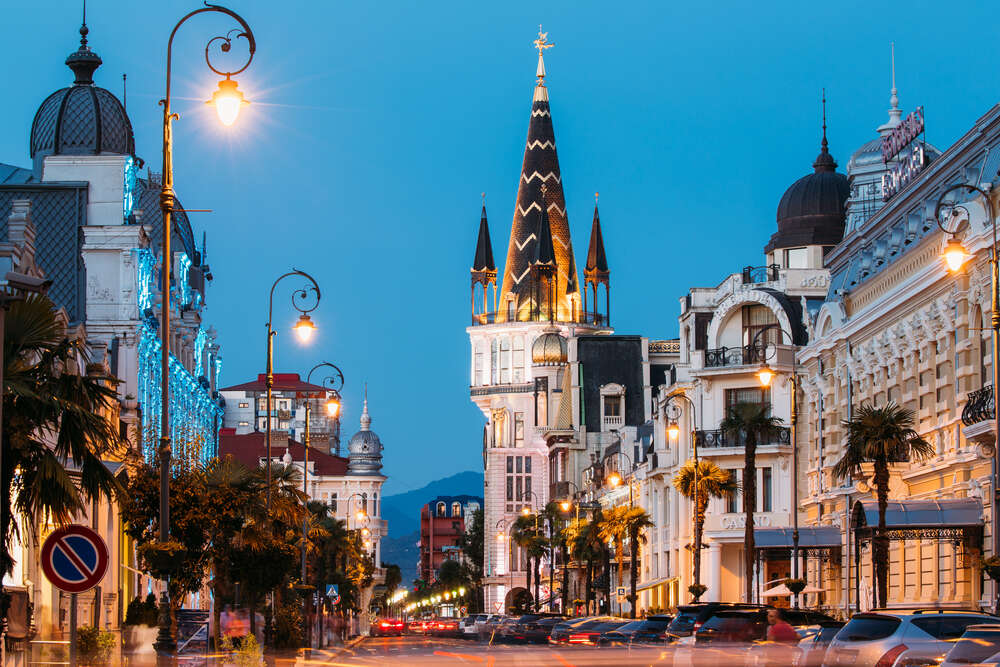 Fans of summer mountain trekking go to Georgia in June, to climb the peaks of Ushba, Shkhara and Tetnuldi, to discover the hidden beauties of the Caucasus on the lakes of Megrelia. Join horseback riding in Svaneti by the whole families. Junkies of outdoor activities go in for climbing and rafting. Lowers of a calm holidays choose fishing. Guests of the country attend traditional Georgian feasts and enjoy true Georgian singing.
Packing List Items
In June case: summer dresses, shorts, T-shirts, sandals, a panama hat and sunglasses.
Cardigan or windbreaker, jeans and closed shoes save for the evenings.
Warm pants, a sweater and boots better to have for the trekking in mountains.
Go to the mountains and breathe fir-needles air, hoping to live up to a hundred years! Try fresh Georgian pastries, hoping to stay in the same jeans size! Taste homemade wine, hoping not to get drunk! Get your hope – buy tickets to Georgia today!