May Weather for Georgia
• May averages +17-20°С / humidity 73%
• highest was +36°С 
• lowest was +8°С 
• expected – +18°С
It is almost summer time in Georgian May. The sun shines brightly. There are warm short spring rains. It is cool in the mountains; night frosts are still possible.
Downtime in Georgia in May
From the second half of May high season is in the air. Beach holiday is opened by the end of the month in Poti town. The number of tourists increases. Hotel prices are rising.
May events:
• Flower Festival runs on May 26. Beginning is at 10 am. Location: Zion Square and Sharden Street, Tbilisi city. Free admission.
As part of the event: workshops, spring and summer bouquets show, draw games and gifts, floral dresses show
• Night of Museums is held across the country in May. Entrance to national museums from 9pm to 1 am is free, among them:
o Samtskhe-Javakheti History Museum at 11 P. Harischirashvili str., Akhaltsikhe city
o National Gallery named after D. Shevardnadze at 11 Shota Rustaveli Ave., Tbilisi city
o Svaneti Museum of History and Ethnography at 7 A. Ioseliani str, Mestia settlement
Within the event: programs, lectures, educational games, costume and musical shows and many other events for visitors of all ages.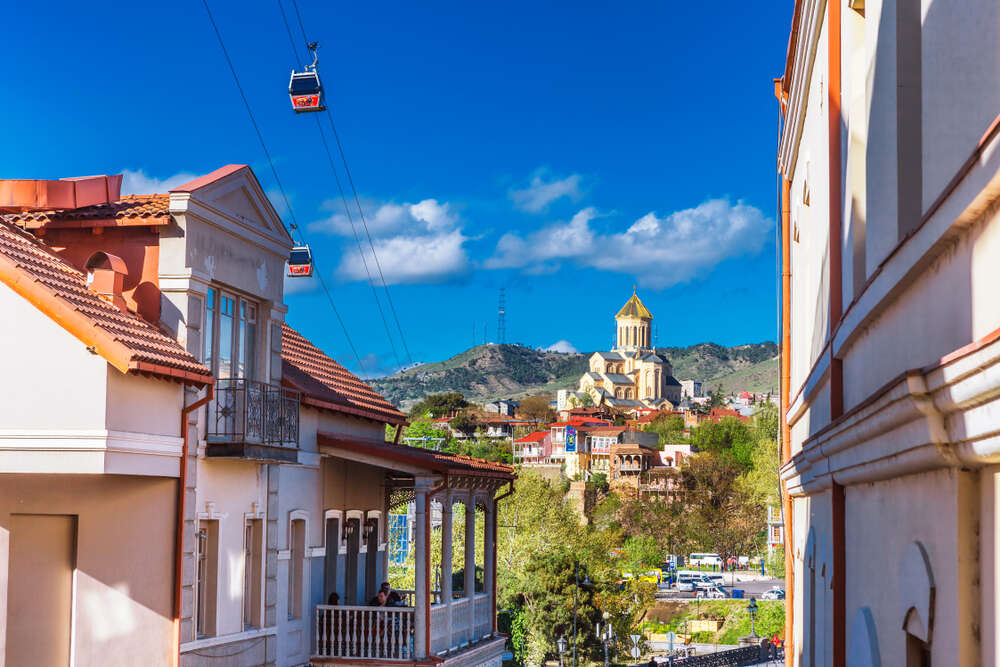 Guests of the country improve their health at the Nunisi thermal springs. They learn about the ancient history of Georgia by visiting the monasteries. Tourists head to the beautiful Martville Canyons, where go boating and bathe in hot sulfur springs. Prometheus Cave with the underground waterfalls, rivers and a lake is of great interest. They join a feast in hospitable Georgian families. By the end of the month travelers sunbathing and picnicking but not yet swimming on the Tbilisi's beaches. 
Packing List Items
Wear spring clothes in May: dresses, shirts, t-shirts, jeans, sweatshirts with long sleeves, a windbreaker and closed shoes.
In the mountains one needs warm clothes: a jacket, a sweatshirt, sneakers and a hat.
If staying in a guest houses – better to bring rubber shower slippers with you.
To a tour choose comfortable clothing, do not forget a hat, glasses and a bottle of water.
Temperature in the Prometheus cave is constant, about + 13-14°C, so take a jacket with you.
Have you ever slept in an air cover tent in the mountains? Have you ever drunk Georgian red wine "Khvanchkara" in Khvanchkara village? Have you ever rafted along the Rioni River dressed with wonderful views of rocky shores, lush greenery and waterfalls? Not yet? Buy tickets to Georgia – everything will be unforgettable!