October Weather for Georgia
• October averages +15-17°С / humidity 74%
• highest was +30°С 
• lowest was +4°С 
• expected – +15°С
It is cool, windy, rainy and cloudy in October. On the coastline is still warm and comfortable in the early month. Cold days are observed in the mountains.
Downtime in Georgia in October
It is low time in Georgia in October. There are few tourists in the mountains. The beach season is opened in Poti city until the middle of the month. Prices for accommodation are reasonable. 
Events in October:
• Tbilisi City Day Tbilisoba runs in October. Location: Rike Park on the left bank of the Kura River, Gorgasali Square. Free admission.
Within the event: wine tasting and traditional Georgian cuisine, crush of grapes, workshops in cooking of Georgian dishes, performances by folk groups, theatrical stages and fairs
• Cheese Fest is held in October. Free admission. The festival takes place on the main streets in the region which was the winner of the previous festival.
Within the event: cheese tasting, fairs with local products, entertainment show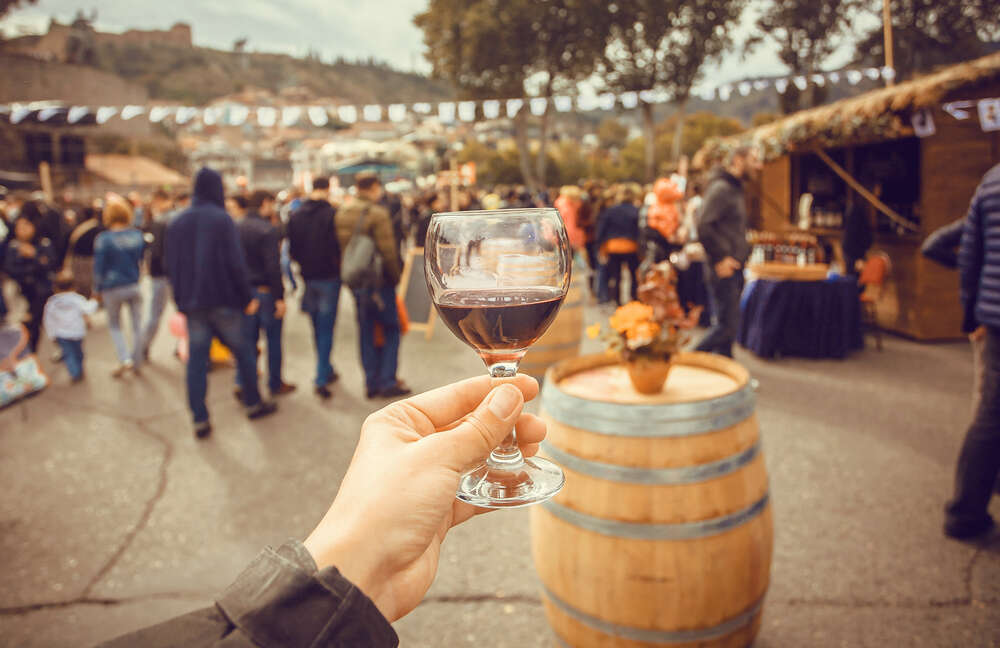 In October tourists travel to the Kakheti region, where the grape harvesting is in full swing. They spend time the Sighnaghi city, visiting a winery and tasting of young wines. In the Adjarian Wine House, in Batumi, travelers learn about the oldest methods of wine production and go in for tastings! Lovers of hiking and mountaineering enjoy amazing views, mountain air and learn about the traditions of the Georgian people in the Caucasus mountains. Horseback riding in national parks is very popular among the guests of the country. 
Packing List Items
Sneakers, T-shirt and jeans are usual clothes for October in Georgia, but also bring a sweater or a windbreaker.
Mind to carry umbrella.
It is better to take to the mountains: thermal underwear, a fleece jacket and membrane coat.
Cut a bunch of grapes and put it into a basket with special care, later cheerfully crush it in a huge clay tub, and then participate in a Georgian feast with khachapuri, cheeses and wine! Buy tickets to Georgia – feel the sincerity of the highlanders!