Summer Weather for Georgia
• Summer averages +21-25°С / humidity 70%
• highest was +40°С 
• lowest was +12°С 
• expected – +22°С
Summer in the cities of Georgia is hot and torrid. It rains rarely. It is cooler on the coastline. And in the mountains it is full well. The hottest month is August. The driest is July.
Downtime in Georgia in Summer
The high season in Georgia begins in mid-June, with the opening of a beach holiday. There are many tourists and prices are high summer long.
The best time for the excursion program is the beginning of June and the end of August.
The best time for trekking in the mountains is June - September.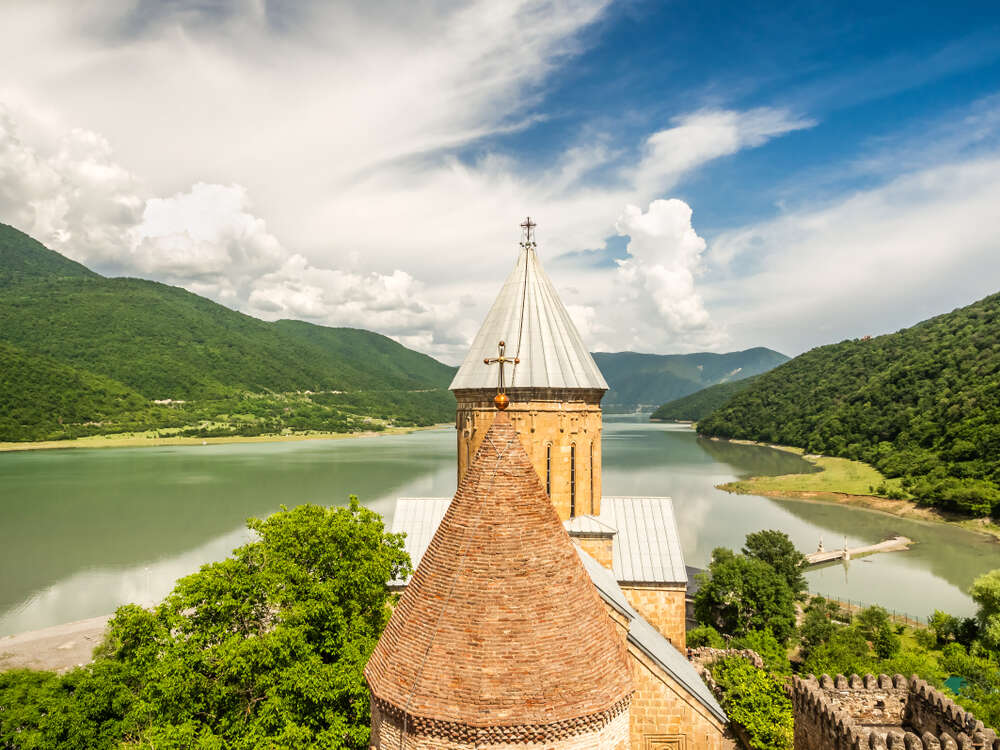 Georgia attracts the lovers of the coastline time:
• Kvariati Beach is in the same name village. Hotel room price is ~€ 30 per day. Environmentally friendly sea and mountains, a great place for diving and snorkeling
• Sandy beach Ureki by the same name village. Hotel room price is ~€ 25 per day. Clean and warm sea, due to the sandy bottom is not perfectly clear, a dense pinewood forest is along the coast
• Sandy beach in the Shekvetili sea resort. Hotel room price is ~€ 35 per day. Peculiarity: black magnetic sand, which favorably affects sore joints and diseases of the cardiovascular system
Summer tourists choose trekking routes in the mountains:
• Megrelia virgin places and lakes, 52 km – 8 days. 
During the route: Mukhuri village - Toba Eastern pass - Tobavarchkhili lake - Toba Northern pass - Magana river valley 
• Trekking in Svaneti:
o Average level, 65 km – 9 days. 
On the route: Mestia town – Ushguli region - Svan Range - Latpari Pass - Lalkhori village
o Difficult level, 96 km – 10 days. 
On the route: Mazeri village - Shdugra waterfalls - Gulichala river - Guli pass - Koruldi lakes - Chkhutnieri pass
• Climbing Kazbek, 40 km - 10 days. On the route: Kazbegi - Gergeti Glacier
10day group trekking price is ~€ 240, covers meals, accommodation at the campsite, services of a guide instructor, access of a group first-aid kit and gas burners.
Guests of the country enjoy relaxing at health resorts:
• Nunisi – thermal resort, located in Kharagauli district. Hotel rent price ~€ 45 per day.
Treatment landscape:
o psoriasis, eczema, neurodermatitis, dermatitis, chronic urticaria and allergies
• Tskaltubo – thermal resort, 7 km from Kutaisi city. Hotel rent price ~€ 20 per day
Treatment landscape:
o diseases of the creatures, endocrinological, gynecological and skin, peripheral nervous system, metabolic disorders
• Sairme – climatic and balneological health resort, 55 kilometers from Kutaisi city. Hotel rent price ~€ 45 per day. 
Treatment landscape:
o diseases of the gastrointestinal tract, liver, metabolic disorders, diabetes mellitus, genitourinary, osteoarticular and nervous systems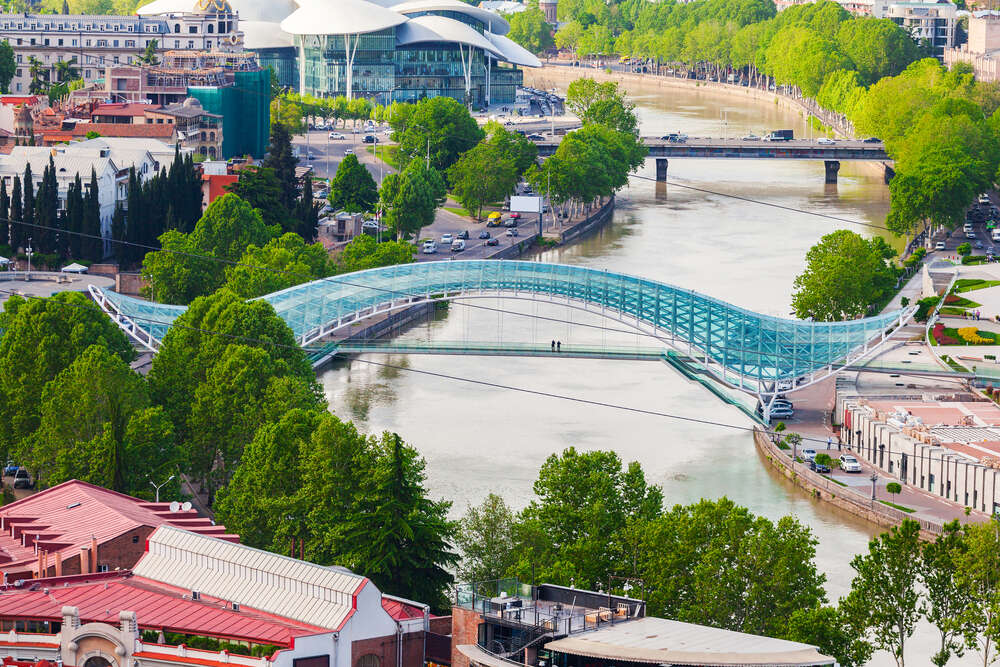 Travelers enjoy visiting amazing viewing decks:
• Crystal Bridge viewing deck in Sataplia National Park. Location: Kutaisi area. Opening hours: 10 am – 6 pm. Park fee admission: adult ~€ 5.5, ~€ 2 children
• Poti Lighthouse at 93 Demetre Tavdade str. Opening hours: 9 am – 6 pm. Free admission
• Pantheon viewing deck. Location: on Mtatsminda Mount, by the Mama Daviti Church. Free admission
Pilgrims visit to Georgia in sake of Orthodox shrines:
• The Bodbe monastery, in which are the relics of St. Equal-to-the-Apostles Nina. Location: Sighnaghi-St. Nino Monastery, Sighnaghi town
• David Gareja monastery complex by the city of Rustavi
• Lord's Chiton, the great shrine of Christianity, is in Svetitskhoveli Cathedral or the Life-Giving Pillar, Tbilisi city
No frees to the monasteries and churches.
Packing List Items
Wear a light T-shirt, shorts and sandals in the summer. At the beginning and late of the season better to have a jacket or a warm coat in the evenings.
On the beach, in addition to a swimsuit, sunglasses, sun protection cream and a cap, care about comfortable shoes, as there are a lot of pebble beaches in Georgia.
Take repellents with you, as summer is the time of many mosquitoes, especially in the mountains.
It is always cooler in the mountains, so take closed shoes, a long-sleeve jacket and a coat.
Buy tickets to Georgia to meet sunsets and sunrises on high of 2000 m, happen to walk among the picturesque peaks of Shkhara and Tetnuldi, swim in the spirit-lifting mountain rivers and try yourself on the slopes. Now is you time!