Winter Weather for Georgia
• Winter averages +6°С / humidity 71%
• highest was +26°С 
• lowest was -14°С 
• expected –+6°С
Winter in Georgia is mild. The sunny cities experience snow much less. Nights are frosty. A true winter with snow and frosts is in the mountains. 
Downtime in Georgia in Winter
Winter is a high season in the mountains and a low season in the cities. Most of the tourists are in ski resorts. Beach resort towns are empty. Prices for accommodation, rental of ski equipment and outdoor entertainment are high.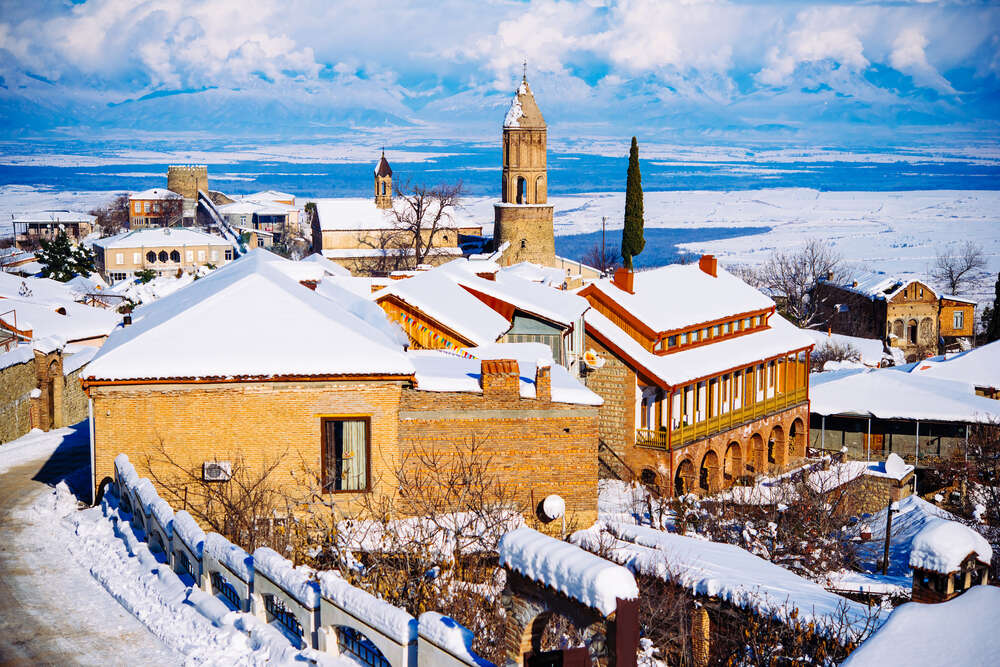 For New Year's and Christmas holidays tourists rent in the cities:
• Hotel rooms, price is for ~€ 50 per day
• Daily rent apartments:
o ~€ 45-70 per day is in the historical part of cities price
o ~€ 20 per day is in other parts of the city
• Hostels, depending on the number of beds, ~€ 10-35 per day
• Guesthouses, small family-type hotels, ~€ 12-45 per day
In winter tourists head to the best ski resorts in Georgia:
• Slalom, giant slalom, super giant and downhill tracks are organized in Gudauri ski resort. The highest point is 3300 m. Season: November-May.
Activities at the resort: freeride, off-piste backcountry and heli-skiing.
Apre-ski: cafes, baths, saunas, spas, karaoke and bowling.
Prices: ~€ 131-day ski pass, ~€ 606-day ski pass
• There are two main ski slopes both for professional skiers and for beginners in Bakuriani ski resort:
o Didveli ski slope consists of 7 tracks, the highest point is 2,700 m 
o Kokhta ski slope consists of 4 tracks, the highest point is 2,100 m 
Season: November-March.
Activities at the resort: cross-country skiing, hiking, ice skating and sledding, snowmobiling and dog sledding.
Prices: ~€ 10 1-day ski pass from 10 am to 5 pm, ~€ 4 night ski pass from 5 pm to 10 pm
Guests of the country are looking for unique places:
• Trousseau Gorge is a mountain valley with the Terek River, which headways in the glaciers of the Caucasus. There are abandoned villages with old furniture, clothes and pictures. Location: on the border with Russia
• Chiatura disappearing mining town, located on two sides of the Kvirila River gorge. There are many quirky cable cars of the 1950, both broken and free functioning
• Kazbek peak with a height of 5047 m. There is a weather base on high of 3600 m on the slope of Kazbek. To the station only tracking is possible, and to get higher – only climbing. Here groups of tourists stay for a night in a tent or station.
Travelers choose mountain climatic resorts:
• Kojori resort is located in the south-eastern part of the country, by the city of Tbilisi, on high of 1300-1400 m. 
Treatment landscape: diseases of the respiratory system, secondary anemia, rehabilitation after serious illnesses, lymphadenitis, chronic fatigue, diseases of the nervous system.
Accommodation cost is ~€ 35 per day
• Tskhrajvari resort is located on the southern slope of the Naquerala ridge, on high of 1350 m. 
Treatment landscape: pathologies of the cardiovascular system, disorders of the nervous system, iron deficiency anemia. 
Accommodation cost is ~€ 28 per day
• Cagveri resort is located on the northern slope of the Trialeti Range, in the valley of the Gujarula River, on high of 1050 m.
Treatment landscape: diseases of the respiratory and cardiovascular systems, gastric and duodenal ulcers, colitis, enterocolitis, iron deficiency anemia and diabetes mellitus. 
Accommodation cost is ~€ 25 per day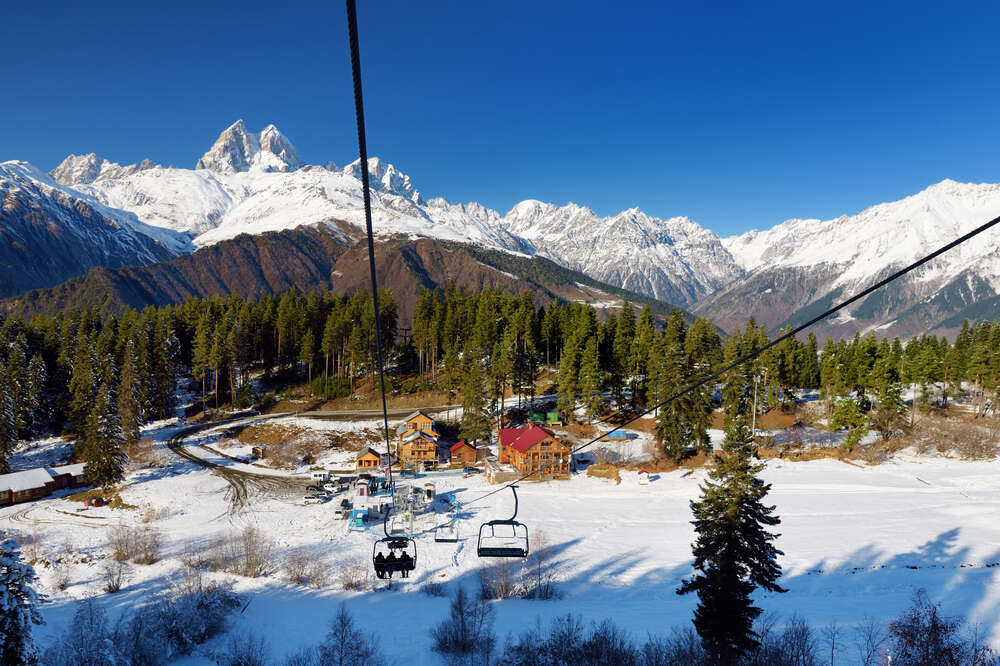 There are several snowshoeing routes of medium difficulty on the territory of the Borjomi-Kharagauli National Park, in the central part of Georgia:
• 2-day Ring trail of 15.5 km long. 
On the way: snowy evergreen forests, Mount Lomi views. 
Starting point: Likani guard post
• 4-hour trail of 6 km long. 
On the way: snowy evergreen forests. 
Starting point: Atskchuri guard post
Trek season: December-February. Guided trekking tours are priced ~€ 50
Routes are well-maintained: there are markings, shelters, organized places for picnics and camping.
In the park rent is possible: tent per ~€ 3, sleeping bag per ~€ 1.5, locker for 12/24 hours per ~€ 0.6-0.9, snowshoes per ~€ 4.5
Packing List Items
To Winter Georgia pack in: a windproof down jacket, pants, sweater and boots.
To a mountain trip additionally take thermal underwear, warm socks, a sweater and sun protection cream.
For snowshoeing one needs: a backpack; a spare fleece jacket, which is useful if it gets colder; fleece gloves, sunglasses, snacks and a thermos.
To try the special cuisine and the best wine, plunge into ancient traditions and enjoy the incredible beauty of the snow-capped mountains – book tickets to Georgia, country looks forward to meet you and keeps its warm welcome smile!