German Weather in Fall  
• Fall averages +10-12° С / humidity 80%
• highest was +27°С 
• lowest was -3°С 
• expected – +11°С
Germany is warm and sunny in early autumn.  Weather is changeable and rainy starting at October. By the end of the season it becomes cold, damp and gloomy. Snow is in the mountains.
Downtime in Germany in Fall  
Autumn in Germany is a lull time. There are few tourists. The sights are not crowded. Fair prices for fun time and accommodation. During Oktoberfest –  late of September and early October – comes busy season period with high prices and crowds of tourists.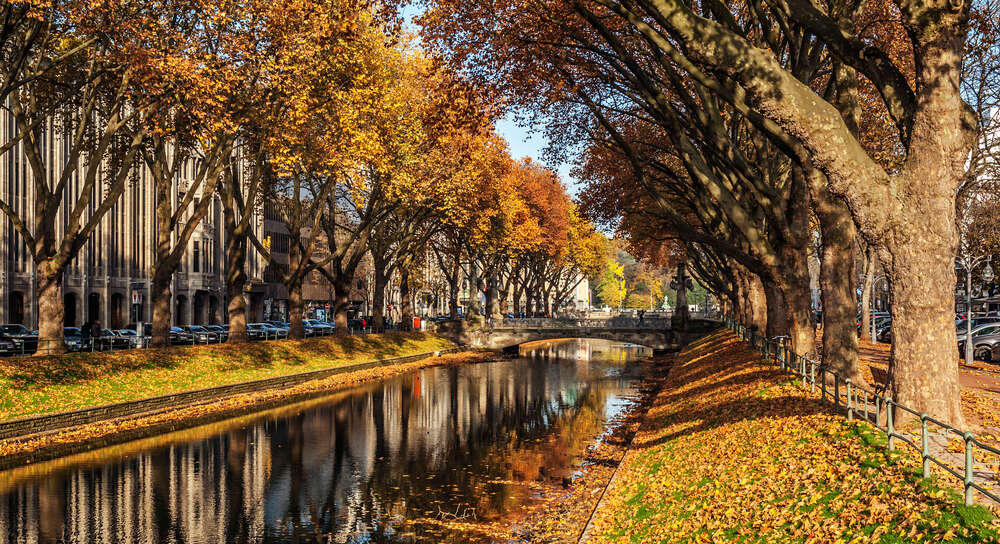 Beach time on the lakes and seaside resorts is popular in September. Admission is free to the most beaches in the country. 
o Popular Frisian Islands seaside resorts:
- Langeoog Island – ~€150 per day, hotel 3*
- Spiekeroog Island – ~€160 per day, hotel 3*
o Best lakes:
- Wannsee in Berlin
- Bodensee in the foothills of the Alps, on the border of Germany, Switzerland and Austria 
-  Scharmützelsee in Brandenburg
Highly experienced travelers choose Oktoberfest tents by the beer:
o In Augustiner tent – Fischer-Vroni and Augustiner-Festhalle brands
o In Paulaner tent – Käfer'sWies'nSchänke, Armbrustschützenzelt and WinzererFähndl brands
o In Spaten-Franziskaner tent – Ochsenbraterei / Spatenbräu-Festhalle Hippodrom and Schottenhammel brands
o In Löwenbräu tent – Löwenbräu-Festhalle and Schützen-Festzelt brands
o In Hacker-Pschorr tent – Bräurosl and Hacker-Festzelt brands
o In Hofbräu tent – HofbräuFestzelt brands
 Tourists who failed to get to the beer festival make up their own routes and visit the best beer places in Germany:
o In Berlin:
- Brauhaus Lemke am Hackeschen Markt at Dircksenstraße, S-Bahnbogen 143
- Zum Patzenhofer at Meinekestraße 26
- Prater Beer Garden Berlin at Kastanienallee 7-9
o In Munich:
- Andechser am Dom at Frauenplatz 8
- Хофбройкеллер at Innere Wiener Str. 19
- Лёвенбройкеллер at Nymphenburger Str. 2
o In Düsseldorf:
- "Longest bar in the world" is located in the Old Town on Heinrich-Heine-Allee – there are more than 260 cafes, pubs and  restaurants, most of them have own breweries
- Brewery Schumacher at Oststraße 123
- Im Fuchschen at Ratinger Str. 28,
Also travelers join free walking tours:
• In Hamburg – by Hard Rock Cafe at Brücke 5, daily at 2 pm
• In Berlin – at the Brandenburg Gate, in front of the Starbucks cafe, at 11 am and 1 pm daily
And visit free sights:
• In Berlin – German Cathedral at Gendarmenmarkt 1-2
• In Hamburg – St. Pauli tunnel under the Elbe at St.-Pauli-Landungsbrucken
• In Munich – Geological Museum at Luisenstraße 37
Packing List Items
To German early fall, along with a demi-season jacket, jeans, sweater and jacket, take a swimsuit, sunglasses and summer shoes.
Warm up with a hat, scarf and waterproof shoes in the late September.
Umbrella you will need through the season long.
Supply your first aid kit with antiviral drugs, cough drops, nasal spray and antipyretic.
To see the country by own eyes and know big heart of the German people by the evens, to swim in the lakes and wait out the rain in one of the best beer gardens! All this will become true – book tickets to Germany fall today!