Planning to spend time in Luxembourg City and wondering what there is to see or do?  We've put together two walking tours that encompass some of the capital city's must-sees. If you have the time, combine both tours into one and make a full day of it!

A few facts about Luxembourg: It is a small country surrounded by Belgium, France and Germany.  The capital, Luxembourg City, is renowned for its fortified medieval old town perched on sheer cliffs. Three official languages are spoken here – French, German, and Luxembourgish. The weather is temperate and mild year round.

Part 1 - 1.5 hours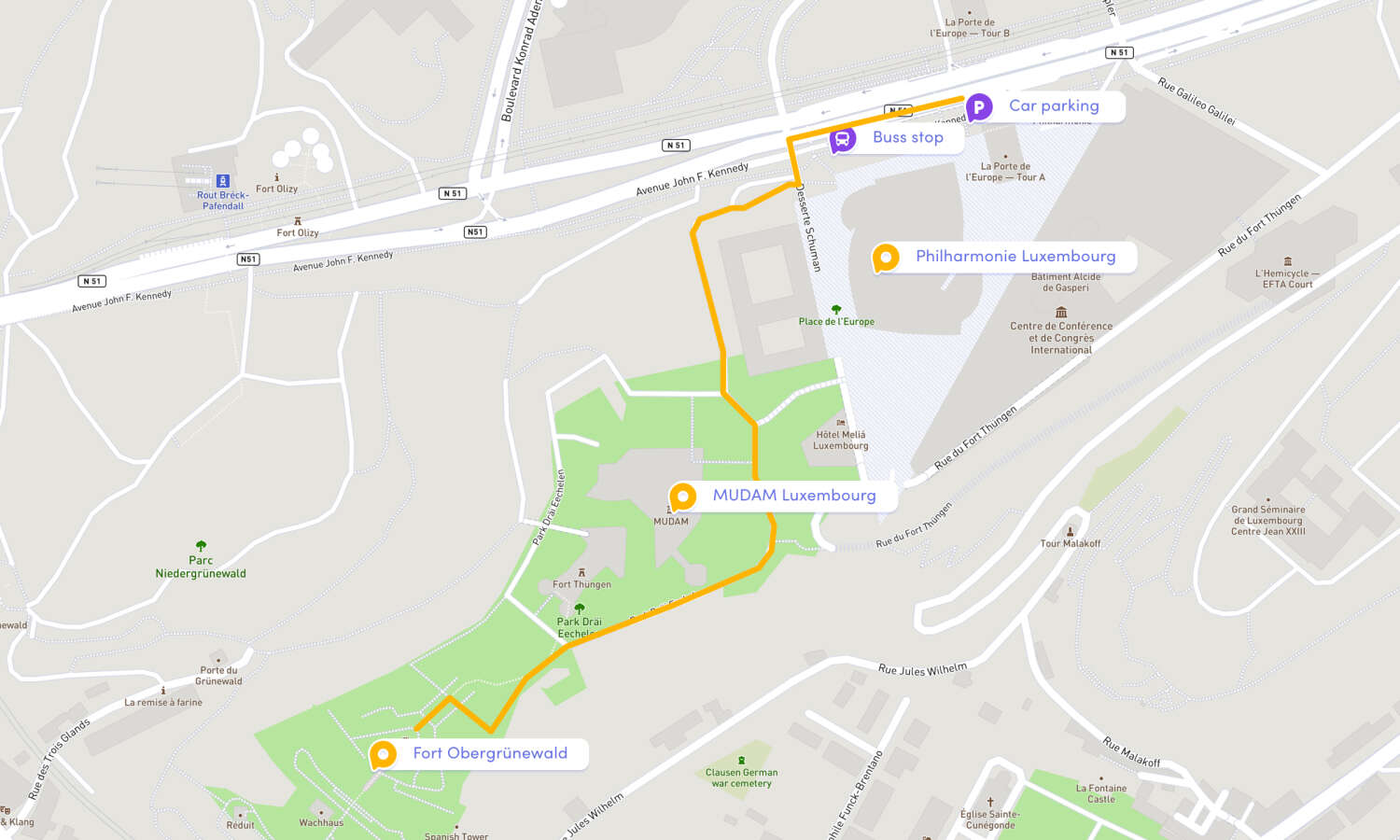 The best place to start is in the Kirchberg district, the heart of business and culture, where you'll find many European institutions, including The Parlement Européen and EU Court of Justice.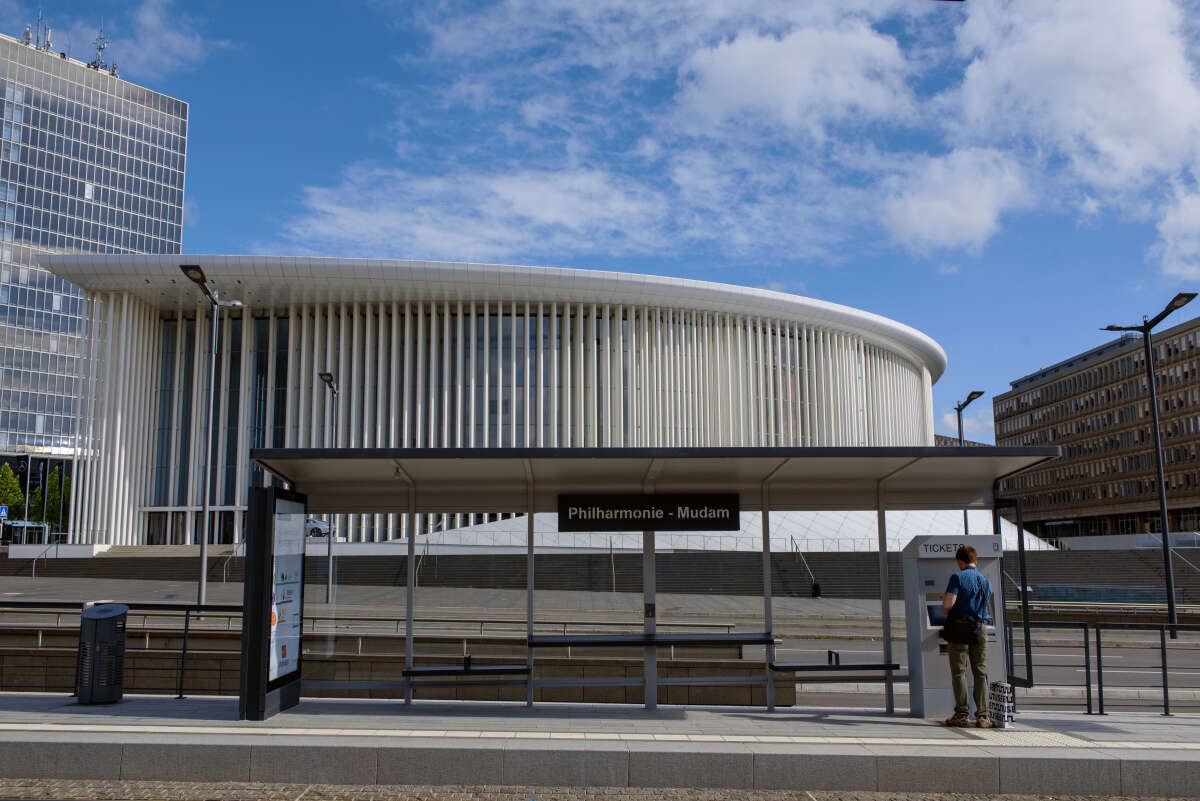 Definitely worth seeing is the unique architecture of the Luxembourg Philharmonic Concert Hall, as well as the Mudam, Luxembourg's museum of modern art, which stands on the site of the old Fort Thüngen.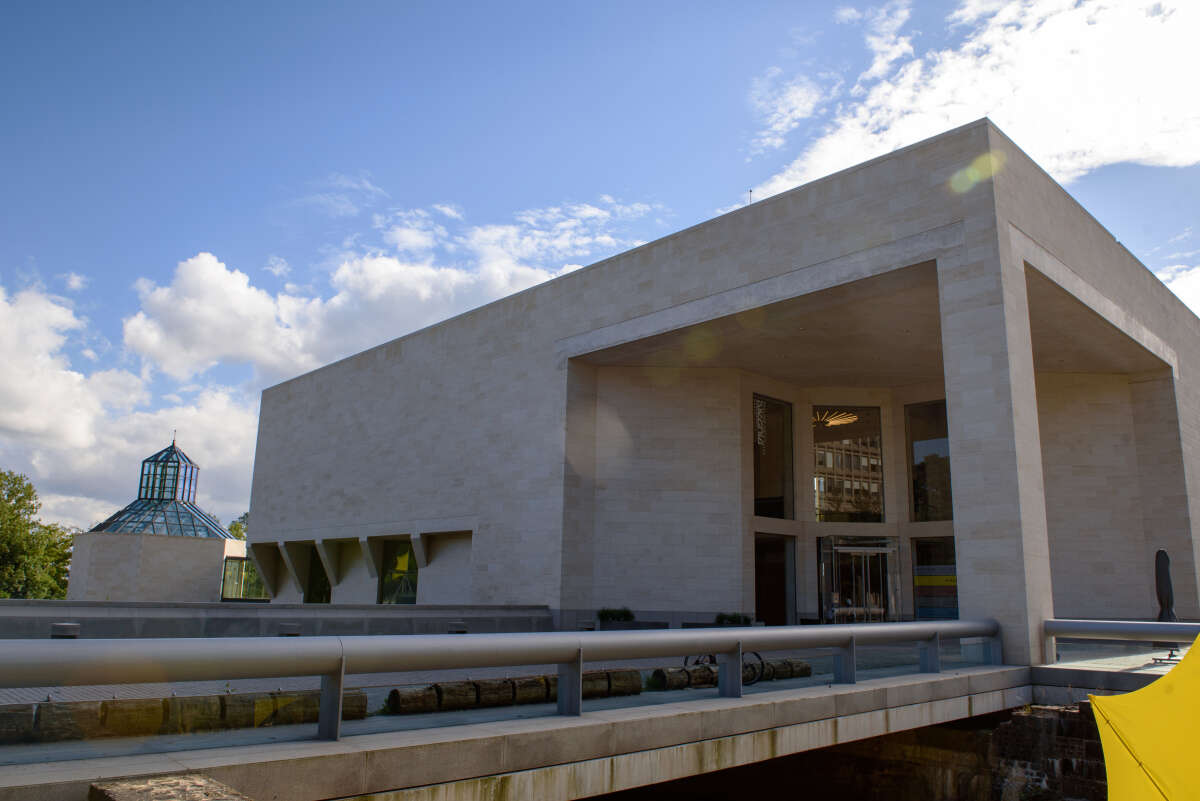 Should you decide to visit the museum, give yourself at least 40 minutes to fully appreciate the exhibitions. It's open Thursday through Monday from 10 am to 6 pm, until 9 pm on Wednesdays, and for reduced hours on public holidays. Closed on Tuesdays. Entrance is 8€ for adults, 5€ for age 26 and under and groups (minimum 15), and free for students and on Wednesday evenings.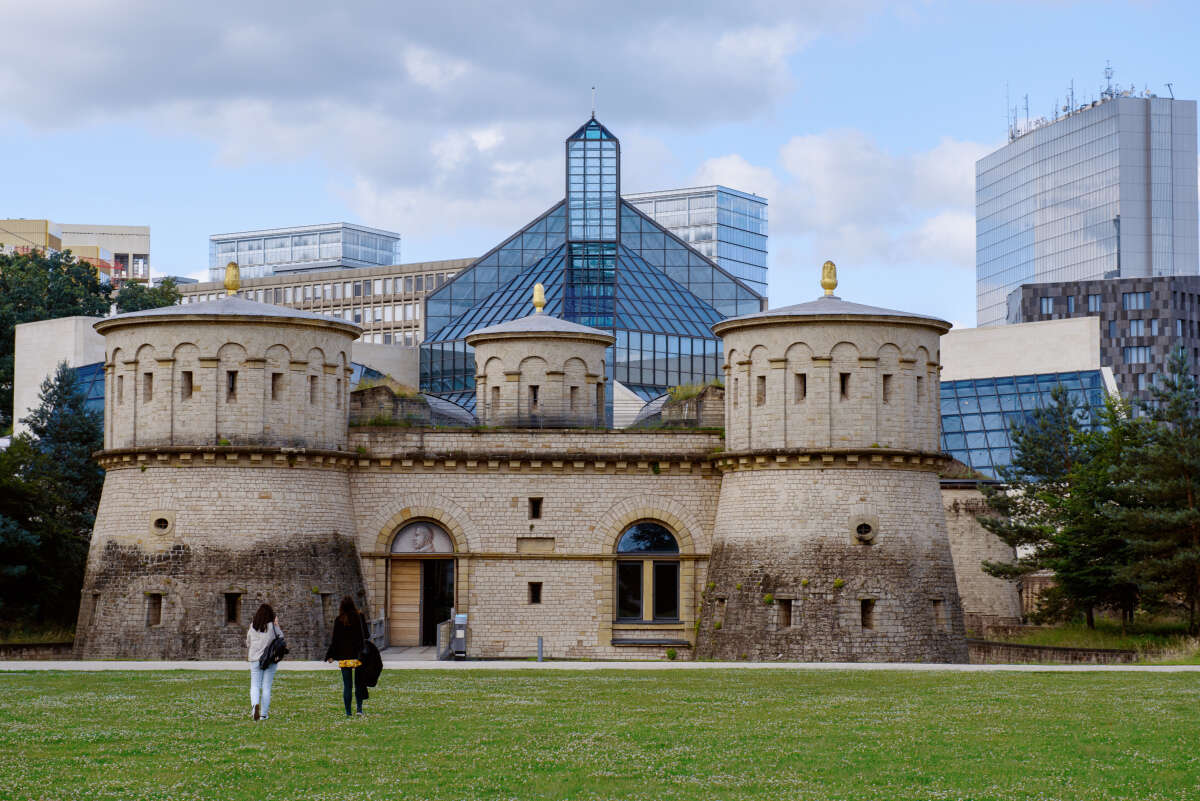 If museums are not your thing, simply take a stroll through the remnants of the fort and enjoy amazing panoramas of the city. It's a great spot to sit and relax, so pack a lunch or snack.

---------------------------------------------------------------------------------

Part 2 - 3.5 hours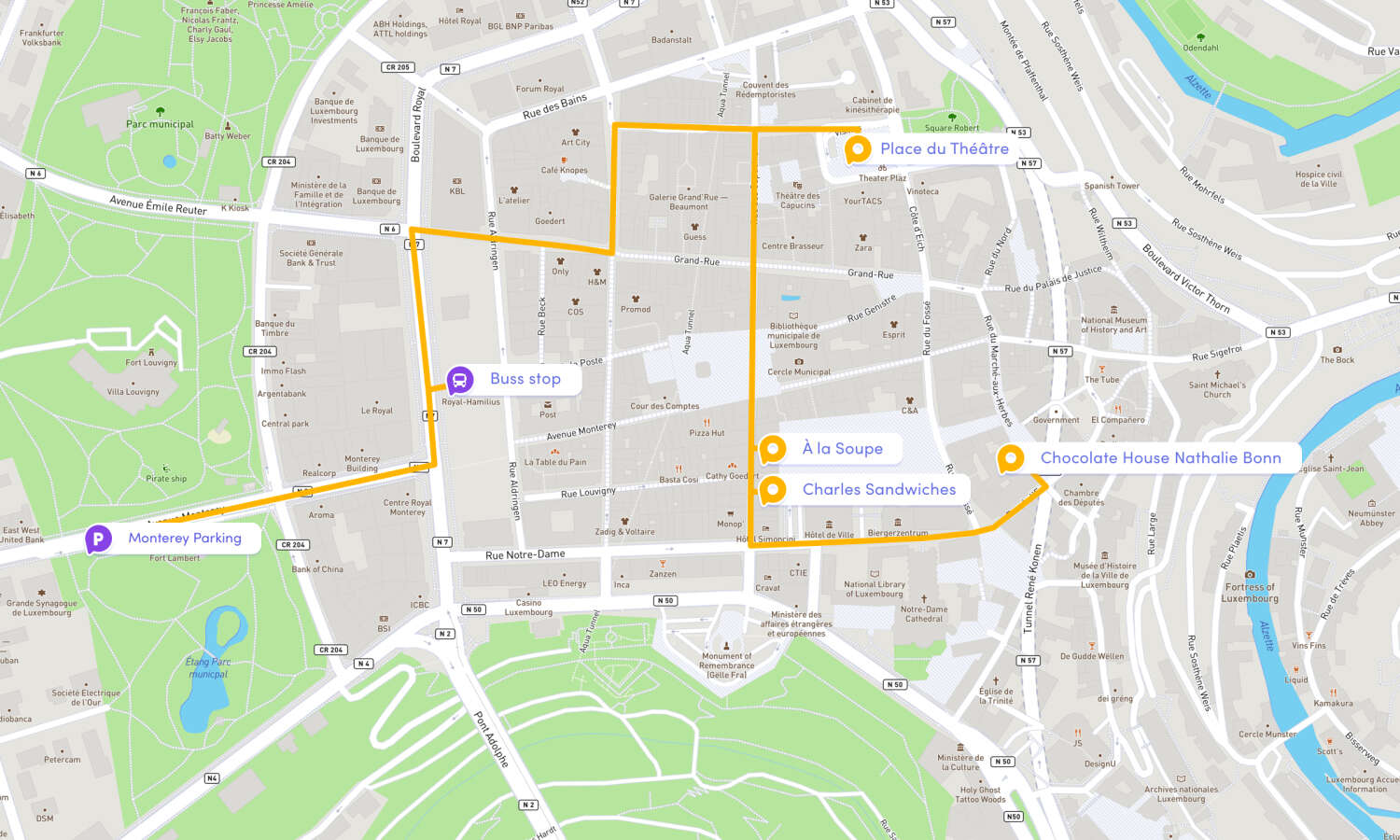 After completing part 1, you'll arrive back at the Philharmonic Hall. From here it's easy to get to the Center, one of the liveliest districts in Luxembourg. Download the mTicket app on your smartphone to quickly and easily purchase bus tickets for Luxembourg's public transport network.  (https://play.google.com/store/apps/details?id=eu.highQ.mticket)

The Center is primarily pedestrian-only, which makes it easy to explore the narrow streets and multitude of shops and boutiques featuring luxury items and international brands. When you reach the Place du Théâtre, be sure to check out the fun sculpture – it makes a great photo!

WHERE TO EAT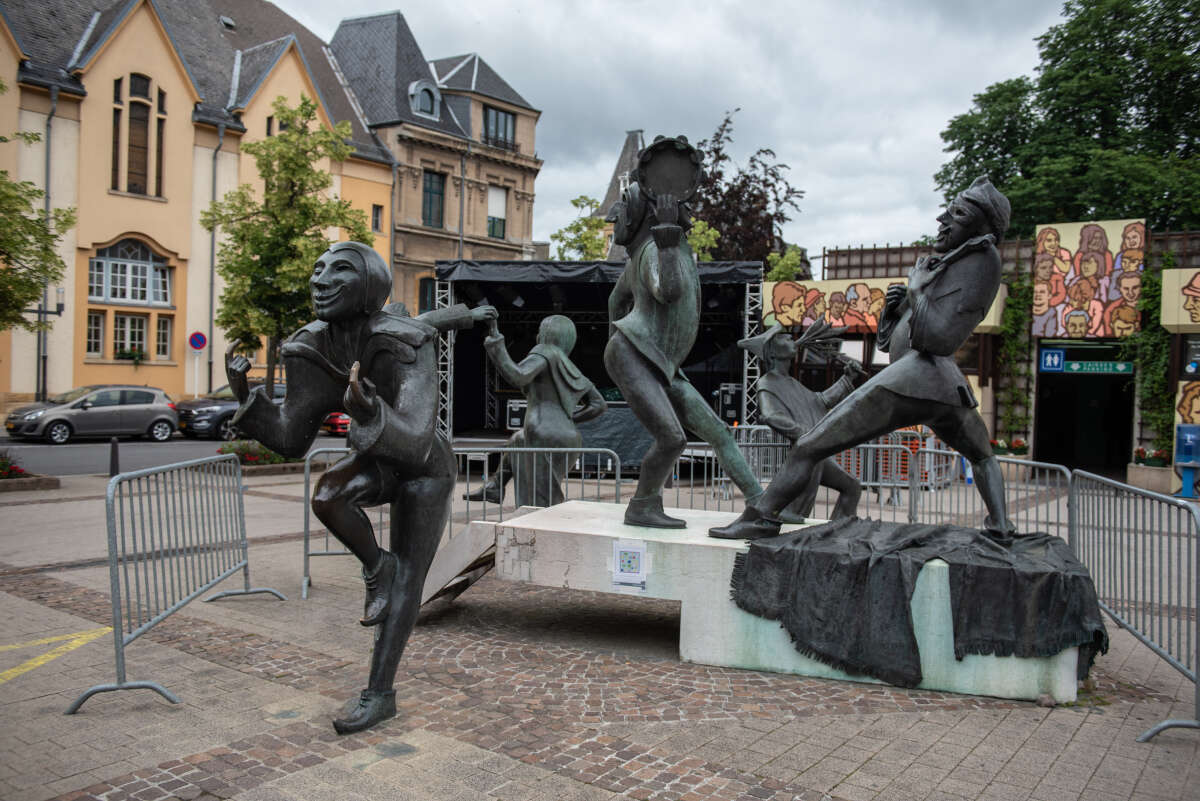 Continue walking along the Rue de Capucins to Place d'Armes Square, where there's usually live music and a variety of restaurants to choose from. Or walk a bit further along Rue Chimay and discover two of Luxembourg's renowned dining establishments: À la Soupe and Charles Sandwiches.

À la Soupe

As the name suggests, this restaurant primarily serves soup – five or six different tasty varieties every day – although you can get salads and sandwiches here as well. The price point is good too, just 6-7€ for a bowl of soup. While it is impossible to call this restaurant cosy, it is ideal for a quick, healthy and filling meal.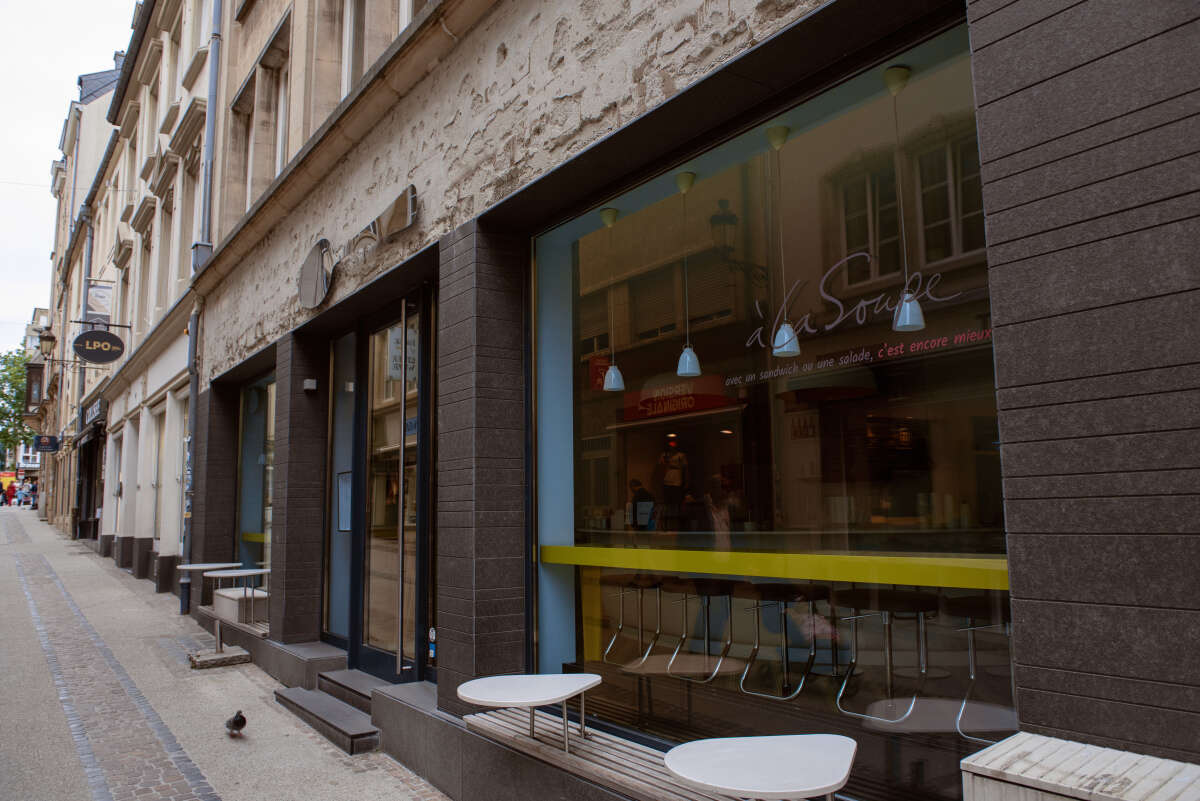 Charles Sandwiches

This popular spot is known for its excellent variety of sandwiches, burgers and salads, friendly service and reasonable prices. A good-sized meal with a glass of wine costs approximately 15€ per person, which is quite reasonable for Luxembourg.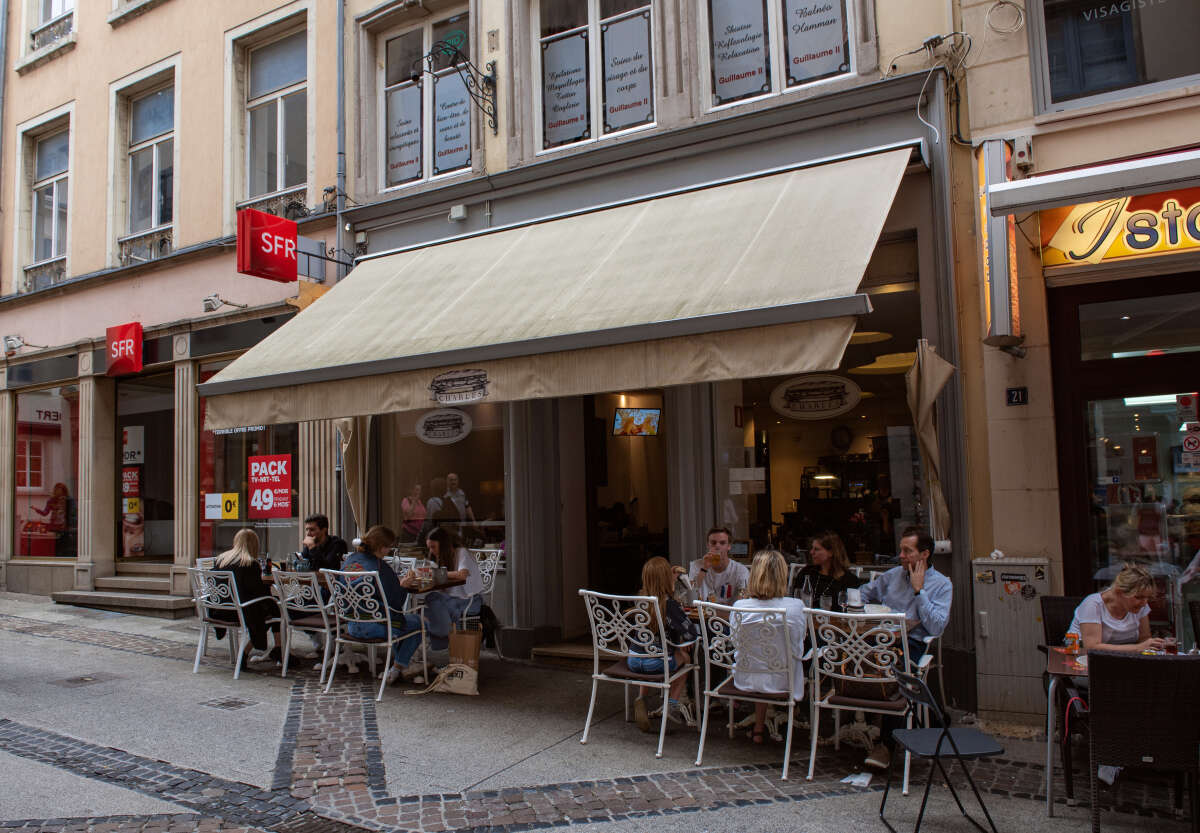 Continuing on, it's only a short walk to the Golden Lady, a sculpture created to commemorate the fallen Luxembourgish soldiers who volunteered in the French army during World War I. From here, you'll enjoy a beautiful view of the Adolphe Bridge and a building (a bank!) that is reminiscent of a fairytale castle.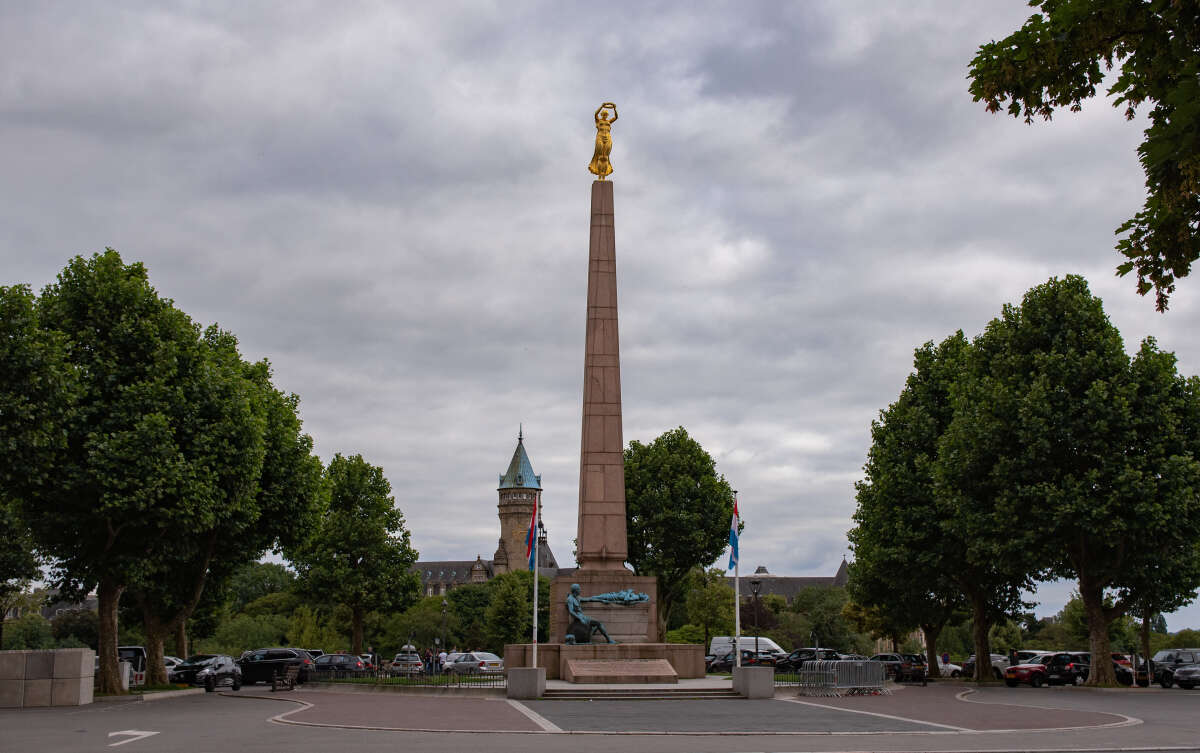 The next two highlights are both rich in history. The Cathédrale Notre-Dame is the only cathedral in Luxembourg and a noteworthy example of late gothic architecture.
Place Guillaume II is a public square that dates back to the 1200s when it was the site of a Franciscan monastery. Two striking monuments dominate this leafy square, which is framed by impressive buildings, cafés and restaurants. Farmers' markets are held here on Wednesdays and Saturdays.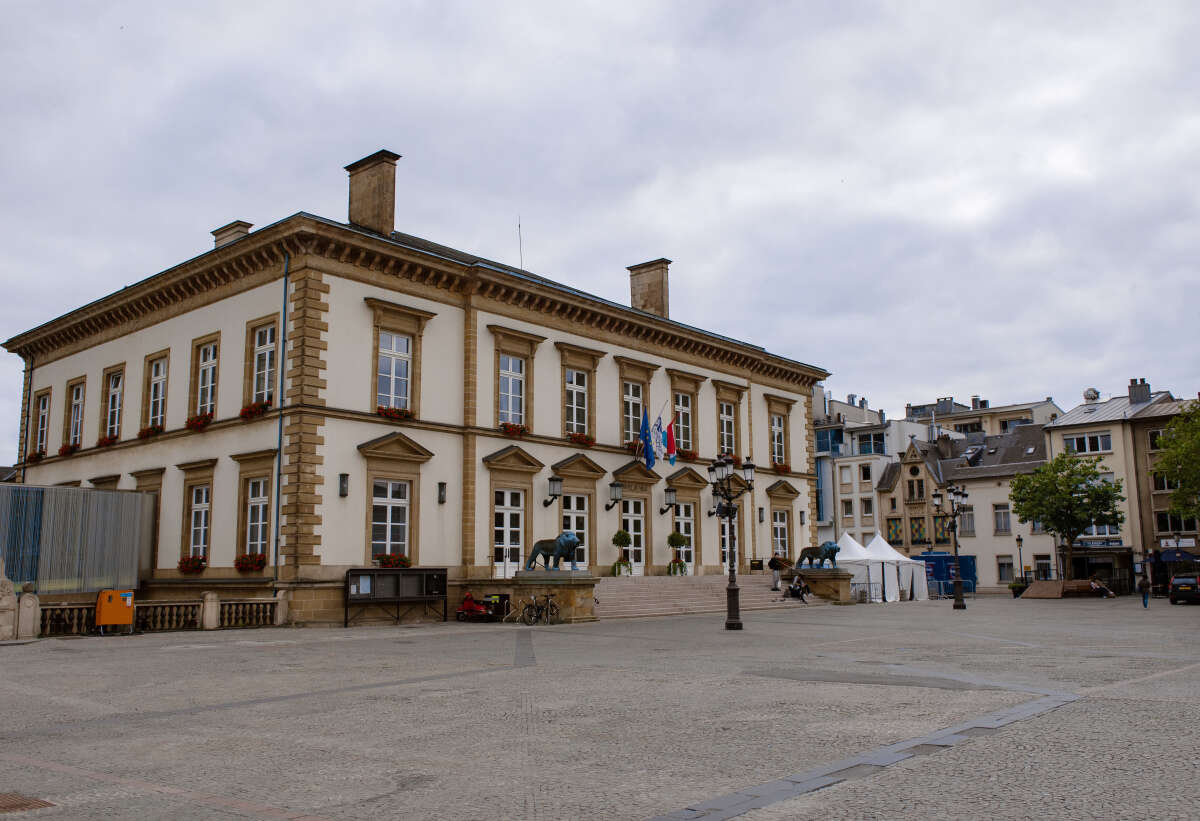 And now for the grand finale! Head over to the Grand Ducal Palace and get an inside look at what life is like to live like royalty. While the Duke's family doesn't actually live here, the palace hosts official meetings and is a working office. Public tours (45 minutes) are offered during the summer months.  Tickets cost 10€ for adults and 5€ for children and are sold exclusively at the Luxembourg City Tourist Office located in Place Guillaume II.

Top off your walking tour of Luxembourg with a delectable dessert. Directly opposite the Grand Ducal Palace is the Chocolate House Nathalie Bonn. This cosy coffee shop is famous for its tasty cakes and unique chocolate creations. You may even catch a glimpse of the Duke who occasionally drops in to indulge in a sweet treat.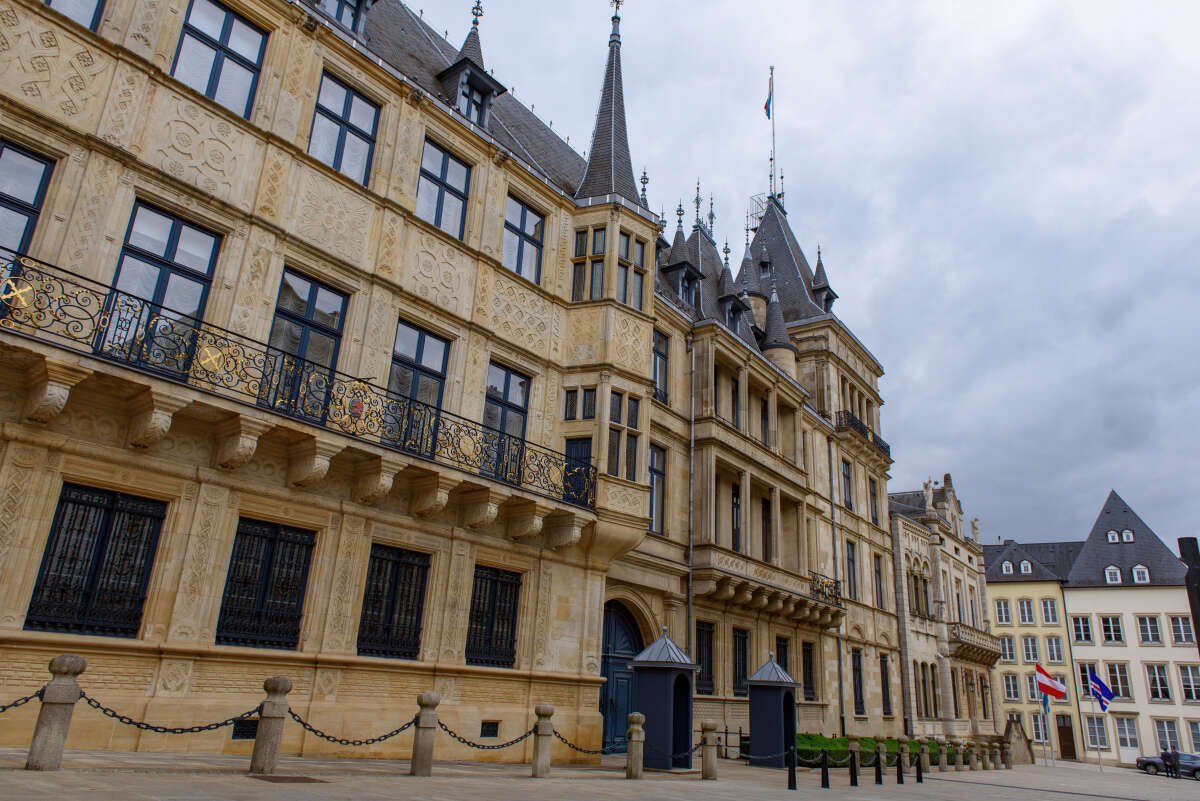 We hope you found this blog post to be informative and helpful, and that it adds to your Luxembourg experience.

If you like to travel, whether for work or leisure, keep following the Travellizy blog. We'll be posting many more articles just like this one in the upcoming weeks. Each one will focus on a different destination. If you have a particular city, country or interest in mind, your suggestions are always welcome. Happy travels!