Delhi and the areas around it offer a wide range of travel treats for people afflicted with wanderlust. The best part about being in Delhi is its proximity to urban areas like Gurgaon, Noida and Ghaziabad, which together with Delhi form NCR, aka National Capital Region.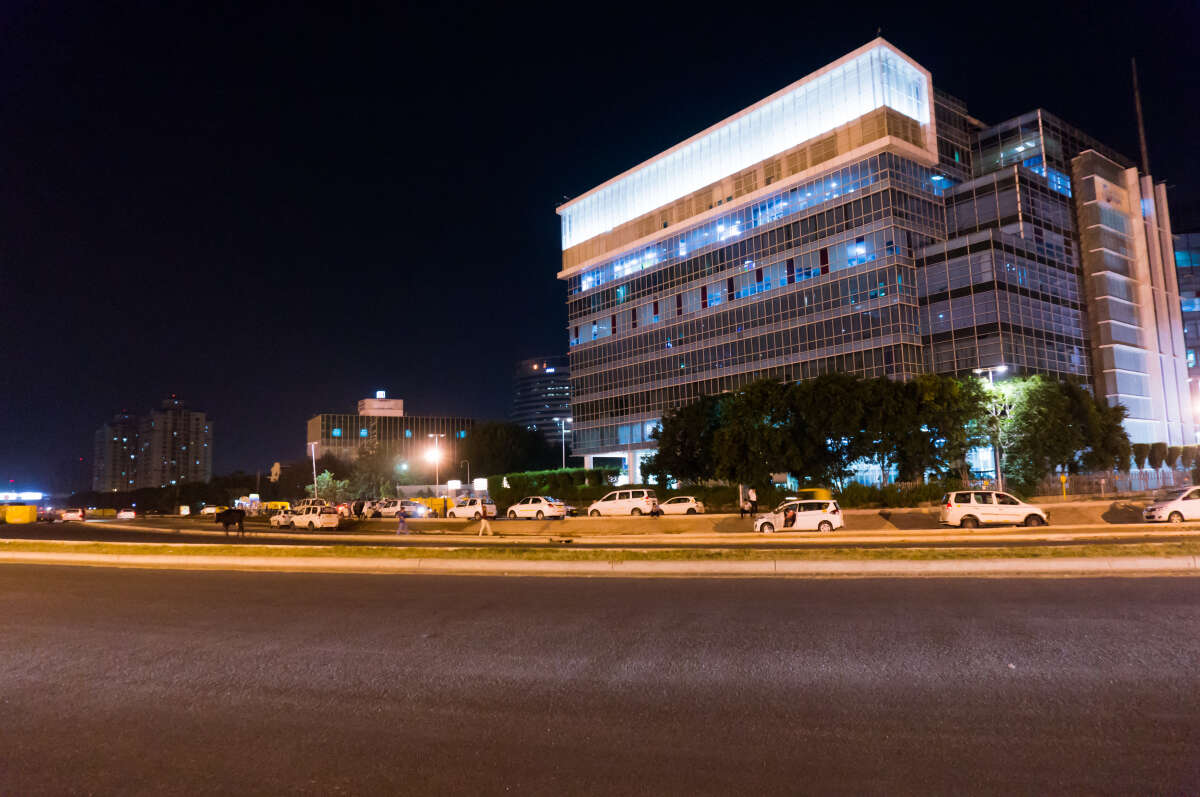 Gurgaon (Gurugram) is one such city within NCR which has emerged as the premier industrial and financial hub and boasts having the third-highest per capita income in India. Spanning an area of 282.7 sq miles and situated 32 kilometres (20 miles) southwest of New Delhi, Gurgaon houses more than 250 local offices of the Fortune 500 companies. 
World of Fantasy.
In addition to reigning the financial sector, this vibrant city harbours some of the finest epitomes of luxury and grandeur which will leave you awestruck once you visit them. One such leisure and entertainment destination known for its magnificence is Kingdom of Dreams aka the Broadway of India. 
"A spectacle so grand it can only fit in your dreams" is its tagline.
And mind you! It is absolutely apt for the experience you will have there. For those wanting to experience India in its most magical form, this 'Miniature India' is a must visit for all Indian and International tourists. 
When you enter the palace, there are many dream-like venues that you can visit. These venues are elaborately designed using colors, mirrors and lights and showcase Indian culture in a never before seen style. 
If you are looking to experience Bollywood style theatre and musicals, Nautanki Mahal is where you should head to. Among the various musicals staged there, Jhumroo and Zangoora are the most popular shows which boast the highest visits by locals and tourists alike. These shows entice hordes of tourists for their flawless acting, attractive dance sequences with jaw-dropping acrobatic moves and phenomenal ambience. Some have gone ahead and even compared Zangoora with the Cirque du Soleil of Las Vegas.
If its Indian Mythology that draws you, you should definitely visit the Showshaa theatre. This theatre is famous for presenting Indian mythological tales like Krishna-Lila and Ram-lila in an awe-inspiring style. What's more, if you are fascinated with Indian weddings, this theatre offers you the chance of being a part of one (albeit a mock one), replete with an Indian bride, groom and baraat (traditional procession of an Indian groom). You can be a part of this grand drama and live those moments that you will never forget.  
For the foodies out there, Culture Gully is their gourmet dream come true as it offers you the pleasure of authentic Indian cuisine from the various regions of India. This gully raises the entertainment stakes much higher with street performers, magicians, live artisans, and Folk Dancers, with whom you can interact while shopping and eating at your leisure pace. 
Kingdom Of Dreams is located near leisure valley park in Sector 29 Gurgaon. This is very much in the main city, hardly 1 km away from NH 8 (Jaipur Highway). 
Since this venue is well-connected to other areas of Gurgaon, you can hire a car or use your private transport to reach KOD. Reaching KOD is easy as it is close to many metro stations like Iffco Chowk and Huda City center and has huge billboards pointing to it along the way. 
KOD is closed on Sundays. It is open from 12.30 pm –12 am from Tuesday to Friday and from 12.30 pm -12 am on Saturday and Sunday. The entry fees include various packages, which you can choose depending on the services you want to avail in KOD. 
Palace or hotel?
Following this fantastical experience of KOD, add icing on your travel cake with an authentic royal stay at the Neemrana-Fort palace, an honest to goodness fort. This 14 tiered luxurious resort is steeped in history as it stands proudly atop the 2 billion-year-old Aravalli hills.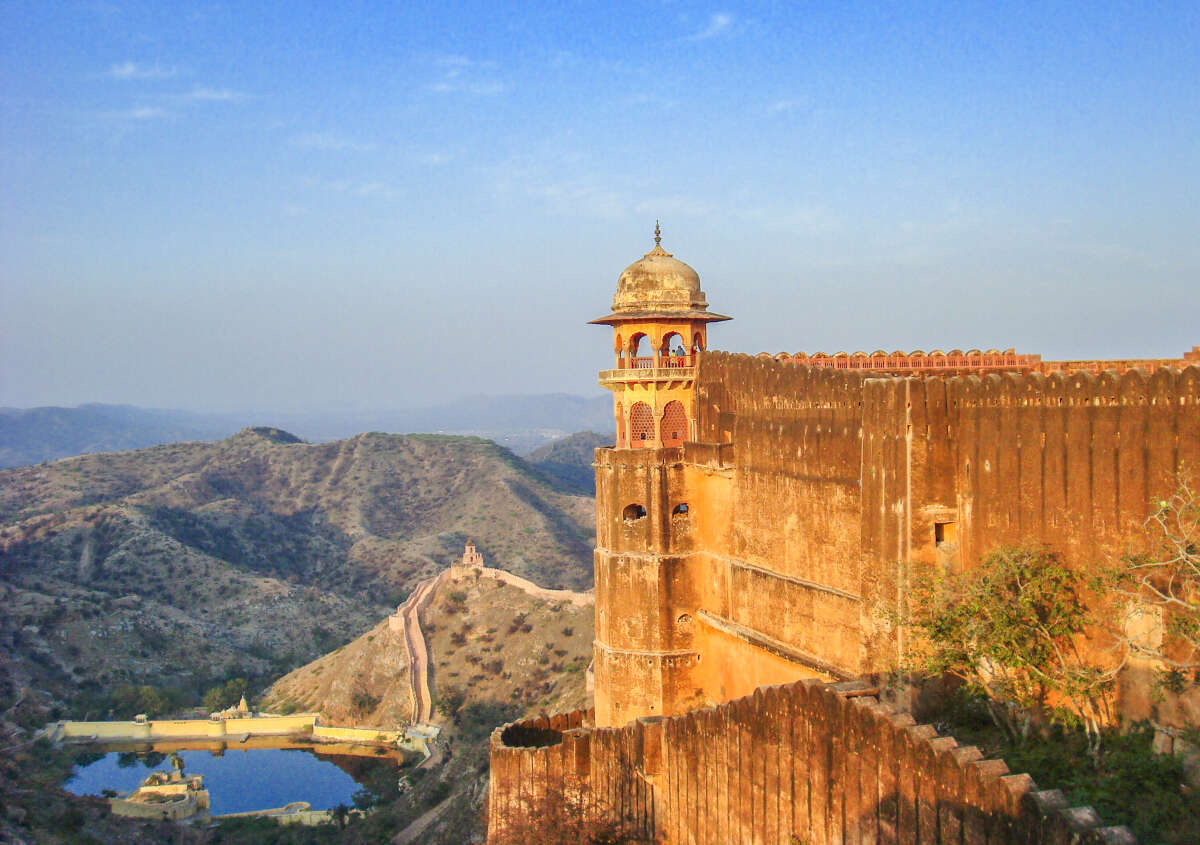 Only by stepping into their complex would you be able to imagine the labour and love it must have taken to restore the 15th-century ruins of the Neemrana fort and develop it into what it looks today. Most travellers need to be in a somewhat fit condition to be able to explore this 14 tiered palace as it is built with steep steps and ramps.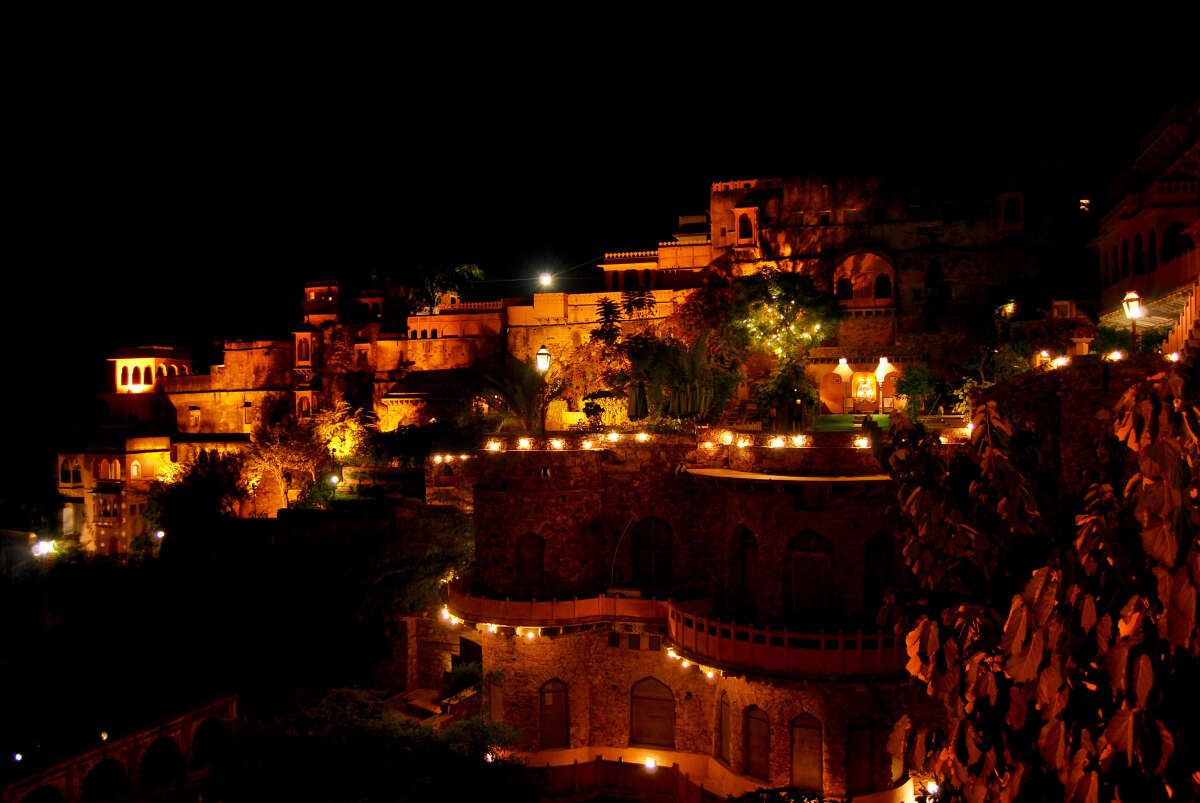 But as you roam around the gorgeous terraces with narrow staircases and rest within the low ceiling rooms with regal interiors, this royal treatment will definitely make the physical strain worth it. You can visit the exquisite hanging gardens, take a dip at the beautiful swimming pools, rejuvenate yourself with the relaxing Ayurvedic massage and get your blood rushing with their famous zip-line tour, the first one in India. 
This 'non-hotel' Hotel, as they like to call it, has 9 wings, each with rooms of unique styles offering mesmerizing views through their windows. On average, the rooms cost Rs. 7000 ($103) per night but the prices may vary.  
To make the most of your stay, you should definitely visit the step-well at 500m from the fort which is present 9 storeys below the ground or rides to nearby villages using the camel carts. What's more, you can also enjoy the vintage car rides around the Neemrana village which are offered at a rate of Rs 1200 ($17.5) for 3 to 4 people.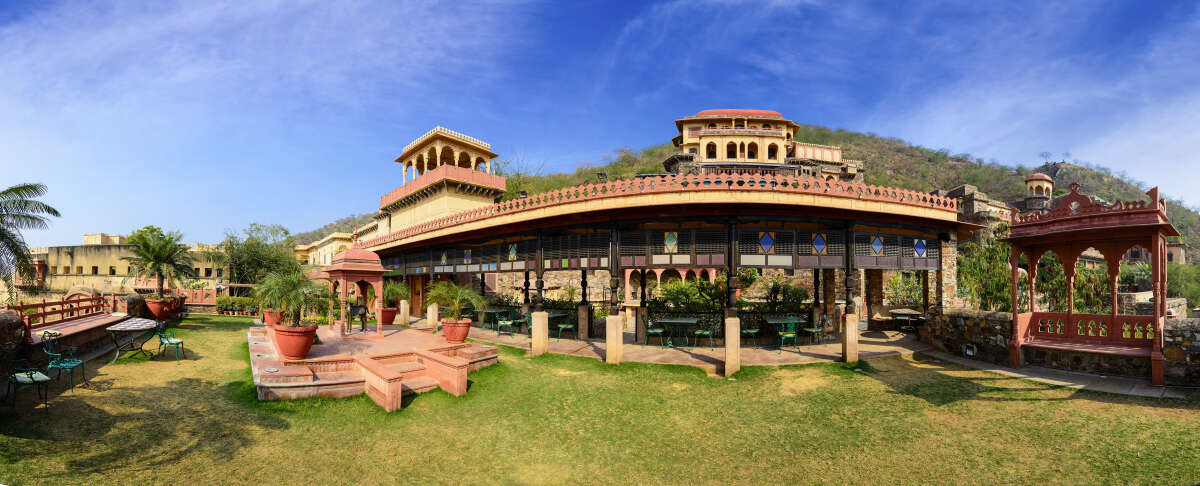 Neemrana is 93 km from Gurgaon and the fastest and most convenient way to reach this place is to rent a cab from Gurgaon to Neemrana.
Sporting passion.
If dream-like locations and historical marvels have still not satiated your senses, then conclude your tour by visiting Golden Greens, India's largest private polo club. Even if you are not a polo aficionado, this place offers so many services, that it would be a memorable visit almost for anyone. 
You can go on delightful horse rides across different trails in Aravallis, all of which would be customized as per your experience. If you are more of a golfer and less of a rider, then Golden Greens is still the right place for you, as with its lush lawns and India's only link course, it offers the perfect opportunity to enjoy golf. 
If golf and polo are too mild for your tastes and you are looking to end your journey on an adrenaline rush, then indulge yourself in the various adventure activities like paramotoring, paintball, shooting, etc offered here.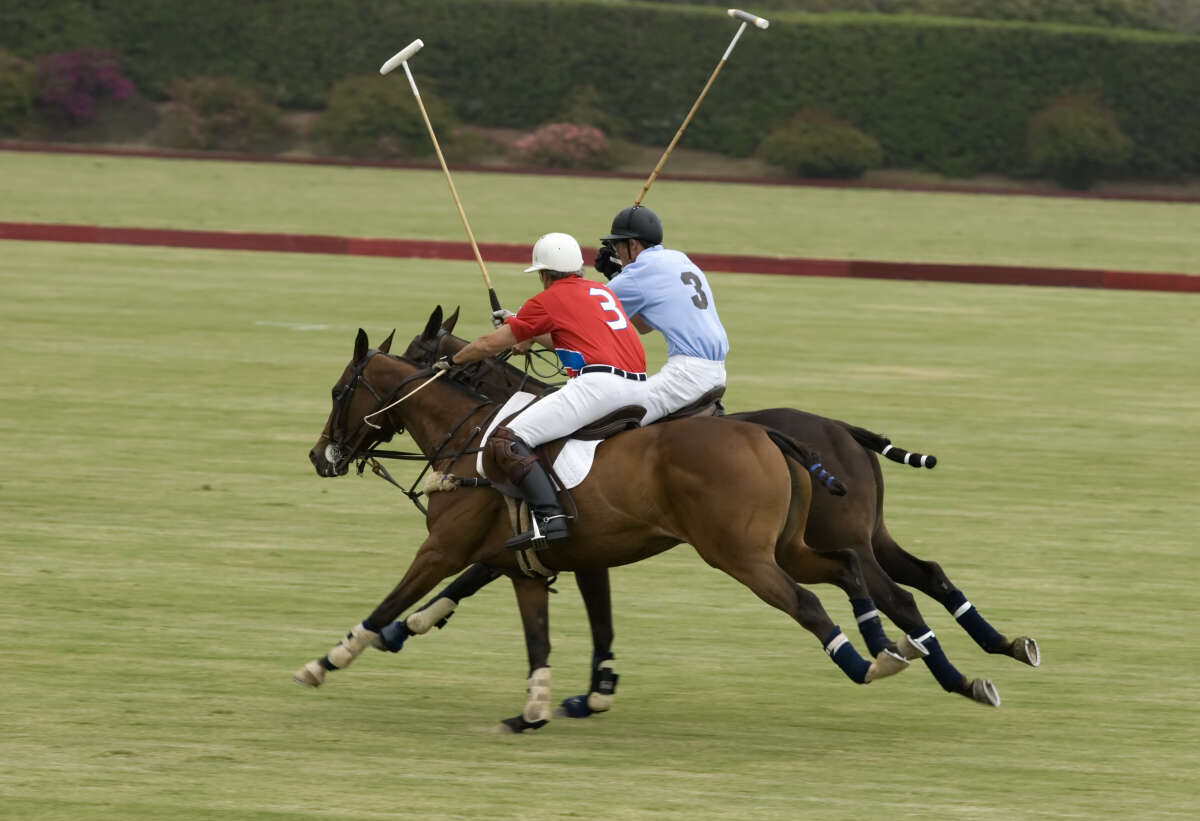 This beautiful club at Sector 79, Gurgaon is just 25 kilometres from the International airport. It is advisable to book beforehand since on the spot entry is many times not allowed. The easiest route to reach this club is through the Badshahpur route, Gurgaon.
Gurgaon offers such mesmerizing locations, that it won't come as a surprise if you feel reluctant to leave this city. With these jaw-dropping destinations, we can be sure that your visit to this NCR city would be lavish and adventurous, and something you can cherish for life.