Sea. Rock. Monastery. There are millions of photos with this view all over the world, made by tourists and professional photographers. But this is a place worth seeing with your own eyes. So, let's go to the abbey of Mont-Saint-Michel.
What is Mont-Saint-Michel Abbey and where is it located
The abbey of Mont Saint-Michel is located in France on the border of the French regions of Normandy and Brittany. It is built on the granite island of the same name, a rock, towering in the bay of Mont-Saint-Michel (Baie du Mont-Saint-Michel). A few kilometres from the abbey, there are two small rocky islands - Tombelaine and Mont Dol. They can be reached on foot at low tide.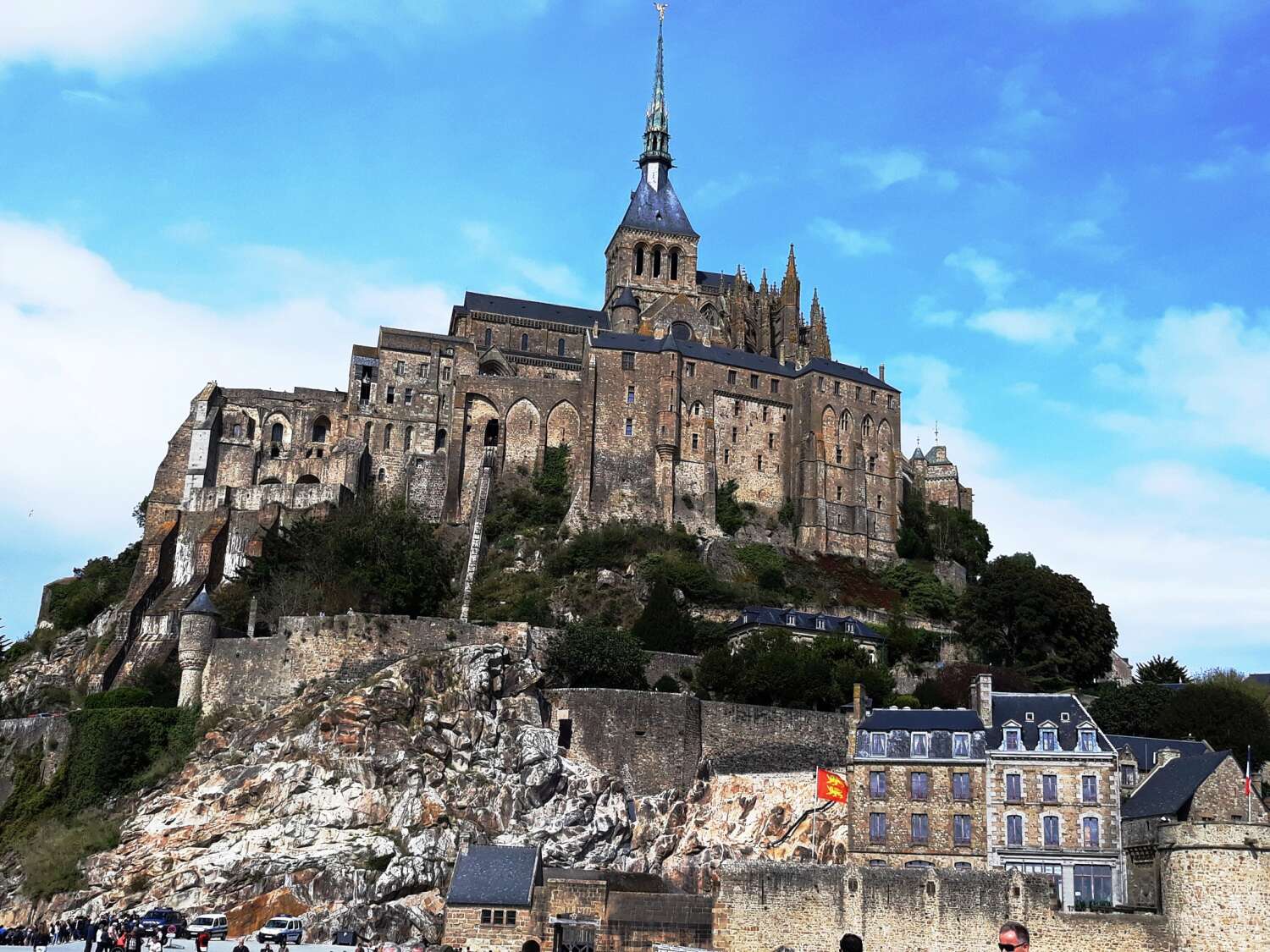 The Abbey of Mont-Saint-Michel is a symbol of Normandy, one of its main attractions, included in the UNESCO World Heritage List along with the bay.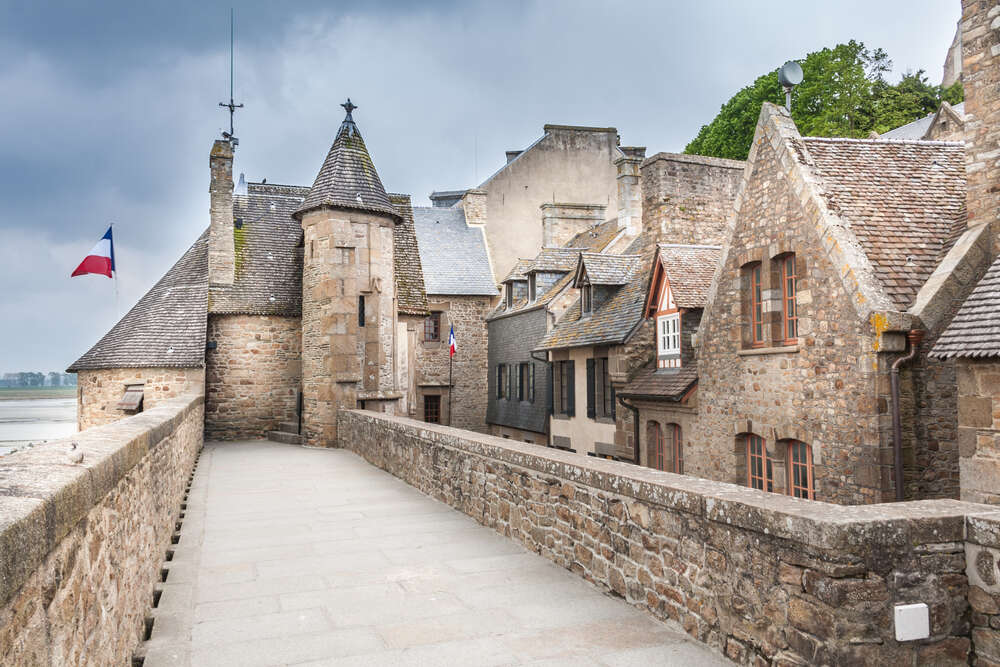 In ancient times, the rock was surrounded by forests, where the Celts used to live. Time has passed. The sea gradually stepped on land and, together with the rivers flowing into it, destroyed the soil. Forests were slowly dying. Millennia have passed, the rock turned into a rock-island, and the forest landscape became a sandy one. And then one day, the archangel Michael appeared to one bishop in a dream and ordered to build a temple on a rock. The church minister did not respond to the dream, and the Archangel appeared again, and again. The bishop had to start construction. It may be a legend, it may be true, but a chapel was built in the VIIIth century on the Grave Hill (Mont Tombe), as the rock of Mont-Saint-Michel used to be called.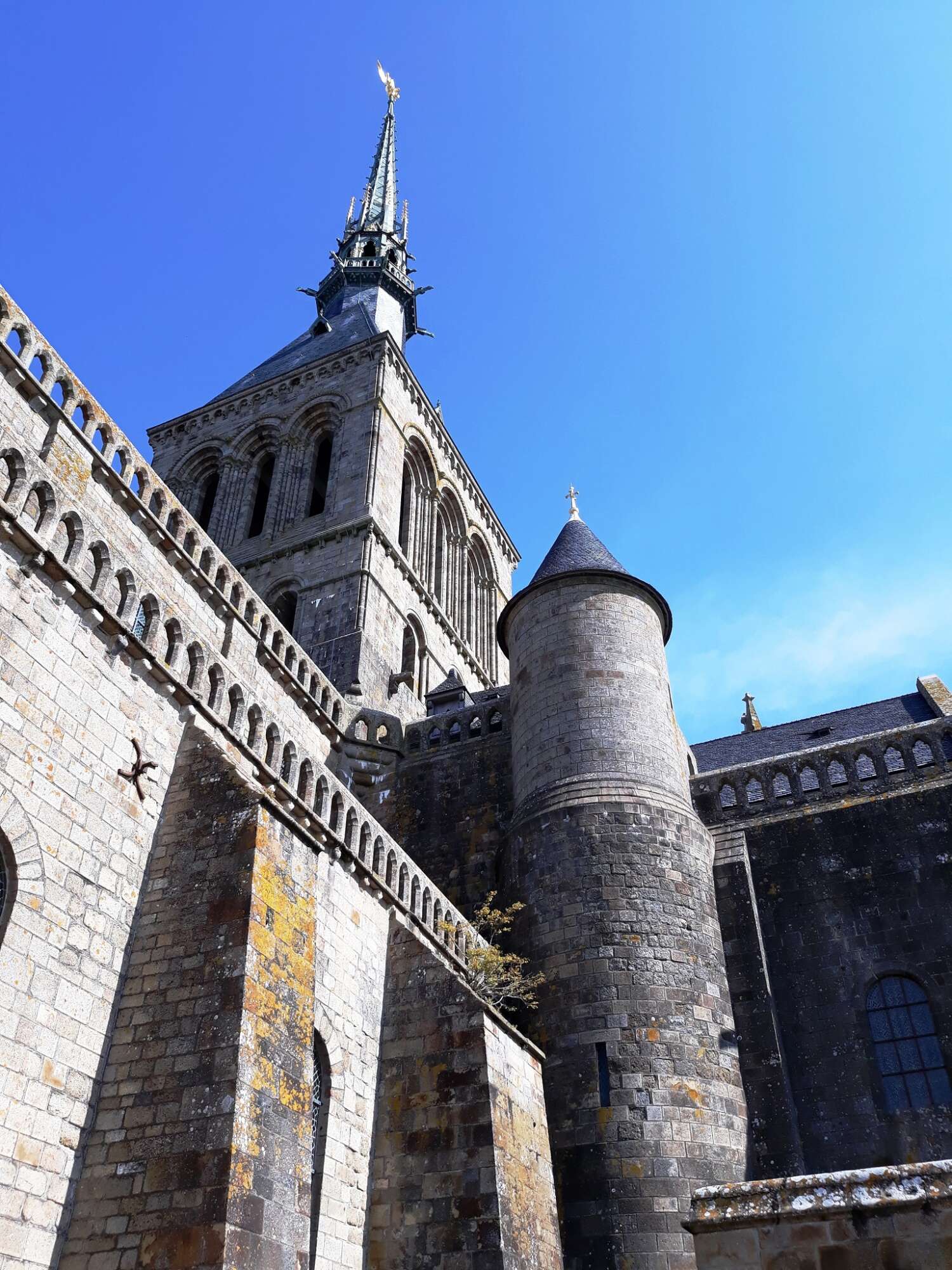 At different times of 13 centuries of history, monks used to live in the monastery, and pilgrims, including kings, visited the abbey, prisoners were kept here. Mont-Saint-Michel survived fires, raids, destruction, reconstruction.
Nowadays, a few dozen people live here, including several monks. And tourists may attend the daily service.
How to get to Mont-Saint-Michel
Fly to Paris. And then it all depends on whether Mont-Saint-Michel is the only destination in your trip to France or is it part of the route. If you plan to go directly to the abbey from Paris, there are several options. For example, buy a one-day tour. But, if you want to go on your own, then you have a choice: rent a car, buy a train or bus ticket.
By car. Get ready to drive 360 km and pay for some autobahns.
By train. There is no direct connection between Paris and Mont-Saint-Michel. You need to travel with transfers: by train from the Gare Montparnasse station to Rennes or Dol De Bretagne, and from there -by bus to Mont-Saint-Michel. Another option is from Montparnasse 3 Vaugirard Station to Vildieu-les-Poêles, then by bus. You can travel from Gare Saint-Lazare Station via Caen to Pontorson and transfer to the shuttle to the Abbey. You can find timetables and prices here:
https://www.sncf.com/en/booking-itinerary/book-tickets, http://www.ter.sncf.com/normandie
https://www.oui.sncf/article/le-train-du-mont-saint-michel-82724
By bus. Flixbus buses depart from the La Defense district of Paris from Thursday to Sunday. If you are lucky enough, you can buy a one-way ticket for 12 euros. From Monday to Thursday you have to go with a transfer. Here are the schedule and prices.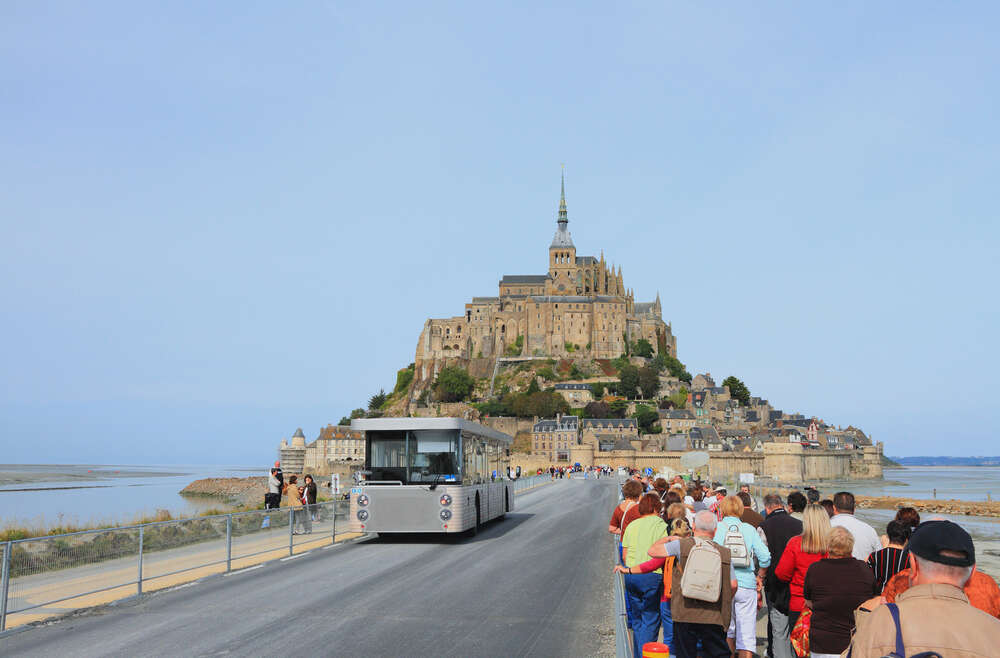 The total one-way journey time by train will take at least 4 hours. By bus - about 5 hours. Therefore, a visit to the abbey is best combined with a trip to Normandy or Brittany. The way from Caen or Rouen is a bit longer than from Rennes or Saint-Malo.
How to navigate in Mont-Saint-Michel
All buses and cars coming to Mont-Saint-Michel stop in a car park 2.5 km from the rock. The cost of car parking is 9-14 euros per day depending on the season. If you arrive by bus, which will take you back, write down its number. Otherwise, you will have to look around for a long time - there will be dozens of buses in the parking lot. There is a tourist information centre near the parking lot.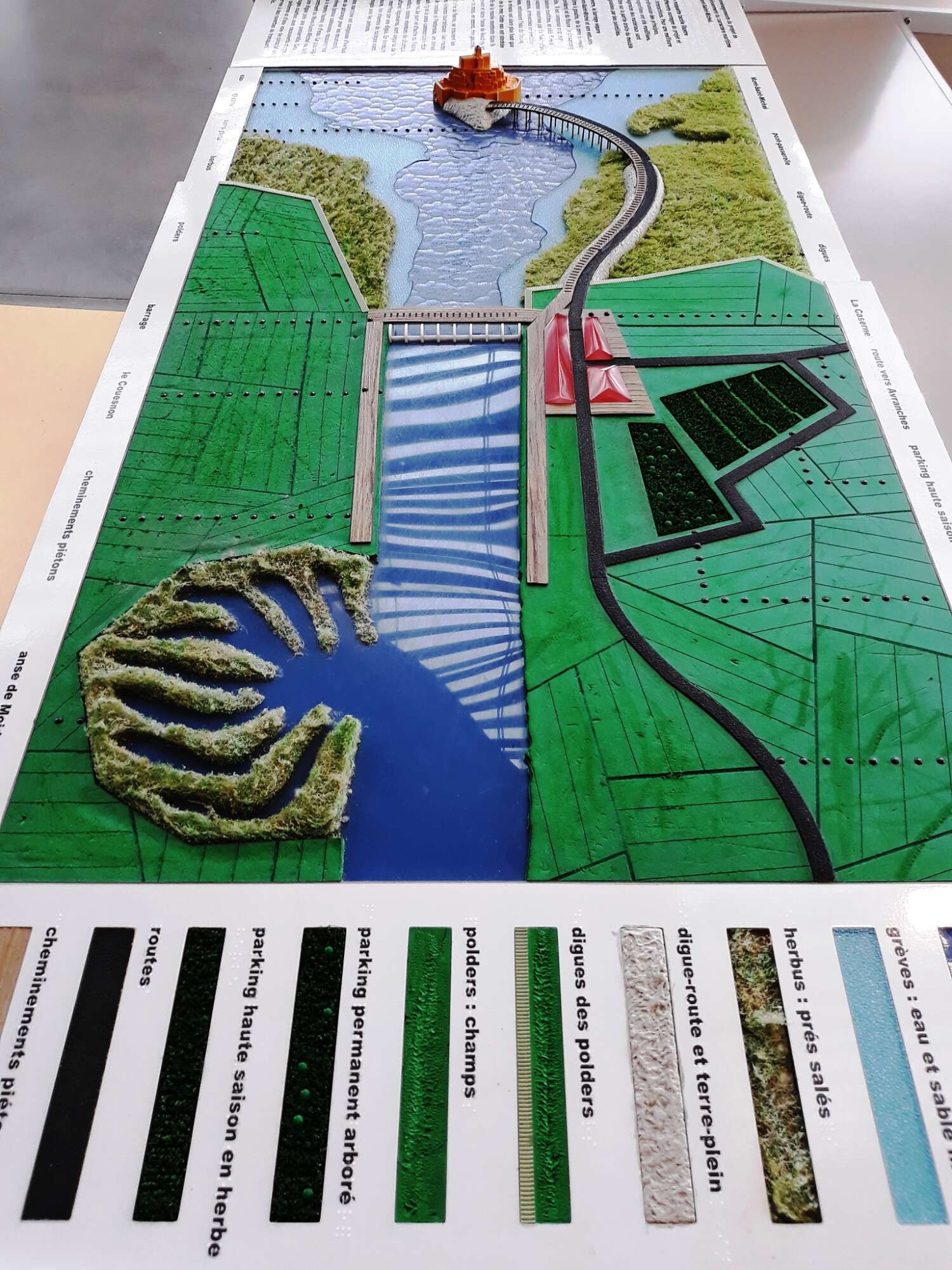 Now, you have to walk another hundred meters to Navette Square, where a free bus leaves to Mont-Saint-Michel from.
From the parking lot to the cliff, it takes 40 minutes to walk, 10 minutes to get by the free shuttle Le Passeur or in a horse-drawn carriage for 6 euros and 20 min. In any case, you need to walk on foot the last few hundred meters on a 350-meter bridge connecting the mainland with a rock island. Carriages will bring you closer than buses. Shuttle Le Passeur runs from 7.30 a.m. to midnight. There is a hotel located inside the abbey, and parking No. 3 is reserved for its guests.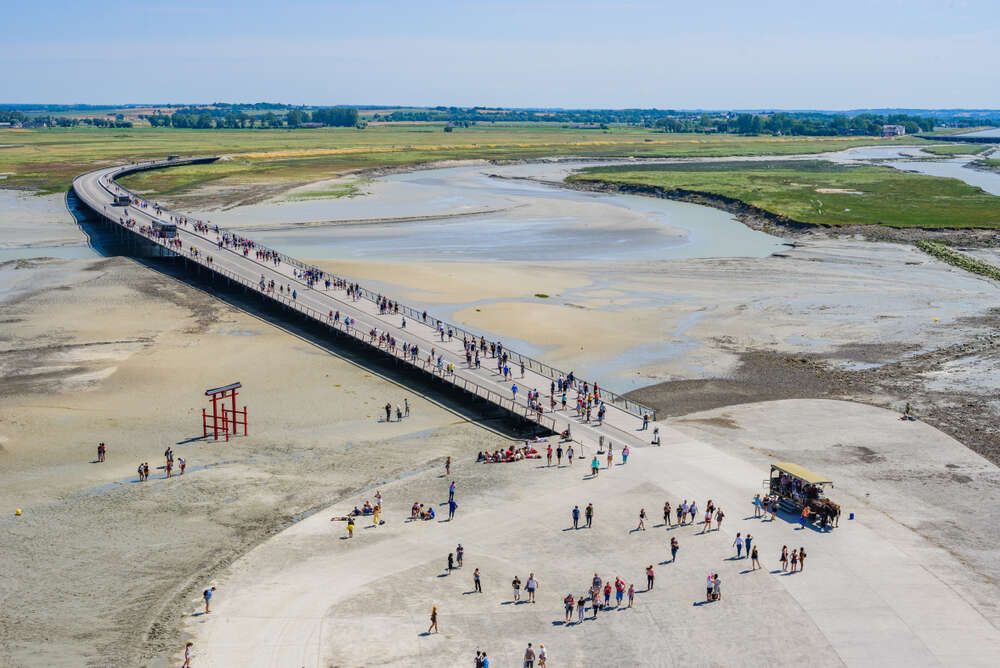 No matter how quickly you reached Mont-Saint-Michel, but finally, here is the foot of the mountain.
Mont-Saint-Michel Abbey Walk
Steep cliffs, quicksand, considerable speed of the tidal wave - this is a great place to live in solitude and not let strangers in. There were many attempts to capture the abbey. But it withstood. Even during the Hundred Years War.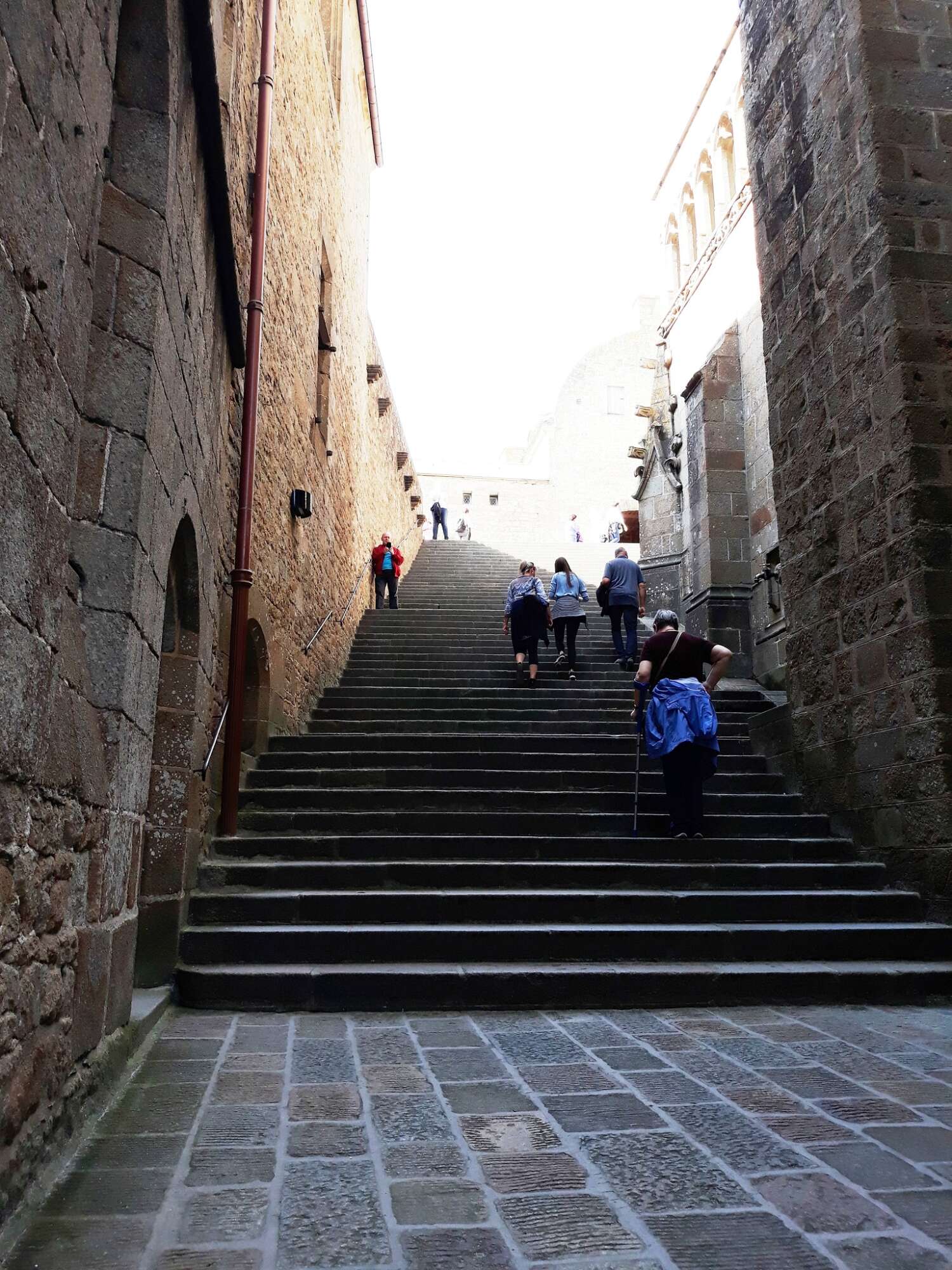 But we will not attack the rock. We will just go through the Main Entrance Gate. This can be done daily from 9.00 to 19.00 (the schedule is slightly different depending on the season).
Mont-Saint-Michel Entrance Fee
Entrance to the rock itself is free, but in order to get to the monastery, which is located on the top, you need to buy a ticket (you can pre-book on the Internet) for € 11 (it is free for up to 18 years). An additional € 3 must be paid for an audio guide. A booklet with must-see places is for free. Guided tours through the bay are also for a fee. Tickets can be bought at the box office near the entrance, and in front of the monastery itself. If you want to visit one or all the museums of Mont-Saint-Michel, you will have to pay for tickets separately. A single ticket will cost less. There are a lot of different and interesting things in museums: paintings, sculptures, ship models, weapons.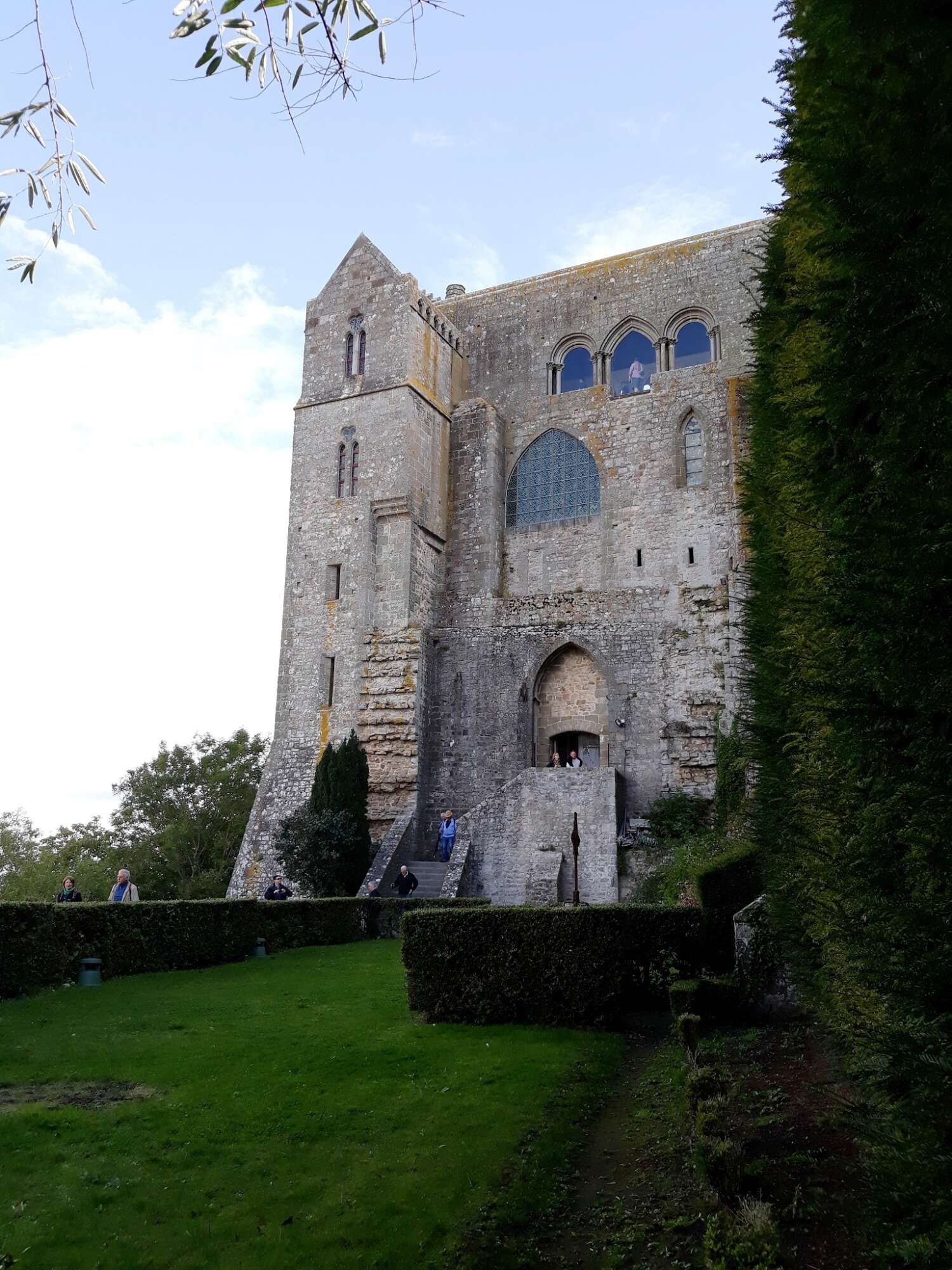 There are several days of the year, when the entrance to the abbey is free for everyone: during the European Heritage Days (3rd day off in September) and 1st Sunday of the month (from January 1 to March 31 and from November 1 to December 31).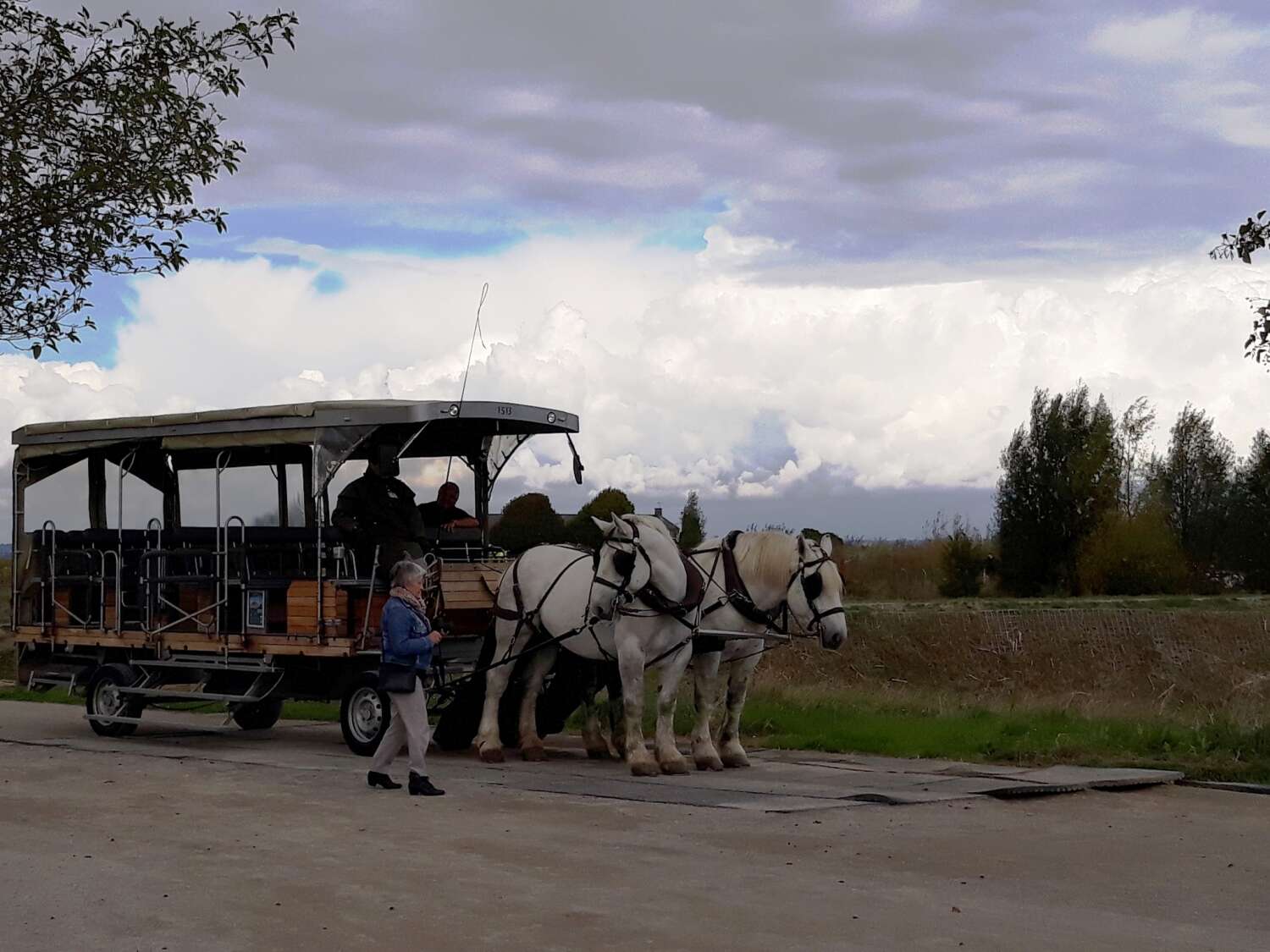 Walking along the old streets, be prepared for the fact that there will be no monastic solitude, as many people want to see Mont-Saint-Michel - it's more than two million people a year. The only period when there are fewer tourists is from November to February.
The information bureau, where tickets are sold and audio guides are rented, where they answer all your questions, where you can buy souvenirs, is located to the left of the entrance, in the Corps de Garde, the premises where the guard was located.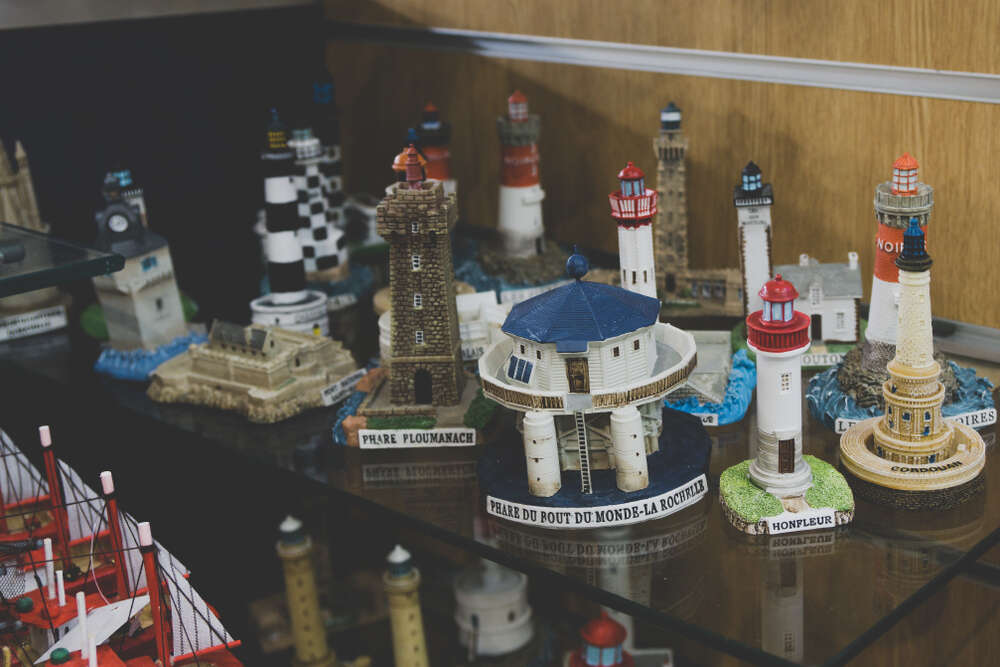 Entrance to the small town of Mont-Saint-Michel, located at the foot of the abbey, is through the Royal (Porte du Roy) and Boulevard Gate (La Porte du Boulevard). Main Street (Grande Rue) starts behind them. It has many cafes, souvenir shops, museums, medieval houses. The town has a town hall, a parish church, a functioning cemetery, and an old post office. From here, you can send your friends or yourself a message in an envelope with the stamp of Mont-Saint-Michel. And, while the card is sent to the addressee, we continue to approach the "Miracle" slowly but surely.
Chapel of Notre-Dame-Sous-Terre
"Miracle"(in French "La Merveille"). That is what the upper part of the abbey complex is called because to think up and create a multifunctional structure on an uneven rock, that would attract thousands of pilgrims in those and subsequent centuries is not an easy task.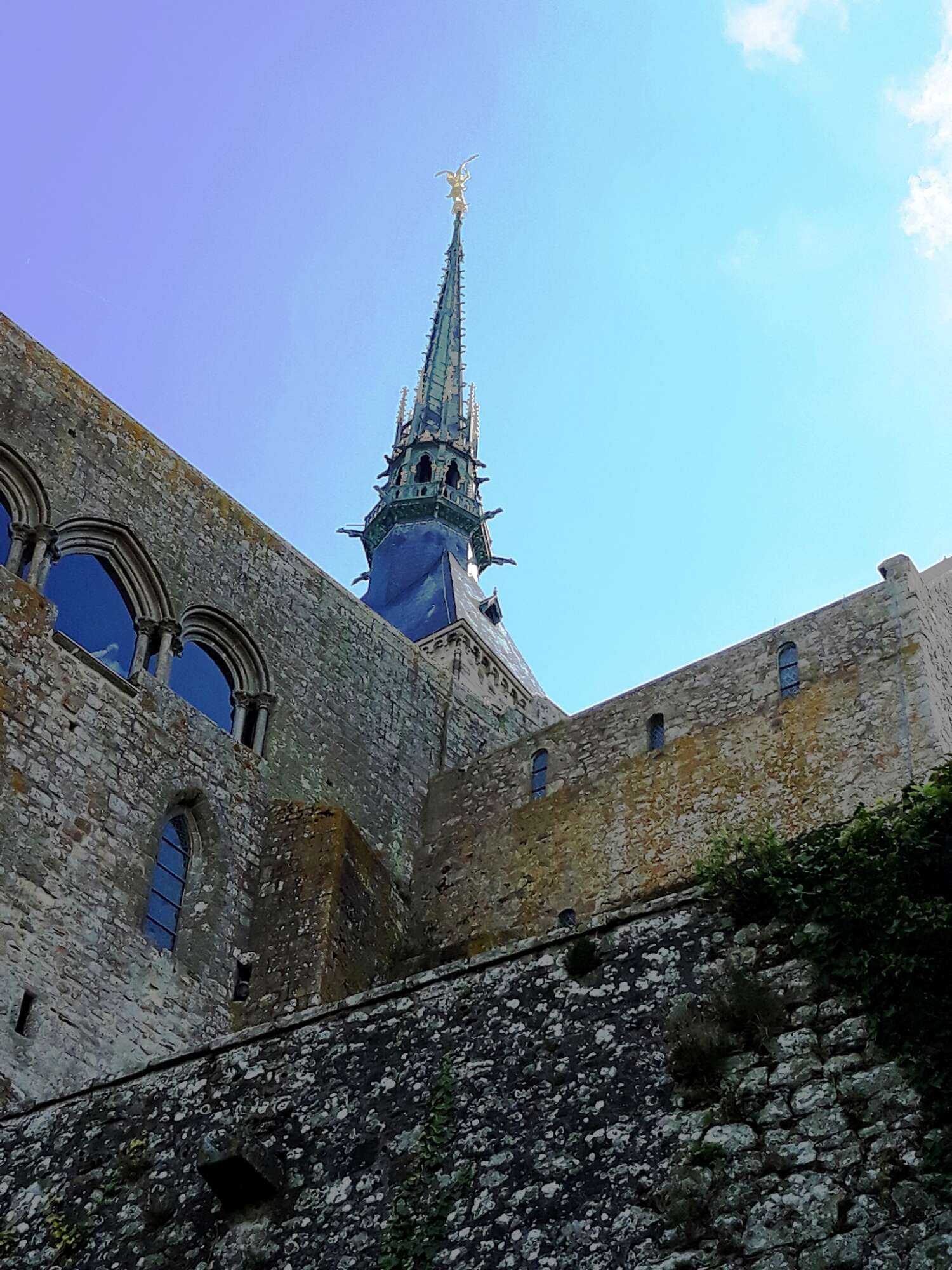 The abbey was built for several centuries. The oldest part of the monasterнy, the Notre-Dame-sous-Terre chapel, was built in the X century.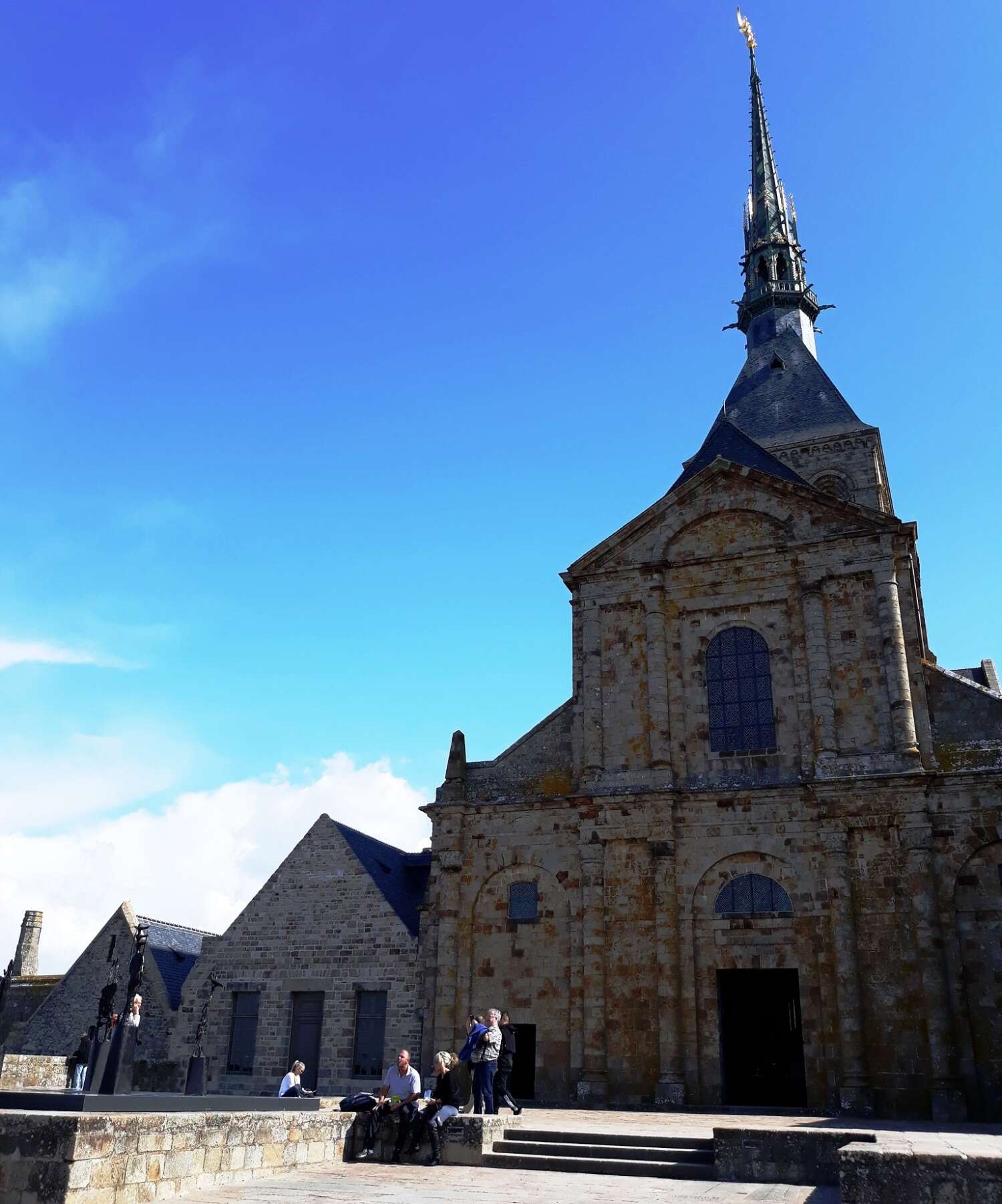 Later, at the top of the cliff, a large church was erected at an altitude of about 80 m above sea level. It was installed on crypts (vaulted underground rooms), forming a platform that can withstand the weight of a building 80 meters long. A 32-meter spire crowned with a gilded statue of St. Michael was added in the 19th century.
For several centuries, monastery buildings appeared on the rock, as well as the Merveille complex, a three-level Gothic building.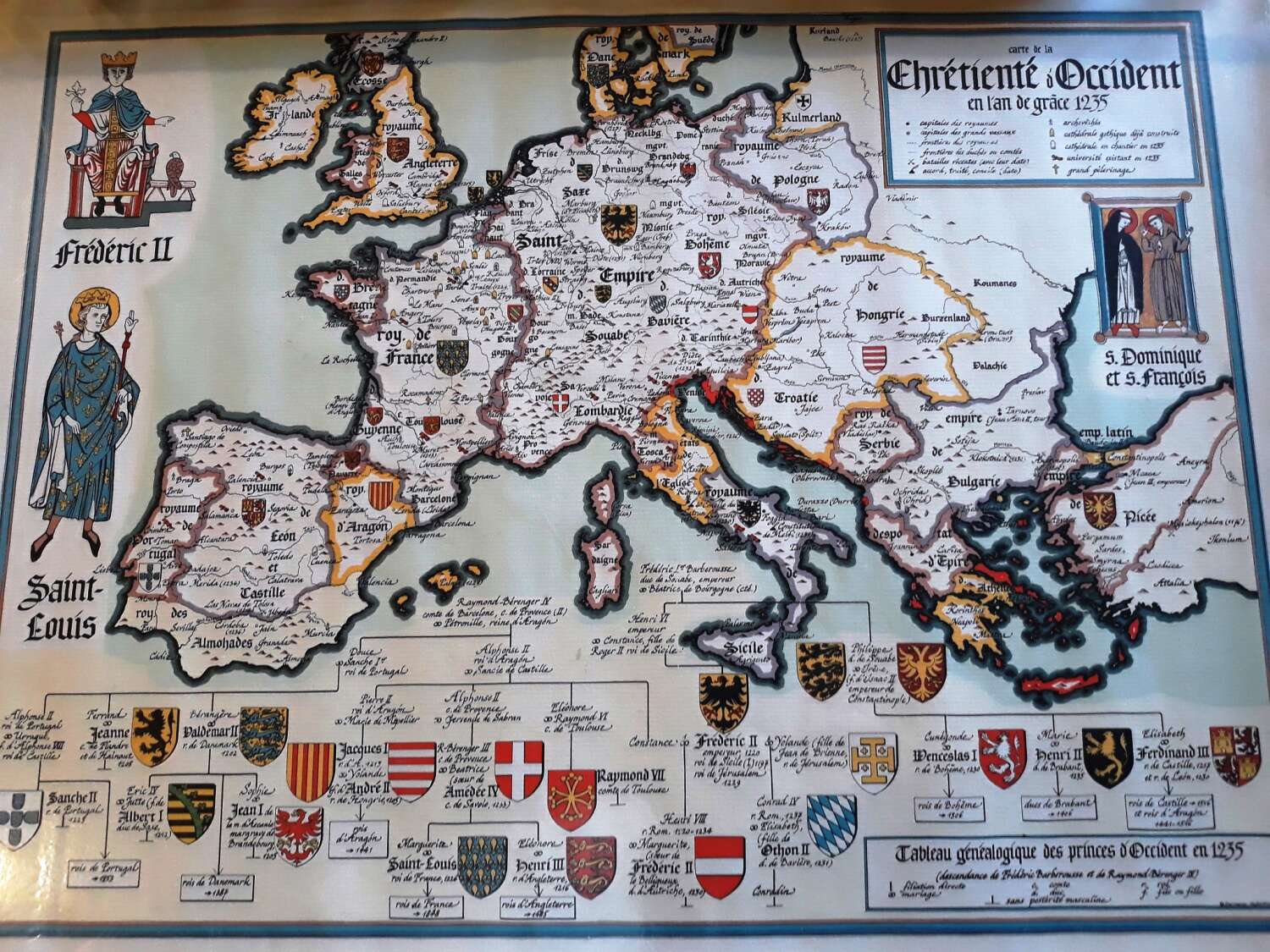 On the first floor, there was a cellar for storing food and rooms for overnight pilgrims. On the second floor, there was a dining room with fireplaces, so especially important guests were invited here. There was also a scriptorium, where the monks used to read and copy manuscripts. Mont-Saint-Michel was even called the "city of books". The monks used to live and eat at the upper level. For prayers and solitary thoughts, they used to go to the covered gallery in another wing.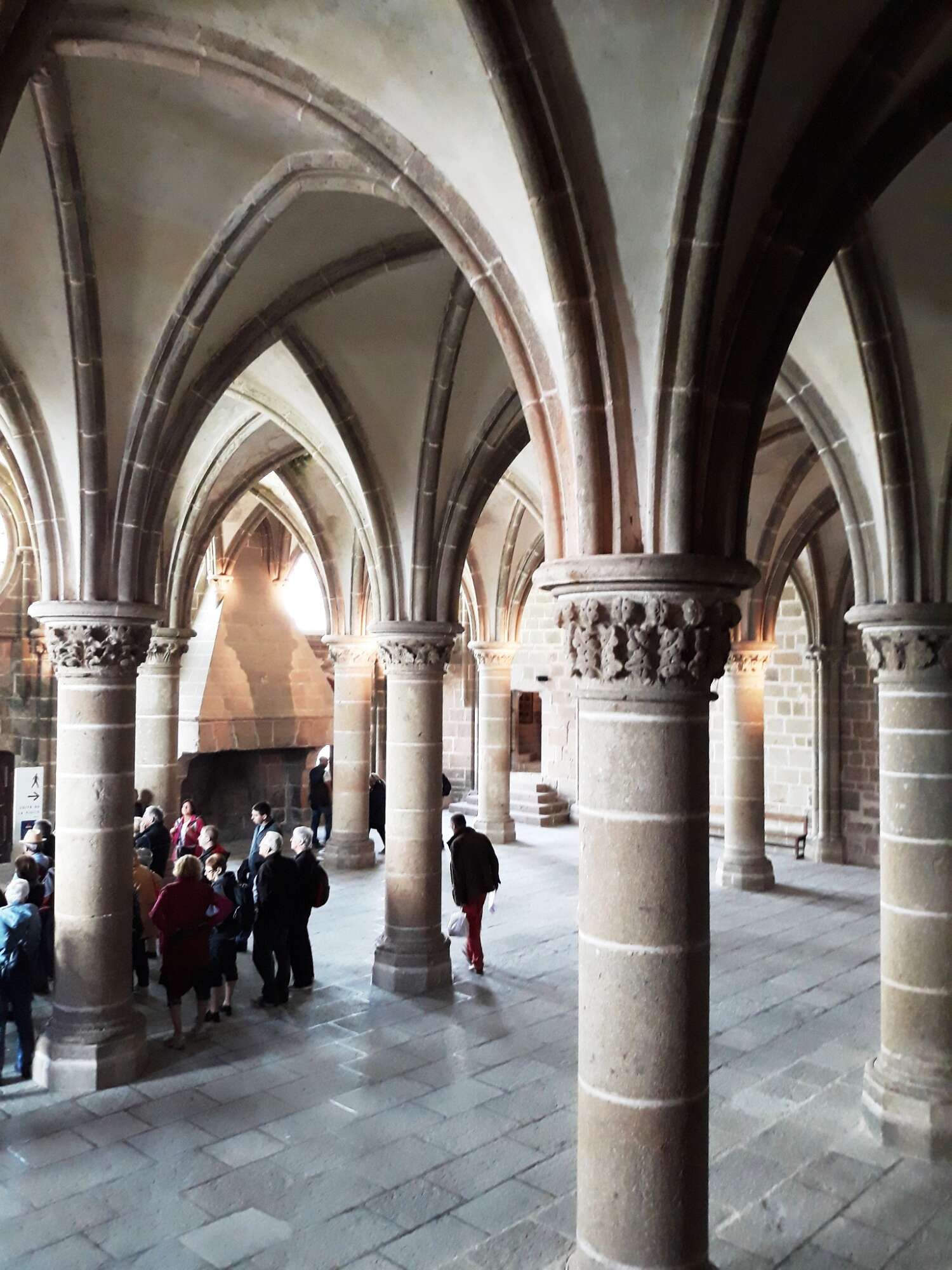 There is a medieval garden in the centre of the monastery with boxwood trees surrounded by damask roses, flower beds with medicinal plants, aromatic herbs and flowers.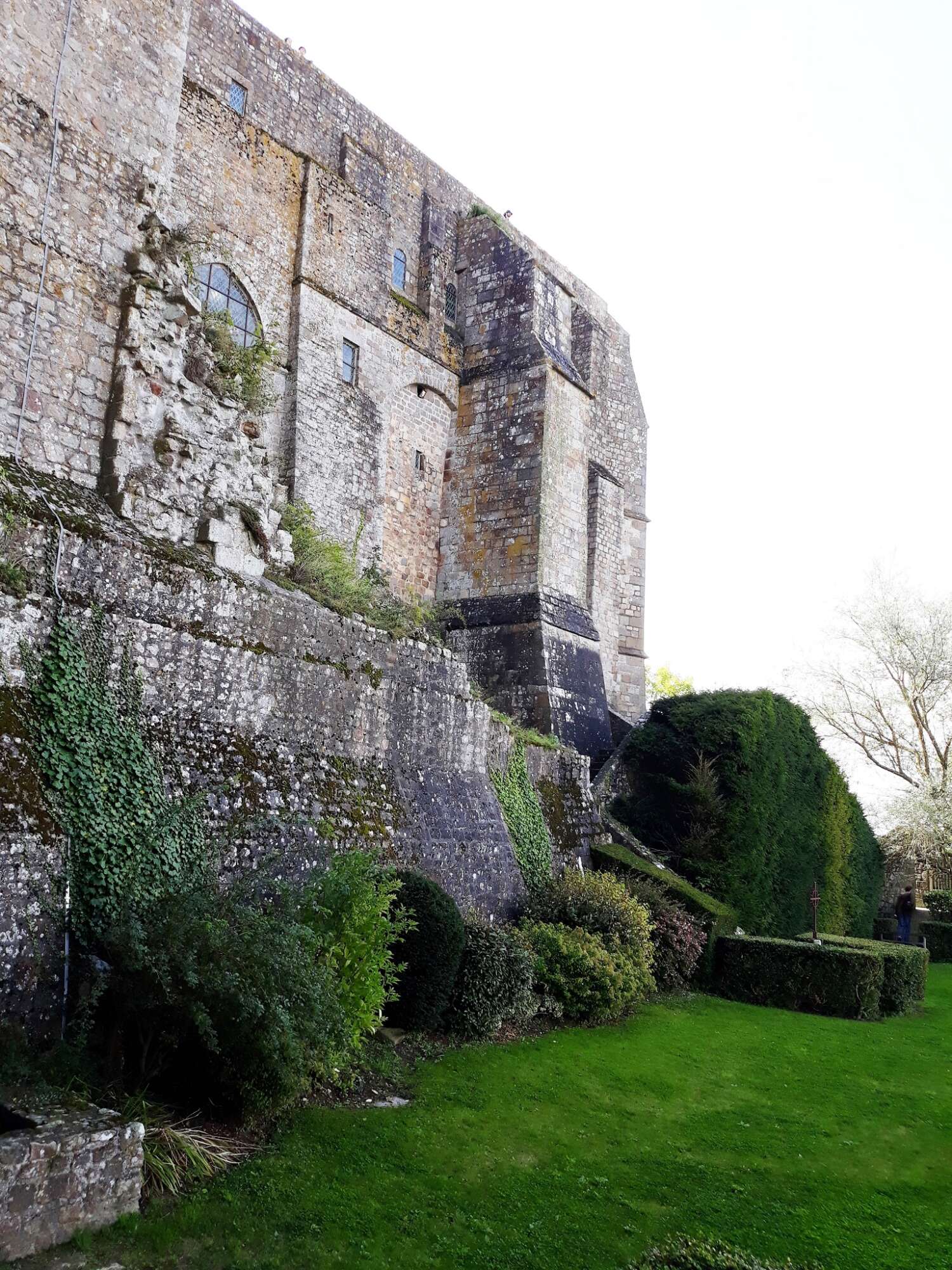 But you still have to get to the "Miracle". 350 steps along the Grand Staircase (Grand Degree) is a "small" physical prelude before visiting the abbey.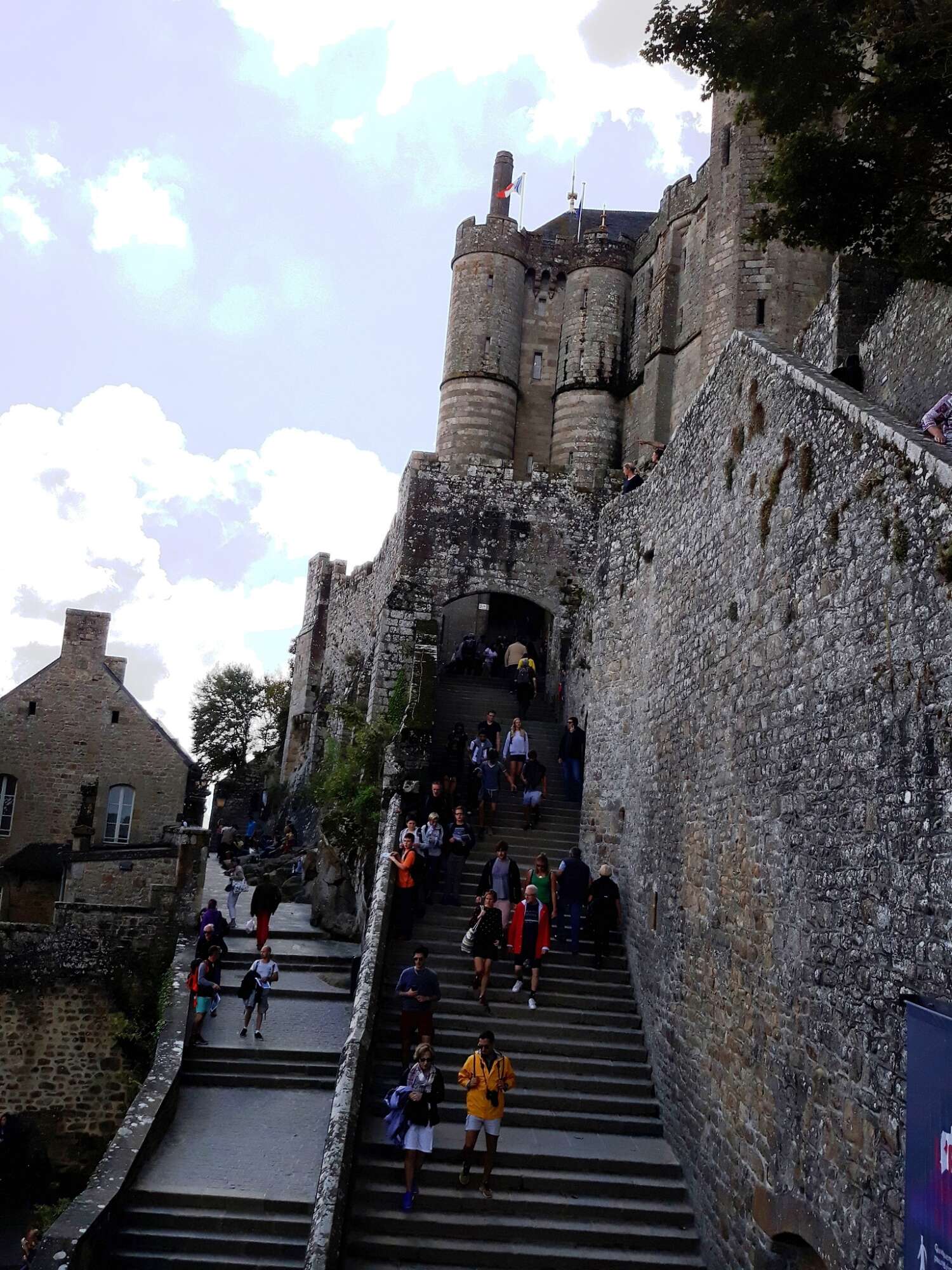 Outside terraces on top of the cliff offer stunning views of the bay. You can see sheep grazing on land, two granite islands Mont Dol, Tombelaine, the Chausey archipelago, from where granite was imported for the construction of the abbey.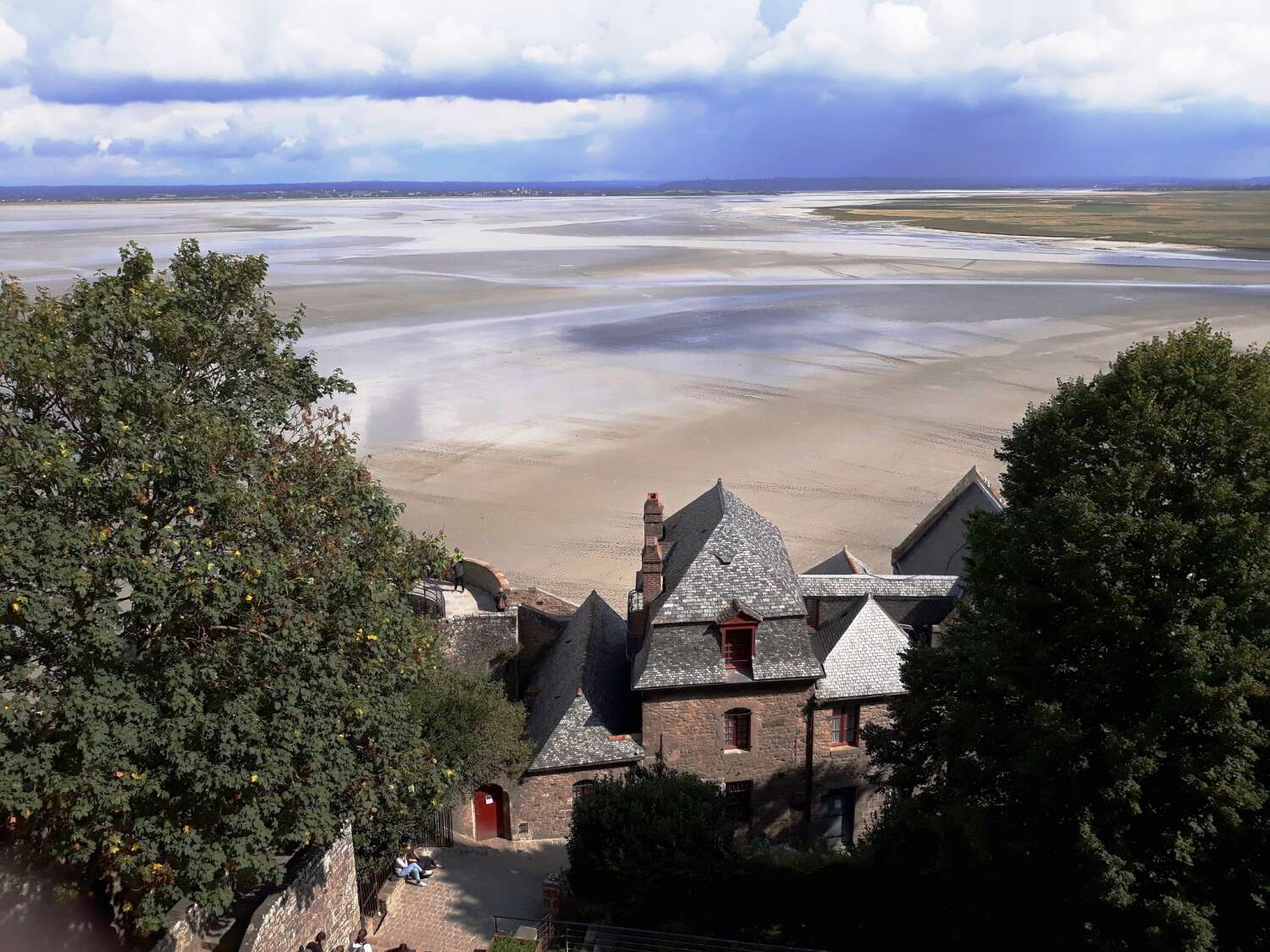 The abbey's plan is very complicated. If you don't take an audio guide or a plan diagram with a detailed description, you can get lost and wander from building to building, from level to level.
Tides of the Bay of Mont-Saint-Michel
But you will be lucky if you find yourself in the bay at the right time - you can cross it over quicksand. During high tides, the sea retreats from the cliff to 15 km. Many tourists walk at low tide around it, they are looking for something. True, if you want to go along the bay towards the islands of Mont Dol and Tombelaine, this can be done only with certified local guides. They will not only guide you through the bay but also tell you a lot of interesting things. The language of excursions is English and French. The duration is from 1 to 6 hours. There are tours for children.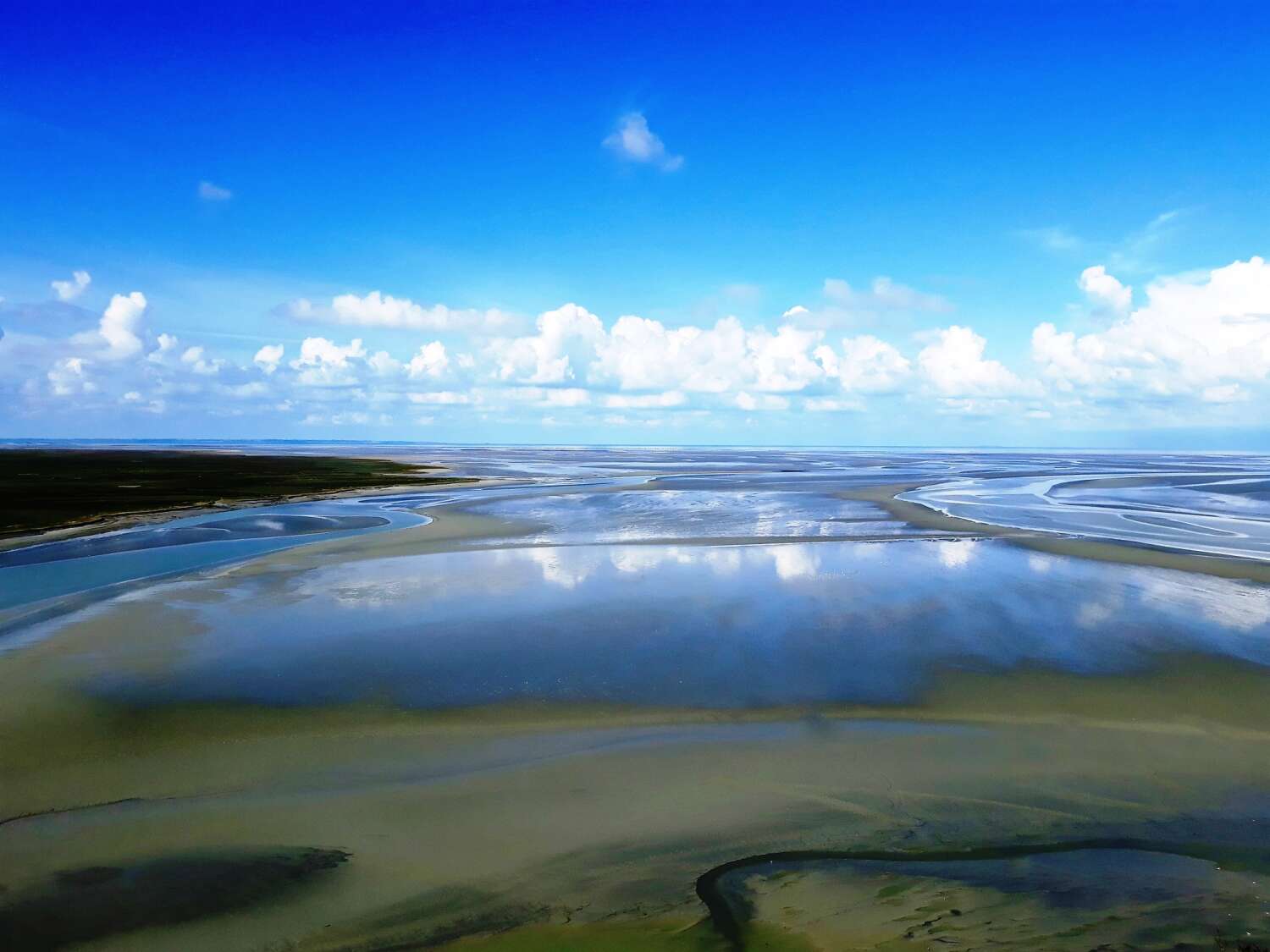 Use the ebb-tide schedule when planning your trip to Mont-Saint-Michel. The days of the largest tides are highlighted in red.
Where to eat and stay in Mont-Saint-Michel
You can have a snack or dine in Mont Saint-Michel in cafes, bars, restaurants. Prices are touristic. Signature Mont-Saint-Michel dish is Omelette de la mère Poulard, which is served in a restaurant of the same name. It is cooked while you are watching, in a copper bowl on wood, over an open fire. While waiting for a snack, you can get a performance. This woman managed to create a whole omelette cult from several chicken eggs, butter, milk and salt. The legendary dish was tasted by members of royal and imperial families, presidents and prime ministers, writers, artists, and singers, bankers and industrialists. Their photographs have been hanging on the walls of the restaurant for over a hundred years. Omelette de la mère Poulard became the gastronomic symbol of Mont-Saint-Michel. A portion costs 40 euros.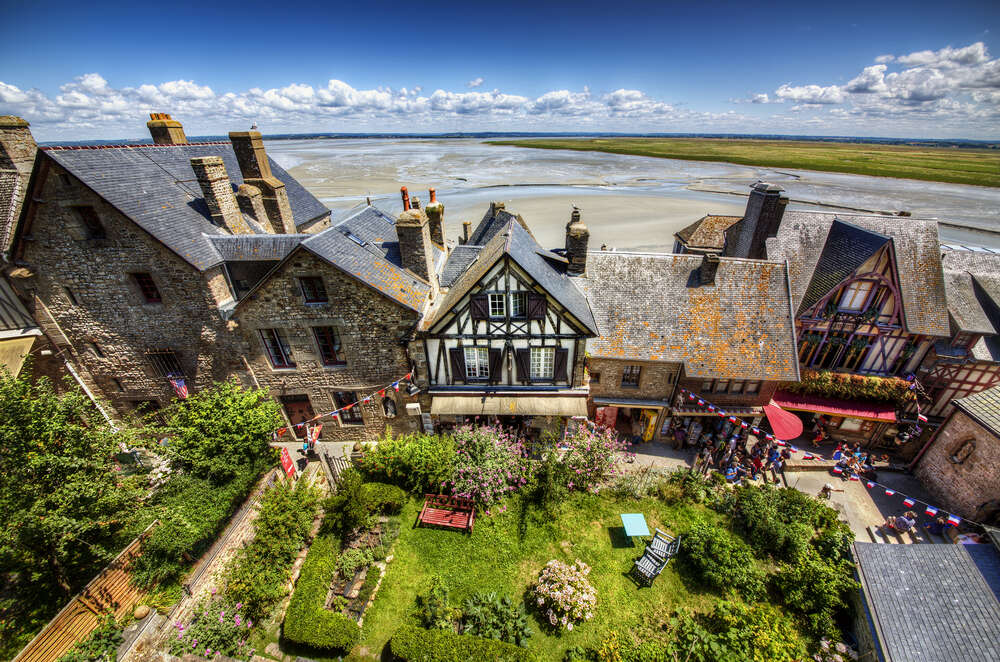 But the famous Frenchwoman is known not only for the omelet. As a gift from the trip, you can bring the famous biscuits of Mother Poulard in a box (biscuits de mère Poulard). If you wouldn't eat them on your way home.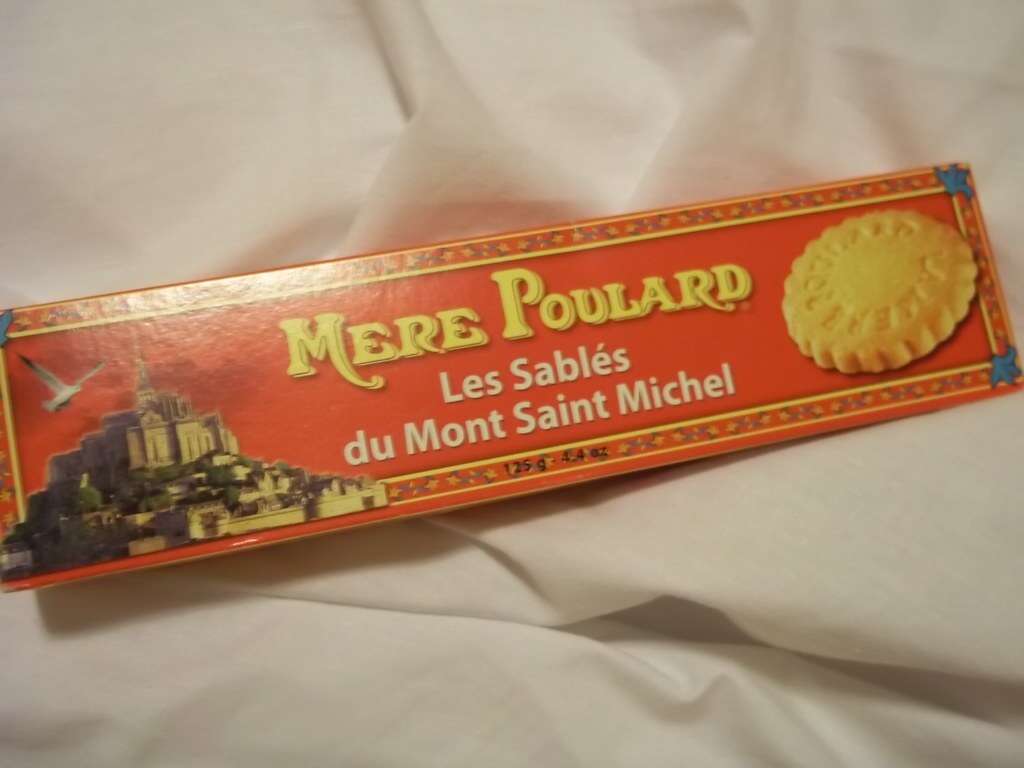 People who tasted the fillet of a young lamb (l'angeaude pre-sale) say that the meat has a salty taste, because local sheep graze in flood salt meadows.
And seafood lovers prefer to try the mussels from the bay (moules de bouchot de la baie de Mont-Saint-Michel).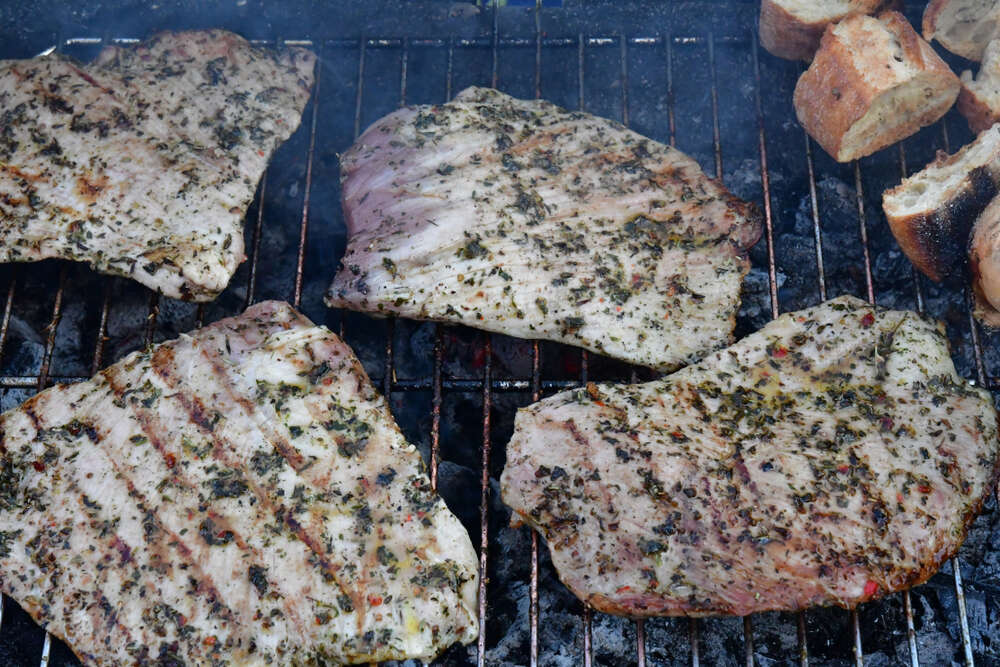 But you can do without luxury - drink coffee and buy takeaway sandwiches or snacks. Or "accidentally" find a bottle of cider or calvados and a piece of camembert or livaro in a backpack.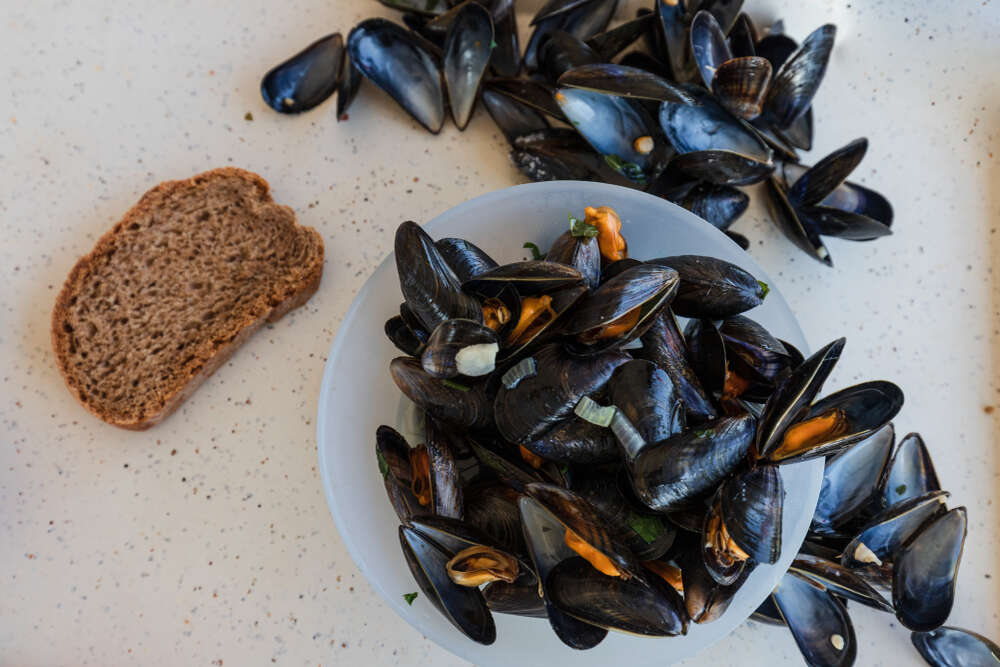 If you plan to spend the night in Mont-Saint-Michel to see the sun go down and the abbey lights turn on gradually or take a walk along the still deserted Main Street while the sun rises, there are several small hotels on the rock and in the neighbouring village of La Caserne. The price for a double room inside the abbey is, on average, 100-260 euros per day. In the village, it is a little cheaper. Although, you might find rooms in the range of 200-500 euros everywhere.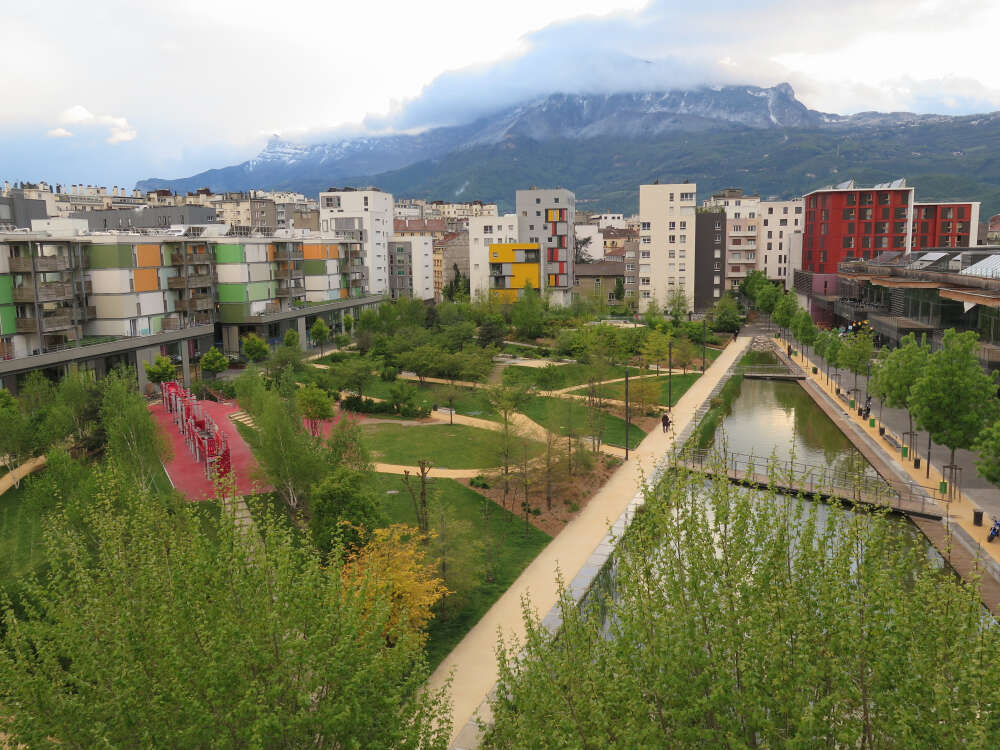 In Pontorson, which is about 7 km from Mont-Saint-Michel, the hotel can be rented from 40 to 240 euros per room.
Tips before visiting
Going to Mont-Saint-Michel, put on comfortable athletic shoes because you will have to climb to the monastery, and maybe wander around the bay at low tide. Although in warm weather, you can stay barefoot.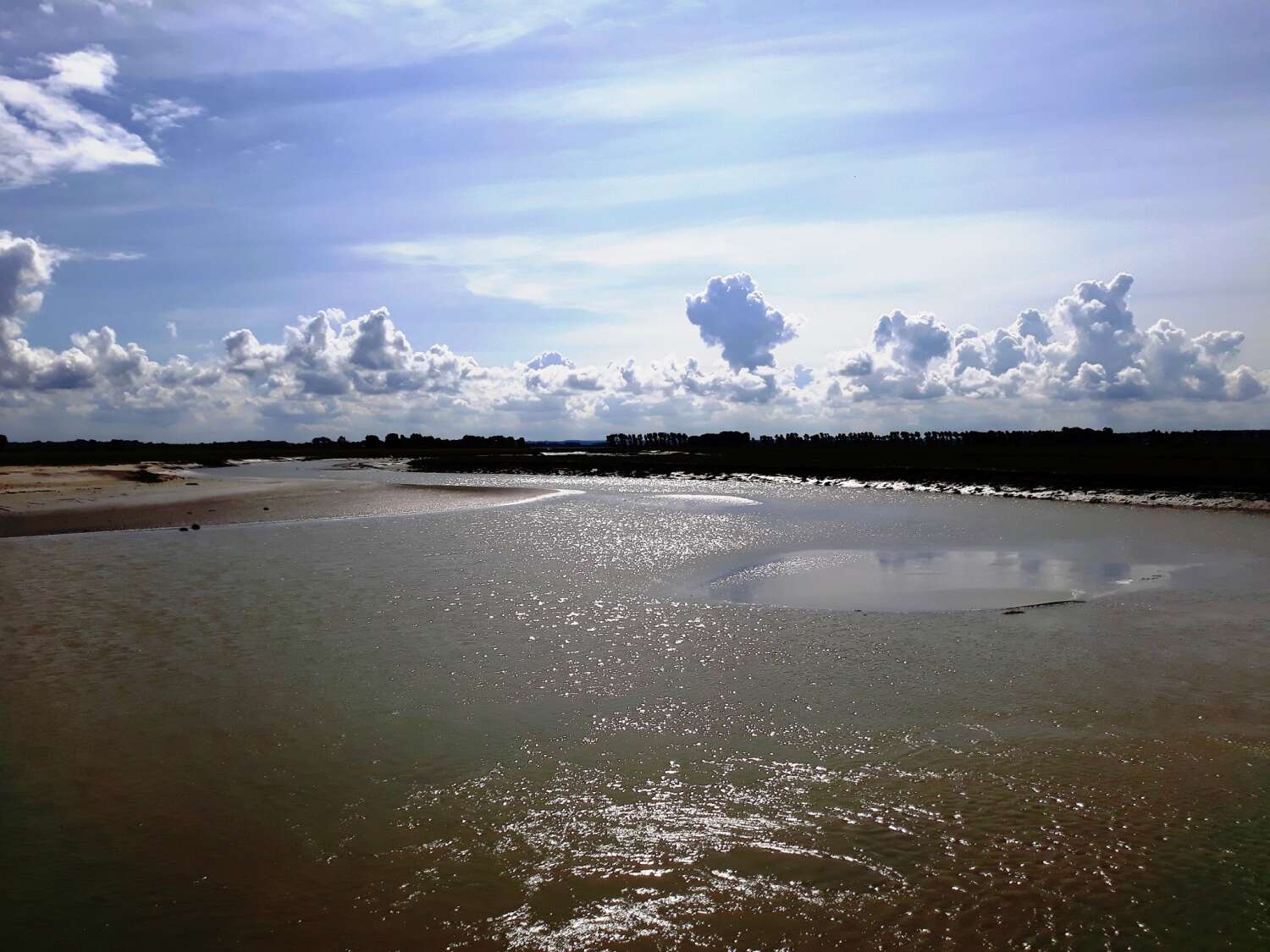 - There are strong winds in the Mont-Saint-Michel area, so a windbreaker or jacket will not hurt. And do not forget about a hat, if you are traveling in the summer.
    - Mists fall sometimes onto the bay, but the photos are mysterious in this case.
    - Try to go to Mont-Saint-Michel without the extra baggage. Due to the increased security measures, the left-luggage offices located in the tourist information office do not work.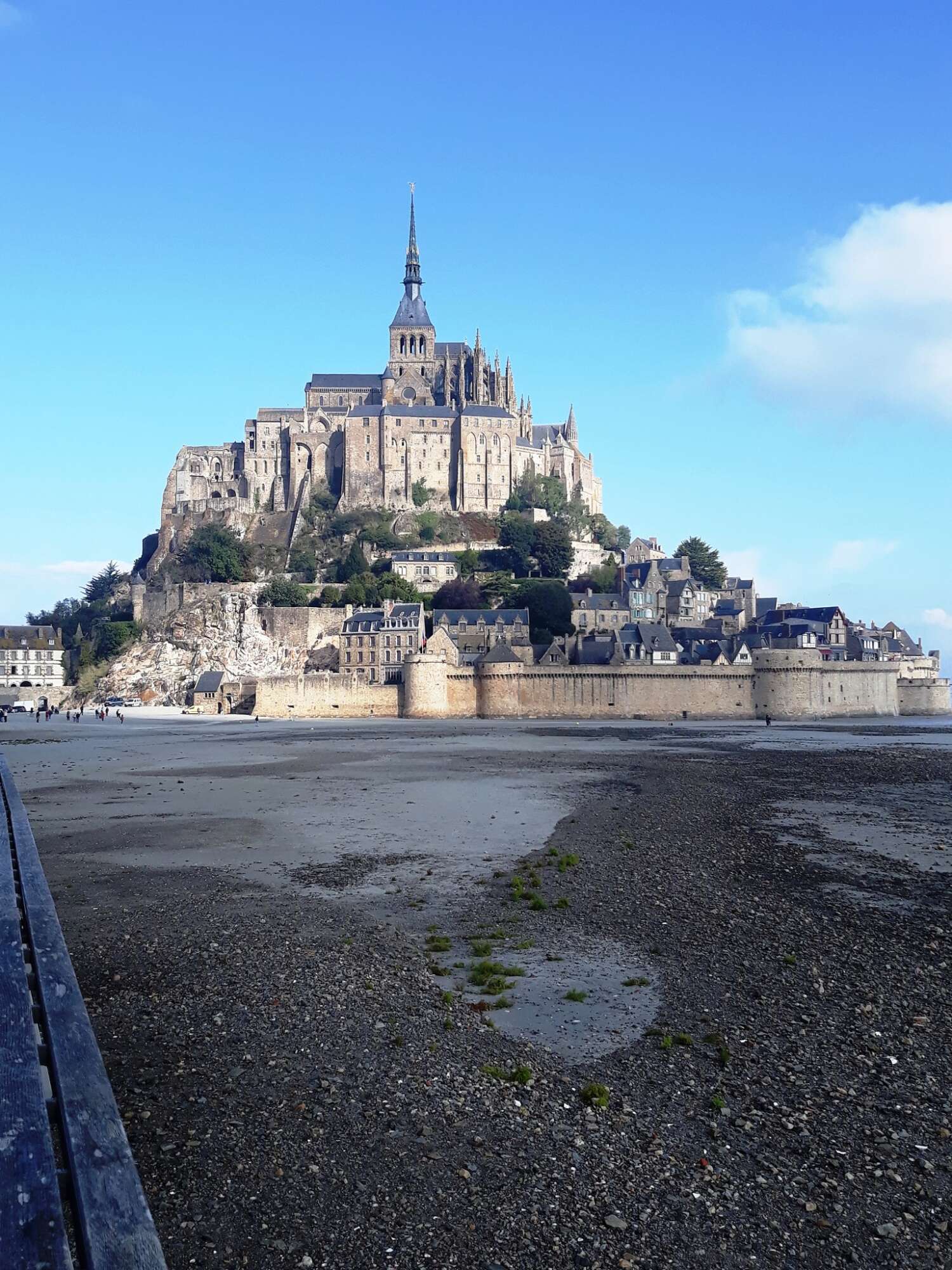 - If you see groups of school children running up and down the rock with sheets of paper and pencils in their hands, do not be surprised, as they perform some tasks. While playing, children get acquainted with the history and architecture of their native land. Now, you will have such marvelous photos too: sea, rock, monastery. Now, watching "The Lord of the Rings: The Return of the King", you will no longer think what reminds you of the fortress of Minas Tirith. And Travellzy Team moves further, towards Brittany.