Korea is a country of coffee drinkers, high technology, bustling metropolises and sleepy villages. It can hardly be called the most popular tourist destination, it cannot be found in the "Top 10 Beach Destinations", but it is definitely worth visiting. Korea, as a complex puzzle, does not immediately reveal itself before the guest, but the process of discovering it brings a lot of pleasure. This also applies to a large extent to the capital of the The Land of the Morning Calm - populous and diverse Seoul.
Get in touch with the past in Jongno-gu
It is best to start your acquaintance with Seoul from the Jongno-gu district. It houses the main tourist attractions that simply cannot be missed.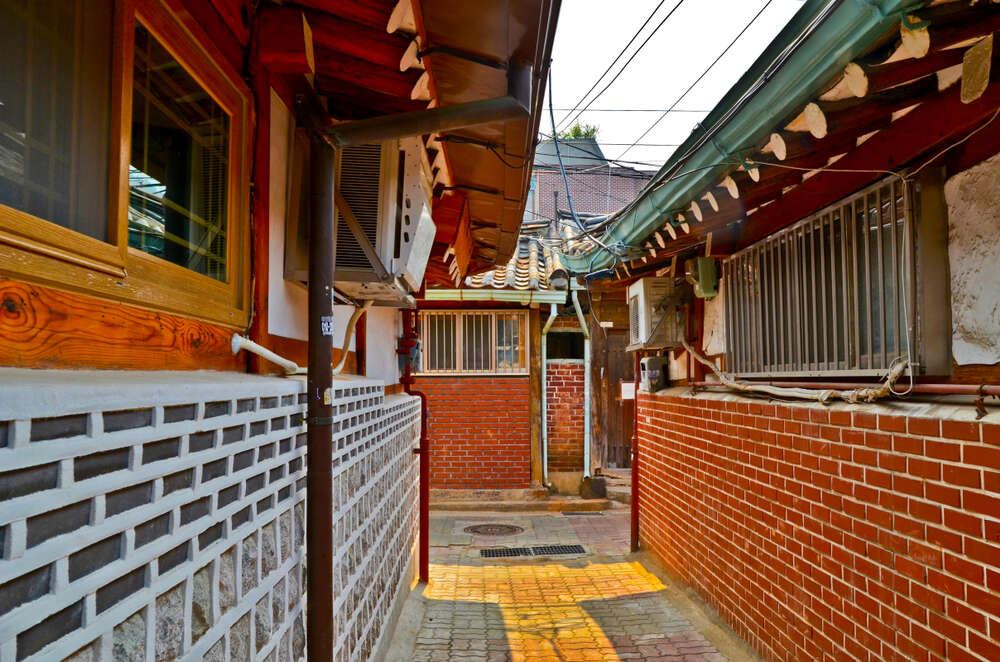 The most popular tourist route in the center of the Korean capital starts from Gwanghwamun Square, in the middle of which stands the statue of Admiral Yi Sun Shin. On the square, you can gaze at walking Koreans, get some street food to eat, take a selfie a la "I'm in Seoul!", And then go further to the palaces.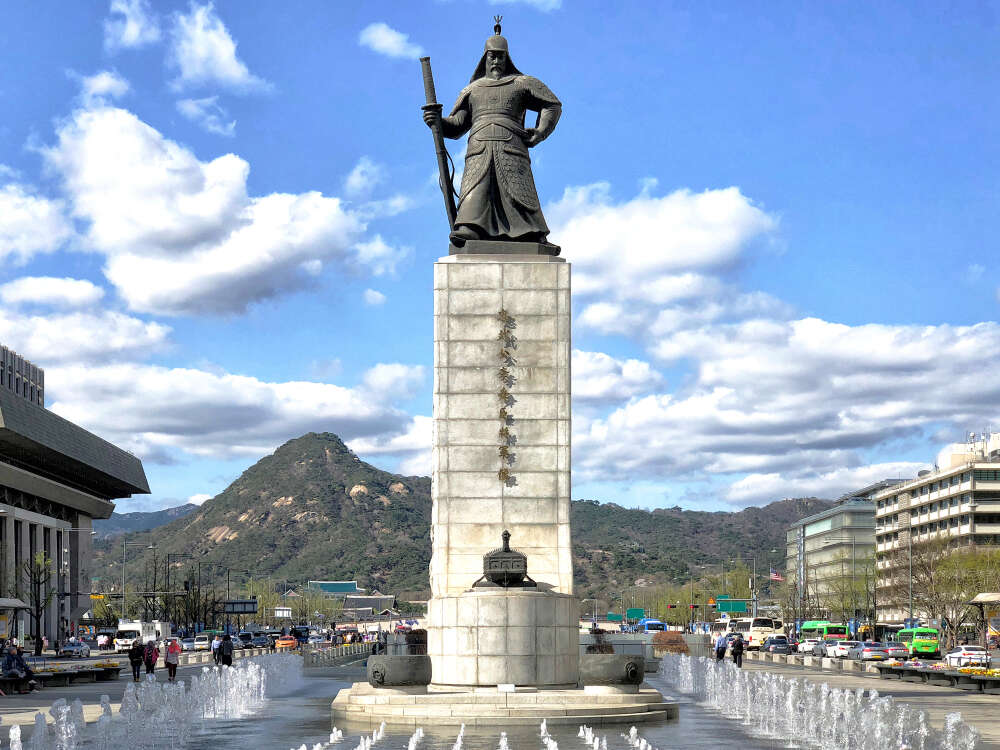 There are five royal palaces left over from the Joseon dynasty in Seoul. The most visited and interesting one is Gyeongbokgung, which now works as a museum and demonstrates to everyone the life of the royal family. Twice a day, at 10:00 and 14:00, the guard is changing in front of the palace, and this is a breathtaking sight. Guardians in bright national costumes and with naginats at the ready create the impression that a portal into the 15th century opened somewhere nearby, and the king himself will come out to the common people.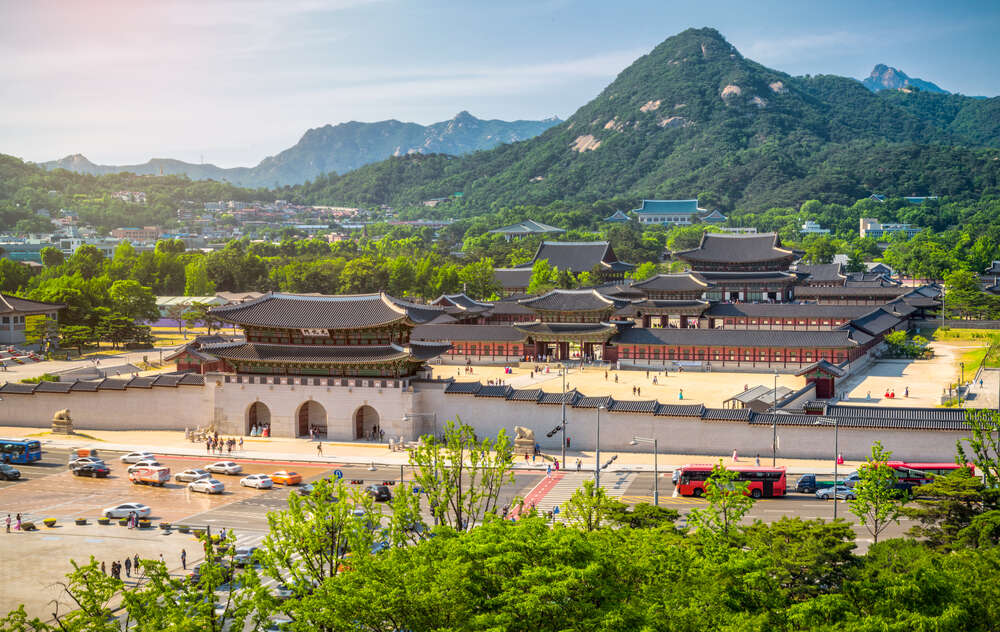 The second most popular palace in Seoul is Changdeokgung. It attracts fewer people than the super-touristy Gyeongbokgung, so you can take your time to stroll through the halls and admire the interiors. The entrance to each of the two palaces costs about 3 euros.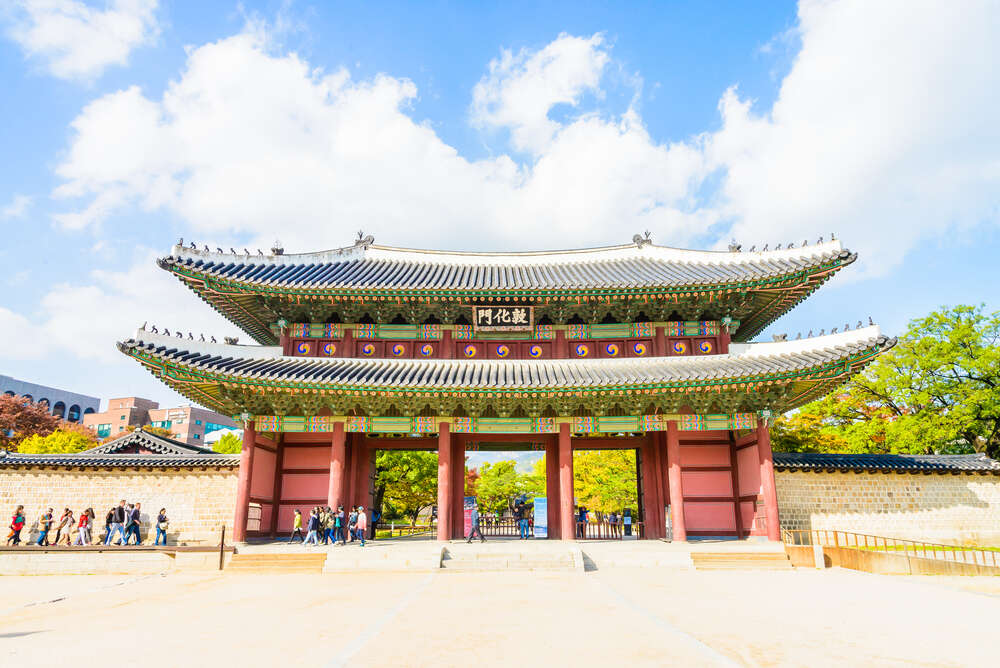 If you have time and desire, then from the Gyeongbokgung Palace, you can look into the Samcheongdong quarter, which houses the residence of the President of Korea, as well as a huge number of cafes and brand stores. If the work of medieval architects is more interesting for you than modern fashion designers, then you need to go to Bukchon.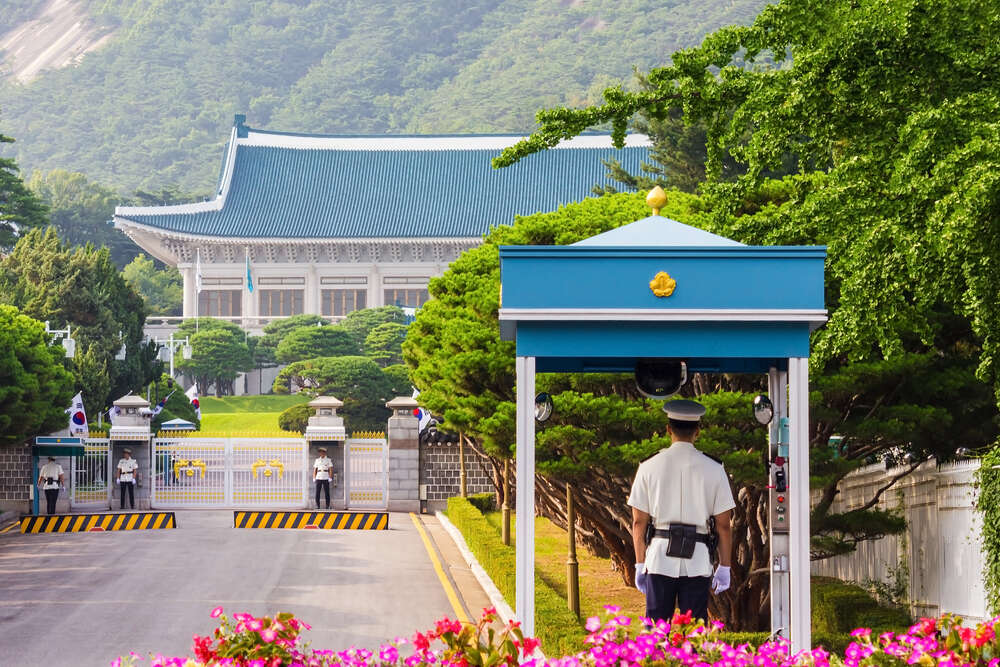 Live in Bukchon Hanok Village
Bukchon is an ethno-village in the middle of the Korean capital. Cozy looking brick houses with sloping roofs make you want to stay overnight, and it's absolutely real. Many traditional hanoks in Bukchon are rented out as guest houses.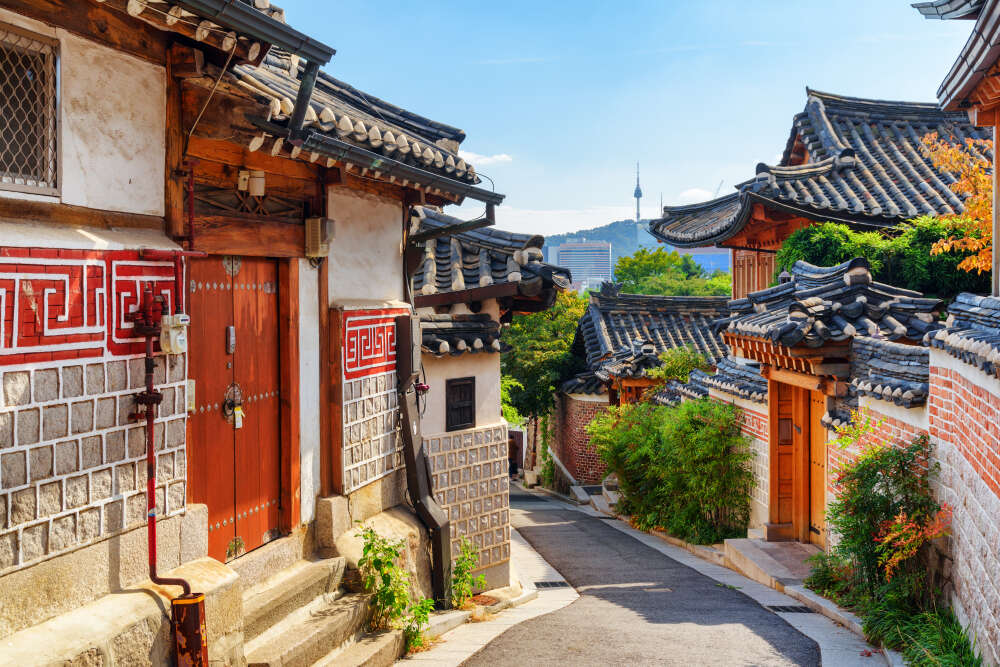 The Bukchon district is big and has a lot to offer, so spend at least half a day exploring it slowly. Here you can not only take spectacular photos of houses, as if descended from medieval engravings, but also taste a fragrant drink at a tea ceremony, wander around small but very entertaining museums and buy souvenirs for loved ones.
Another curious suburb of Seoul is Ihwa-dong. It is a paradise for street art lovers, because as many as 70 street artists worked on the appearance of the area. Graffiti and installations can be seen here at every turn, moreover, the entire Ihwa-dong is nothing but a huge open air art object.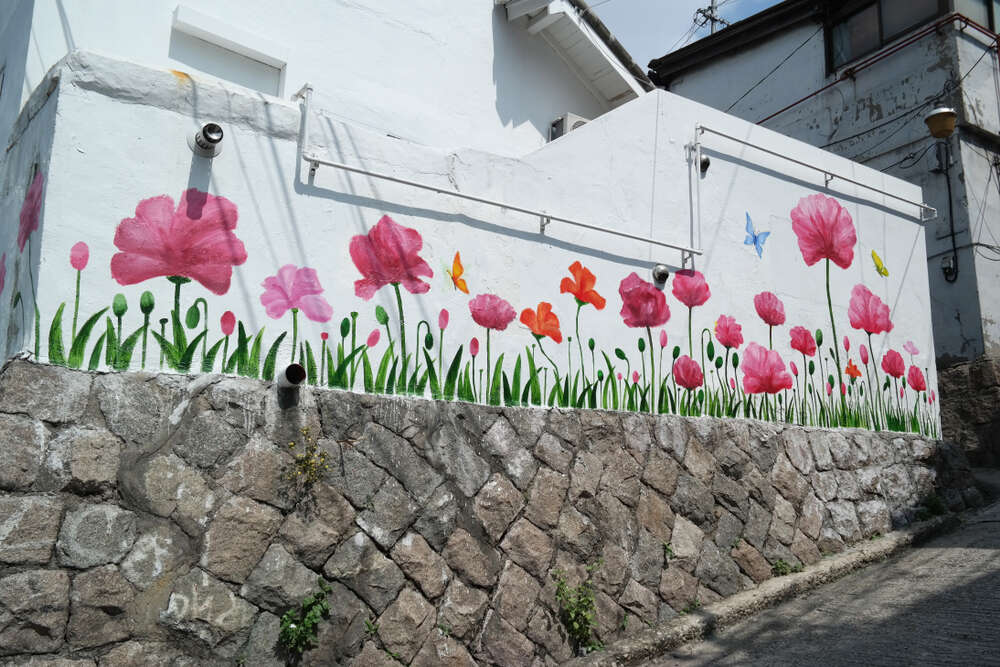 Spend half a salary at the flea market
There are a lot of shopping spots in Seoul, but one of them stands out from the others. This is Seoul Folk Flea Market.
At Flea Market, you will not see branded items or dresses from the latest collections of Milanese couturiers, but you will find something more valuable such as things with a history. Painted porcelain vases that still remember the royal family, vintage techniques, paintings, rare coins and awards. In general, imagine an ordinary flea, put a Korean flavor on this image and get ready for the fact that your luggage will become several kilograms heavier on your way from Korea.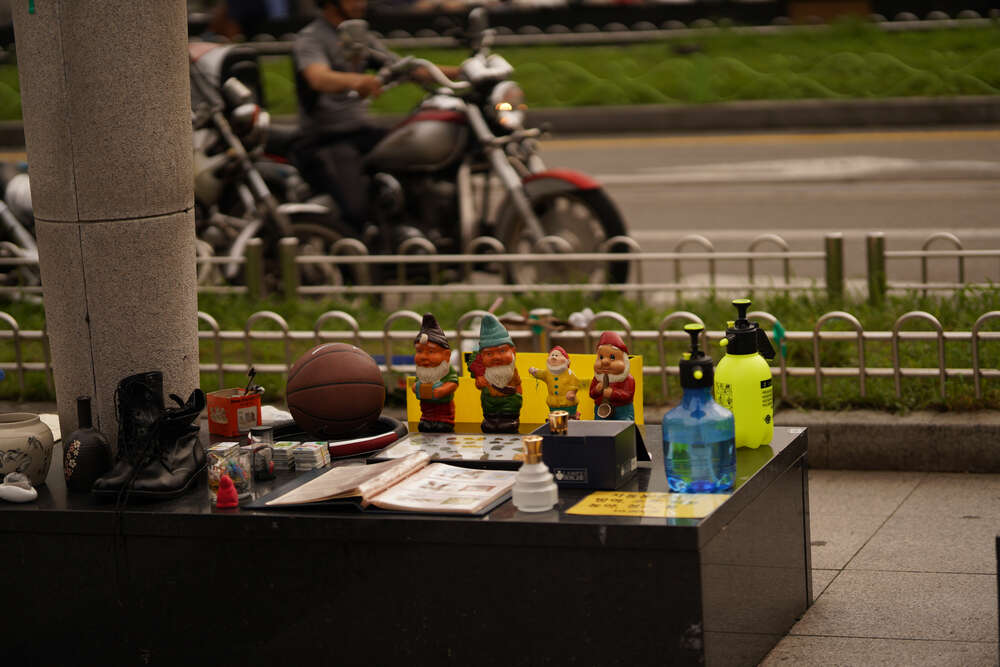 Visit Seodaemun Prison and other museums
The prison, where President Lee Myung-bak once served time, is now turned into an unusual history museum, where you can look into cells, watch documentaries and even be horrified by the torture rooms.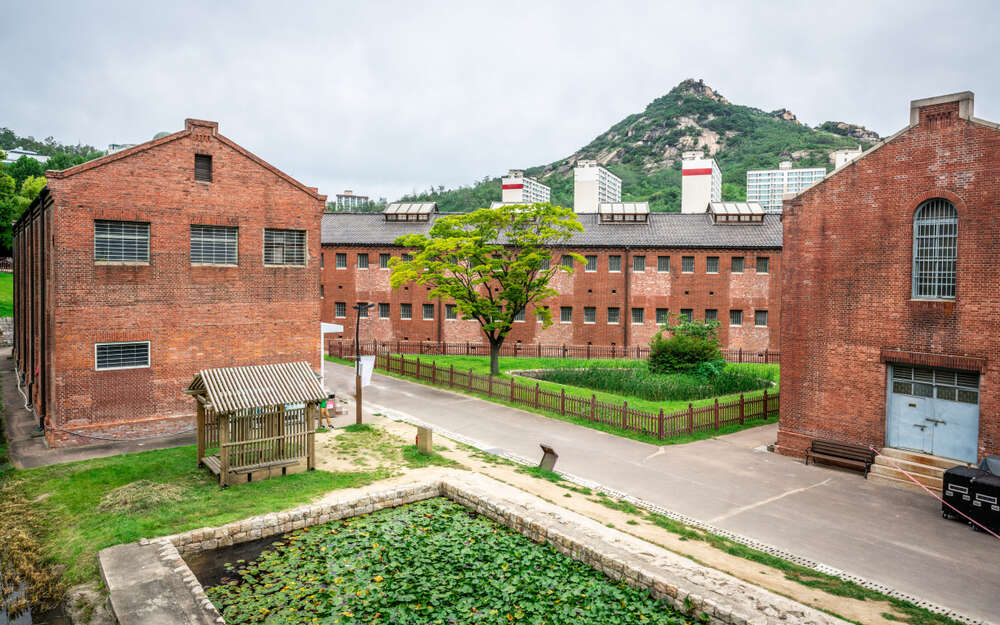 Museums in Seoul are less shocking, but no less interesting. This is, for example, the Leeum, Samsung Museum of Art, where you can see the works of Andy Warhol and other prominent artists. More than 10,000 exhibits await you at the National Museum of Korea, funny photos can be taken at the Trickeye Museum Seoul, and at the Simone Handbag Museum, you can admire a unique collection of handbags, from the 16th century models to the creations of modern designers.
Relax at Cheonggyecheon Park
At some point, palaces, monuments, museums and markets converge before your eyes into a mosaic kaleidoscope, and new impressions cease to please. It's a sign that it's time to look for a quiet place to reboot, and this place is Cheonggyecheon Park.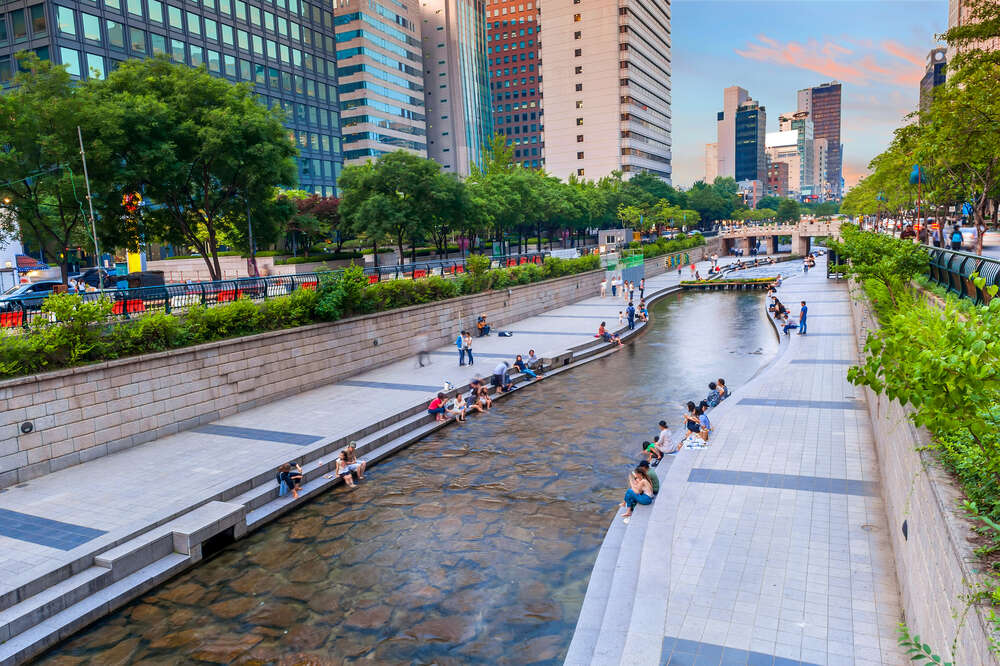 Cheonggyecheon is just a pleasant green area with a stream, on the banks of which you can sit and contemplate nature. Local families love to have picnics here, and you do the same by purchasing a delicious Korean street food from a street stall.
Is your soul drawn to nature, but a small Cheonggyecheon park is not enough? Then take a stroll around Bukhansan National Park at the foot of Mount Baegundae. This is a magnificent hiking place, but it takes at least 3-4 hours for such a walk.
Grab a bite at Gwangjang Market
Walking around Seoul, it is just impossible not to get hungry. And even if you had a hearty meal before leaving the hotel, the tempting smells of Korean street food will not leave you indifferent.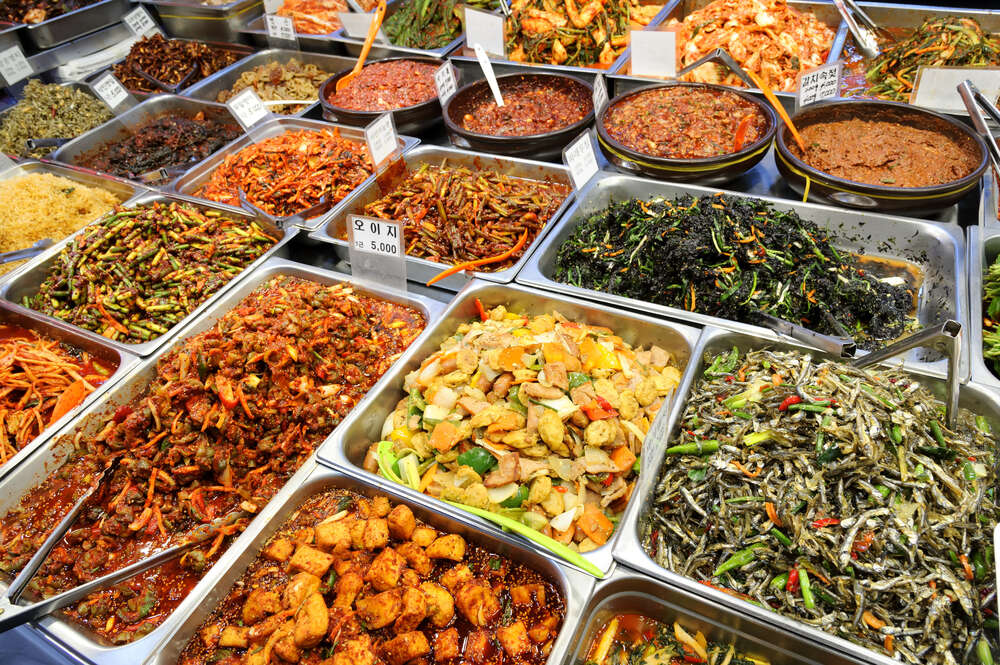 Easy kimbap rolls, tteokbokki balls or hotteok pancakes can be bought everywhere in the capital. The streets with the highest concentration of street food in Seoul are Insadong and Myeongdong, while Gwangjang Market is a place to eat in authentic settings. A smiling Korean old lady will cook fragrant kebabs on a baking sheet right in front of you and shape fresh seafood rolls. You can drink it all with coffee, fruit juice or soju, a popular Korean alcoholic drink. By the way, Koreans simply adore strong black coffee, and early in morning, coffee shops can be easily identified by long queues.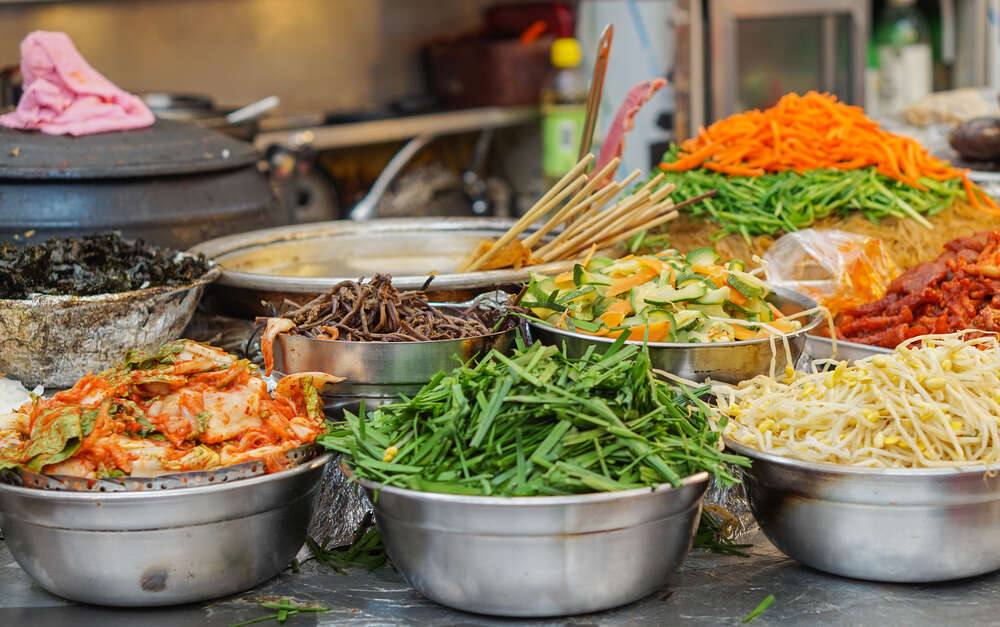 Korea is not only about street food. There are also plenty of restaurants in Seoul for every taste and budget. American burgers, Mexican tacos, Japanese sushi, Russian dumplings... You will definitely not starve.
See Seoul from above
Whatever one may say, there are plenty of skyscrapers in Seoul. You can enjoy the panorama of the city from a height from several points at once, and the view from each of them is unique.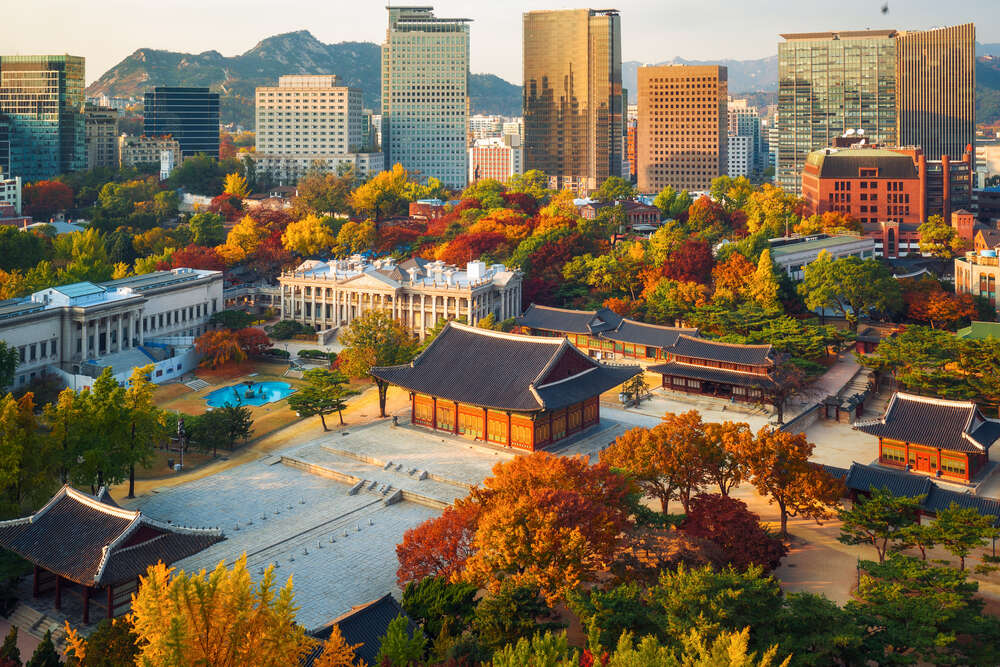 The best view of the Korean capital opens from the Seoul TV Tower. There are several observation decks in it, and besides them, there is the Teddy Bear Museum, that your child will definitely like, even if this is an inner child. You can go up to the tower by funicular, but you can also walk, the road to the building goes through a very picturesque park.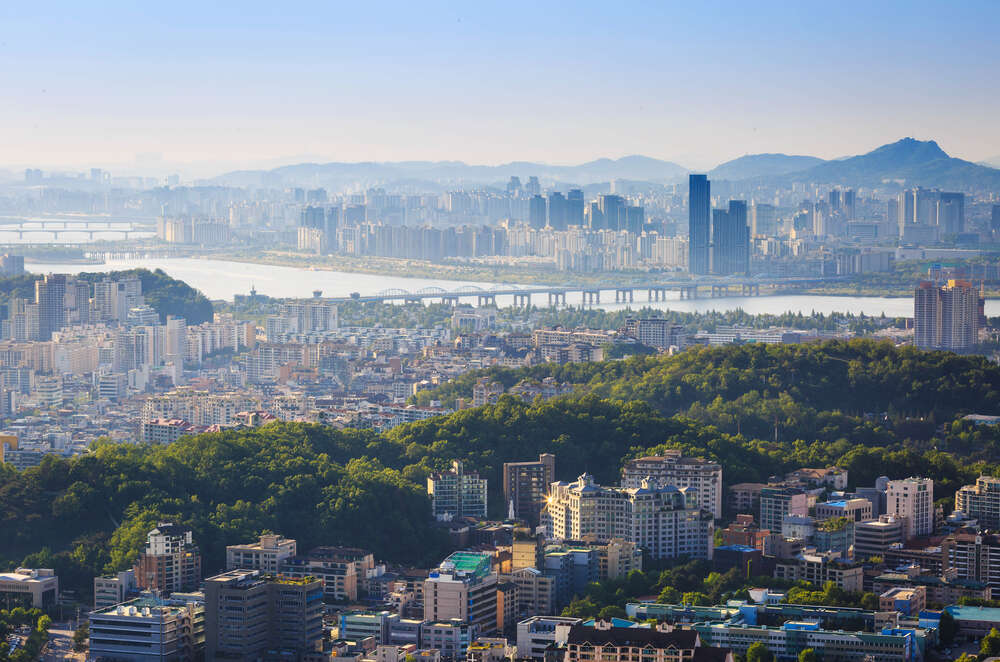 Other notable viewpoints in Seoul include Lotte World Tower and 63 Building, which offer breathtaking views of the Han River. The ascent to the last one costs 17 euros.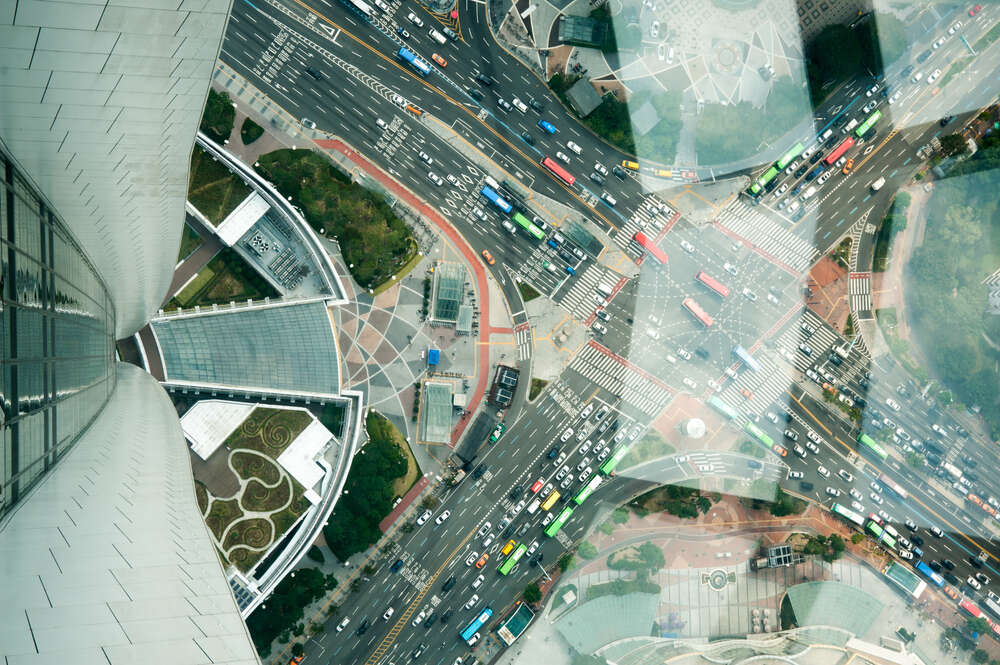 Go to the bathhouse
At the end of a day full of impressions and walks, you might really want to relax, and for this, jjimjilbang, a traditional Korean bath, is the best choice.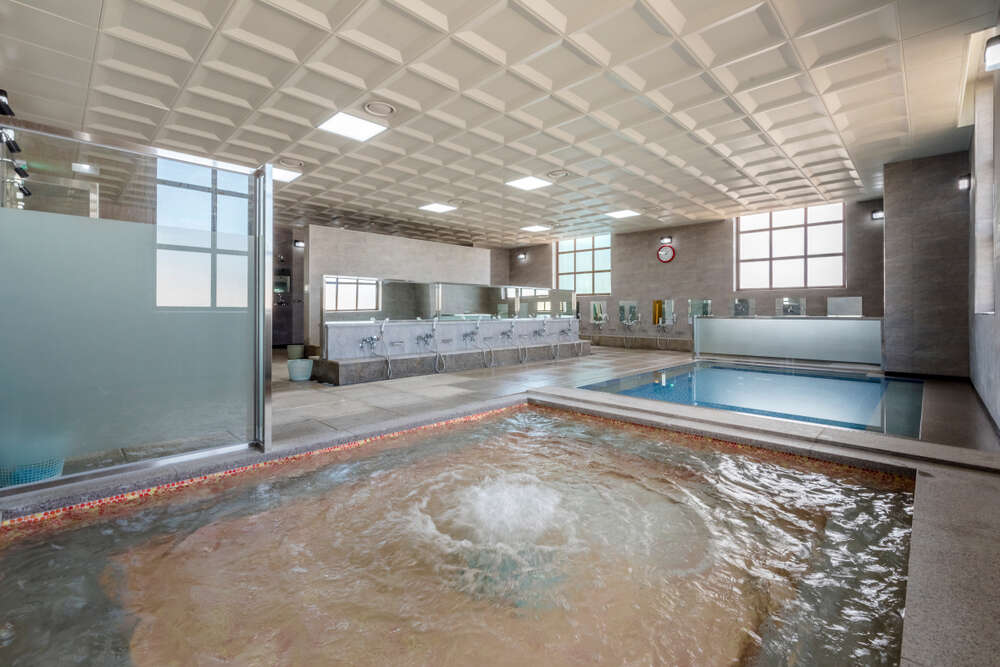 There are many jjimjilbangs in Seoul, so there won't be any problems finding a bathhouse. Please note that Korean bath houses are different from the Slavic ones. There are pools with water of different temperatures and steam rooms, as well as relaxation areas where you can eat. It is customary to take a steam bath and swim in a jjimjilbang, so the rooms for women and men are on different floors.
The most interesting feature of Korean jjimjilbang is that you can stay overnight here. Koreans sleeping in chairs or on the floor are a common sight in a local bathhouse. If you are not particularly whimsical in respect of accommodation, then this option may be much more profitable than a hotel or even a hostel. And you will get a unique experience.
The entrance to jjimjilbangs costs about 10 euros, and they are open around the clock. For an additional fee, you can have lunch, massage or spa treatments.
You can see all the sights of Seoul in a couple of days, and if you ease up on the famous coffee, then one day is enough. But to fully understand the atmosphere of the Korean capital, it is worth staying in it for at least a week.