How to pack your office dress code to another country without getting it wrinkled? How to fit more things in your suitcase? We, Travellizy Team members, as people who often travel to completely different parts of the world, know firsthand how important it is to carefully prepare for the trip. Read our tips before packing up!
Suitcase size: what volume to choose
As soon as you decide to fly on vacation, buy air tickets, you are ready to decide what suitcase you will fly with. The main thing is that it must be of high quality.
Despite the huge variety of models, there are only three suitcase sizes (per person):
   ▶️S - hand luggage, for trips from 3-4 days;
   ▶️M - checked-in baggage, for trips from 1 to 2 weeks;
   ▶️L - for trips from 2-3 weeks.
Travellizy Team recommends an easy three-step packing process.
● The first stage: long before the trip (unless, of course, you have bought last-minute air tickets for tomorrow), pack the things that you think you will take on the trip. And leave it be.
When you are driving somewhere in your car, or when you have a full range of options from the airline, then, of course, you can afford anything you want. This includes a giant suitcase that can hold half of your seasonal wardrobe, and just in case a part of your off-season wardrobe too.
In fact, it is not at all necessary to travel with the entire wardrobe. It is important to understand the problem and study its conditions accurately. What do you plan to do on your trip? Lying by the pool and eating out? Moving from city to city almost every day? Walking or riding? Are there any beautiful events planned during your trip? Based on the answers to all these questions, a wardrobe is formed.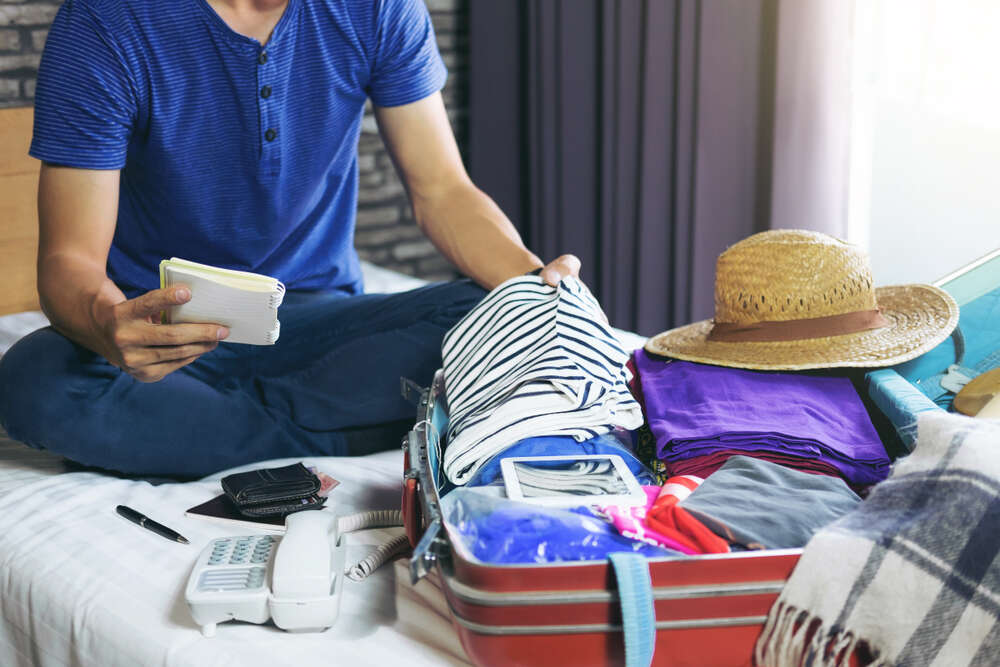 ● The second stage: you understand that you have put a lot of unnecessary things in your suitcase. You can leave only what you need. The best solution would be to lay your things on the bed, look at them critically and leave at least 1/4 of the collected things at home with no remorse.
Already at this stage, you decide which shoes you take with. Put a make-up bag and hygiene products, pour liquids into small bottles.
● The third stage is the last: the final collection of the suitcase. You fold things in a beautiful way, shoe pairs can be separated and put in different corners of the suitcase. The socks can be folded inside the shoe to save space. Take a lot of good t-shirts. No synthetics.
Get one cocktail look for a gala dinner, if you have one scheduled. Even if there are no events planned, one elegant thing should always be in the suitcase. Because anything can happen. As an option, you can take neutral things that are worn in all circumstances, but at the same time, grab a couple of bright scarves and accessories. It helps, especially in the Instagram Era.
When traveling, your basic clothing and footwear must be comfortable. This is the main feature. Because the most beautiful landscapes and the most iconic cities will leave no trace in your heart, or, even worse, will be remembered for rubbing your feet painfully, while walking around these places.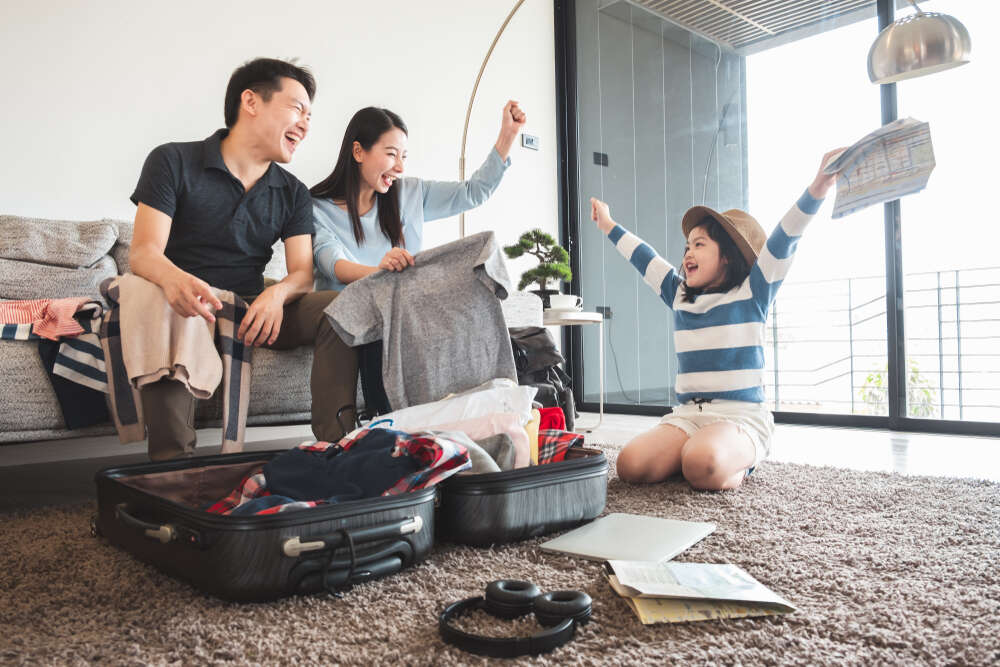 Divide your items into baggage and carry-on items. Put all the most valuable things in your hand luggage - documents, money, gadgets. If you fly from cold winter to warm countries, save space for things that you will change upon arrival.
Warm things in a suitcase
According to the warm-cold characteristic, fill the suitcase according to the 70x30 principle, depending on the season and the expected weather. Natural disasters, of course, do happen, but you can still make predictions. Nevertheless, even in summer, you should have at least one relatively warm thing with you - a shawl, stole, cardigan. As well as a couple of T-shirts in winter, just in case.
What about an umbrella or sunglasses? You need both. Well, unless the forecasts promise an absolutely cloudless sky and +32°C in the shade, then the first item may not be needed. Even if you are usually lucky with the weather, put the umbrella in your suitcase - to start bewitching rain.
Make-up bag and carry-on baggage on the plane
In order not to be tormented every time by questions of the importance and necessity of items you have, you just need to form a travel make-up bag for yourself once, where the second copies of all your favorite creams will be. It will have to be replenished, and the sooner after the trip, the better, but thanks to this discipline, at the right moment, you just put it in your suitcase - and no more ritual dancing with a tambourine.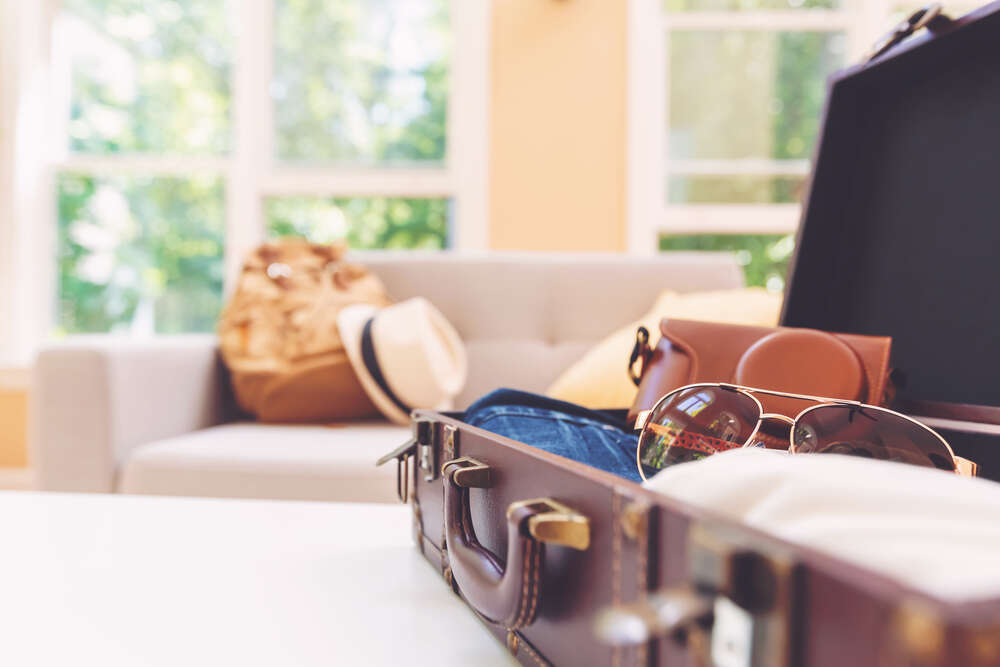 For a mini-suitcase taken on a trip as carry-on luggage, make a small transparent make-up bag in exactly the same way. Put mini versions of creams in it, good samples, which are available from most serious manufacturers or travel kits. One way or another, you need to keep within the format - each product is up to 100 ml, and it is advisable not to exceed the prescribed amount of 10 jars. In fact, no one will count them, but if the cosmetic bag is visually large and there are a lot of jars in it, then there might be questions.
Important information: a small shoulder bag can't always be taken on board an aircraft as a separate option. Many low-cost airlines only allow one piece of carry-on baggage, and this is usually your suitcase or backpack, where you will have to pack a small handbag so that you do not have to pay extra for it.
A first aid kit on the trip
Your first aid kit should also be constantly assembled and regularly replenished. Firstly, in another country, medicines of the composition you need have different names, and it is not a fact that you will be able to find them in a pharmacy if necessary, and secondly, they may simply be absent altogether.
Always keep in your first aid kit those medicines that you take regularly, the rest depends on basic random situations. For colds/fever, pain reliever, for various stomach problems, antihistamines, pills for motion sickness in transport, plaster and wound healing ointment.
If you suddenly have a runny nose, and you have a flight, then by all means, take drops with you and drip your nose before takeoff, this will help avoid stuffing your ears.
What to wear on the plane
On the plane, dress in very comfortable things that do not hinder your movement and made of natural fabrics. Most importantly, you would have to take off yourself at a minimum during the inspection. Avoid belts, bracelets, metal hairpins, shoes with metal accessories. Then you will quickly go through security control.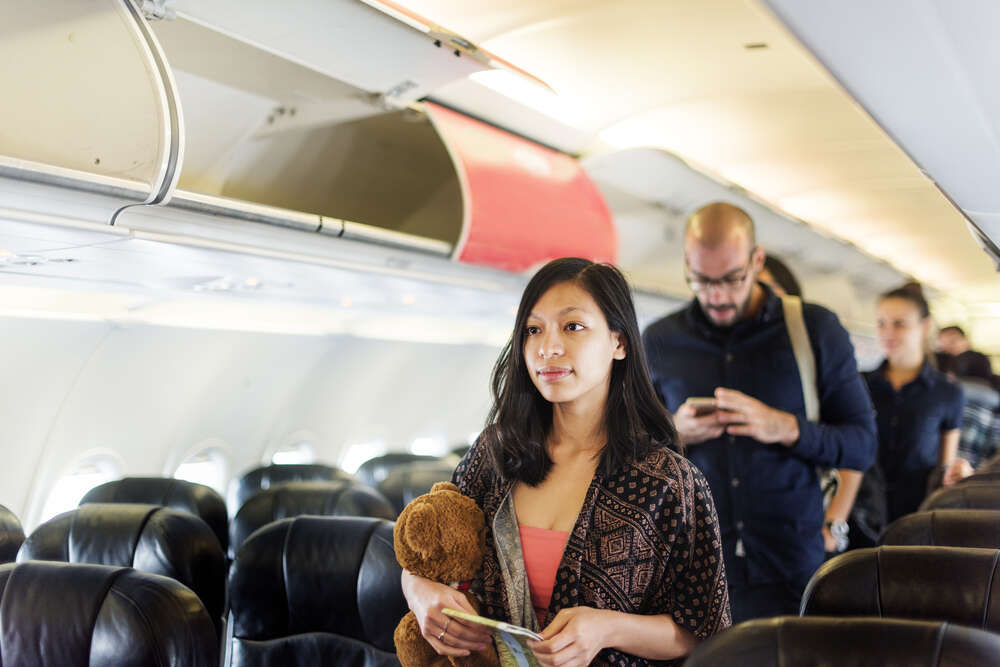 What you need to remember to take on a trip
✔️ International passport
✔️ Insurance policy
✔️ Printed-out boarding pass, accommodation booking confirmation and flight ticket
✔️ Copies of documents you may need
✔️ Decide what gadget you take with you and charge it
✔️ Don't forget a gadget charger
✔️ Free up the memory of your phone/ camera beforehand, so that you do not have to delete valuable photos in a hurry
✔️ Download the online map of your travel location
✔️ Headphones
In fact, this is the main things you will need on your trip. You may easily forget other things at home without any harm.