Ukitiro Nakaya, a Japanese physicist considered snow to be a celestial letter written in secret hieroglyphs. The classic winter in our mind is snow, ice, sled and skates.
For the hot part of the planet, snow banks and frost is nothing but wonder. However, in the countries of the year-round summer, they have learned in recent years to create a snowy winter and to build ski resorts and giant ice skating rinks.
The world's largest ice rink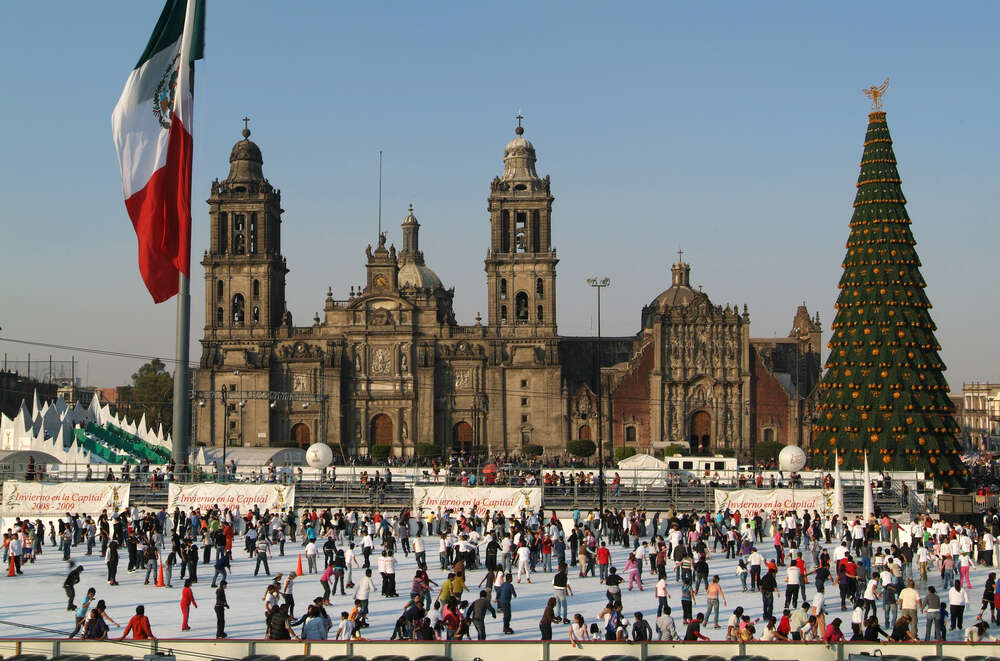 For the past few years, Mexico has been surprising with the largest ice rink on Earth. This is not a joke, that its area exceeds 32 thousand square meters, and 14 thousand people can visit it daily.
The rink has become a tourist attraction of the capital of Mexico, Mexico City, and it was even registered in the Guinness Book of Records. There is a tall Christmas tree near the skating rink, and for those, who couldn't manage ice skating, slides with artificial snow are offered. Mexicans gladly sled down these slides.
Giant Ski Resort
In Dubai, Emirates residents, who are fans of all the best and the biggest, built the world's largest indoor ski resort, called Ski Dubai. It is open all year round. Just imagine: in the middle of the hot desert, you get to snow-covered slopes.
Ski Dubai resort is listed in the Guinness Book of Records as the largest ski resort under the dome.
Its territory is as large as three football fields, and the height of the hills reaches 25 floors.
For visitors, Ski Dubai offers four types of tracks: green, blue, red and even black. You can learn skiing or snowboarding in a special school there, as well as paired with a ski instructor. You can sit in a cafe and enjoy the snowy peaks behind the glass while drinking Arabic coffee.
Constant air temperature inside is 6 degrees below zero (despite the fact that outside it can be +40). Snow guns produce snow coverage.
By the way, in the Emirates, they are very proud of their ski resort. This is a way to prove that they have done the impossible. Snow and ice in the desert, is it even possible? It is! - sheikhs say. And they show us a modern wonder of the world. It is interesting, that Muslim women wear a down jacket over a hijab. Winter coats for local skiers are long, all the way down to the heels. However, they fall, scream loud and have fun while sliding down just like any other visitor of the resort.
A ticket to Snow Park will cost you 100 dirhams (24 euros), a two-hour slope pass - 180 dirhams (43 euros). At the same time, they will ask you if you can ski. A beginner skier won't get in. Ski Dubai full day slope pass costs 300 dirhams (71 euros), and you will have to pay another 20 dirhams (5 euros) for rental locker. It is expensive, but this exotic place is worth it!
The tallest ice sculpture ever
Moreover, the world's highest ice sculpture was made in Dubai. Its height is 12 meters and 28 centimeters, which also could not but be mentioned in the Guinness Book of Records.
The author of the masterpiece is Michael Amman.
The sculpture was placed in Mall of the Emirates, which is located in Ski Dubai. At any time, you can enjoy the highest ice sculpture not only in the United Arab Emirates, but also on the planet.
Amazing snow gun from Italy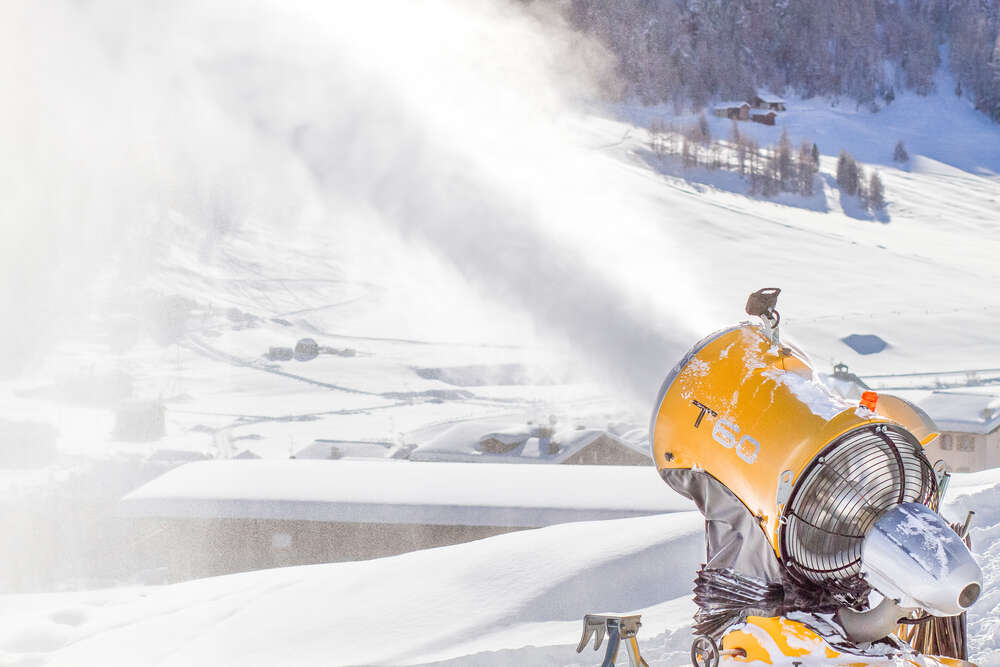 An interesting fact is that the Italians went further, and learned how to create snow at +32 degrees outside. TechnoAlpin, an Italian company, has recently demonstrated an innovative snow gun called Snowfactory, capable of producing snowflakes at air temperatures above 30 degrees. It is noteworthy, that snow guns can usually operate at temperatures of 2 degrees below zero.
But the developers note that the new device produces much less snow at hot temperatures, and spends 5 times more electricity. However, a start has been made.
The Snowfactory gun was tested in California, where snow is exotic. Ambitious organizers hope that a snow park will be created after testing, and it will be open even in August.
Snow slides in warm Australia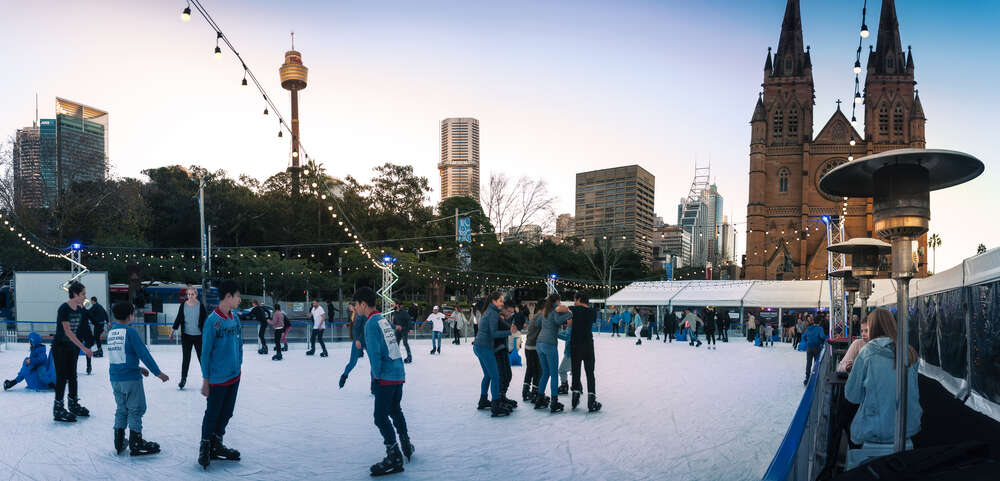 In Australia, snow is extremely rare, which doesn't stop the residents of Sydney and Melbourne from enjoying snow fun. For a European, it will be a real wonder to see ice skating rinks in July (after all, it's the middle of winter in Australia!). From June 19 to July 19, Winter Garden, an entertainment center with an ice rink, is located in the center of Sydney, near St. Mary's Cathedral. During the day of the coldest month at this time, the air temperature is 16 degrees Celsius, however, this does not stop Australians from skating. Entrance fee to Winter Garden is not charged, but skiing will cost 21 euros for an adult and 13 euros for a child.
In Melbourne, the skating rink is open from June 27 to July 12 during school holidays. Winter fairy tale is created in Sovereign Hill, which is a huge open-air museum. Above ice skating tracks, artificial snow is sprayed from snow guns, and Christmas tales are broadcast from the projectors on the museum's walls.
Ice skating across the Maldives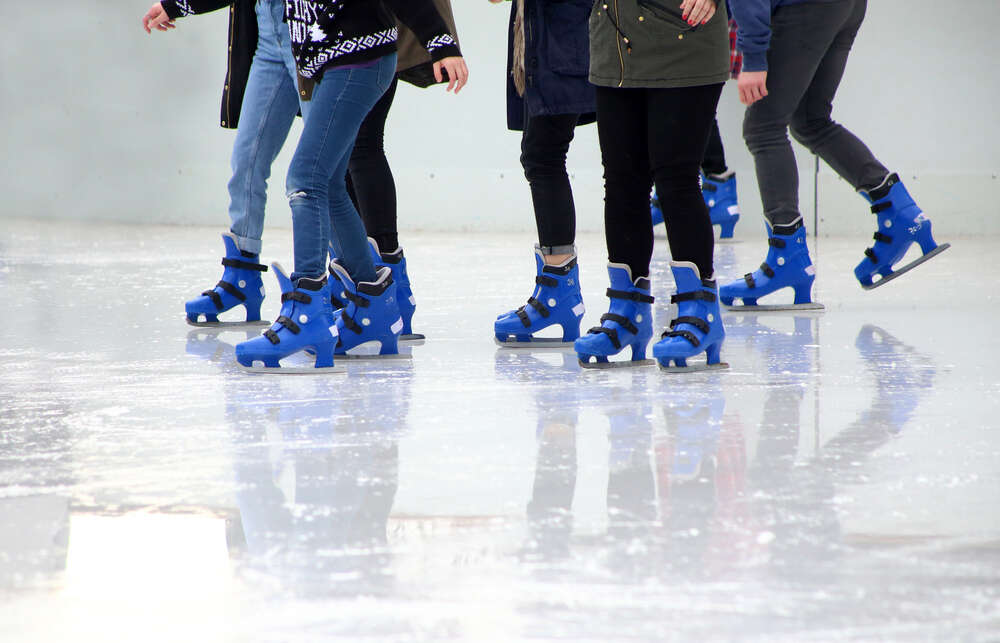 People have already got tired of palm trees and gentle beaches in the paradise islands. In the Maldives, an entertainment, which is exotic for the tropics, has recently appeared: an open-air ice rink.
The skating rink works thanks to the Swiss technology, and the snow never melts, despite the warm weather. This service is provided by Jumeirah Vittaveli, a five star hotel in the Maldives. Those, who have already tried to skate, talk about incredibly vivid impressions: skating and admiring the ocean at the same time.