The Eighth Wonder of the World with bizarre rocks, dwellings of cavemen from the distant Bronze Age, whole underground cities, luxurious carpets, and noisy Turkish bazaars. What are we talking about? It's about Cappadocia, a semi-desert part of Turkey. Get ready to discover more than you expect.
So, let's fly to this unique area with Travellizy Team!
Is Cappadocia a city or a resort?
Cappadocia is not a resort or a city, but a region that unites cities and towns. The center of the region is the tourist town of Goreme. It is located in a cave park. This is where most entertainment and hotels are located. Near Goreme, there is the city of Nevsehir with a small airport for domestic flights. The regional center of Cappadocia is Kayseri, which also has its own airport. Within a radius of up to 15 km around Göreme, there are the villages of Uchisar, Guzelyurt, Avanos, and Urgup.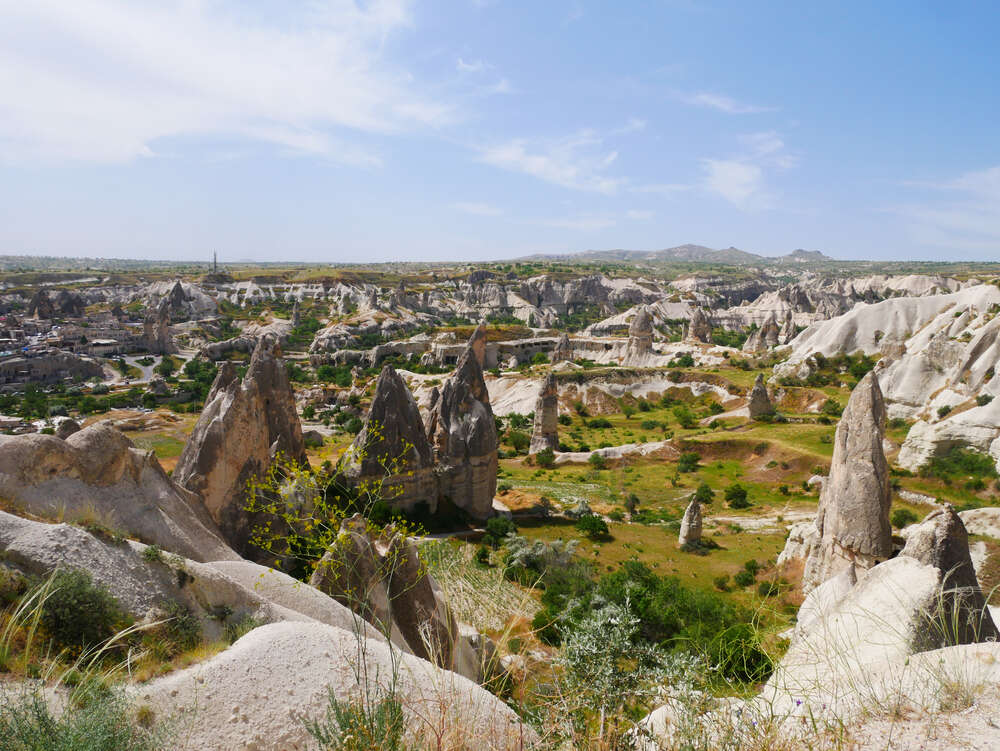 Cappadocia is another planet
The strange turns out to be also unexpectedly beautiful. The strange landscape of Cappadocia makes the entire region magical. The local beauty is mesmerizing. The most approximate description of the area will be "landscape from the moon", because everything here looks extraterrestrial.
The region is strewn with "chimneys", rock formations with a cone-shaped top. They were created by volcanic eruptions, and then rain and wind gave them the shape we see today.
Hot air balloon flight
Most tourists rush to Cappadocia to enjoy a hot air balloon ride. Indeed, you can only see the landscape of Cappadocia in all its glory by rising up high into the sky.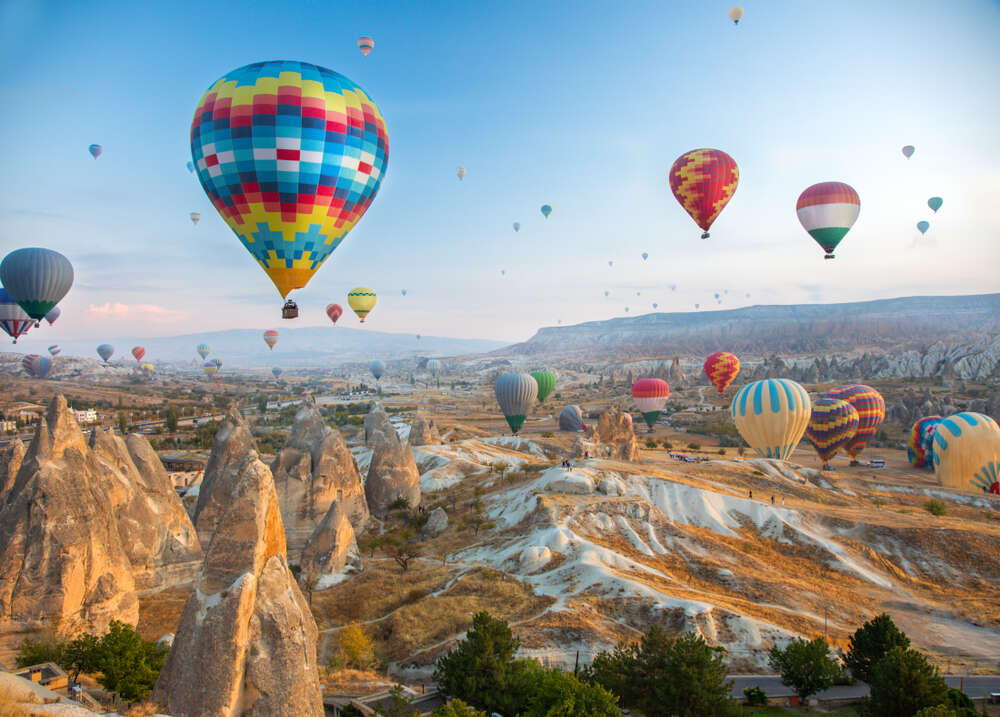 The cost of the flight is € 170 per person if you pay in cash and + € 10 if you pay by card. Tourists are advised to pay in cash on the very day of the flight, as due to bad weather the event may be canceled at the very last moment. They try to predict the weather with accuracy at least a day before the event.
On the very day of the flight, you are picked up from your hotel very early - until 4 am to watch the sunrise in the sky. Then, you are brought to the office, where you have to pay for the flight. Then tourists are offered a breakfast buffet. Captain's name and balloon number are reported.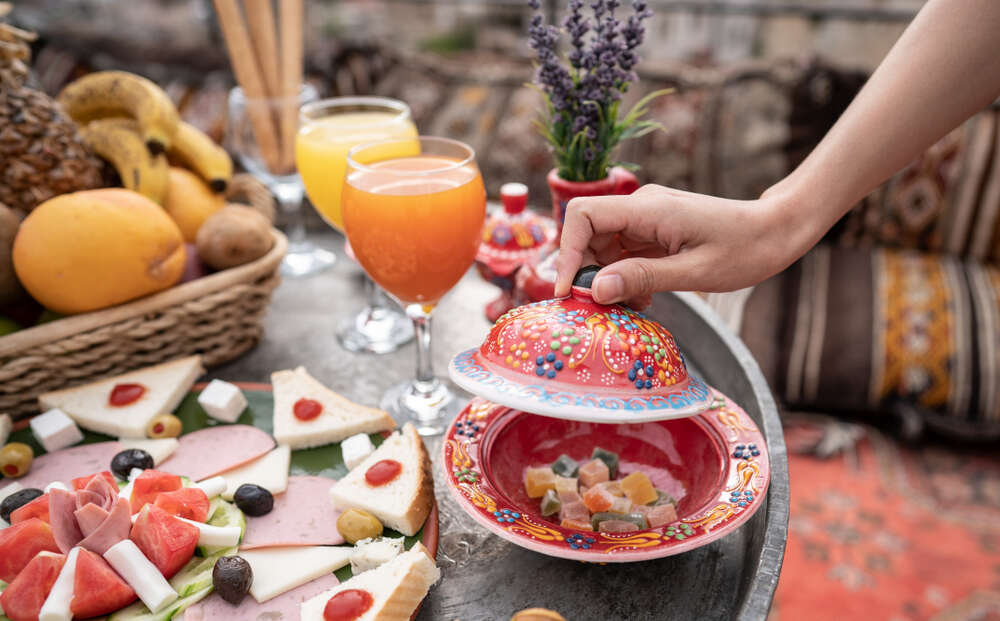 Up to 18 people are allowed inside the balloon basket. Flight duration is 60 minutes. After landing, travelers are offered to celebrate a successful landing with a glass of champagne/orange juice, strawberries covered with chocolate, and other sweets. Everyone is awarded a medal for bravery and already at 7-8 am you are back at the hotel.
Caves are everywhere. Would you like to have one?
Cappadocia would not be Cappadocia if there were not a million caves, including those in rock formations. They appeared many centuries ago. But to this day, people live in them. However, they are mainly used as hotels. So for the duration of your stay in the country, you can rent yourself a cave.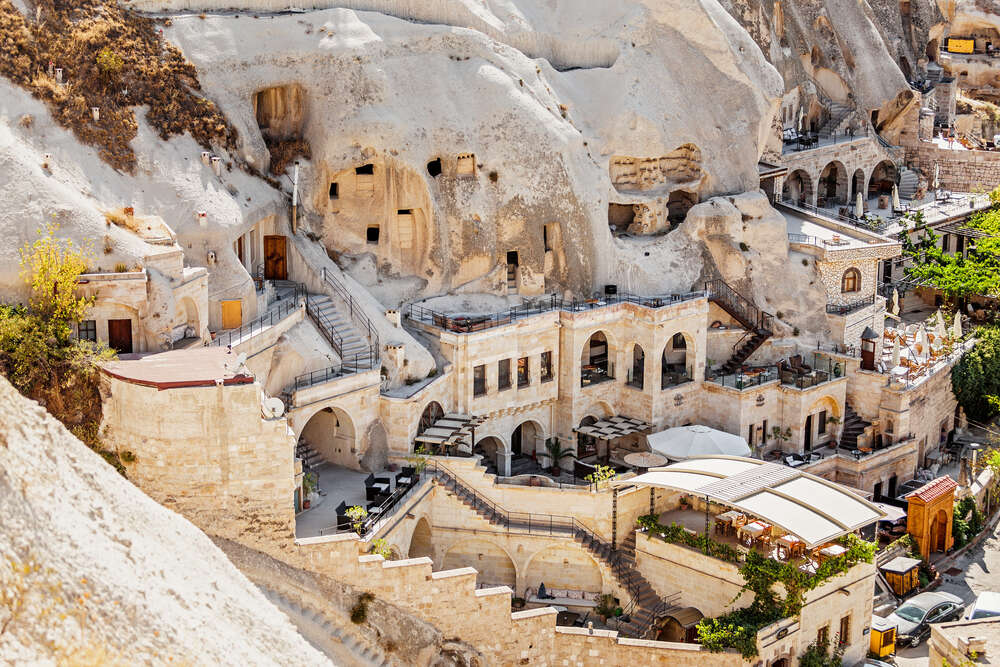 The cave complexes are designed not only for wealthy tourists. Some are even hostel-like. And the natural coolness is another bonus in the warm climate of Turkey.
Epic sunrises
Not every tourist likes to wake up early at dawn, mostly everyone prefers to enjoy the sunsets. Still, missing the sunrises in Cappadocia is an unforgivable mistake. Besides the fact that the color palette goes from orange to beige. Hundreds of balloons make the sunrise an unforgettable sight.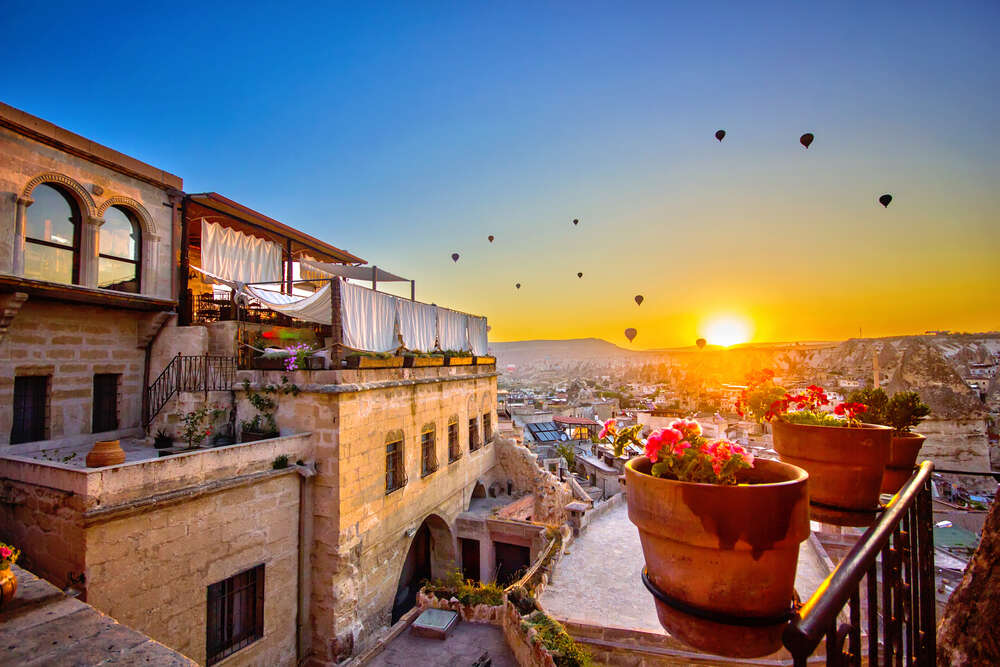 Underground cities are stunning
Cappadocia amazes not only on the surface. It also surprises with the underworld. Many centuries ago, more precisely, in the 8-9 centuries BC, multi-level underground cities were created. They served not as temporary shelters, but as permanent housing with a well thought out water supply and ventilation system. Many cities are linked by tunnels.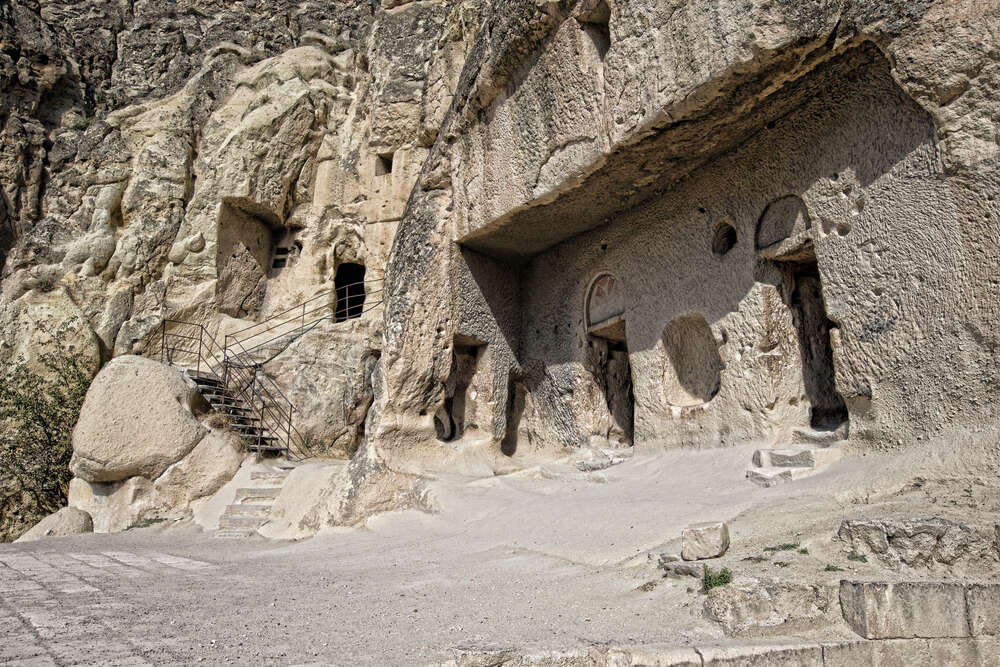 Derinkuyu cave town is located 30 km from Nevsehir. The entrances to it are hidden behind bushes, courtyards, and walls of ordinary local houses. In this spacious multi-storey underground settlement, you can see schools, chapels, stables, warehouses. According to preliminary estimates, from 20 to 50 thousand people could have lived here at the same time.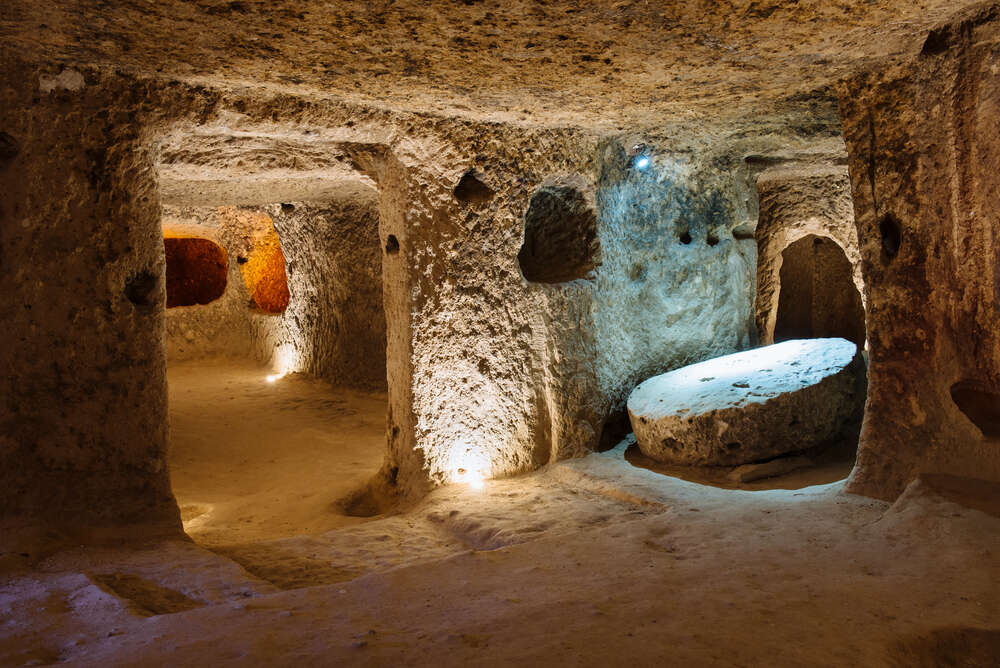 From Nevsehir, buses run daily to the cave city. The ticket price is € 3.
Breathtaking views and observation decks
The region will not disappoint fans of viewing platforms. Thanks to the hilly landscape, you can easily find your own hills and enjoy the view for hours. Among the popular observation points among locals and tourists are Goreme's Point, Uchisar Castle, Three Sisters observation deck, and Red Valley point.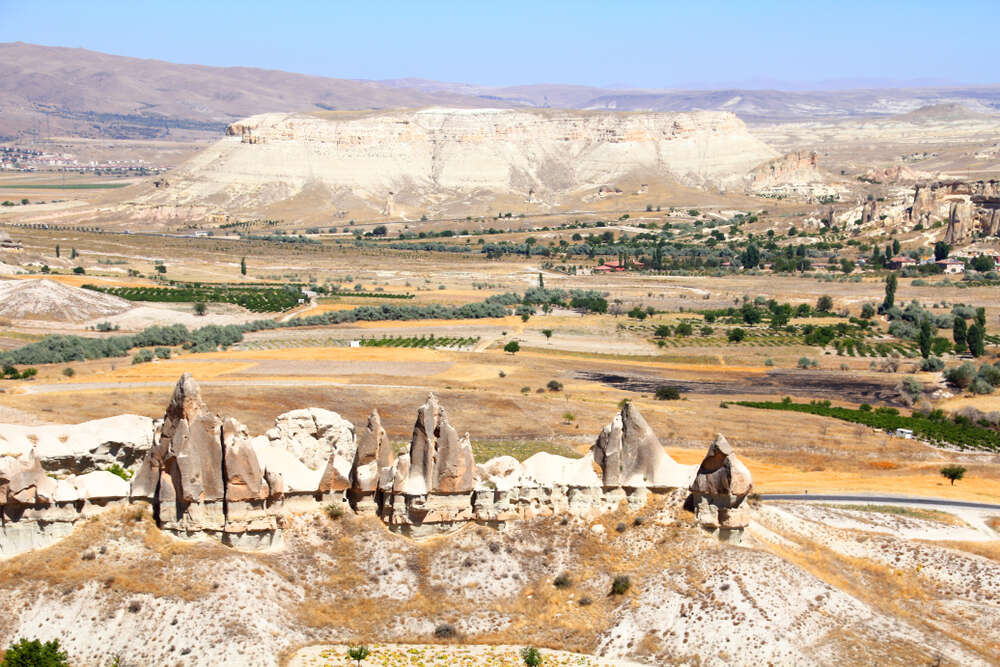 Insta-Cappadocia
The region tries to please the tourists with absolutely everything. Including the organization of the best installations. Hotels equip places-requisites. What does it mean? For example, they set a table on the picturesque terrace. It can be incredibly beautifully sliced fruits + juices in chic glasses. Or they organize corners with embroidered pillows and a hookah.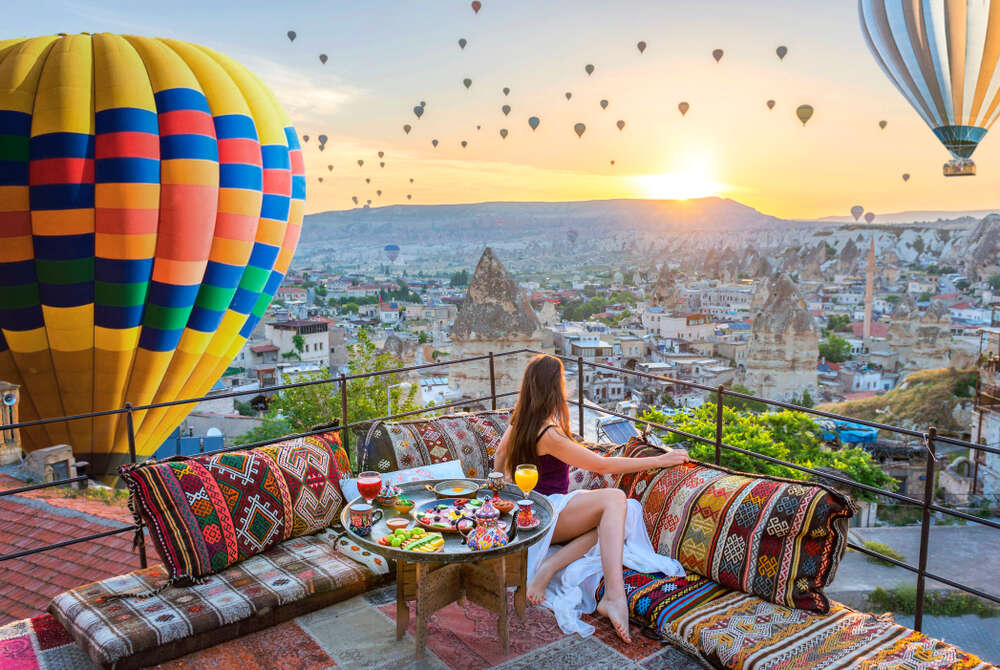 The guests look for the best angles and take selfies. But no one really eats props and smokes a hookah, creating a beautiful illusion for their page.
Shops charge tourists from € 5 for taking pictures with stunning balloons in the background. Drones take pictures against the backdrop of gorgeous carpets. Tourists can take advantage of costumes as well as the most diverse props.
What else is there in Cappadocia?
The terrain of Cappadocia is huge. Even if you allocate a week for it, you can barely get in touch with the Valley of Love, Red Valley, Rose Valley, Pigeon Valley, Ihlara Canyon. Travelers go hiking, mountain biking, horseback riding, and organize cultural and historical routes. Many people simply relax and explore the area at their own pace.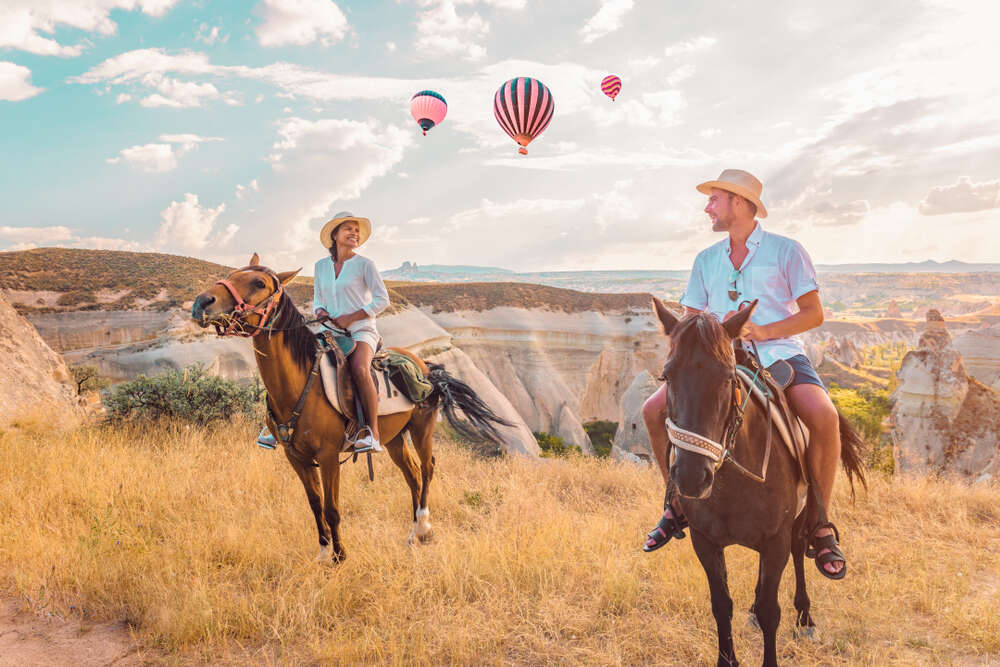 Practical information
Autumn in Cappadocia
By local standards, Cappadocia has a chilly climate. With gusty winds, coolness in caves and underground cities. Even in summer, it is better to bring a warm, cozy sweater, which will keep you warm during the cool night.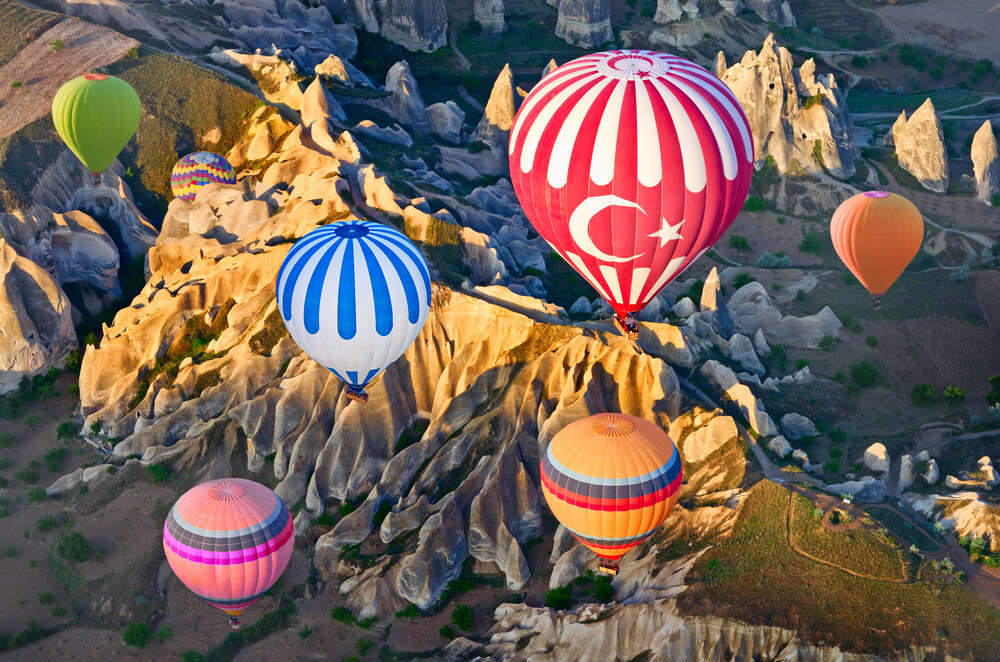 The symbols of Cappadocia in autumn are local aromatic wines and balloons against the backdrop of the sky. In September and October, it is usually dry, without rain, with comfortable +24ºC. Therefore, for walking, choose shirts with sleeves, jumpers, raglans. In the early morning and evening at the end of October, it can be +5ºC. Therefore, for a hot air balloon flight at this time, you cannot do without warm clothes. In November, you can feel +10ºC in the afternoon, there are no prolonged rains.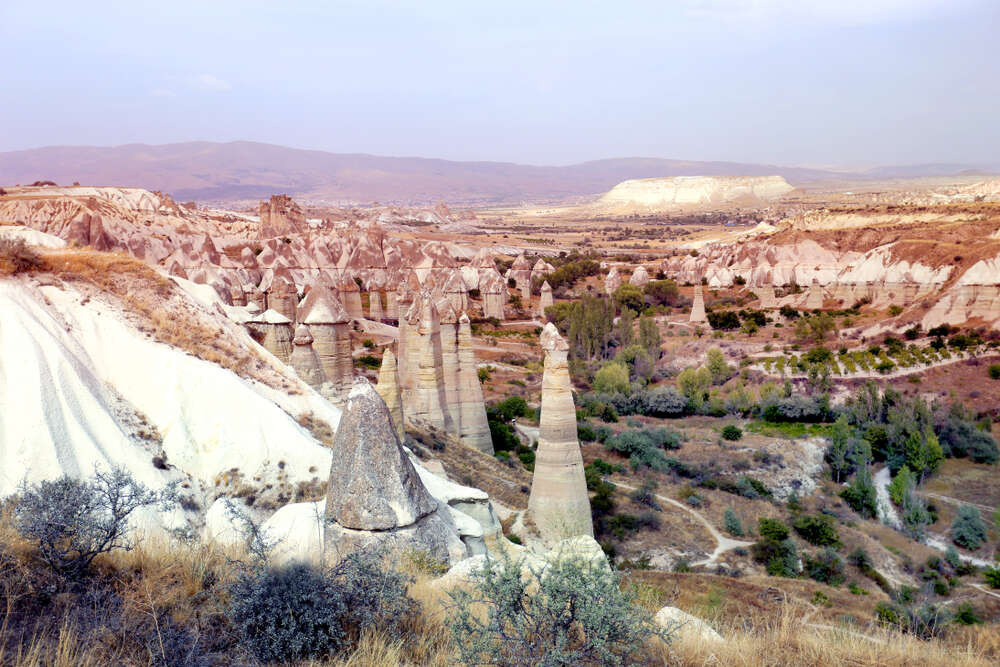 Autumn is the harvest time for grapes. Another entertainment for tourists is a trip to the vineyards and participation in the harvest.
How to get there
Travelers arrive in Cappadocia at the nearest airports Kayseri (an hour away from Goreme) and Nevsehir (20 minutes from Goreme). Turkish Airlines and AnaduloJet operate flights from the new Istanbul Airport. Take a bus if you want your trip to be cheap. Moving around Turkey this way is convenient and comfortable. A roundtrip ticket costs € 20.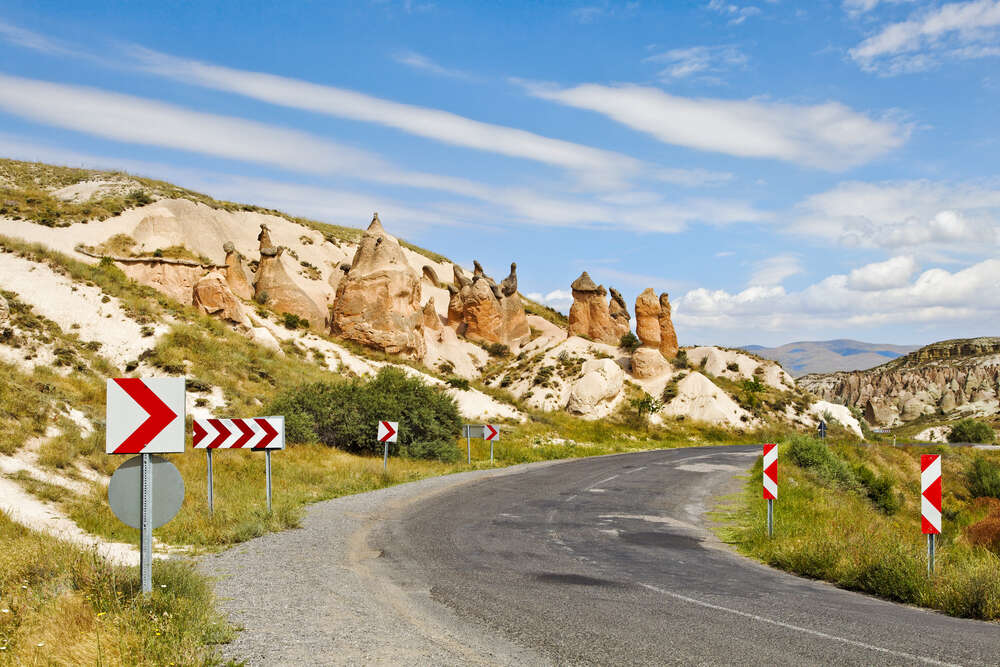 A trip with a rented car is also possible. Tourists are advised to stock up on a regular map in case the navigator fails. Stock up on cash so that you can easily buy gasoline and shop in small stores.
Where to stay
When coming here for more than 4 days, plan your stay in Goreme and Uchisar. Both towns are beautiful, and yet they differ from each other.
You can book a room in a cave hotel from € 60. In a cave hostel, you will need to pay from € 8 for a bed in a dormitory room and € 23 for a separate cave.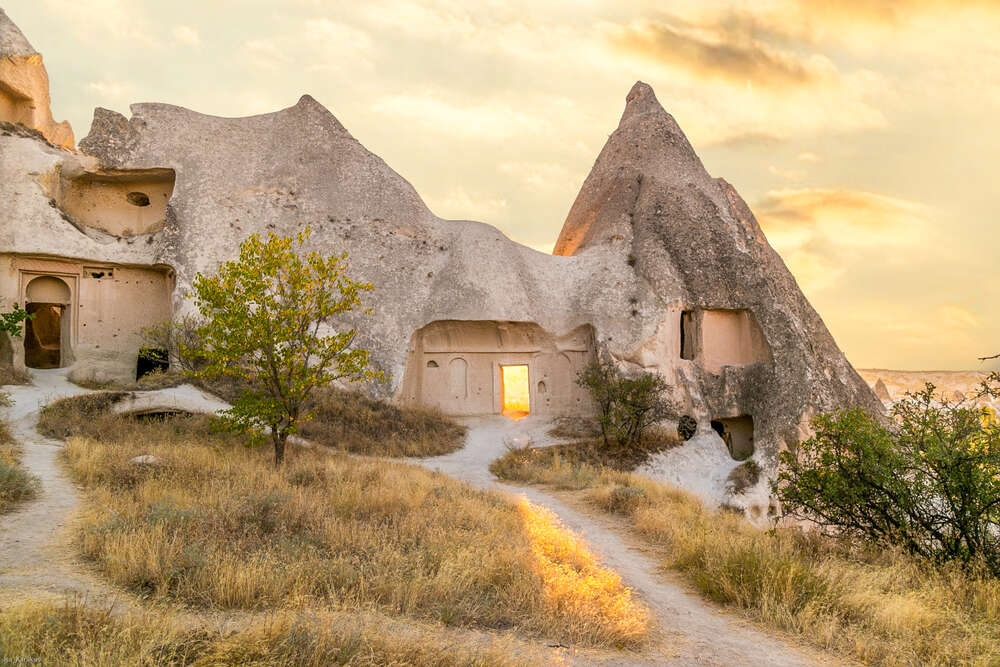 Travel to Cappadocia to the valleys with caves, pigeon houses, and fabulous chimneys. In the morning, you can drink here serene mint tea and watch hundreds of balloons slowly hover over the surrounding area. Travellizy Team wishes everyone to lose touch with reality for a few days in fabulous Cappadocia.