Traveling around the world, you always want to learn as many interesting facts as possible about the new country and local customs, feel its atmosphere and see the main attractions, but how can you manage everything and where to look for information? Travellizy's new article is just about that!
The starting point for exploring a new city can be a sightseeing tour. For those who like to walk and listen to stories from locals, we recommend starting with the Free Walking Tour, and in hot weather, hop on the red bus with the banner "City Sightseeing", which runs around the city according to the "Hop-On Hop-Off" scheme - you can get off at any stop along the route to get closer to the attraction you like, and then continue the trip on the next bus. If you are not a fan of group tours, then look for mobile apps with routes around the city and enjoy leisurely independent walks. And if you need more information and a city map, go to the tourist center.
Tourist information center: Why should you visit it?
At the tourist information center, you can find answers to your questions without wasting time on endless Internet searches. Here you will be told the opening hours and the cost of visiting museums and other attractions, in which area it is better to stop and where to have a tasty snack.
Typically, these centers have brochures about the different types of recreation in and around the city, and you can also borrow a paper map. In the digital age, few people remember this, but the phone can run out of battery, and so you can have a fail-safe and your first souvenir. It is also a great way to start a conversation with the locals - just show the map and ask for directions, and if you are lucky and come across a talkative passer-by, he/she will also tell you about less popular, but no less cool locations.
Free Walking Tours: are they really free?
Free Walking Tour is a walking tour conducted by locals. They are free, since there is no fixed cost for walking, but if you like everything, then at the end, it is customary to leave a tip to the guide (the amount is at your discretion). It is very easy to find such excursions - just enter "Free Walking Tour + city name" in the browser and the search engine will offer you many options from different companies.
This is a great way to learn not only historical facts, but also how the locals live - their favorite places, mentality and cultural traditions. Basically, these walking tours are conducted in English. The meeting point will be one of the main attractions near the metro or other public transport, so that it is easy for participants to reach and find a guide who will be waiting with an identification badge (often wearing a bright T-shirt and an umbrella that says Free Walking Tour).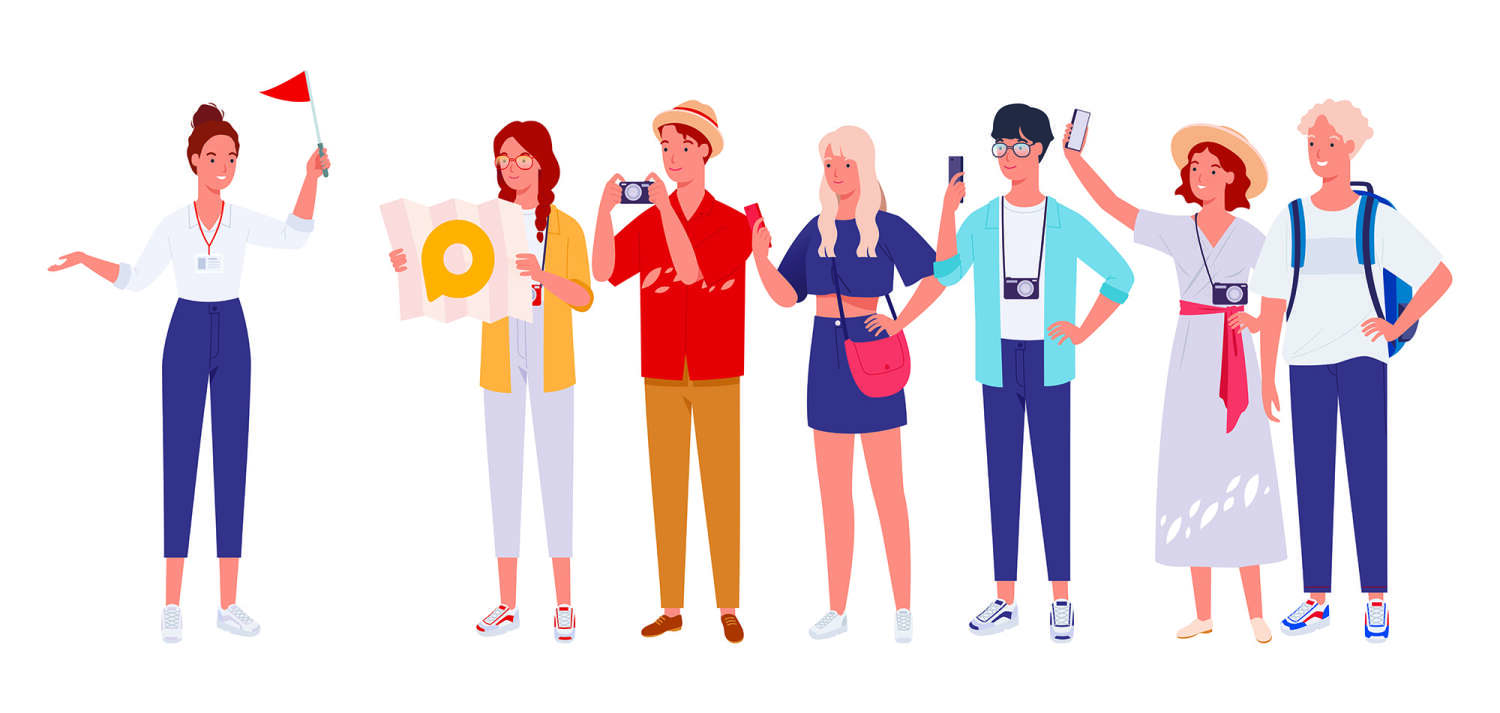 In large cities, there are several excursions a day, in smaller - a couple of times a week, so it is better to plan in advance. Also, in the most popular cities, it is sometimes necessary to pre-register through a special form on the website. Groups of about 20 people are usually gathered, but there can be more, as many people come alone, so this is also a great way to make new acquaintances in an informal setting.
It happens that free sightseeing walking tours are carried out by travel companies in order to tell about other offers for tourists and to attract them to paid excursions.
In general, the concept of a free walking tour is a win-win for both the traveler and the local guide. By making authentic local excursions accessible to everyone, no matter the budget, free tours are a new way to discover cities while supporting passionate local guides.
An alternative to free guided tours. Route apps
Do not be discouraged if you did not get on a free tour, there are also paid, but still budgetary alternatives. For example, Tours at 3:15 pm Academy Guide, sightseeing tours in 52 different cities, which take place every day at the same time. The walking tour with a local guide lasts 2 hours, and the cost of participation is about € 20 per person. A huge plus is tours in different languages.
For independent walks, the creators of the Tours at 3:15 pm project have launched a mobile app with Questeri quests. After installing the app, you can choose the quest you like and after downloading, it will be available even without the Internet. At the moment, the app works in 29 cities, there are free trial quests, promotional ones for € 7.99 or at the standard price for € 19.99. The format of the quest walking tour is as follows: the app contains 20 questions, answering which you will get to know the new city better. 
Those who love audio format will find the izi.TRAVEL app very interesting, as it has over 15,000 podcast tours. And if you are fluent in English, then we also recommend downloading Rick Steves Audio Europe™ - a collection of tours across Europe from the popular American travel writer Rick Steves. The app includes a huge library of self-guided walking tours, travel tips and Rick's radio interview on Europe's top attractions and cultural backgrounds. Each tour is set up like an audiobook, which is very easy to listen to.
City Sightseeing bus tours: how does it work?
On a trip, various unforeseen situations can happen, for example, the weather can let you down, and not everyone wants to walk in the rain or in 40-degree heat, so in order not to waste a day in a new city, hop on the City Sightseeing bus and study its route with sights along the way.
Bus tours operate on the "Hop-On Hop-Off" system, which means that you can get on the bus and leave it at any stop along the way as many times as you like during the ticket validity. In the bus cabin, an audio guide is provided for everyone in different languages, so that you can listen to the history, culture, traditions and sights that you will pass by. 
City Sightseeing buses are double-decker, so take the top seats for a better view. The ticket cost depends on the popularity of the place, in European cities. the price usually starts from € 20, discounts are provided for children and seniors. As for time, you can choose a ticket for 24, 48 or 72 hours.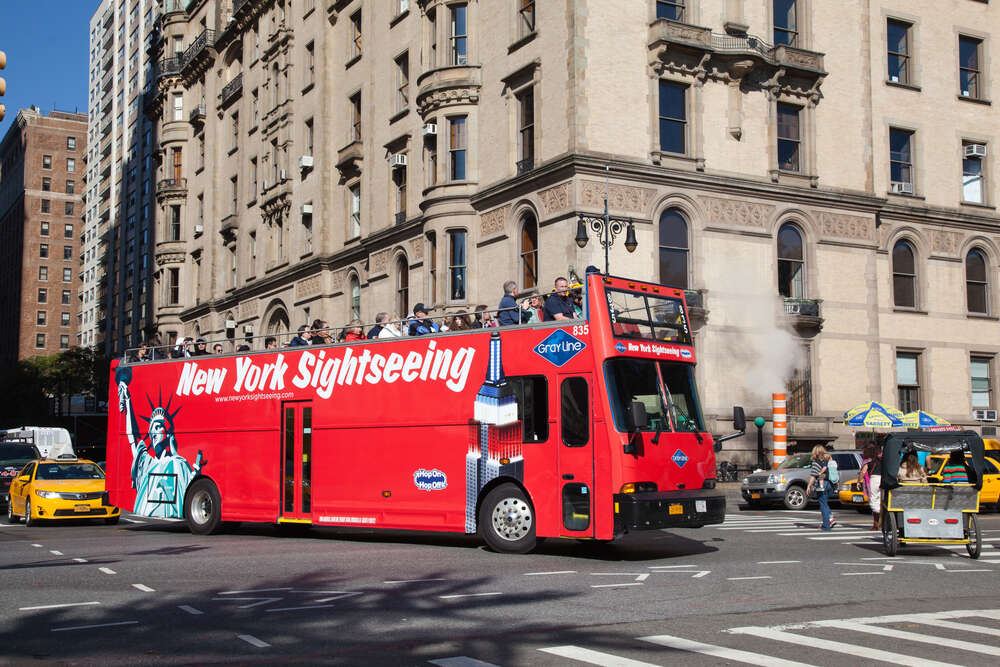 How to behave on excursions: tips from Travellizy Team
In order for the excursion to be not only interesting, but also as comfortable as possible, we have prepared for you a list of 10 recommendations:
Use sunscreen, because you can get sunburn even on a cloudy day;
Take water with you;
Choose comfortable clothes and shoes so that you do not have to run to the nearest pharmacy for a patch;
Remember to wear a hat, especially if you travel in the summer;
Be punctual and do not be late so as not to disrupt the route schedule even before it starts;
Turn off the sound on your phone so as not to distract the group and the guide;
Respect others and do not speak loudly over your guide;
Avoid consuming alcoholic beverages during the excursion unless it is a food tasting tour;
If you need to smoke, try to do it away from the group;
Try not to delay the group because of the photo - if you like the location, you can always come back a little later and take pictures at a calm pace without haste.
We wish you comfortable and informative excursions!