Azerbaijan is a crossroads of cultures, a colorful carpet of Muslim traditions and Soviet heritage, ancient customs and new trends. And the city of Baku, the capital of the country, is the quintessence of this diversity. Medieval narrow streets and high-tech skyscrapers, hipster cafes and cozy tearooms - this city has everything you need to have a great time and bring vivid impressions and a bunch of wow photos from your vacation.
Travellizy Team leaves on an unusual journey through the capital of Azerbaijan.
Fortress in the city: Icherisheher
It is best to start your acquaintance with Baku from its historical center called Icherisheher. Behind the massive fortress wall, you will find narrow streets between stone houses, numerous souvenir shops, cafes and tearooms.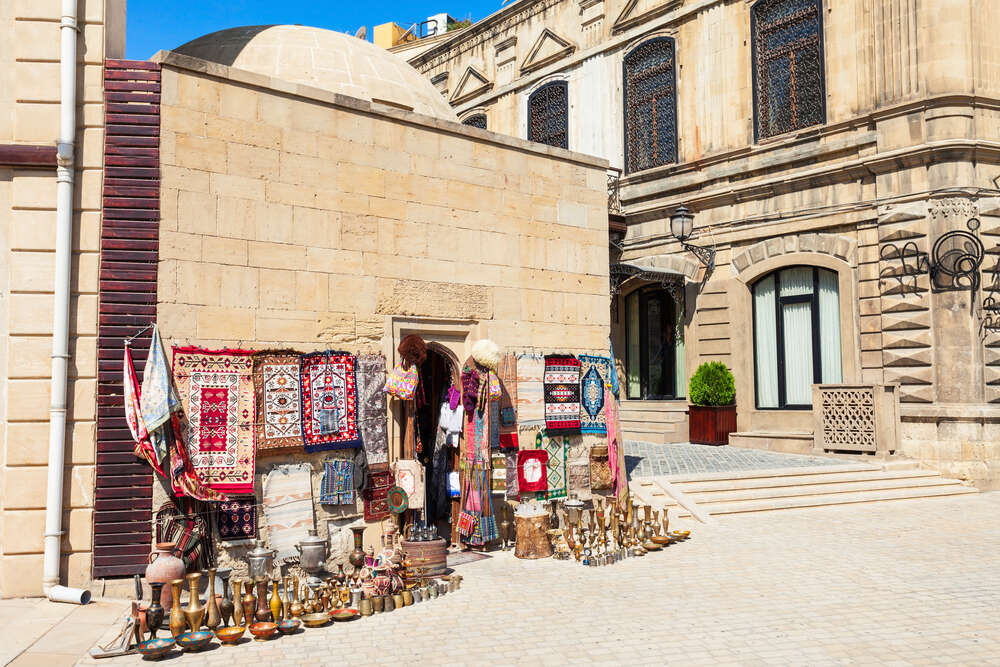 You can walk along Icherisheher for a long time and tastefully at the same time. Take a picture of fluffy Azerbaijani cats, there are no fewer of them than in Istanbul, admire the mosques, some of which are more than half a century old, bargain for a hammered tray or handmade carpet. Inside the area, you can find many interesting things and even a couple of attractions from the UNESCO list.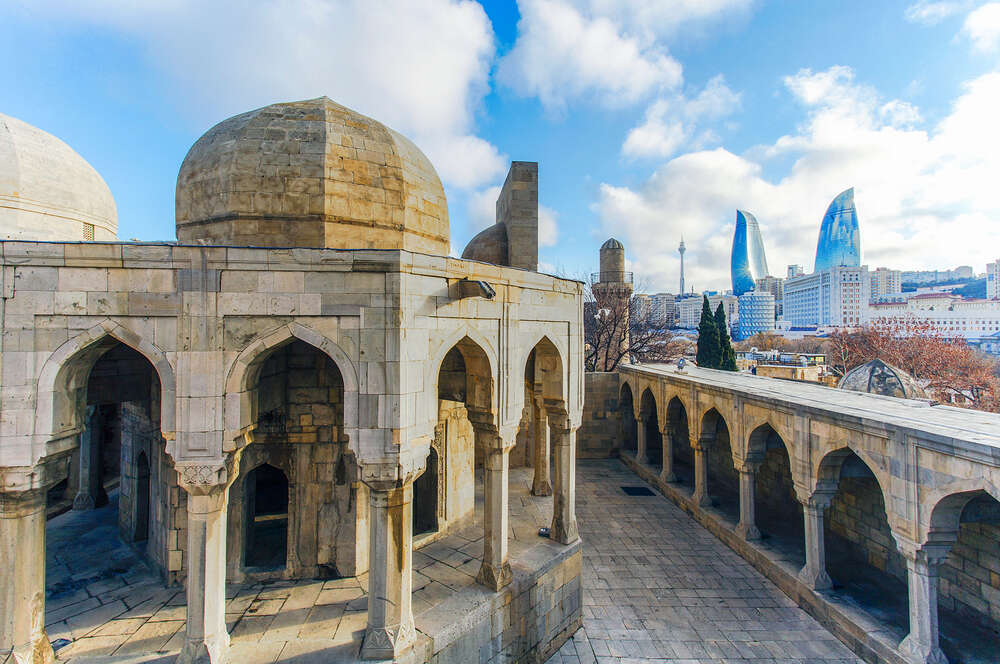 In the area of Icherisheher, the Maiden's Tower, which is the oldest building in Baku, is located. Its story is quite typical: an evil shah, an unfortunate bride, a tragic suicide. But in fact, this is just a legend, the tower might just as easily be a lighthouse or an observatory, its purpose has not yet been clarified. In any case, it looks impressive. Entrance to the tower costs 5 euros, there are various expositions and exhibitions inside. The second landmark building of the district is the Palace of the Shirvanshahs. Inside the complex, there is a museum now, the entrance costs 8 euros.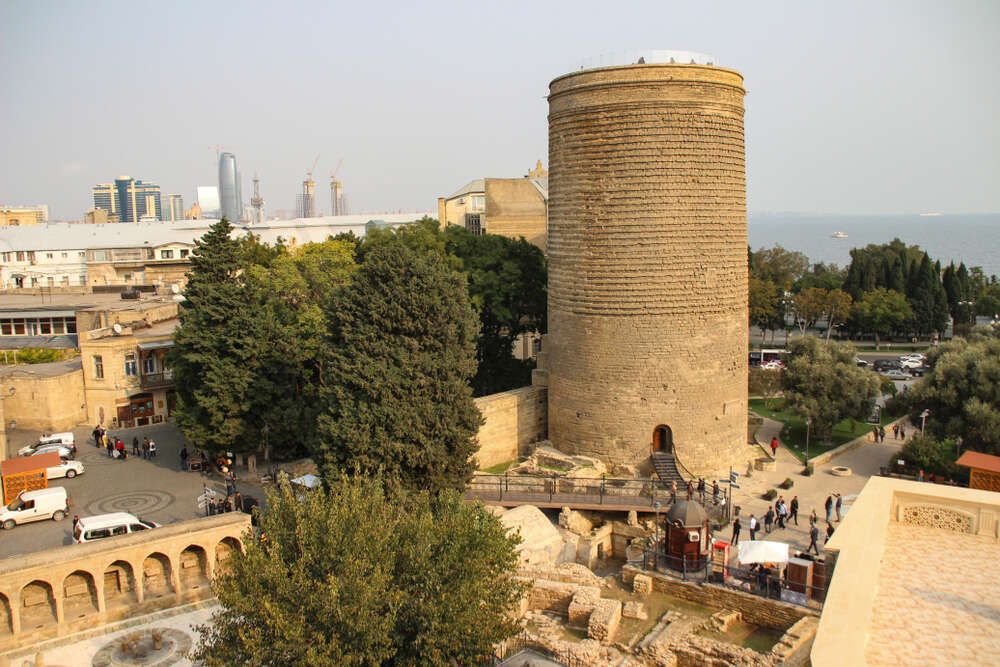 Also in Icherisheher, Nikulin's character shouted the famous "Damn it!", and Ichthyander walked with Gutiyeres. It was in this part of Baku that cult Soviet films such as The Diamond Arm and The Amphibian Man were shot.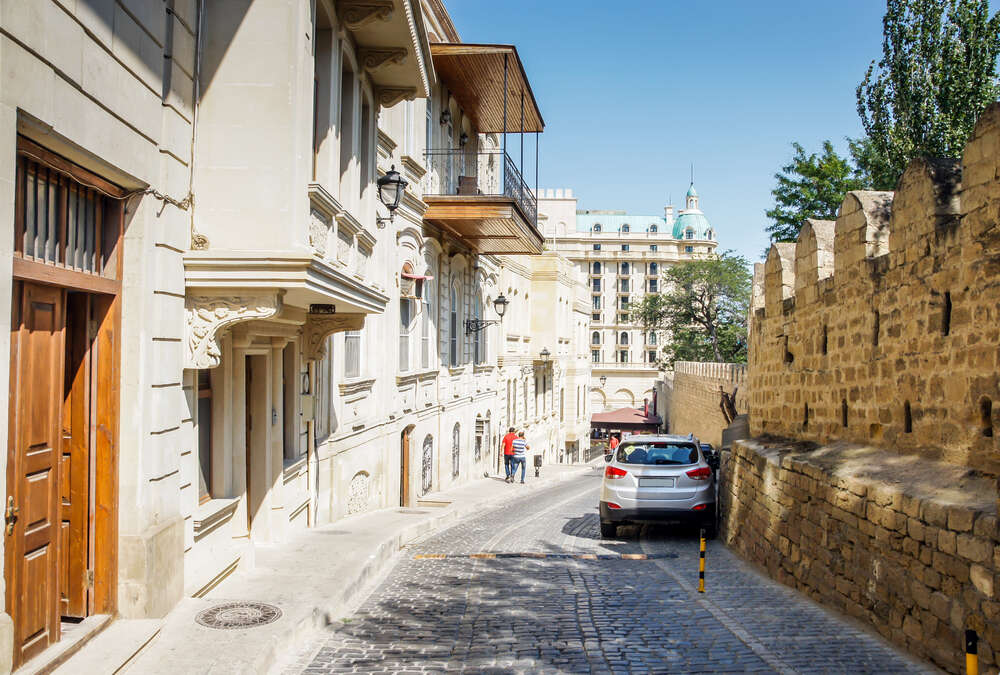 The best place for walking in Baku: Primorsky Boulevard
If you like space and salty breezes more than red-hot stone streets, then you will definitely like Primorsky Boulevard. The embankment with a length of 25 kilometers is a favorite place for walking for city guests and local residents, and from any point on it, you can clearly see the tall flagpole with the flag of Azerbaijan.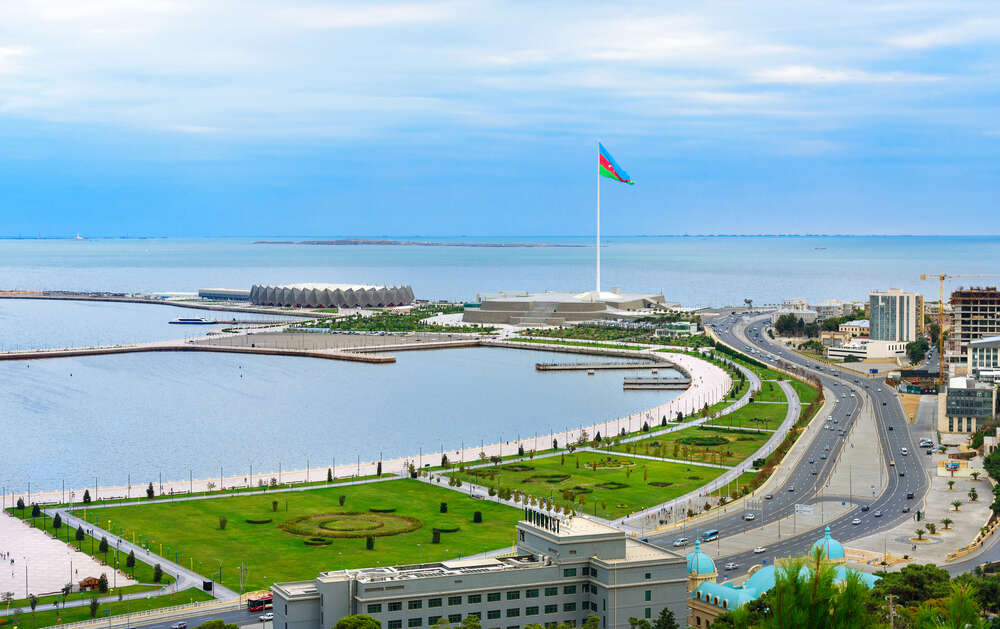 Walking along Primorsky Boulevard is best after sunset, then it is not as hot as during the day, the lights of the buildings and fountains turn on, and in the distance, you can watch Flame Towers, the visiting card of Baku, lighting up. In the evening, you can listen to street musicians on the boulevard, ride a Ferris wheel, buy ice cream and see how modern Azerbaijan lives.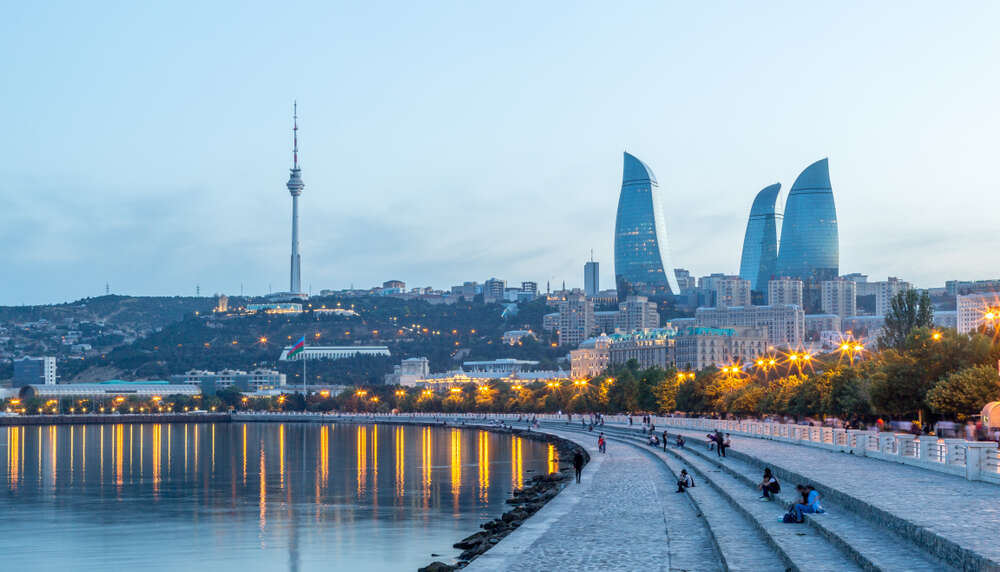 In addition to Primorsky Boulevard, there are two more excellent places for walking in Baku. This are the pedestrian Nizami Street, where a huge number of cafes are concentrated for every taste and wallet, and Fountains Square. The last location will surprise you not only with original fountains, but also with benches of an unusual shape.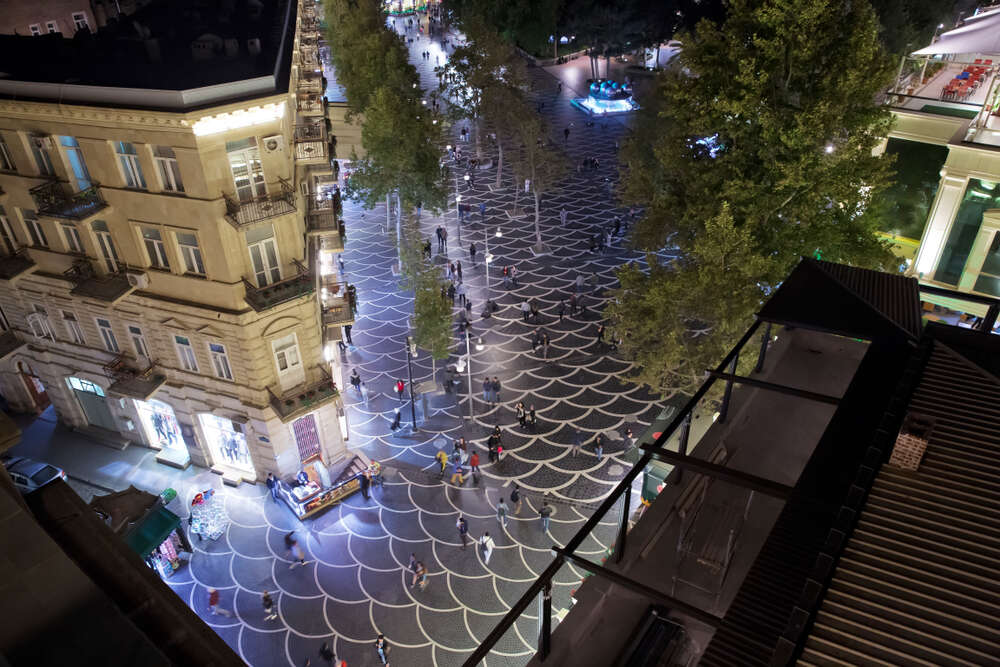 All About Carpets: Azerbaijan National Carpet Museum
There are a lot of carpets in Baku. They are sold in souvenir shops, dried on balconies and depicted in paintings, are covered on the floor in many cafes. But the main Carpet is at the end of Primorsky Boulevard. The Carpet Museum is made in the form of a huge roll, but inside...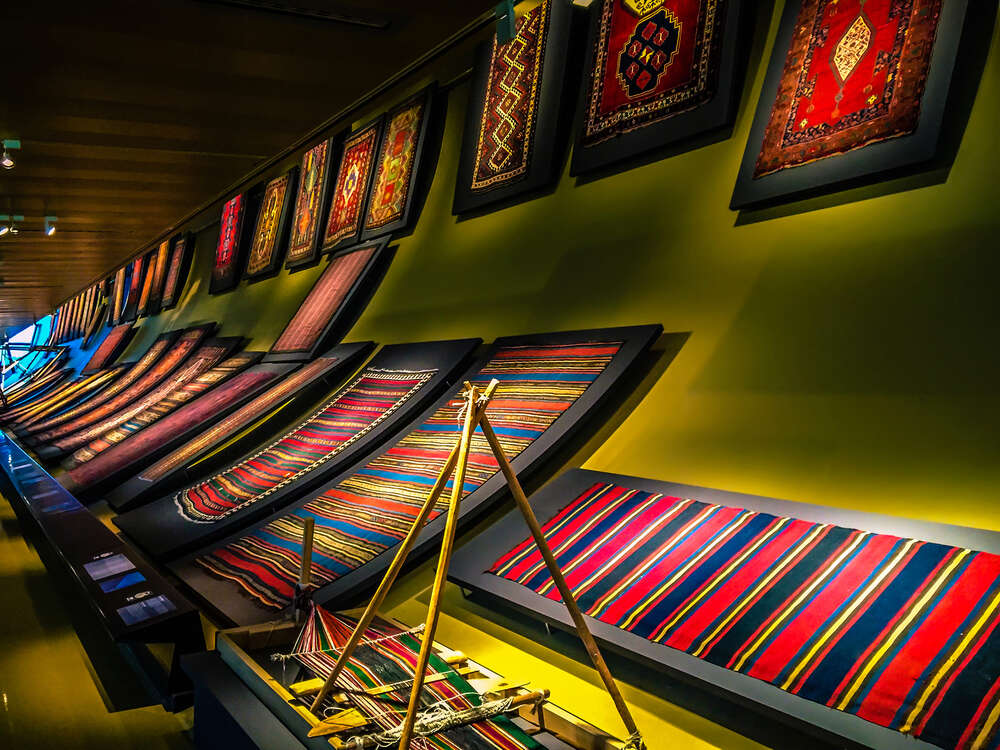 Inside, you can learn everything about carpets including the fact that the patterns are whole stories on the fabric, and the fact that there are special carpets for donkeys, and much more. Small carpets, huge carpets, antique carpets, new carpets, they all have their own history. By the way, about history, you should take an audio guide in the museum, as all inscriptions are in Azerbaijani. Also, you can see how carpets are weaved manually and get acquainted with other exhibits such as national clothes, ceramic dishes, weapons and jewelry. Entrance costs 3.6 euros, with an audio guide, it's 5.5.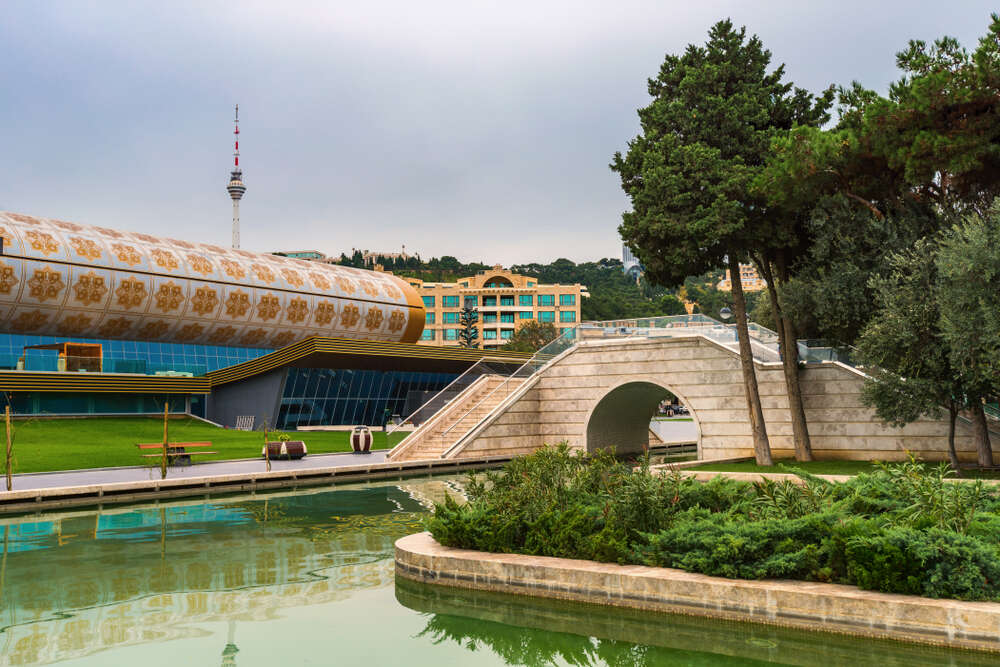 Eastern gondoliers in Baku: Little Venice
There is a piece of Venice on Primorsky Boulevard - a shady park with canals filled with turquoise water, through which decorated bridges are thrown. Having paid 3 euros for 20 minutes, you can ride on these canals on a narrow-nosed gondola.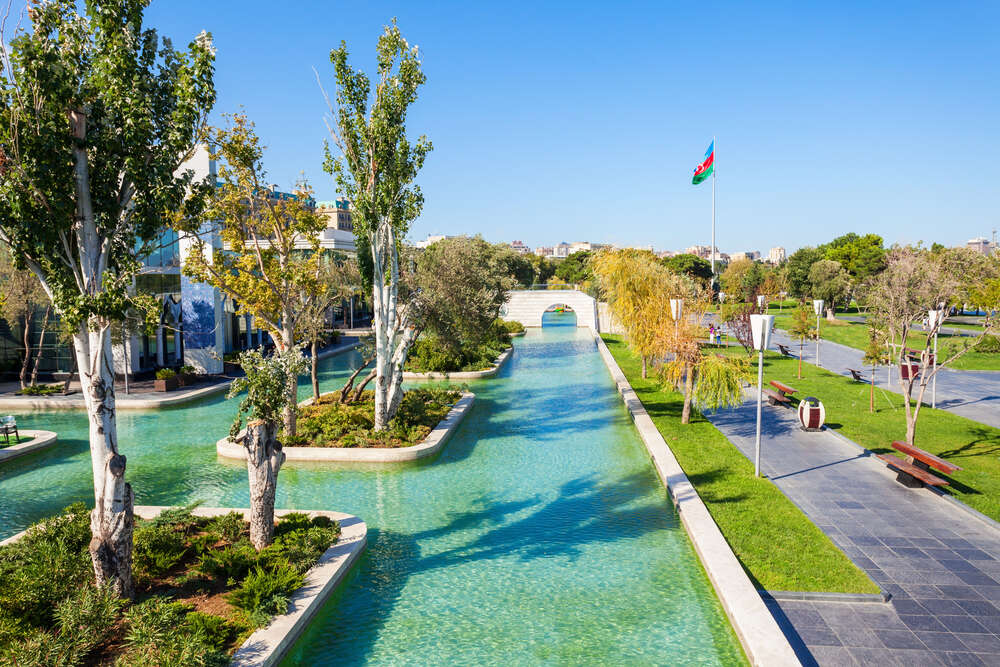 Little Venice is a great option for a relaxing holiday and a break between walking along the Primorsky Boulevard and the streets adjacent to it. If by vacation you mean a plentiful meal and acquaintance with local cuisine, then you will find the most famous restaurant in Baku called Shirvanshah Museum Restaurant. The unique design of its halls, where there used to be baths, will make lunch or dinner truly royal.
Aerial view: Nagorny Park in Baku
The Nagorny Park in the center of Baku is known not only for its green alleys and excellent views of the city, which opens from the observation platforms. It is near this park, where Flame Towers, three skyscrapers symbolizing the greatness of modern Azerbaijan, are located.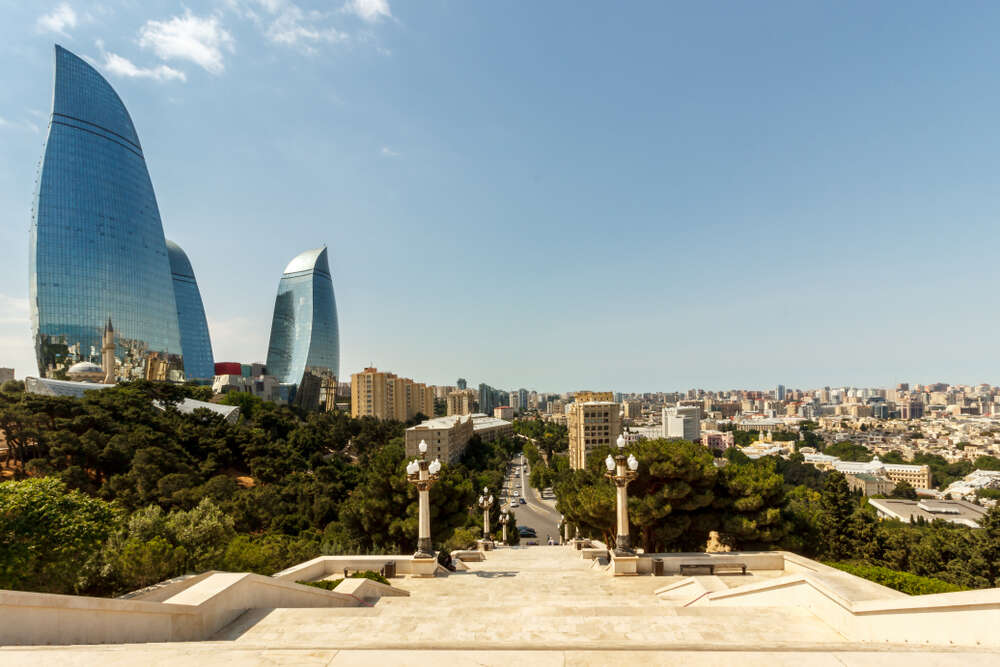 Climbing the upper terraces of Nagorny Park is a separate adventure. You can do this on foot, having overcome many stairs, or on the funicular that leaves from the station on Shovket Alekperova Street every 15 minutes. Climbing with the funicular will cost you only 0.45 euros, but you will have to stand in line on the weekend or in the evening. There are almost always a lot of people who want to climb into the park, but the capacity of the cabin is limited.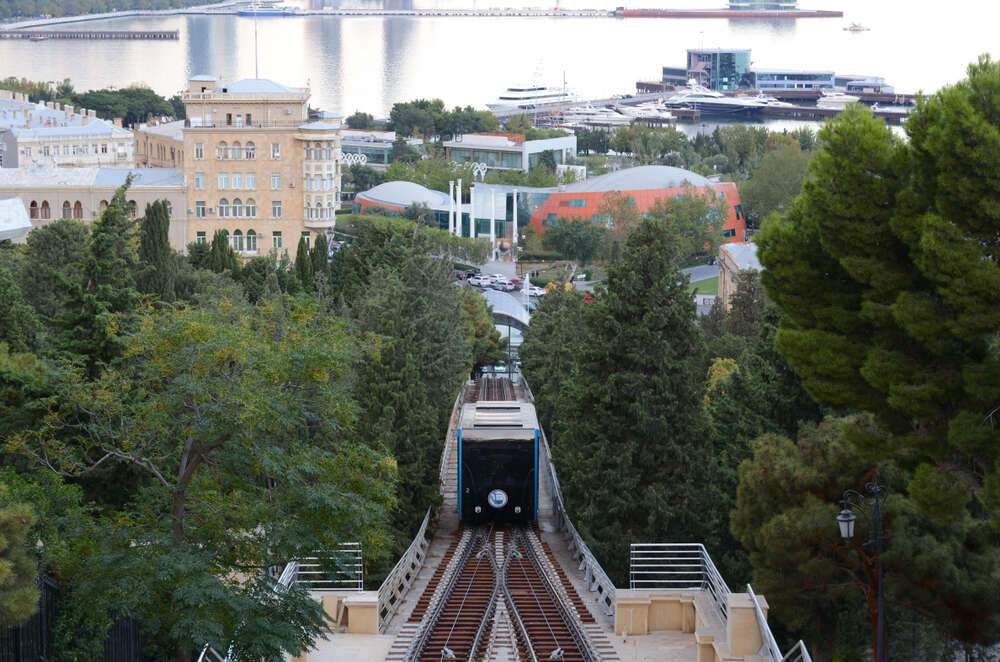 Flame Towers that are perfectly visible from anywhere in the city are not just office buildings and a hotel. When the sun goes down, the sparkling windows of the skyscrapers turn into screens on which an impressive show is projected. On the walls of skyscrapers, you can see huge flames, the flag of Azerbaijan and other animated images.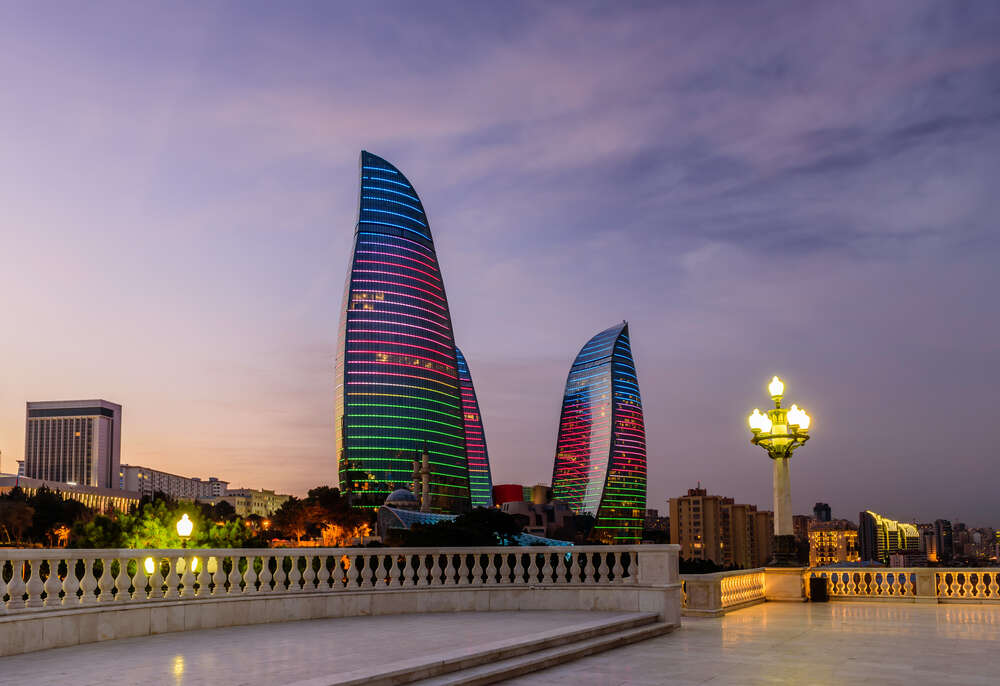 Another skyscraper located near the Nagorny Park is a 175-meter TV Tower. If you want to look at Flame Towers from top down, and not upward, go up to its top floor and have coffee in the revolving Telequlle restaurant.
The second most popular and oldest park in Baku, the Philharmonic Garden, is located in the Sabail district. There are no special attractions in it, it's just nice to walk around the garden.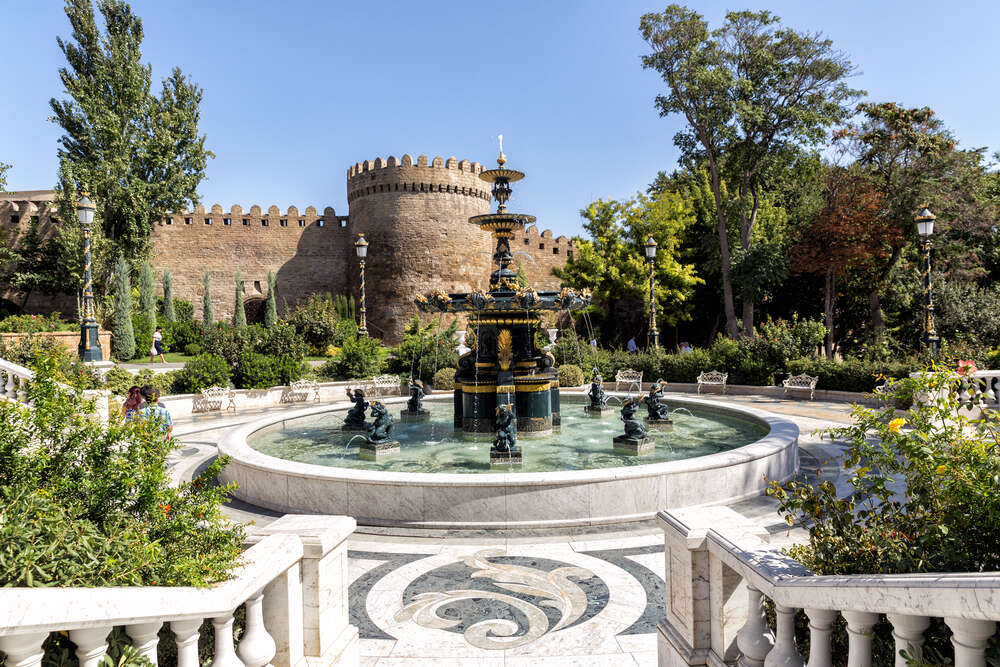 The future is here: Heydar Aliyev Cultural Center
Each building, designed by Zaha Hadid, is a true masterpiece of modern architecture that you can't confuse with anything else. The building of the Heydar Aliyev Cultural Center, in the silhouette of which there is not a single right angle, stands out from other buildings in Baku.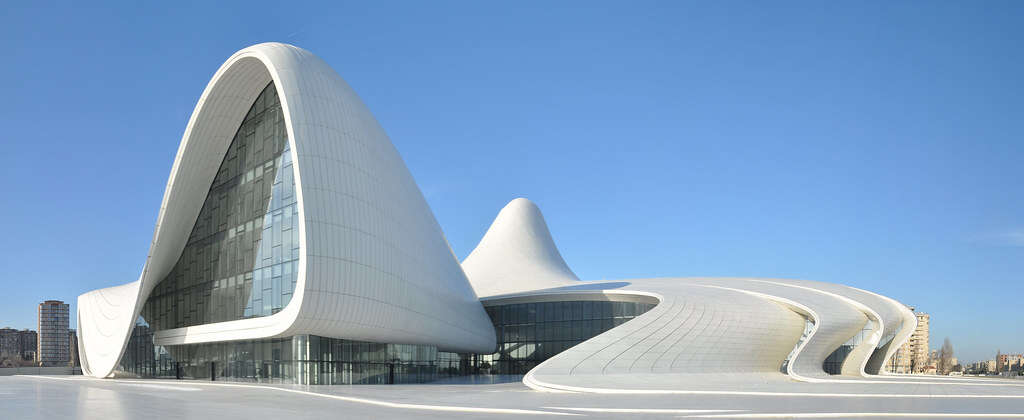 The center is interesting not only outside but also inside. Here you will find an exhibition of Azerbaijani national musical instruments, Baku Puppet Theatre, Tsereteli Museum, an automobile exhibition and much more. Seasonal expositions replace each other every couple of months and are no less interesting than permanent ones. Entrance to the center costs 8.6 euros, plus you will have to pay extra 5.7 euros for visiting the car exhibition.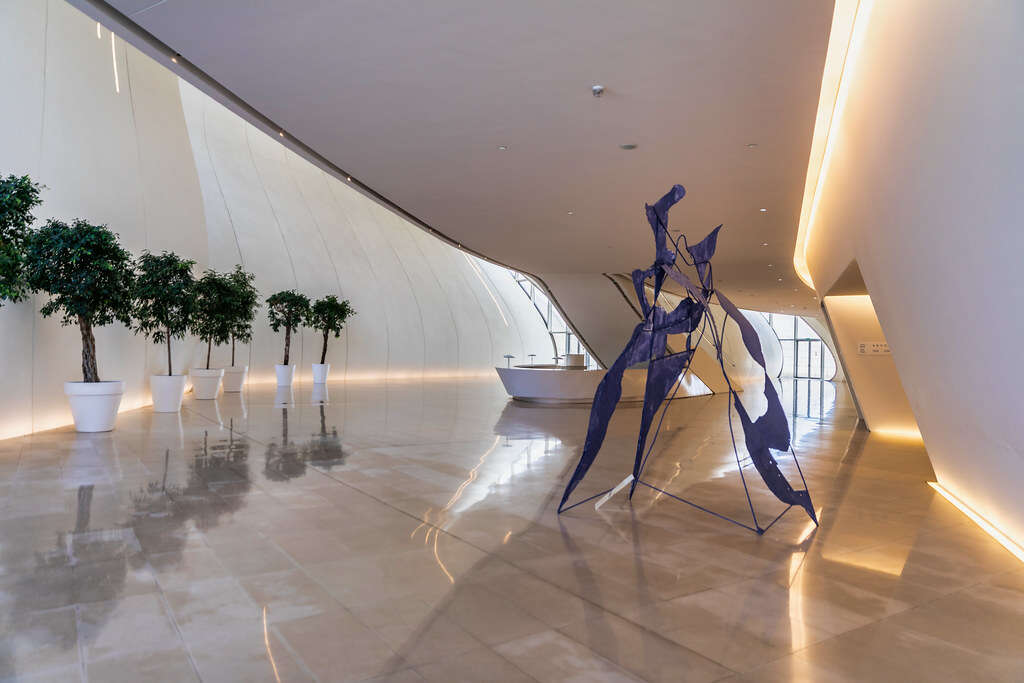 Is Heydar Aliyev Center alone not enough for the cultural program in Baku? Then visit the Museum of Modern Art on Yusif Safarov Street. It has world classics such as Picasso, Chagall, Dali, and masterpieces of local artists and sculptors.
Warm waters of the Caspian: Baku beaches
If there is time and desire, then from Baku, you can get to comfortable beaches on the shores of the Caspian Sea in half an hour. There are many of them near the city, you can get there by minibus, so take your swimwear and a towel and go sunbathing and swimming.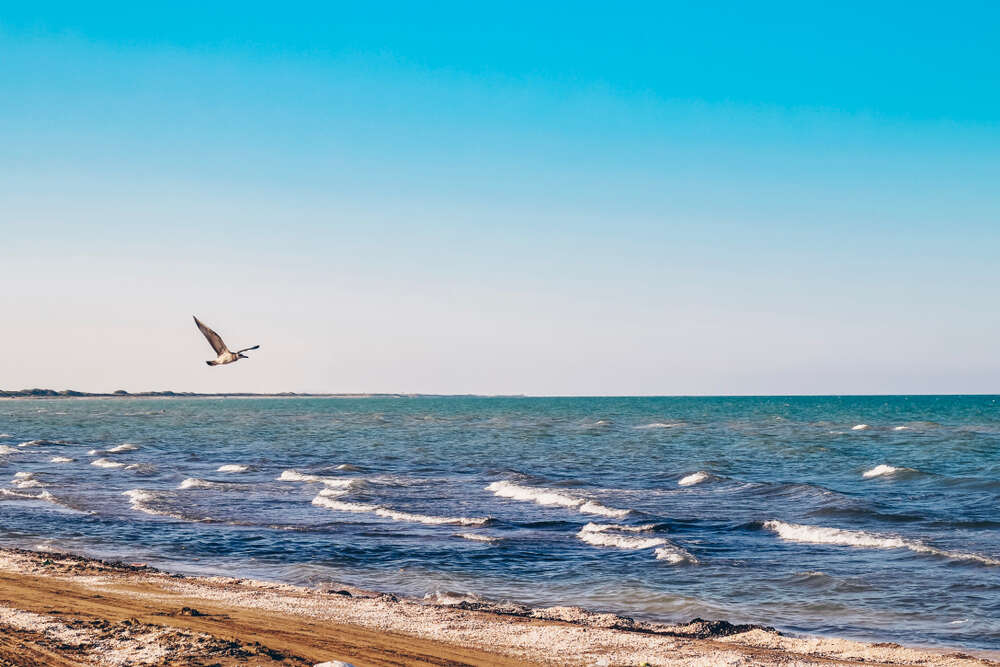 The closest to Baku are the beaches of Shikhovo with a water park and bars. If you are with children, it is worth going to the beaches of Pirsagi, there is a smooth descent into the water and there are no waves. If you want active leisure, then go to the beaches of Mardakan or Zagulba. The latter are famous for VIP zones, chic restaurants on the beach and noisy parties in bars.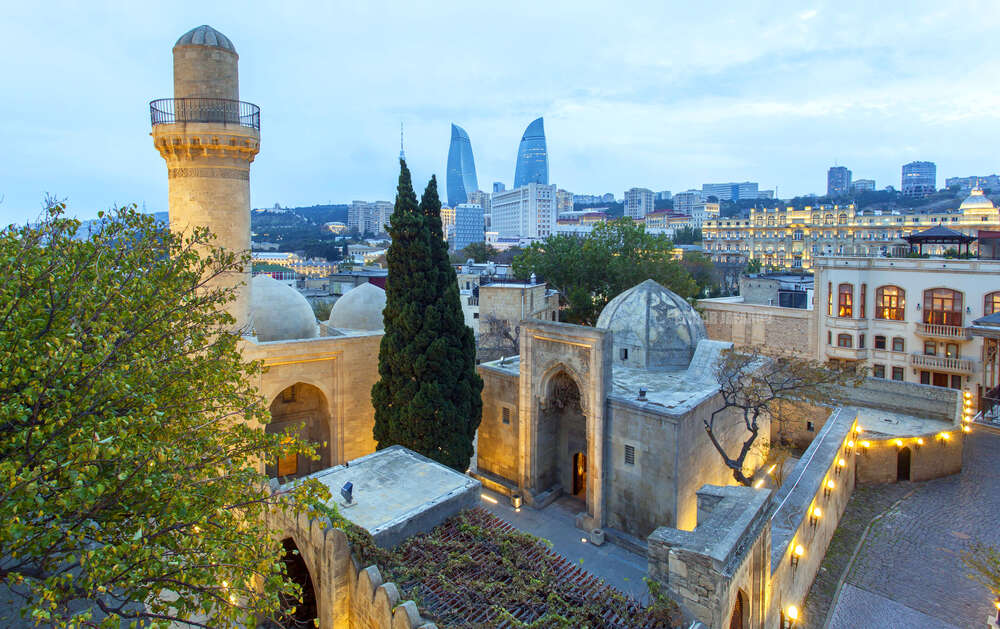 The capital of Azerbaijan has everything that the tourist's soul wants - colorful streets and wide boulevards, skyscrapers and museums, mosques and palaces. Baku is clearly worthy of close acquaintance, and this acquaintance can be the beginning of a good friendship.