Sicily is not only one big island, but many picturesque islands around. In a new article, we will go to the island of Favignana in the western part of Sicily, which is part of the Egadi Archipelago along with the islands of Levanzo and Marettimo. This heavenly place is perfect for a romantic trip.
How to get to the island of Favignana?
The nearest airport is in the city of Trapani. It is easy to get to Favignana by ferry from there, travel time is 30-40 minutes. The ticket costs about € 20 in both directions. If you arrive in Palermo, the journey to Trapani will take another 1.5-2 hours by bus.
How to get navigate around the island?
All the beauty of Favignana is far from the center of the island, so you will need a bike or scooter to get there. There are rental offices on almost every corner, but in high season, it is better to sail in the morning and choose your own transport, since many come to Favignana for one day and after lunch, bicycles may no longer be available until the evening.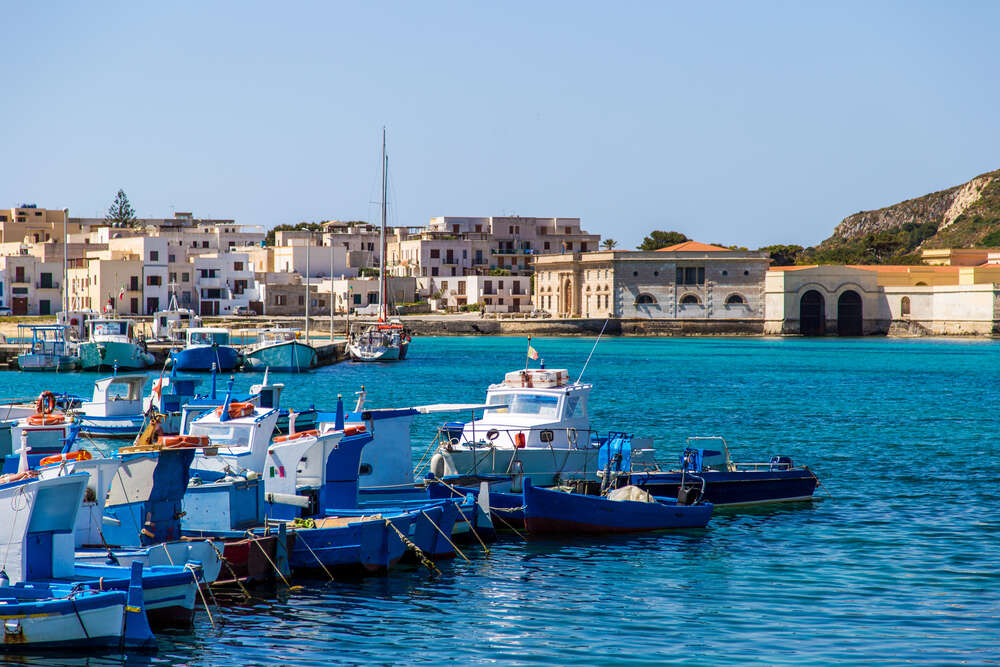 There are also three buses running around the island to the most popular coves - Cala Azzurra, Cala Rotonda and Cala Rossa.
Things to do in Favignana
From the height, Favignana looks like a butterfly, as the island is divided into two parts: the plain part, where most of the hotels and apartments are located, as well as the most beautiful beaches, and the mountainous part with an old fortress on the top of the hill.
Favignana is a lot of bays with turquoise water, whose bright color blinds the eyes. Bring a snorkeling mask and a snorkel with you and go explore the amazing underwater world! If possible, take an underwater camera, so that your family, friends and Instagram followers can also admire this beauty and fish.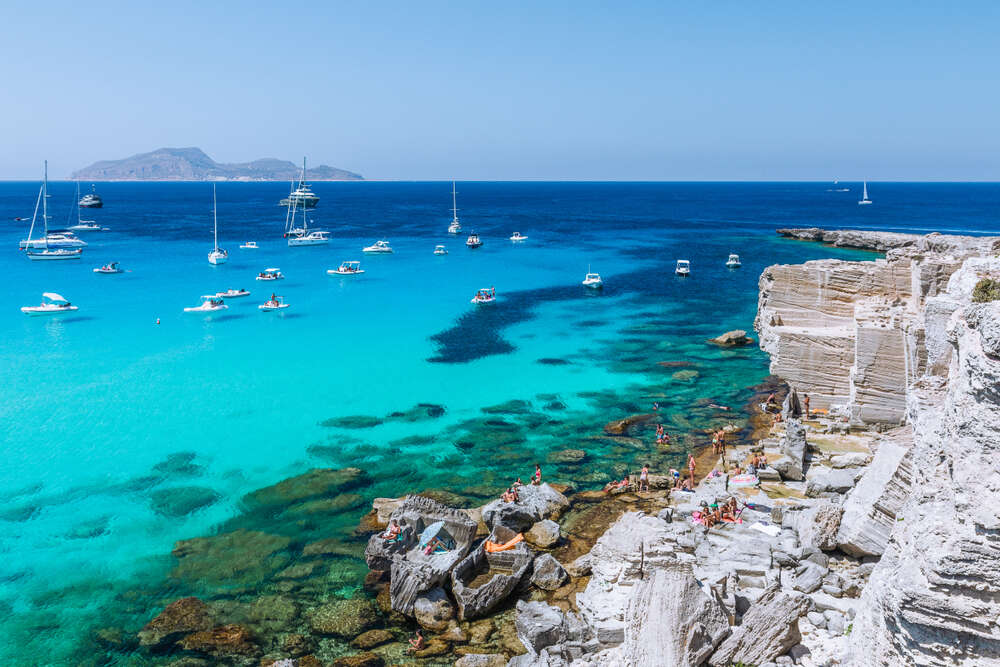 Save our list of the 10 most popular coves for which travelers from all over the world come here:
Cala Rossa
Cala Azzurra
Bue Marino
Lido Burrone
Cala Rotonda
Cala San Nicola
Punta Marsala
Punta Fanfalo
Grotta Perciata
Baia del Preveto
Cala Rossa is regularly included in the lists of the best beaches in Italy, but Cala Azzurra and Bue Marino are also very popular and even after the high season, which lasts from June to September, is still crowded with vacationers. Keep in mind that Cala Rossa is not good for families with children and the elderly because of the steep descent to the sea, but Lido Burrone beach is perfect, as it is not very deep and safer for kids.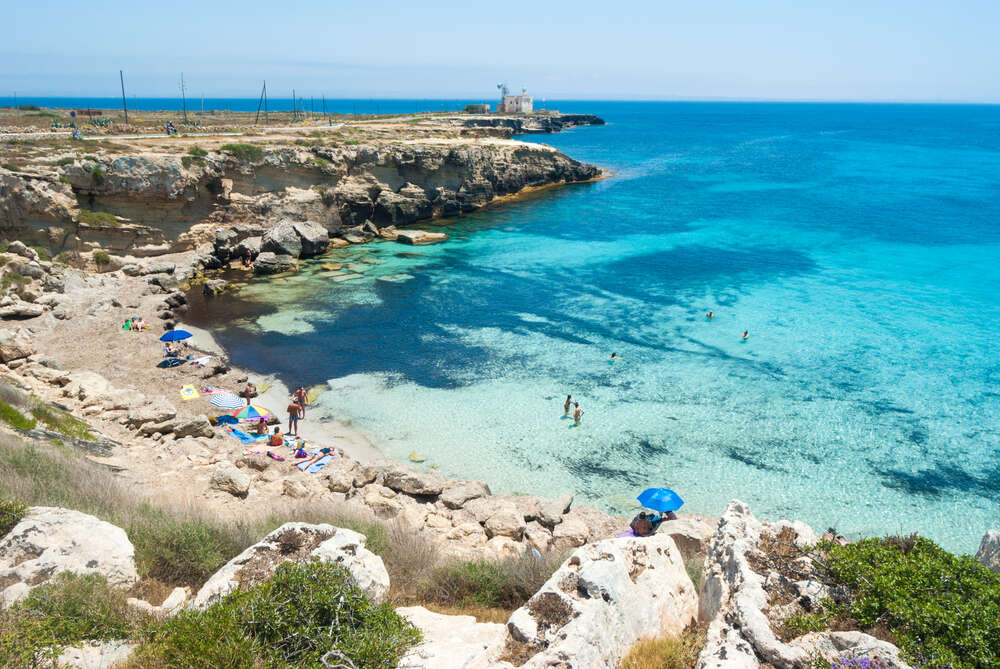 Seeing every bay from this TOP is your minimum plan, but you can make your trip even more exciting and not always follow the well-trodden paths, sometimes you should go off the path and discover other bays that the locals have hidden for themselves.
For those who like climbing the highest point and see the island at a glance, we recommend going up to the Castle of Santa Caterina (Castello di Santa Caterina), the main historical attraction of the island. Initially it was built as a watchtower, at different times the castle served as a defensive fortress and a prison - prisoners were kept in its basements. Nowadays, the castle is abandoned, so it is not recommended to walk through its rooms without a trained guide, but the observation terrace is safe.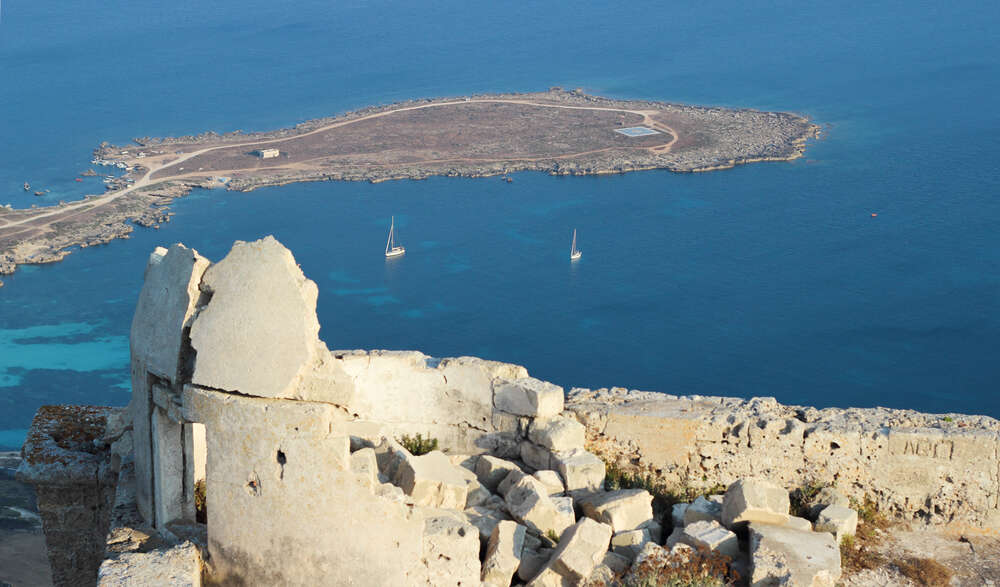 Previously, this fishing island lived off tuna fishing, so in restaurants you will find a lot of tuna dishes that are definitely worth trying.
If you like off-season travel, be prepared to get some one-on-one time with nature in Favignana. In winter, locals leave for Trapani and other Sicilian cities, so life on the island stops, and many restaurants reopen only in May.
Have a great Sicilian vacation!