George Town is another fascinating corner of the world. It is really a special place, because it is one of those rare frozen-in-time cities. The island used to be a British Crown colony. Travellizy Team will tell you what to see when visiting George Town on the Malaysian island of Penang.
What George Town in Malaysia is interesting for
George Town is the capital of the state of Penang in Malaysia. It is located at the northeastern tip of Penang Island.
In 2008, George Town, along with Malacca, was inscribed on the UNESCO World Heritage List. Penang is very popular among residents of Malaysia, the prices for houses here are the highest in the country (prices starting from a million dollars are not rare), foreign tourists tend to visit George Town, even if they only have a few days to travel around the Malay Peninsula.
It is included in the top ten cities that Lonely Planet strongly recommends to visit. Monuments of Chinese architecture coexist with monuments of colonial architecture of the west of the 19th century, and so do Buddhist and Hindu temples, Muslim mosques, English churches, museums, Chinatown and Little India, an Armenian street, art galleries and antique shops and stores with designer souvenirs.
It is considered to be the Food Capital of Malaysia. In Malaysia, they say "Have you eaten yet?" instead of greetings.
There are not just a lot of attractions in George Town. The city itself is one big attraction.
Video by One Man Wolf Pack
Murals of George Town 
Malaysia abounds with old colonial buildings. The main attraction of the historical part of the city of George Town attracts interest - these are beautiful murals by the Lithuanian artist Ernest Zacharevic, who has been painting the walls of houses here for several years.
The most famous street painting in George Town is Little Children on a Bicycle.
There are more than a hundred different objects of street art in the city, which can be conditionally divided into two types: flat wall installations made of black forged steel and classic murals with comic plots from the life of the city. Most of them are mapped, but you will find a lot of them in completely unexpected places.
Murals is organically inscribed in the image of the city, located both on large open walls and back streets, under the very roof and below, right next to the ground.
Some have faded or crumbled along with the old plaster, some are quite fresh.
These are not just drawings on the walls, they seem to come out of the image into reality. In many plots, in addition to the drawn characters, there is a real detail such as an old bicycle, a cart, wires, shutters, pipes, doors, swings, chairs.
If you have the time and inclination, you can take a map of murals from local tourist centers and try to find them all.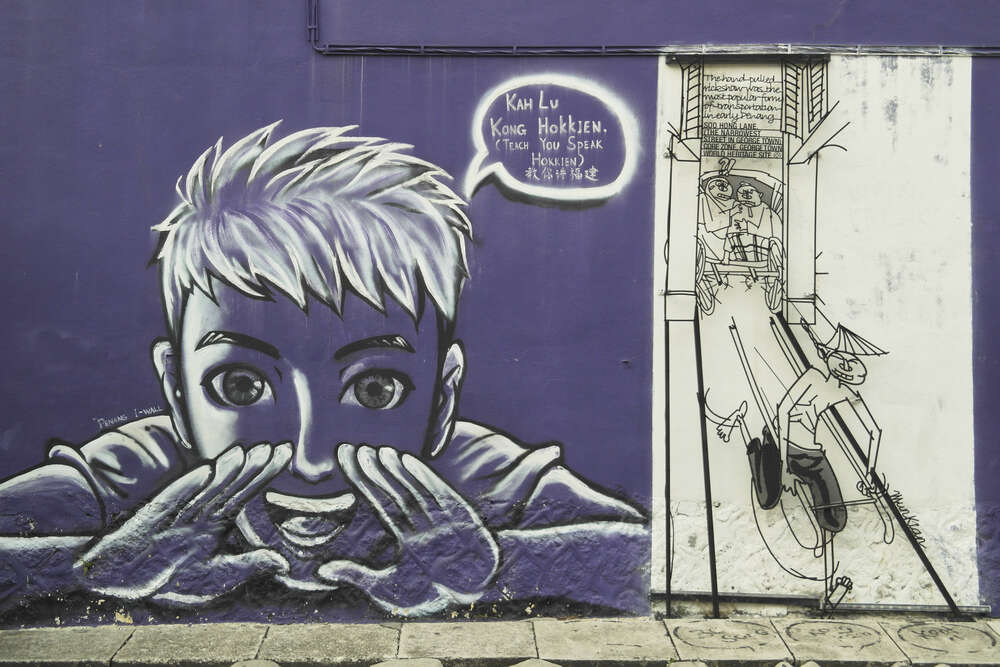 George Town from above  
Penang Hill, or take a view of George Town from above. A funicular road, built in 1923, leads to the top of the mountain, which is 821 m high! It still works fine: we checked it out, and so can you.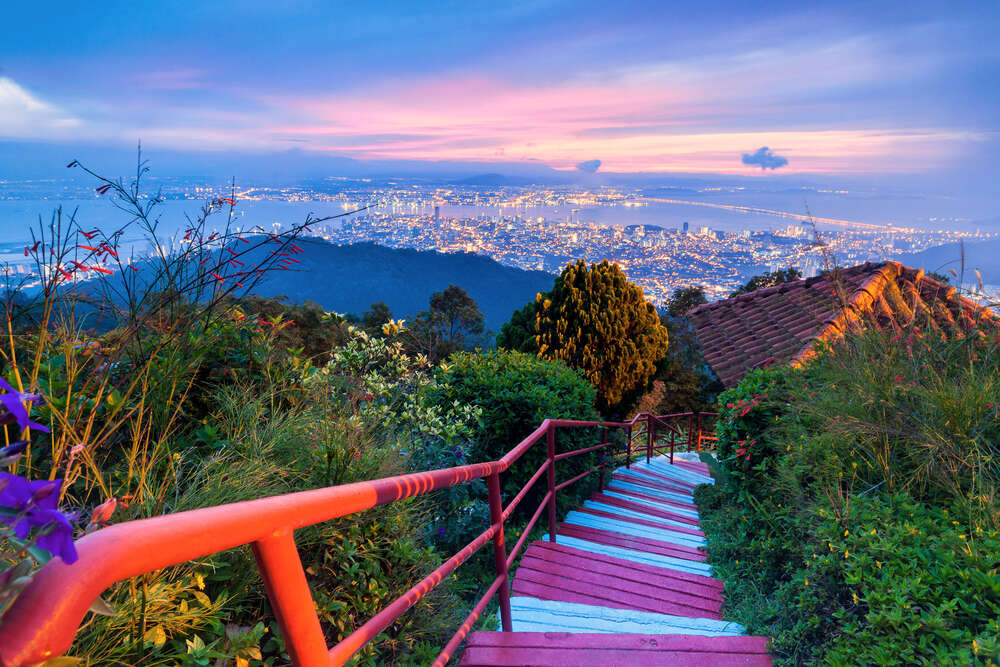 Activities in George Town
Get up at dawn, and while it's cool, go out for a very long, measured jog along quiet, tidy streets, have breakfast in a nearby coffee shop, read and sleep in the afternoon, walk in the evening, ride a bike, explore the city, sit for a long time at the plastic tables of street cafes or bench, watch the life of the locals and the motley crowd from all over the world, eat local ice with syrups, peek into the shutters and enjoy the architecture ... And just keep silence.
What else?  
Take a ride in a wheelchair-bike and take your own unique photos with murals.

Walk along Cannon Street and Armenian Street. In Armenian Street, by the way, Anna and the King was filmed, which is banned in Thailand.

Look into Cat n Dog Shop on Cannon Street and be sure to buy yourself a cat souvenir. And if you want a beautiful and delicious ice cream for a dessert, visit Fruitmade.

Fall in love with the beauty of the Leong San Tong Khoo Kongsi, a Chinese temple. Learn a little about the history of the Chinese clan.

Taste legendary street food. Try the spicy fish soup laksa, oyster omelet, noodles and, of course, duck.

Have a great day at the water park and ride the world's longest slide. And this is 1.11 km per second.

Enjoy the silence and beauty at the Kek Lok Si Temple. By the way, this temple is also one of the largest in Asia.

Taste popular Chinese green bean fluffy-crust pastry at Ghee Hiang.

Stay in a modern condo with gorgeous city views for € 20.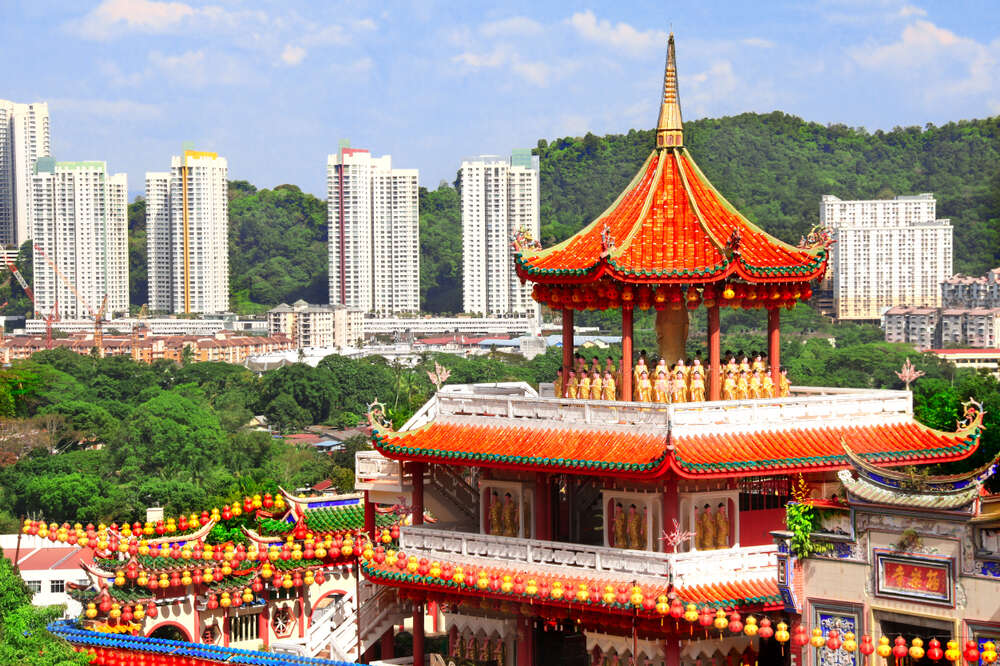 What to see in George Town and its surroundings
the world's largest butterfly farm

a bird park

an observation deck at the very peak of the mountain (821 meters), where the very first funicular built in Asia (1923) rises

a botanical garden

museums and temples

a recreation park located in the jungle  
George Town is one love. At first sight and from the first step, without hesitation and without exaggeration. The Old Town of George Town is under the patronage of UNESCO and in order to redo something, sometimes people need to wait up to six months for permission. Therefore, the houses are shabby. Some fade nobly, some eerie. All the first floors are hung with simple signs in Chinese, but this is no longer an amateur performance, this is the history and life of locals.
A traveler will say: George Town is a melting pot. Malays, Chinese, Hindus, Buddhists, Muslims, Christians, colonial past - this all is a great place.
And a bunch of street art. And crazy street food. And scary megamalls on the very borders of the Old Town, where fake Off-White is sold. A charismatic, shabby and dusty city with lots of history, a unique appearance and a special aura.