Summer is coming, which means it's time to plan a holiday.
Where can you go on holiday with your child in July and August? You are looking for such a holiday, where there will be no stifling heat, acclimatization, a language barrier, as well as a long flight, which is very important when traveling with children. We know the answer for sure - it's all about holidays in Lithuania.
Travellizy has prepared useful tips on how to spend your long-awaited holiday so that it will become truly unforgettable for your family!
It is Lithuania that a huge number of families with children chooses every year, this hospitable country opens up so many opportunities for you and your child to have a perfect time.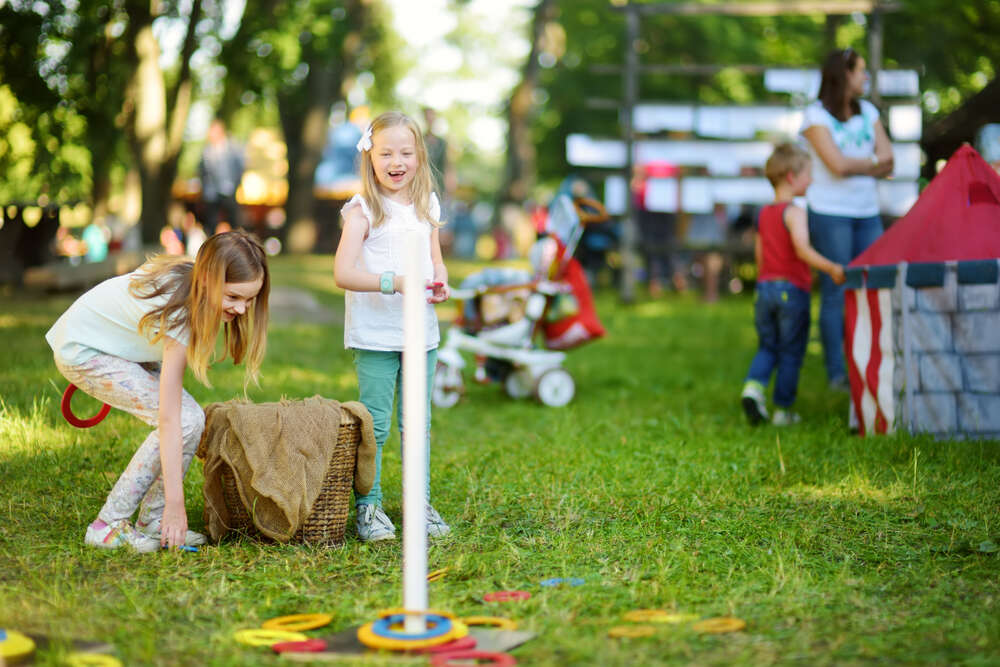 Lithuania is one of the best countries for traveling with children, because children are welcome everywhere - in cafes, in hotels, in restaurants, in shops. If you are traveling by car, then you will always find playgrounds for children at the gas stations on the main roads. In tourist center restaurants and cafes, children will always be offered small portions and a special children's menu.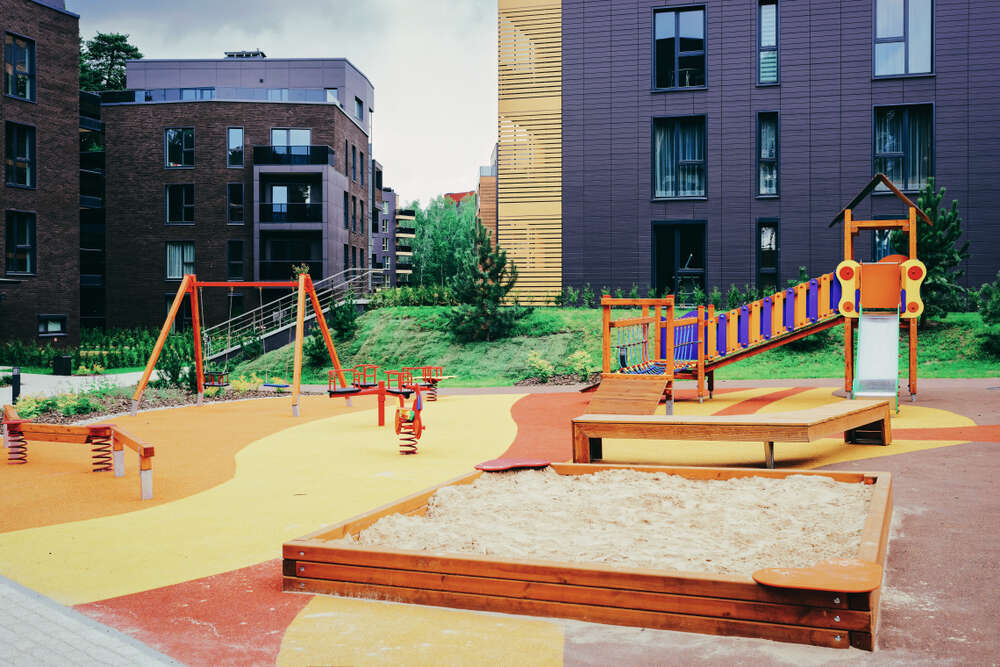 Did you know that the air in Vilnius is the cleanest among the capitals of Eastern and Central Europe (Green City Index), and in 2015 Lithuania was chosen as one of the best tourist destinations (Lonely Planet Top 3). And this is not all the reasons why you should definitely visit this amazing country.
And now, let us tell all in order.
Lithuania is the official center of Europe, the southernmost and largest of the three Baltic countries. This is a country of golden amber, white sand beaches, dunes, ancient cities, green parks, resorts with mineral waters, and, of course, the Baltic Sea.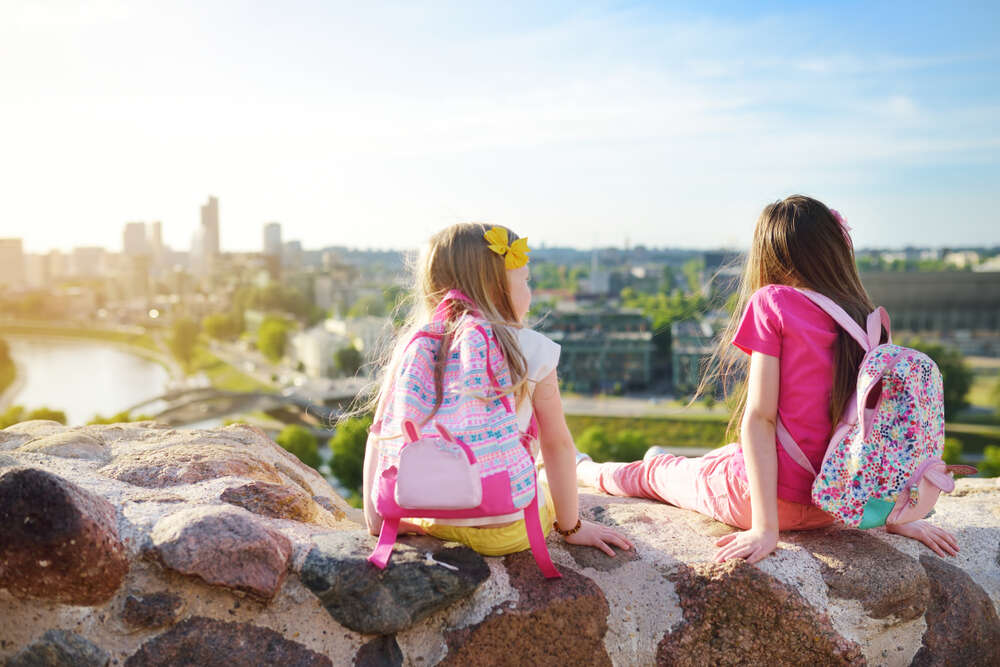 Weather
July-August is the best time for family holidays with children in Lithuania, the air temperature is very comfortable, on average, 21-25 degrees Celsius, and the water in the Baltic Sea can warm up to 22 degrees, which will allow you to fully enjoy the beach holiday.
How to get there
Planning a trip is easy, because you can choose your own convenient flight absolutely independently at any time.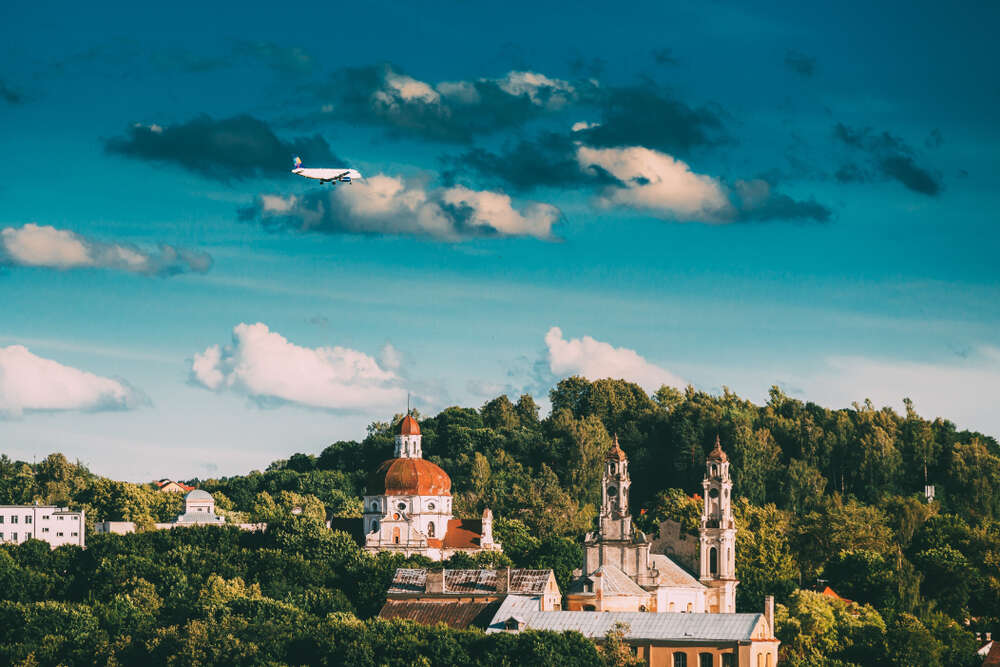 Tickets to Lithuania, namely the flight schedules of all air carriers, as well as the cost, flight duration and other questions you are interested in can be solved with the help of Travellizy. 
You've already got your tickets, and you are on your way to your dream holiday. What's next?
Prices and accommodation in Lithuania
Lithuania is an excellent choice for those who want to relax in a European way, but at the same time, it's rather economically. The price level is acceptable here. For example, a cup of coffee with a fragrant croissant will cost you 2 euros, which is quite a bit for Europe.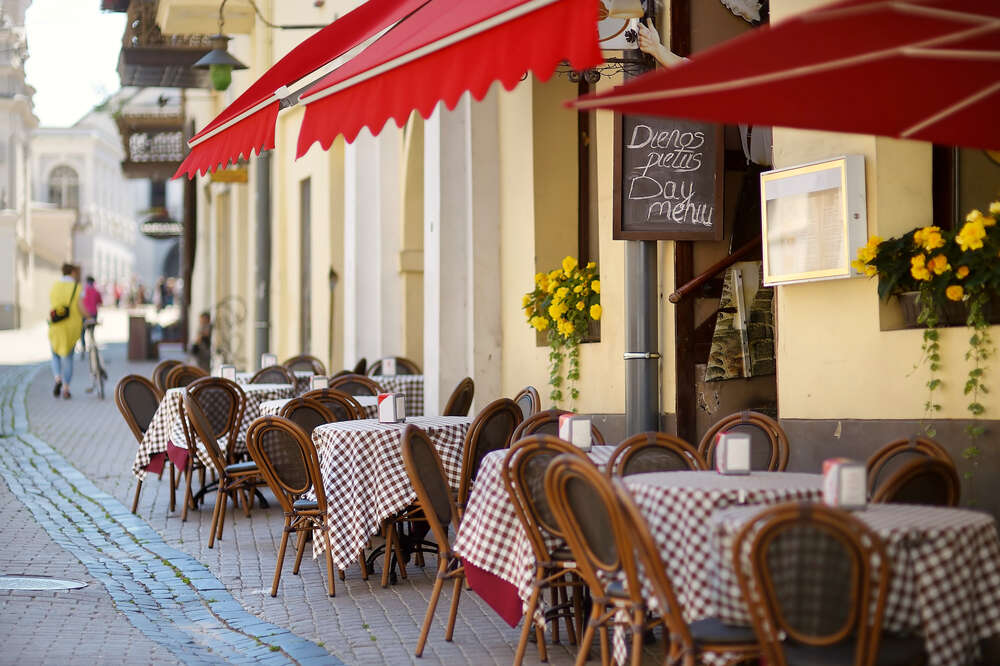 As for housing, there is also a rich selection, as hotels are not in great demand here, apartments, a sanatorium or a guest house will be the best option for a family, the price per night in such a house starts from 20 euros and more, depending on preferences .
Public transport in Lithuania
Due to the small size of the country, moving around the cities and places for recreation will not take you much time. Here is a very convenient traffic interchange. Public and private buses run between the cities. Public transport works from 5 am to midnight. The ticket price in the city bus/trolley bus is 1 euro.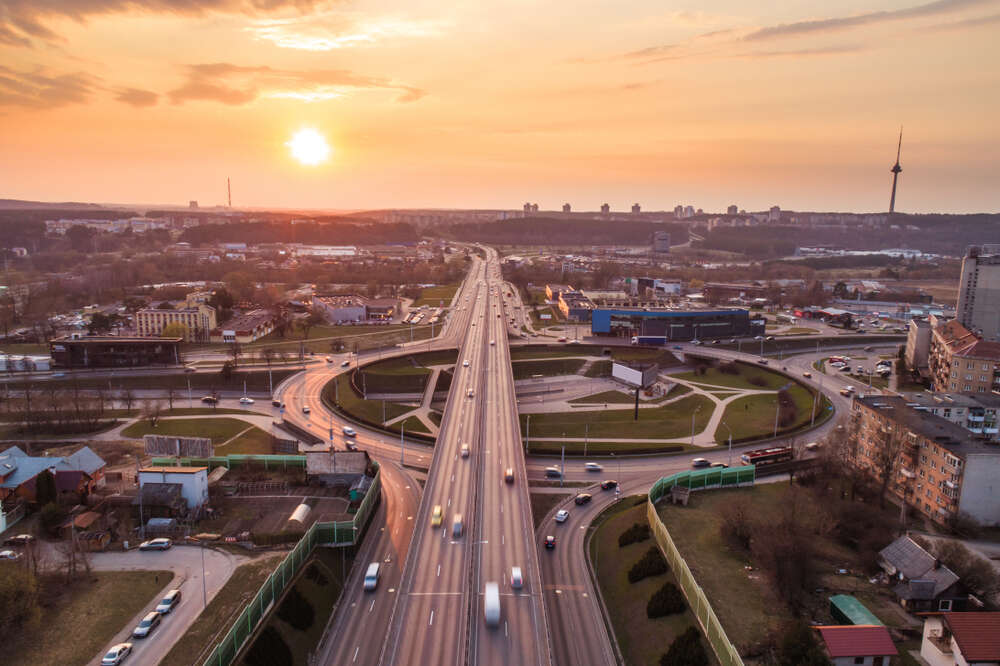 Schedule and movement of public transport in Lithuania, as well as purchase tickets for city and suburban buses, can be found on the web sites: www.vilniustransport.lt (Vilnius), www.klaipedatransport.lt (Klaipeda).
In order not to get stuck in a traffic jam, we recommend to plan your route in advance, focusing on the local train schedule on the website www.traukiniobilietas.lt.
What resort in Lithuania to choose
We would like to tell you about the five main resorts of Lithuania, each of which, for some preferences, may be interesting for you.
Druskininkai Aqua Park and other spa resort entertainment
A small resort town with incredible nature, calm rhythm of life. It is reputably one of the best spa resorts in Europe, and has a huge selection of entertainment for families with children.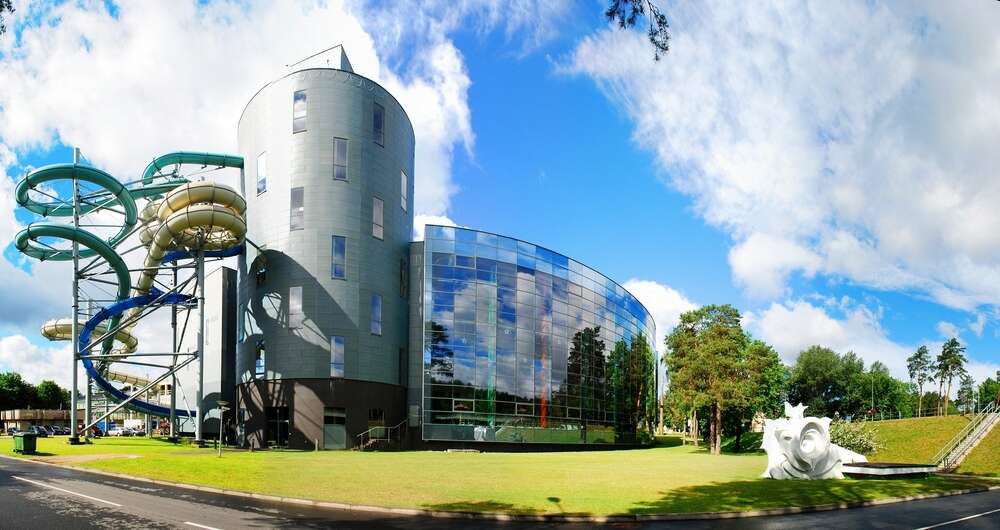 One of the largest water complexes of Lithuania is located also here. They are already talking about it, not only as the biggest, but also the most modern water park in Europe. Saunas, swimming pool with sea waves rising to a height of 1, 5 meters, raging mountain river, bowling center, children's playground, entertainment center, cinema, beauty salon and even an adventure park and air rides. This is a place that will make all the visitors of any age thrilled. Admission is 25 euros for adults and 11-18 (depending on age) euros for children.
Druskininkai is considered to be the oldest resort, where there are amazing mineral springs with healing properties. The city itself is surrounded by pine forests and a river.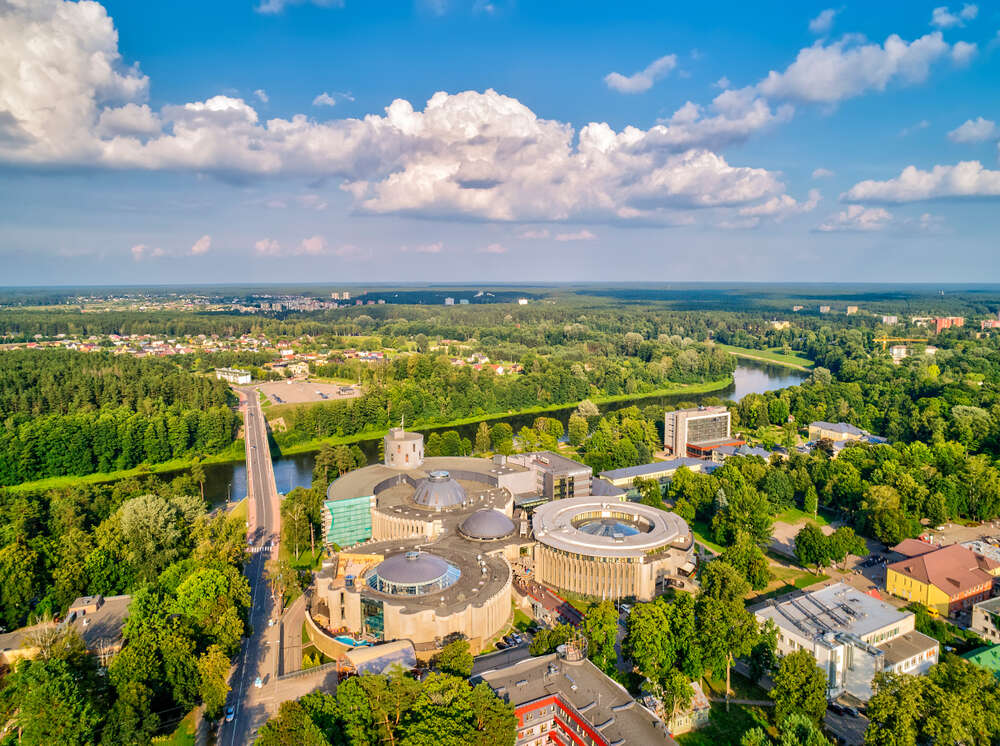 The resort of Druskininkai has a huge number of sanatoriums, SPA-hotels providing a wide range of services, namely massages, mud baths and other procedures.
Rest in Druskininkai will definitely give the most vivid impressions to you and your children and will help you to truly relax and improve your health.
Things to do and places to see in Trakai
It's the ancient capital of Lithuania. One of the advantages of recreation in the town is that it is located near Vilnius - only 28 km away, and you are in the capital. The city is surrounded by green hills and has more than 200 reservoirs.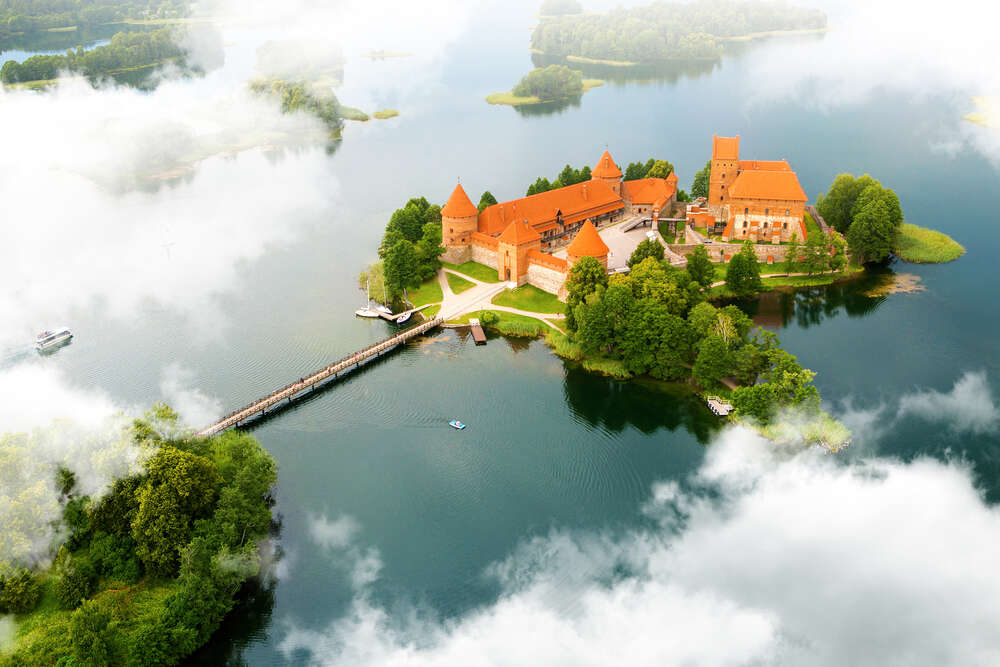 The main attraction, which attracts thousands of tourists every year, is the famous Trakai Castle, the only island castle in Eastern Europe. The fortress is located on an island surrounded by four lakes. Many travelers go on holiday to Lithuania precisely in order to see this magical place with their own eyes. The castle is open to the public every day from 10.00 to 19.00. The cost of a ticket for an adult is 8 euros, for a pupil or a student - 4 euros.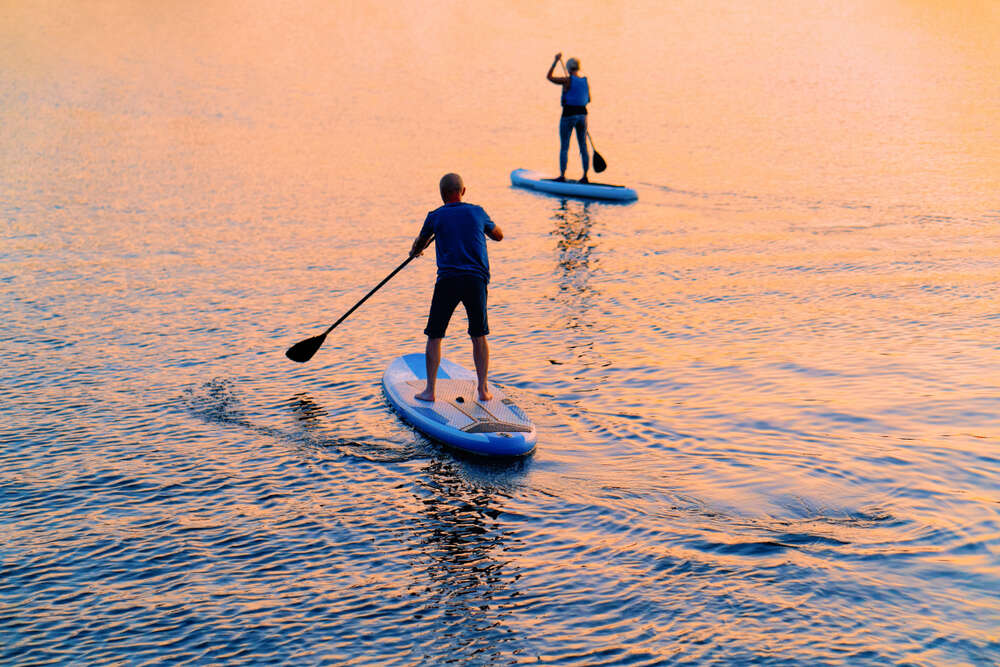 Waterway tourism fans will not be bored here as well - you can order a kayak tour, it lasts about 4-5 hours and the cost of such an excursion will start at 36 euros. You can also rent a boat, raft, canoe, sailboat, or book a trip on a yacht, the cost of such a trip for 1-8 people will be 30 euros and the duration will be 40 minutes. In addition, you can go fishing on one of the many lakes. Holidays with children will be like a fairy tale if you book a tour around the nature reserves, where you can ride a horse and even go on a balloon ride. The cost of such a flight will be 99 EUR for 1 person. (The price includes a one-hour flight, insurance, a baptism ceremony, the first flight certificate and other pleasant surprises).
Palanga: holiday at the Baltic Sea
It's one of the most popular and best resorts of the entire Baltic coast. The mild climate will save from overheating in the sun, and the sea air, saturated with iodine, will help to forget about cold and flu.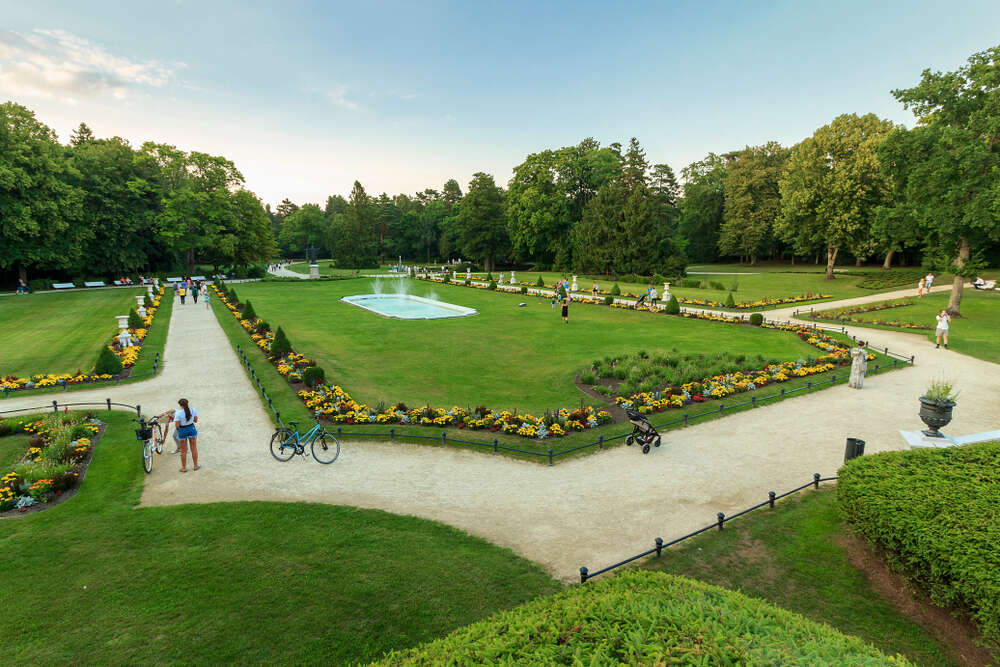 In Palanga, you can spend an unforgettable time in the picturesque botanical garden, listening to chamber music from the terrace, strolling slowly among beautiful fountains and sculptures, or go to Count Tyszkiewicz's Palace, which today houses the Amber Museum. On the territory of this park, there are more than 600 species of plants and trees. The picturesque road from the park will lead you to the true pride of Palanga - the beach, marked with "Blue Beach" as one of the cleanest in the world.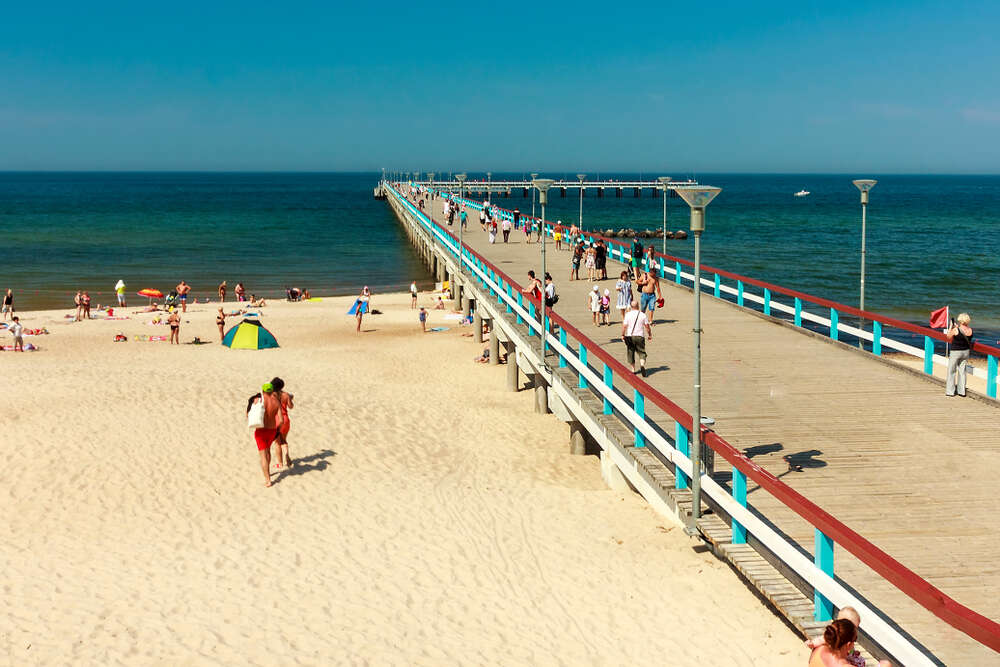 Make sure to stroll along Jono Basanavičiaus Street, which is the main street of the town - there are many cafes, restaurants, souvenir shops, as well as bars and nightclubs. Palanga is a major spa resort. Here you can get a large selection of procedures for health, such as sea and chloride sodium-calcium baths and peat mud in conjunction with the programs of medical gymnastics, massages and inhalations, as well as many other wellness programs.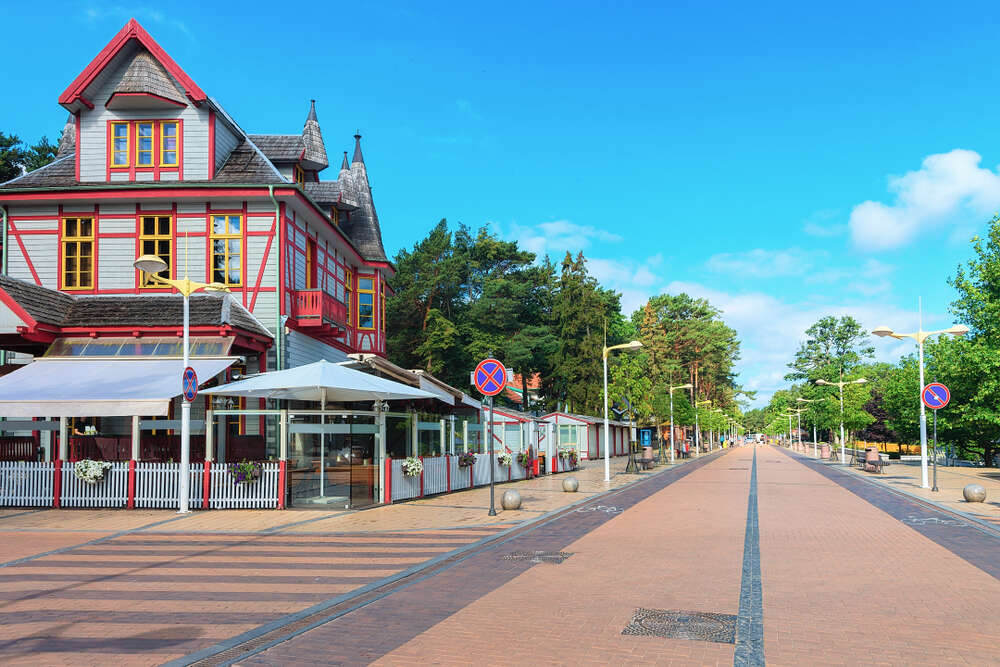 Wide beaches with fine white sand, pine air saturated with sea iodine, endless dunes, as well as clear sea - you will find all this in Palanga.
Neringa, Curonian Spit and ... Hill of Witches  
It's a town on the Curonian Spit, on the shore of the Baltic Sea and the Curonian Lagoon. This place is perfect for families with children, because there is shallow water, which means the sea is warm and calm. The peculiarity of this place is the 80 km long beach, as well as the fact that Neringa is the only town in the world where the forest occupies most of the territory. This town seems to be hidden from prying eyes, because it can only be reached by ferry, which adds extra magic to the resort. The ferry departs from Klaipeda every hour and the ticket price is 0.80 euro. Since the ferry ticket is valid in both directions, it must be purchased and stored until the end of the trip.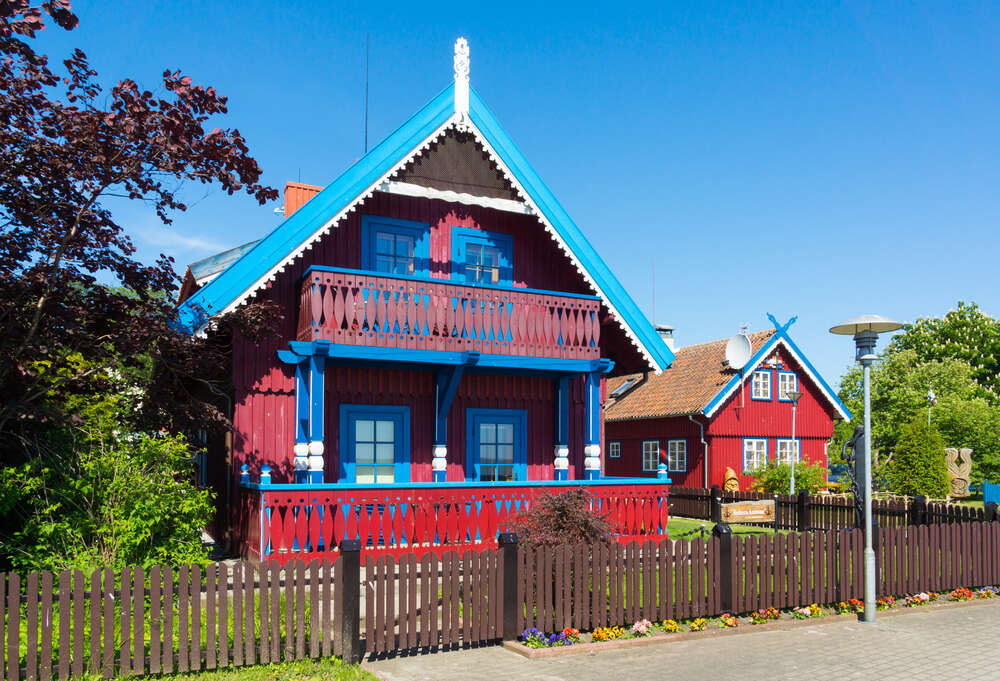 In one of the villages, namely in Juodkrantė, you can see one of the sights, the Hill of Witches. The Hill of Witches can be found in the Curonian Spit National Park. It is very easy to get here on your own, for example by car. Entry to the territory is free.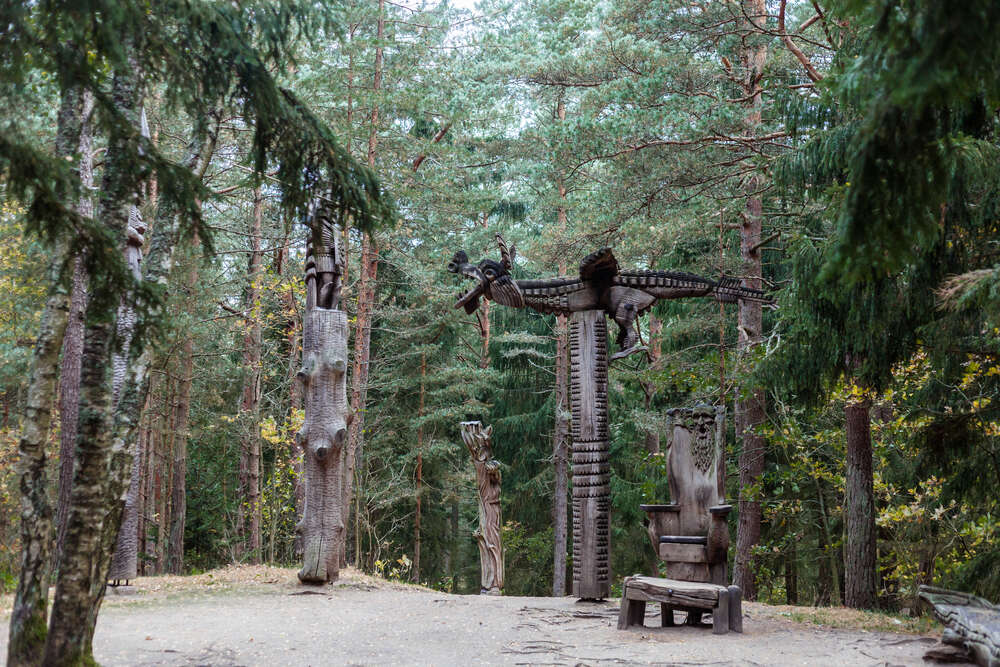 The top of the hill is located at an altitude of 42 meters above sea level. You can take a fascinating walk on the hill, it is not difficult to climb, and also see more than 80 wooden sculptures depicting heroes of folk legends and tales.
Klaipeda's sights: what to visit and what to do
That's the third largest city in Lithuania. You won't have to look for fun here while relaxing with children, since it is a picturesque port city.
Here, in the reconstructed fortress on the Curonian Spit, there is the Maritime Museum, which your child will enjoy: right under the open sky, children will be able to see an exhibition of anchors and screws, and in another part of the museum, there are huge aquariums where you can get acquainted with the inhabitants of the Baltic Sea. The museum is open from 10.30–18.00, but visiting hours and tickets cost are better clarified in advance on the museum's website. At the same time, planning your holiday, note that on the last Sunday of the month, visiting the aquarium and museum expositions is free.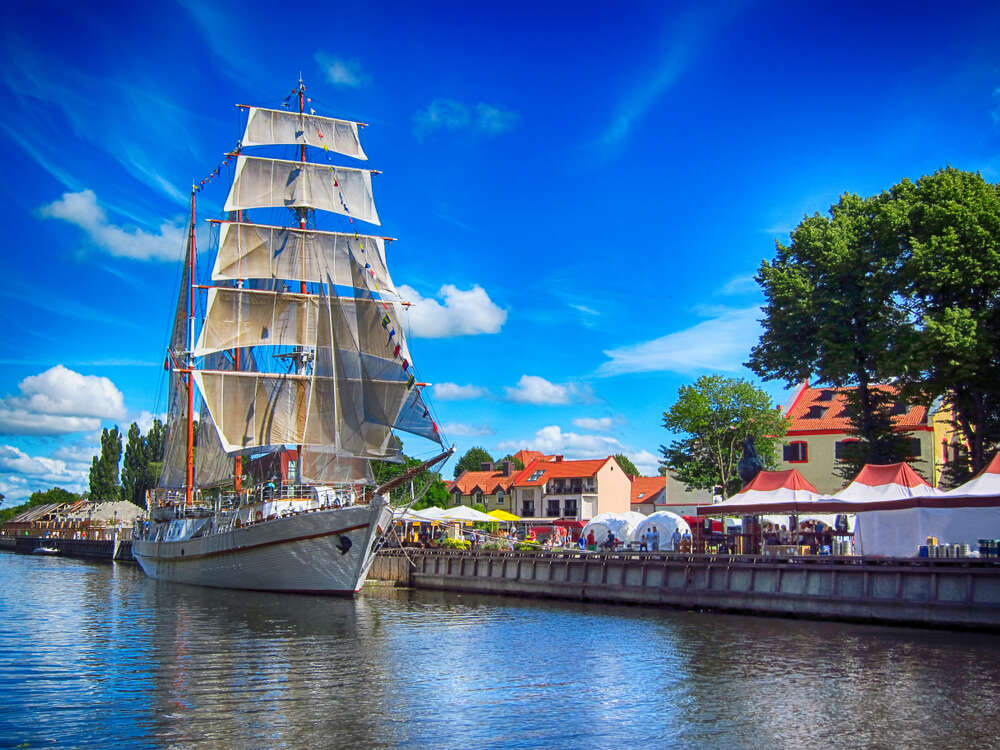 Not far from Klaipeda, you can have a great time with your children in a beautiful private zoo. Its peculiarity is that animals are not closed in cages, but can move around the zoo along with visitors. Of course, besides predatory beasts, because they are kept in cages.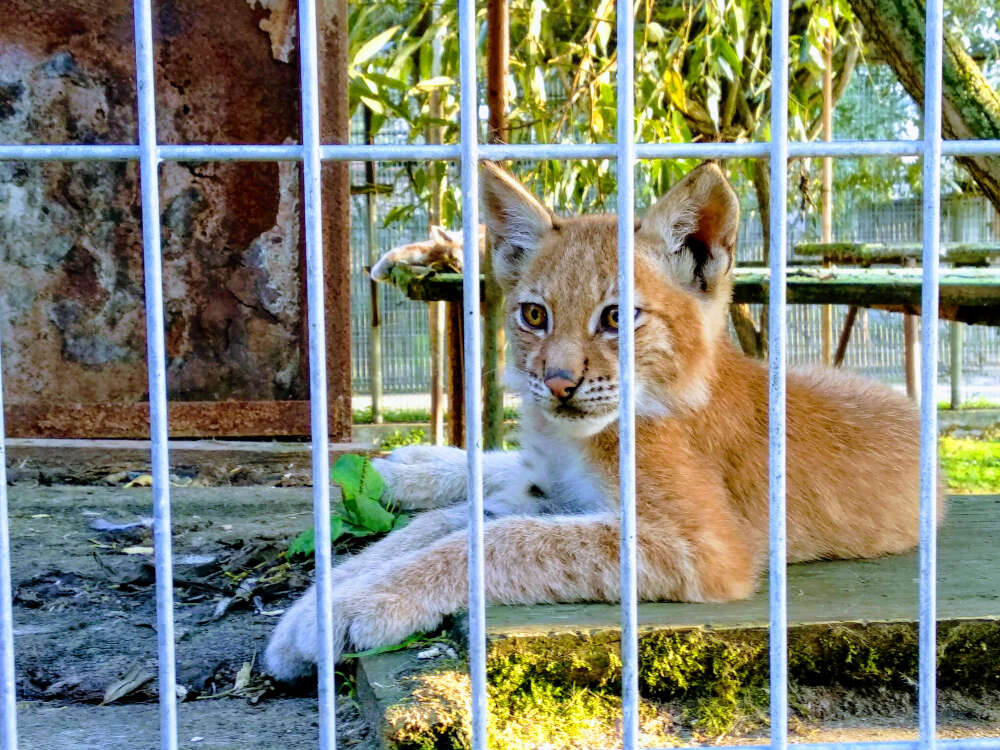 Klaipeda resort will delight both children and adults: you can ride a horse-drawn carriage and visit the dolphinarium. But you might be a fan of beach holidays, so the beaches of Klaipeda are also perfect for you.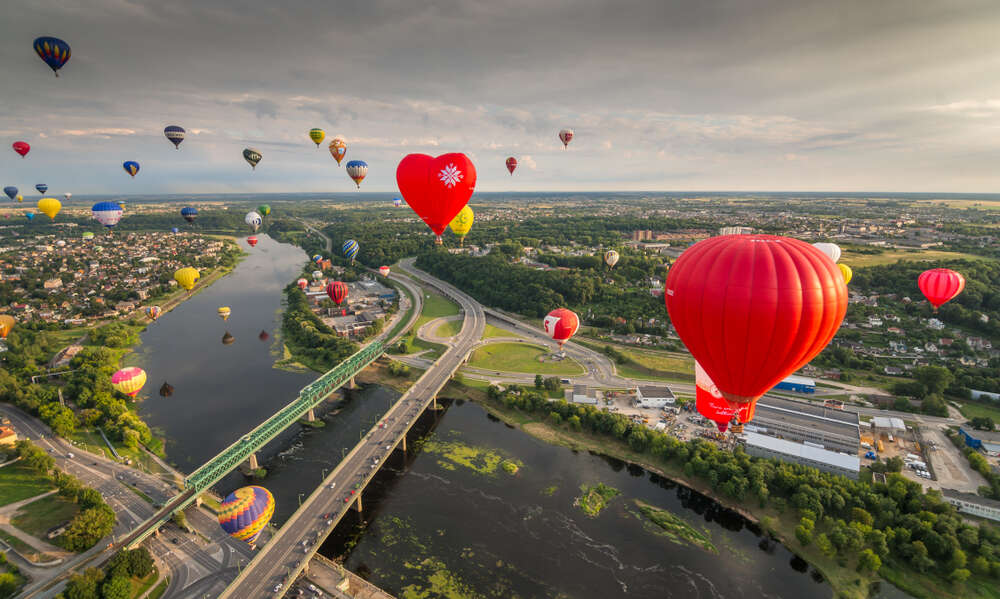 We just need to wish you a great family holiday with children in Lithuania, and your picturesque impressions and memories will surely be taken care of by this picturesque amazing country, where you definitely want to return more than once to!