Montmartre is almost the only place in Paris where you can feel the grandeur and history of the city. Van Gogh, Picasso, Salvador Dali and Modigliani created their masterpieces here. Travellizy Team will tell you which places in Montmartre are worth your attention.
Interesting facts about Montmartre
Montmartre is far from the highest hills, only 130 meters, but the real history of Paris was created here. This hill was known back in the days of Ancient Rome, when gypsum was found at its foot. Since then, the area has flourished like never before. That's where they began to build luxurious houses and richly decorated antique temples. Later, the first persecuted Christians were hiding in the quarries of the hill, some of them died a martyr's death. This is where the name Montmartre came from. It is translated as the mountain of the martyr.
There are almost no modern buildings in this area; you will not see panoramic windows and metal frames here. All its charm lies in the small cozy streets that tend to the top of the hill, and similar authentic houses. Here are the best flea markets, atmospheric coffee shops and cabarets. This creates the atmosphere of Paris that most tourists are looking for. Therefore, if you have not been to Montmartre, then you have not seen the real Paris.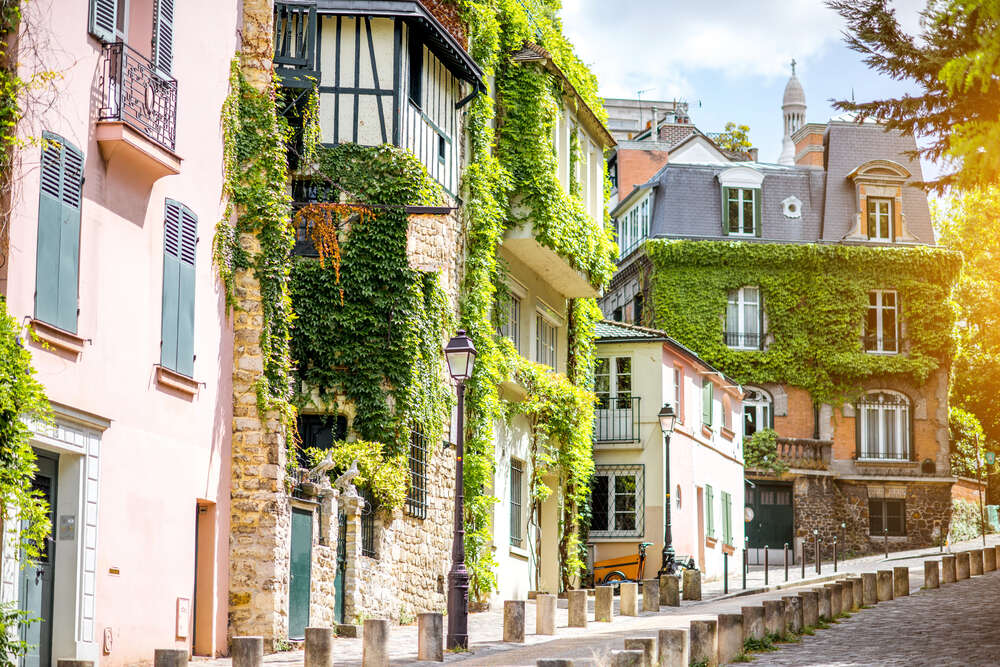 Where to stay in Montmartre 
Montmartre belongs to the 18th arrondissement of Paris. And despite all its charm, it has a number of significant disadvantages. You need to be especially vigilant here, as pickpockets and fraudsters do their business in the area. Another disadvantage (but already charming) is the stairs. Do not forget that Montmartre is a hill, and you need to climb it on your own.
Therefore, if you travel with children, then it is better to choose a more comfortable area.
If you nevertheless got to the 18th arrondissement, then choose hotels and apartments in Montmartre, as mostly emigrants live at the foot of the hill.
The cost of living per night is from € 45, but a room will cost on average € 90 per night.
We suggest starting a trip to Montmartre from the Moulin Rouge, the famous cabaret, where the cancan originated. Although this establishment did not have the best fame at the very beginning, it was considered to be one of the best brothels in Paris. Later, famous people began to visit the cabaret. Its regulars were Edith Piaf and Frank Sinatra, and the famous French artist Henri de Toulouse-Lautrec painted posters for Moulin Rouge. Since that time, the cabaret began a different, bohemian history.
Now, various music and dance shows are held here, which always gather full houses. Therefore, if you want to visit the Moulin Rouge, plan and buy your tickets several months in advance, as they may simply be sold out. Every day, the cabaret shows 3 performances: at 21:00, 23:00 and 19:00 (but only with dinner). Tickets for 19:00 and 21:00 cost between € 100 and € 245, depending on the day of the week and the time chosen. If you also want to have dinner during the performance, then you will have to pay more - these tickets cost from € 190 to € 420. The Morning Show is also held on Sunday at 14:45 - its price starts at € 107.
The building is located on Place de Clichy and is easily identified by the red mill on the roof.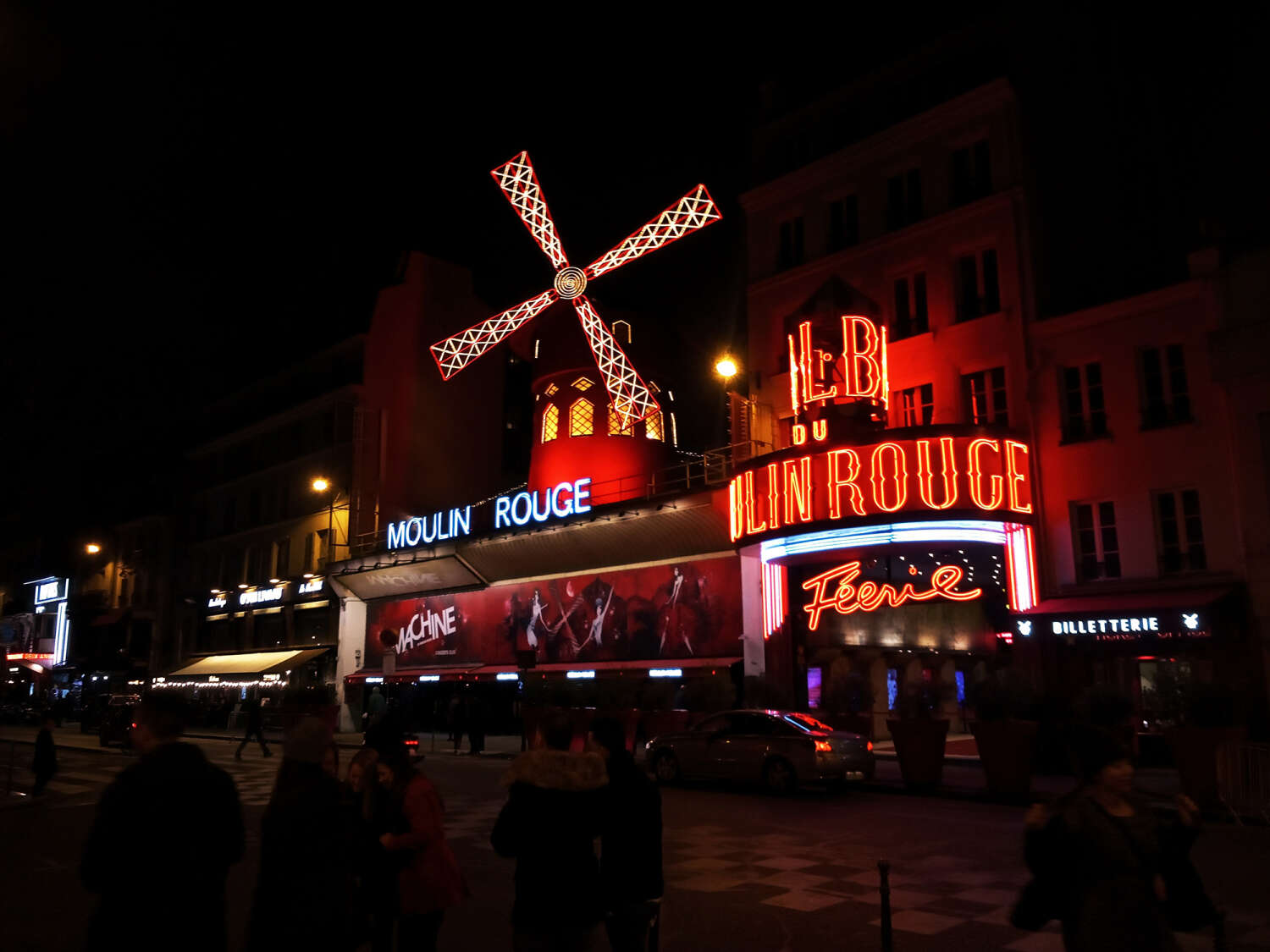 If you walk from the Moulin Rouge along Rue Lepic, take a short cut along Rue Tholozé and then turn onto Rue Girardon, you will come to the square directly to the statue of Dalida, a famous French actress and singer. By the way, the square is also named after this singer. 
This is one of the few monuments in Paris that was erected in honor of a woman. The first two were statues of actress Sarah Bernhardt and Jeanne d'Arc. Montmartre with its fruit stores and numerous coffee shops reminded Dalida of her native Egypt, where she grew up. Therefore, it is not surprising that her statue stands right here.
There is a belief that rubbing Dalida's chest will bring happiness in love. Even without looking closely, one can see that the woman's bust is polished to a shine.
Let's go back along Rue Girardon to Rue d'Orchampt, continue along Rue Ravignan and follow the Rue des Abbesses to the Place des Abbesses. Here you will find the Wall of Love, where declarations of love are collected in almost all languages of the world. That's where the phrase "I love you" has been written 311 times. The wall was created in order to remind everyone that despite all the problems in the world, there is always a place for love.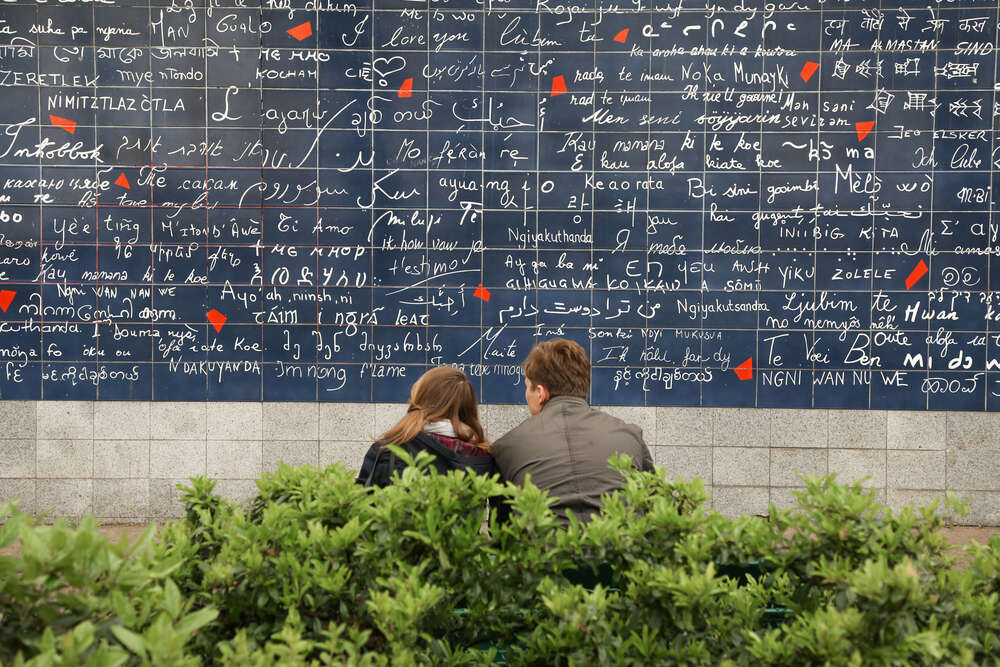 Next to the wall, there is a small gift shop where you can buy postcards, mugs, magnets, posters and many other memorable sweet little things.
Then go straight along Rue la Vieuville, which becomes Rue Drevet, turn onto Rue Gabrielle, take the stairs to Rue du Calvaire, turn onto Place du Calvaire and then you will see the Dali Museum of Paris on the way along Rue Poulbot. There are about 300 pieces of art of the great artist, among which are both famous paintings and little-known ones. All exhibits in the museum belong to private collectors. In the museum, you will see works dedicated to Casanova, the Marquis de Sade, Don Quixote, Pantagruel and Alice in Wonderland. There is a souvenir shop nearby where you can buy copies of lithographs and small gifts for your loved ones.
And adult ticket is € 12, a discount ticket costs € 9. Admission is free for children under 8 years old.
Coming back along Place du Calvaire and turning left, you will find yourself in Place du Tertre, a street center for contemporary art. In the Middle Ages, guillotines constantly worked here and executioners publicly executed the perpetrators. Nowadays, it is quite easy to buy your caricature portrait here as well as a Parisian landscape or an abstraction. And although it seems that this is a spontaneous market, everything happens according to the rules. Artists enter Place du Tertre only officially, with the permission of the local Union. And getting it is quite difficult.
On the square, you can buy any of the paintings you like. The price starts from € 20.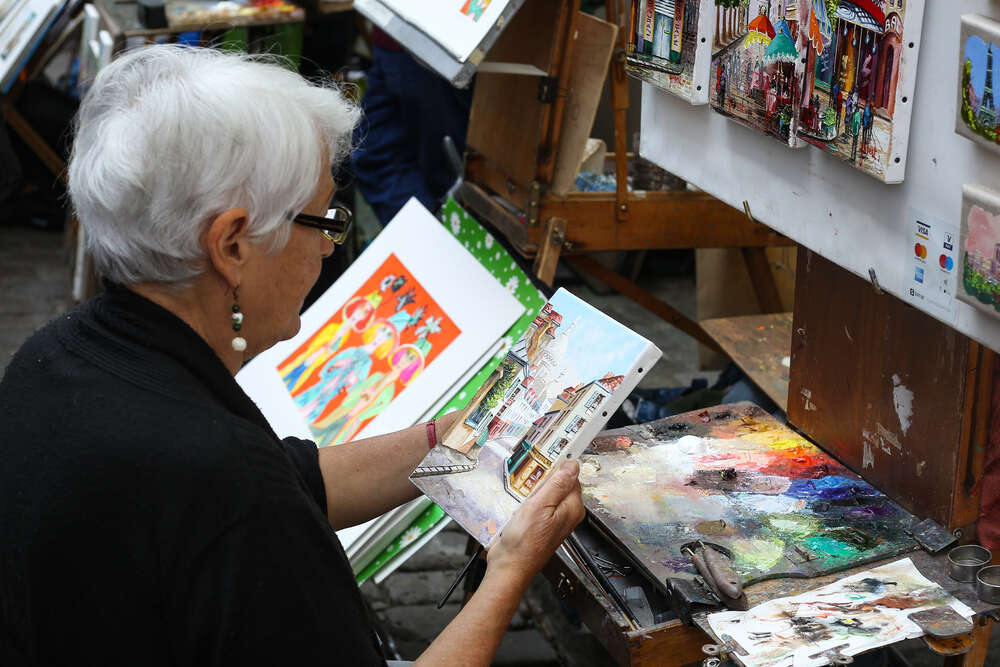 In order to reach the pearl of Montmartre, walk towards Rue Norvins, turn left onto Rue du Mont-Cenis, then right onto Rue du Chevalier de la Barre and take Rue du Cardinal Guibert towards the Sacré-Coeur Basilica.  
Sacré-Coeur means "sacred heart". And you can really believe it, when you see the sparkling whiteness of the church, visible from anywhere in Paris. The basilica was built of white stone that never gets dirty - when it rains, it gives off calcite. This combination of Byzantine splendor and Gothic austerity cannot leave tourists indifferent. Every day, many people climb the mountain to see the basilica and enjoy the best panoramic views of the capital. In fine weather, you can see Paris at a distance of up to 50 km!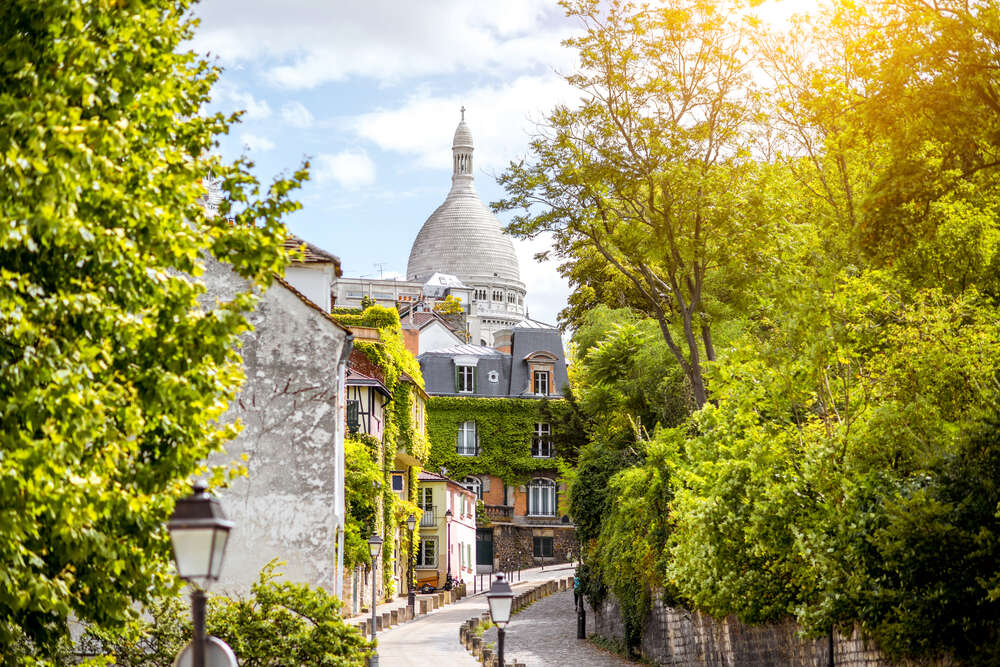 It is interesting that the construction of the church took quite a long time - 30 years. It happened because the hill of Montmartre is hollow due to the quarries, so the Sacré-Coeur stands on stilts.
You can get to the Sacré-Coeur Basilica every day from 6:00 to 22:30 for free.
Where to have dinner in Montmartre  
In Montmartre, you will definitely not be hungry after such a long walk. It is full of a wide variety of cafes and restaurants for every taste. There are many low-cost establishments near Place de Tertre (for example, L'Homme Tranquille or L'Eté en Pente Douce), as well as luxury restaurants (like La Mère Catherine or Le Cottage Marcadet), where French artists used to rest hundreds of years ago.
On the slopes, you can find many brasseries, pizzerias, restaurants with French or Italian cuisine. Such places can be found, if you don't go up to the Sacré-Coeur, but turn from any metro station to the side.
For vegetarians, the choice in the French capital is very limited. The only place in Montmartre where they can eat deliciously is Au Grain de Folie near the Abbesses metro.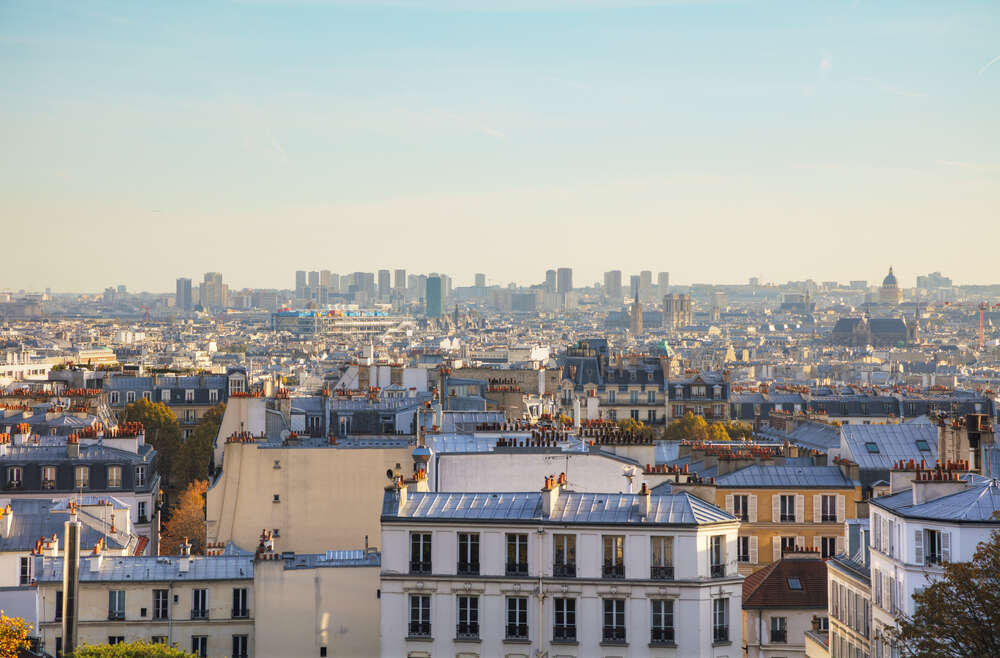 Montmartre made the heads of many famous French people spin. See if it does the same to you?
Book your tickets on Travellizy and you will find out!