Armenia is a small mountainous country that can be driven around by car easily in a couple of days. But why rush? Travellizy Team checked: so many interesting things are hidden in the Armenian mountains - from crystal clear lakes to ancient temples, from ancient fortresses to masterpieces of modern art. All this is abundantly seasoned with local residents' hospitality, delicious national cuisine and original color.
Pink Tuff City: Yerevan
Yerevan is one of those cities where you need to know places to visit. If you just wander aimlessly around it, then it may seem tasteless and banal. But it is worth visiting a number of locations and attractions, and your opinion about the capital of Armenia may radically change.
One of the most interesting places in the city, where it's easy to spend a couple of hours, is the Cascade architectural park, conceived as a monument to the 50th anniversary of Soviet rule. Nowadays, it is a center of modern art, where you can see many original works of both Armenian and foreign masters.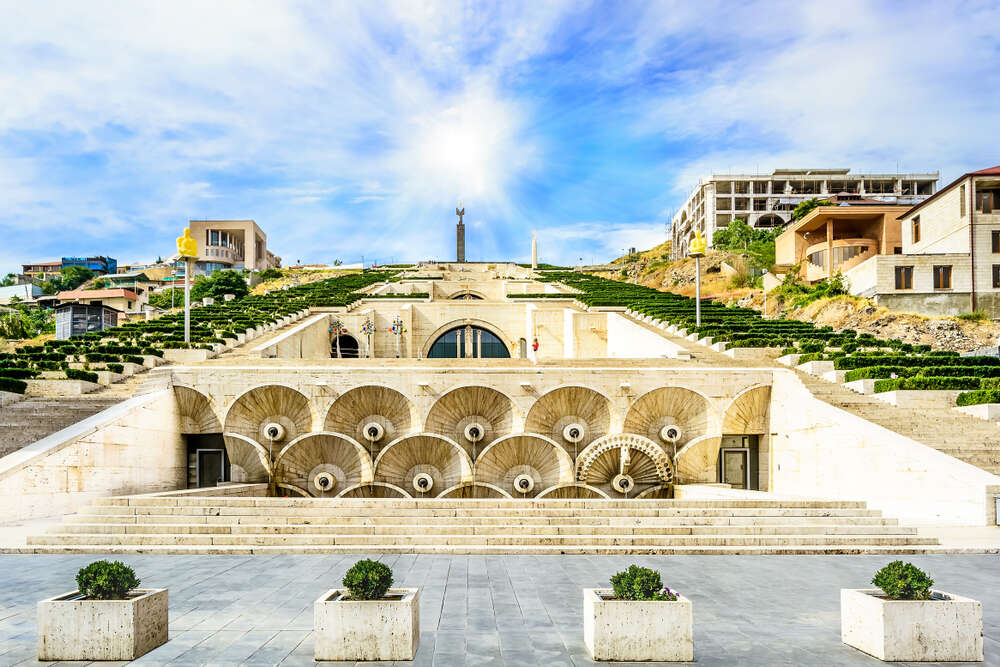 You can buy souvenirs at the Vernissage flea market, and from there, you can easily reach Republic Square, the very center of Yerevan. But it is best to come to the main square of Armenia in the evening, then coolness comes down on the city, and the fountains begin their light and music show.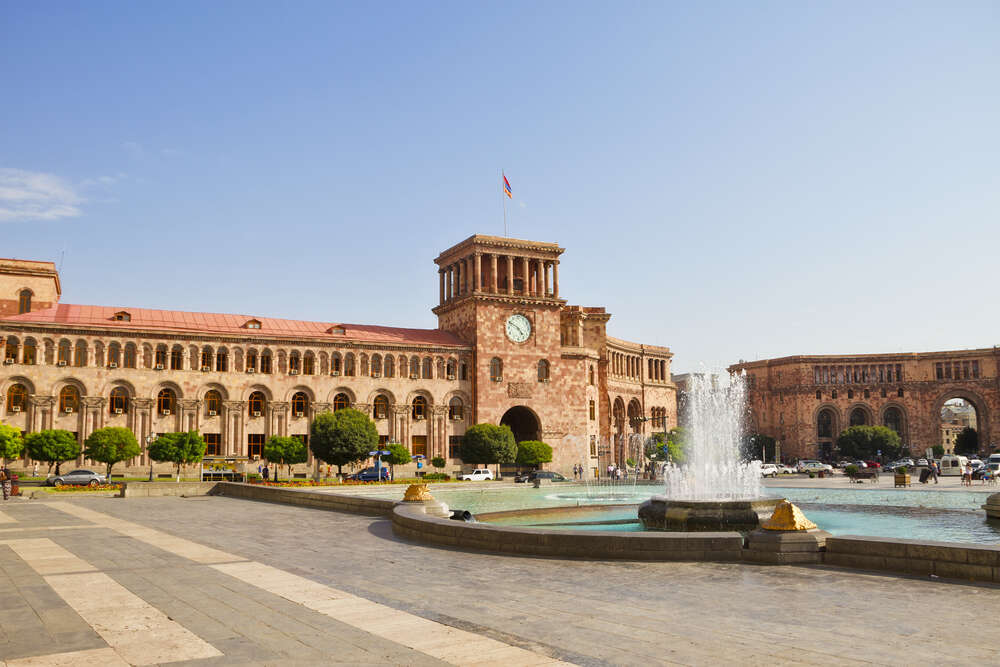 Would you like to taste the famous Armenian cognacs? Visit Noy and Ararat brandy factories. Are you interested in history? Do you want to know more about the Armenian Genocide? Then you should visit the Tsitsernakaberd Memorial Complex. Do you like to take photos of mosques? The Blue Mosque is waiting for you.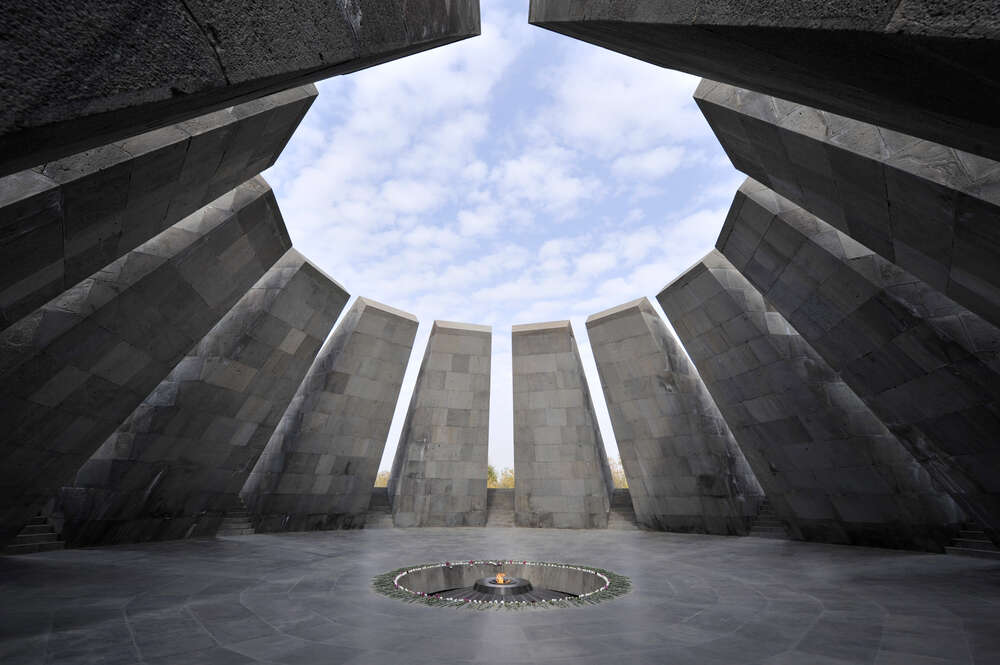 And do not forget to get some nourishment, eat Armenian national dishes in between breaks such as rich khash soup, kufteh meatballs or dolma (stuffed cabbage rolls). You can drink all this with strong coffee, tea or the famous pomegranate wine.
Two main temples: Garni and Geghard
Garni Temple was built in the 1st century AD and was dedicated to the goddess Demeter. After 16 centuries, it was destroyed by an earthquake, but the temple was rebuilt in 1976, collecting massive stone blocks together. The construction resembles the Greek Parthenon, but Garni itself is not as interesting as its surroundings.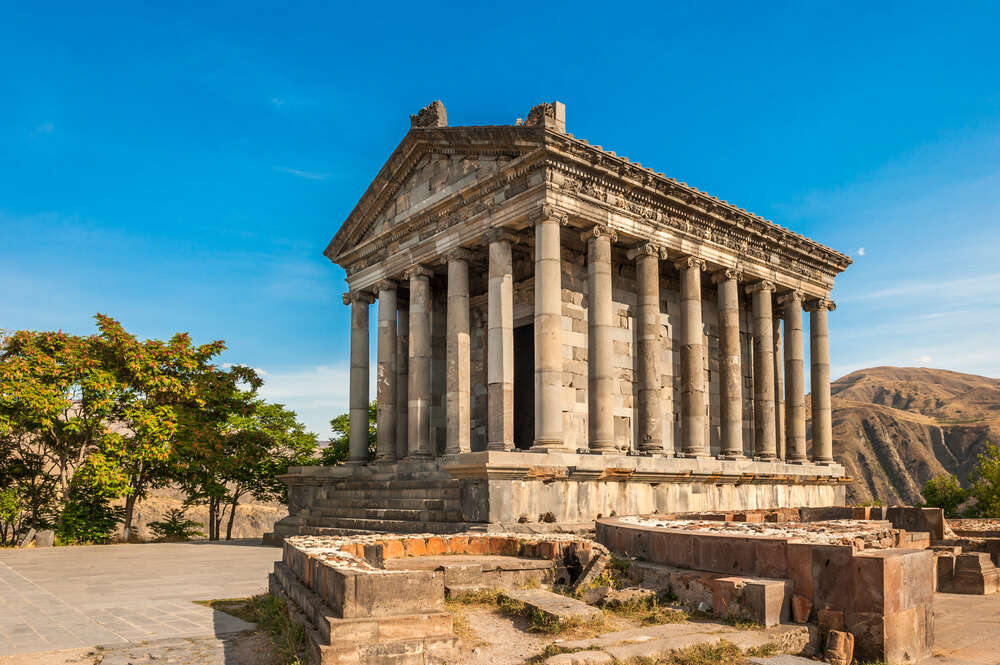 Firstly, the hill, on which the temple stands, offers a beautiful view of the surrounding mountains and gorges. Secondly, a walking route starts from Garni, which goes between an unusual kind of rocks with stone pillars of regular hexagonal shape and along the banks of a mountain river. Walking along this route, you can eat plenty of ripe cherries, drink it with cold spring water and take impressive photos of the ancient temple on the hill. Entrance to Garni costs about 3 euros, and walking along the mountain trails is free.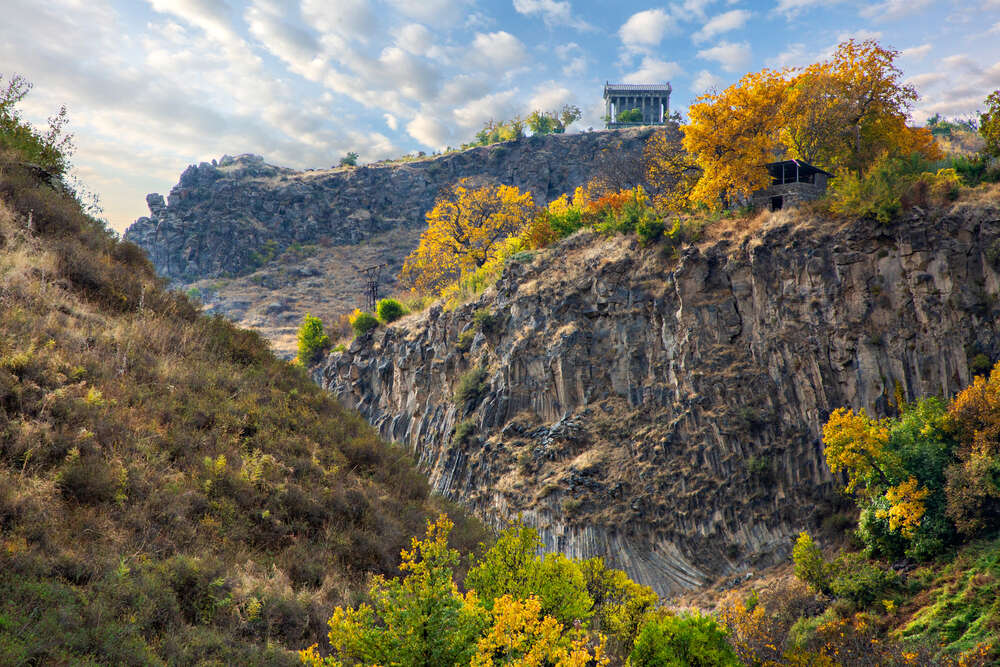 Geghard is another iconic and super-popular monastery among tourists in the vicinity of Yerevan. Half of it is a creation of human hands, the other half is a natural formation. Having passed through the gates in the massive fortress walls and several darkened halls, you will find yourself in the caves, where hermit monks used to live.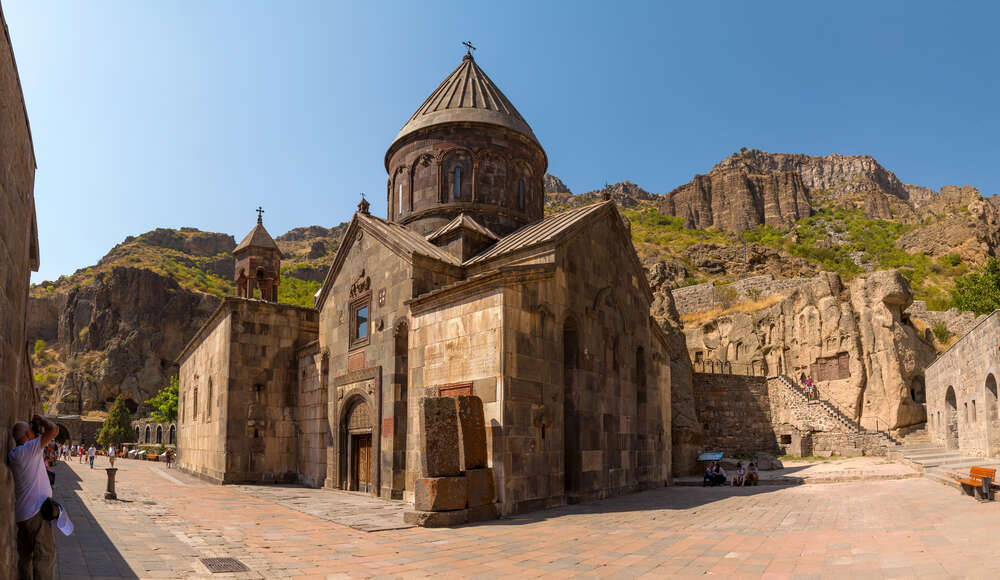 In some rooms, space is illuminated not only by candles, but also by the sun's rays, which break through thin holes in the rock. It looks very impressive.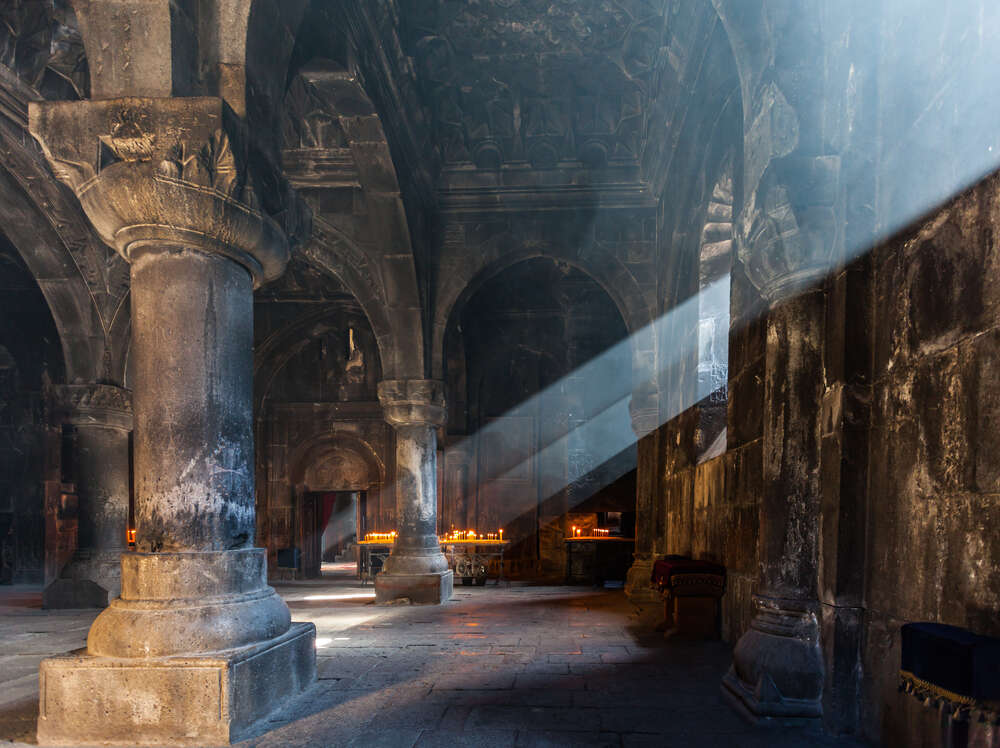 If you walk along the goat paths around Geghard, you can get to the mountain river that seems to be playing in the sun. Locals and tourists like to relax here from the heat of the day, and thrill seekers can go over the nearest boulder, take off their outer clothing and plunge into the icy water. Going to Geghard, bring your swimming trunks and towel, just in case.
The best view of Ararat: Khor Virap
Khor Virap Monastery is a symbol of Armenia, the place from which the Christianization of the country began. A capital used to be here, but nowadays, people come here for the most impressive view of the biblical Mount Ararat.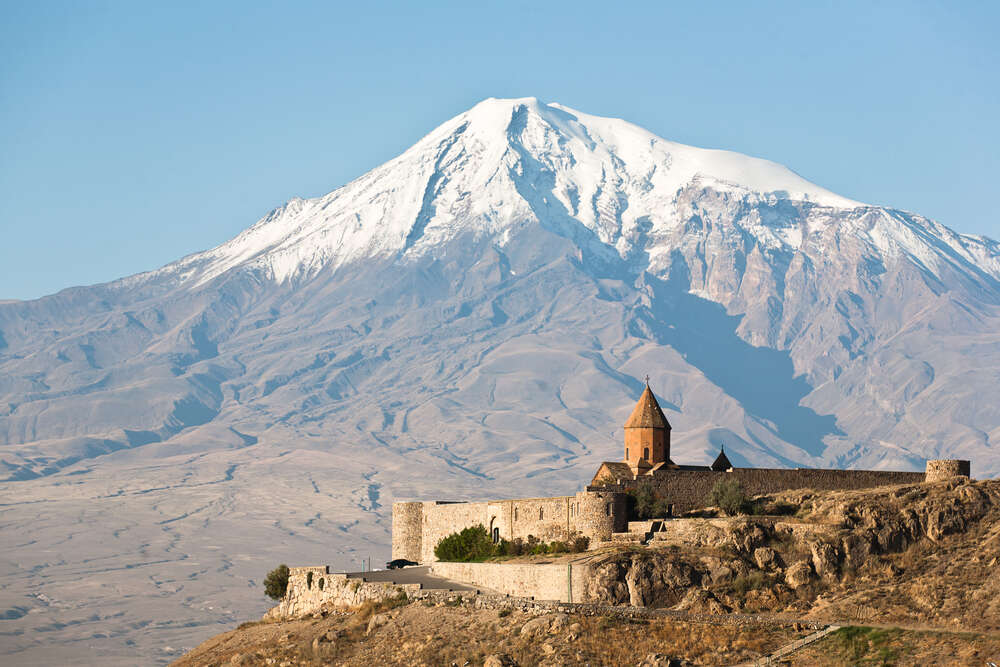 According to legend, St. Gregory the Illuminator was imprisoned in the well in the courtyard of the monastery, who converted the Armenians to Christianity. And behind the monastery walls there are excavations of that very ancient capital, the city of Artashat. If you hear cheerful music and loud screams during the inspection of Khor Virap, then this is most likely an Armenian wedding. Locals are very fond of organizing festivities on a hill overlooking the Turkish border.
If you have time and energy, you can drive another 80 kilometers from Khor Virap to the south, to Noravank Monastery. The road to it is a separate cause for delight, it goes through the iron-ore red rocks, so it seems that you are on Mars.
The one and only: Lake Sevan
Lake Sevan is the second symbol of the country and a favorite resort for Armenians and visitors. Along the coast of a huge reservoir, there are beaches, hotels, bars and, of course, fish markets. You can taste smoked Sevan ishkhan or boiled crayfish right here in the market. And you can stay in one of the coastal hotels for a couple of days and enjoy swimming, sunbathing and eating fresh fish.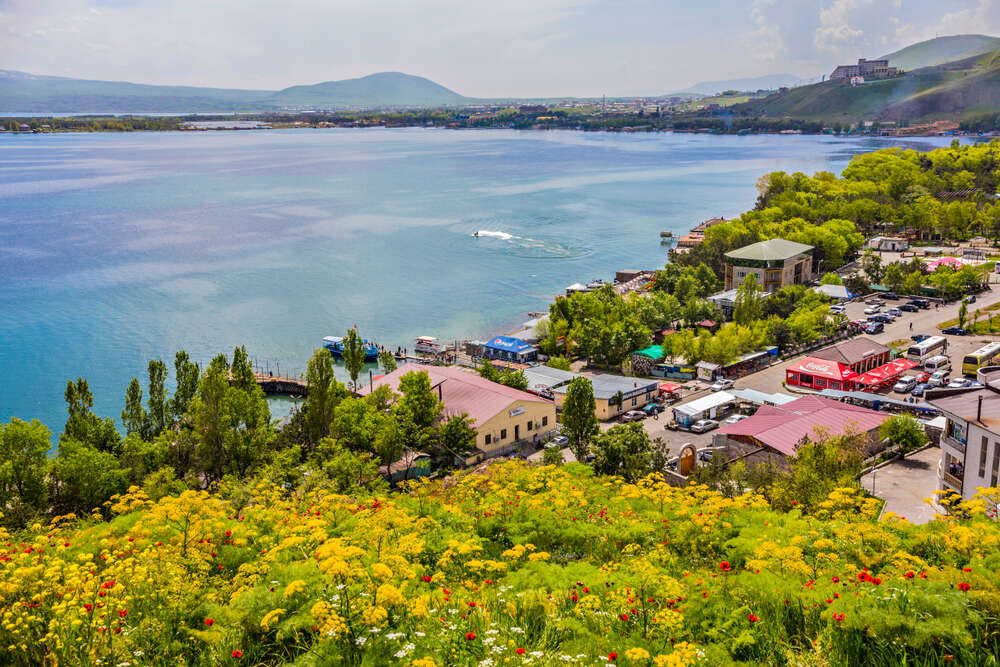 In Sevan, you can not only idly sunbathe on the beach, there will also be activities for outdoor enthusiasts. The paths of the national park, which has the same name with the lake, offer breathtaking views, and the most avid extreme sports enthusiasts can even climb the Ajaak volcano. Lovers of antiquities should visit the vicinity of the city of Gavar, there is a cemetery of the famous Armenian cross-stones (khachkars).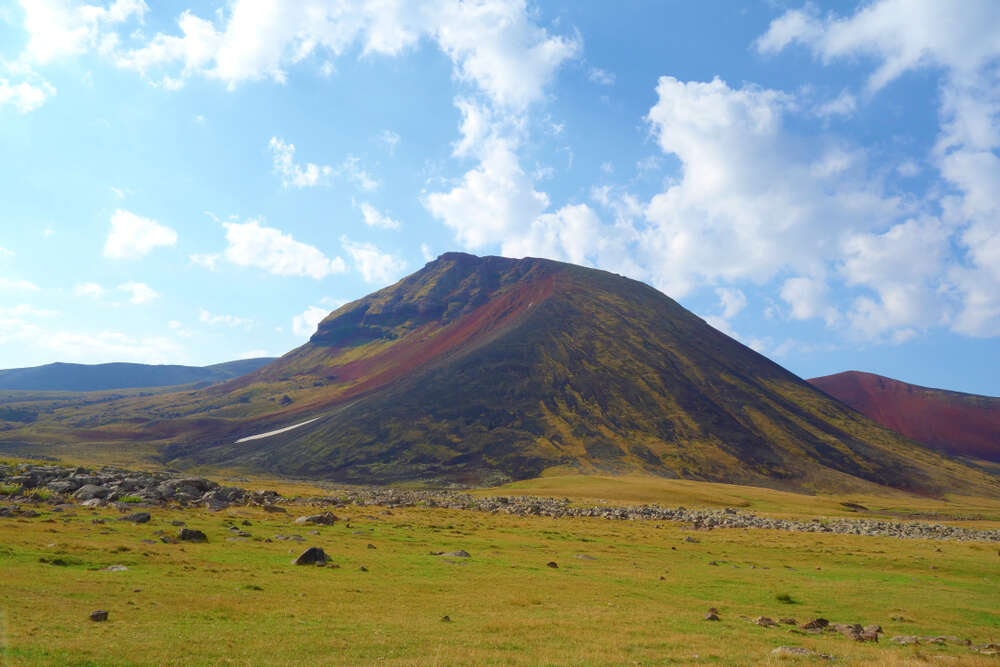 And the most popular place on Lake Sevan is the Sevan Peninsula with the Sevanavank Monastery. If you climb the hill with the stone church before sunrise or sunset, you will see an unforgettable sight.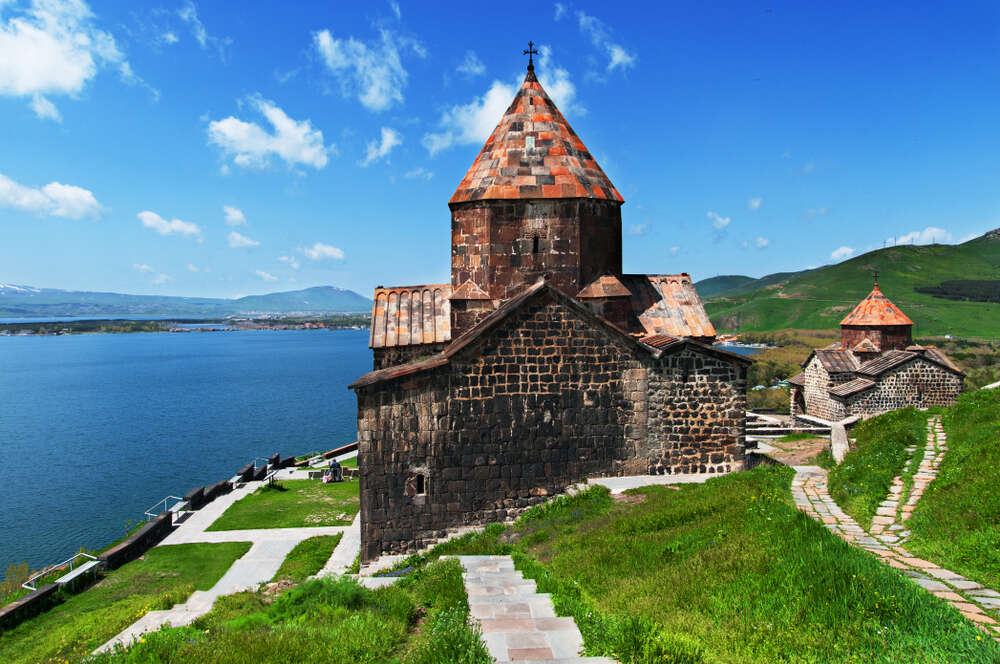 Wings of Tatev: Tatev Monastery
The world's longest passenger cable car leads to the Tatev Monastery. A path of almost 6 kilometers will take about 10 minutes, and while riding it, you will have time to gasp with admiration more than once, looking at the landscapes floating below. A round-trip ticket will cost you 9.5 euros.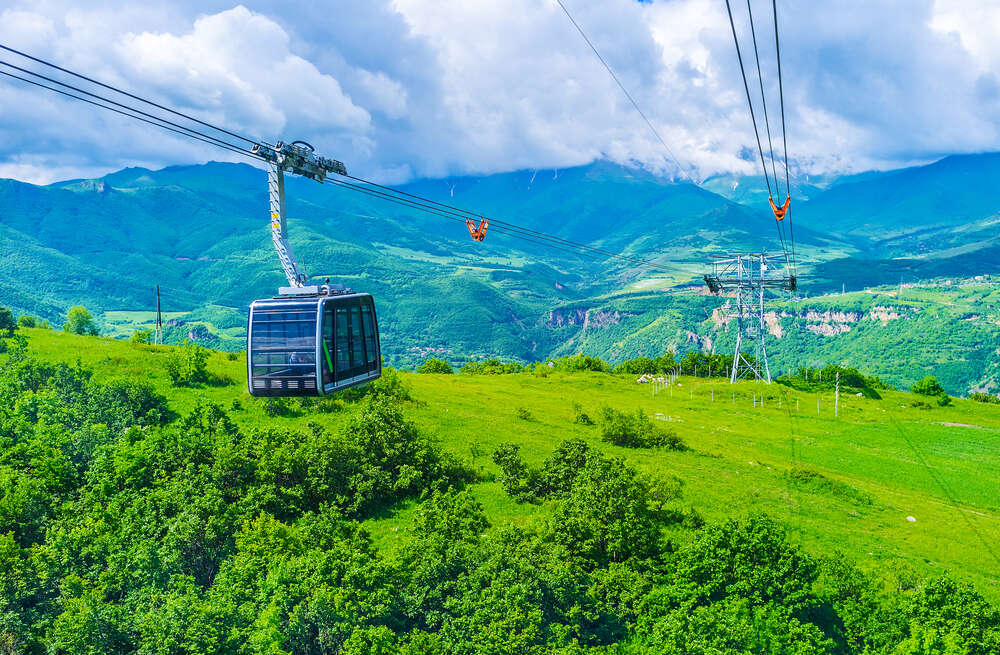 By the way, under the cable car, there is an interesting bridge over the gorge, which is called the Devil's Bridge. There are mineral springs right underneath it, where you can take a dip.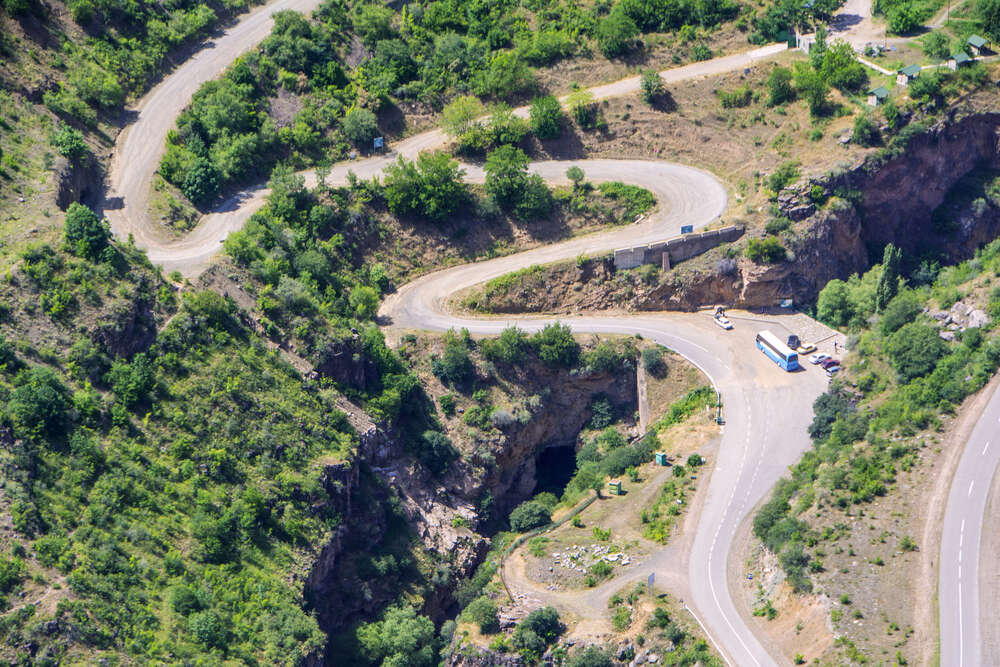 The Tatev Monastery itself is a complex of several buildings surrounded by walls. Like many monasteries of that period, it served as a fortification, so the stone walls look very impressive.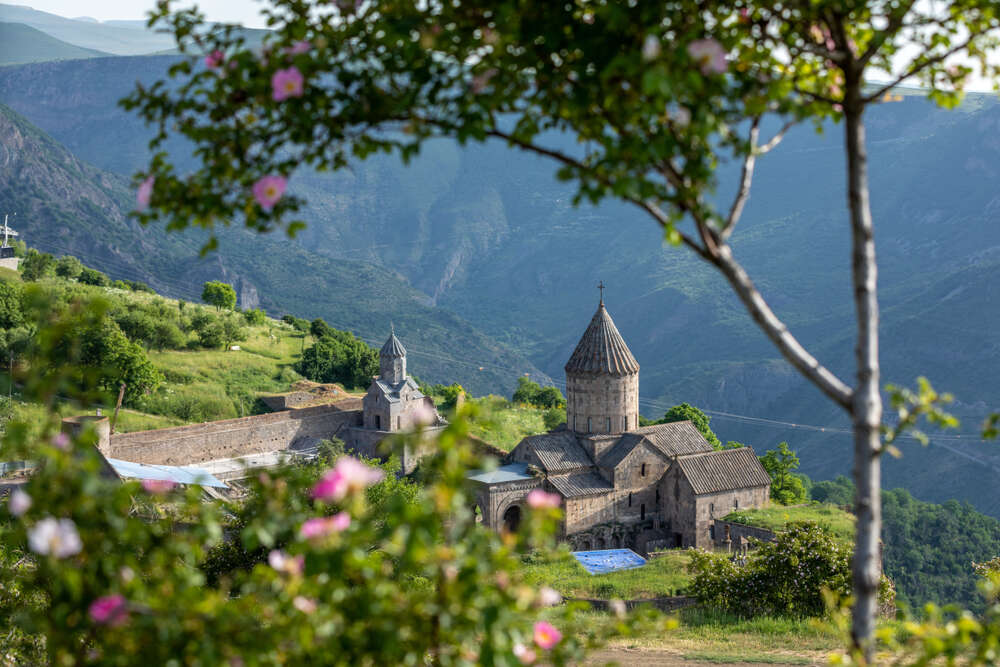 Cave towns: Old Goris and Khndzoresk
Considering that the basis of the Armenian landscape is steep mountains, it is not surprising that the country has a lot of cave monasteries and even entire towns. Why build something if you can use the caverns and tunnels already created by nature?
There is a large-scale cave town near Goris, which is 250 kilometers south of Yerevan. Literally all the surrounding rocks blacken with holes of different sizes, and people used to live here not in ancient times, but only 50 years ago. And even now, some caves are used by local residents, but already as non-residential warehouses.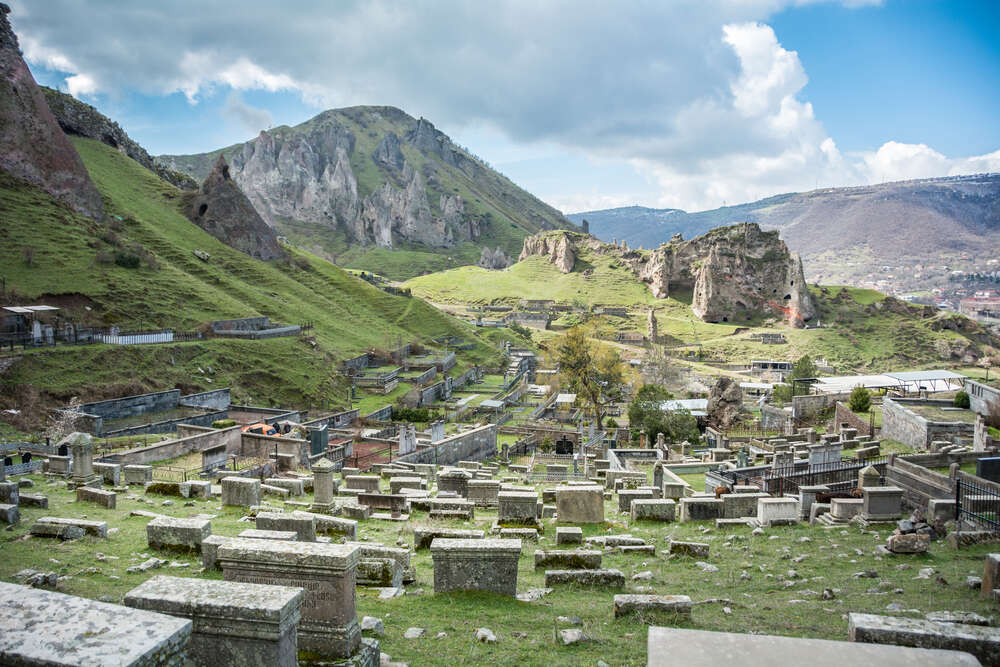 The second large cave town is called Khndzoresk. It is smaller than the caves in the vicinity of Goris, but a suspension bridge leads to it, from which it is as much as 60 meters to the ground.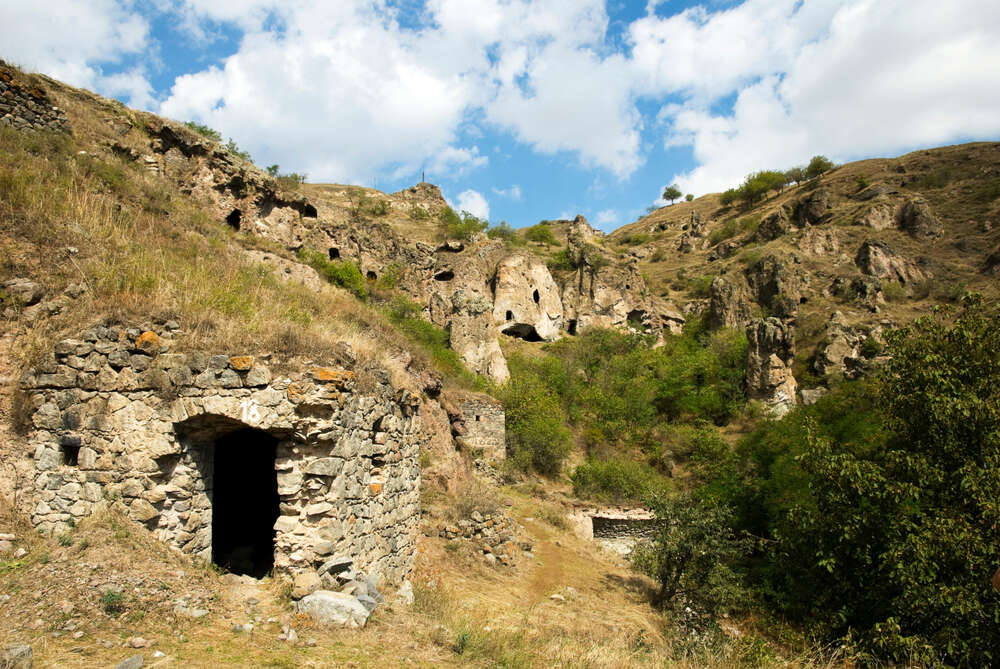 Not only about skiing: Tsaghkadzor and Dilijan
Tsaghkadzor is a popular ski resort 30 kilometers away from Sevan, but people come here not only to ski down a snowy slope for a spin. The fact is that it is also a popular holiday destination among representatives of the Armenian intelligentsia - artists, poets, writers. And many of them don't mind a long conversation with fragrant cognac.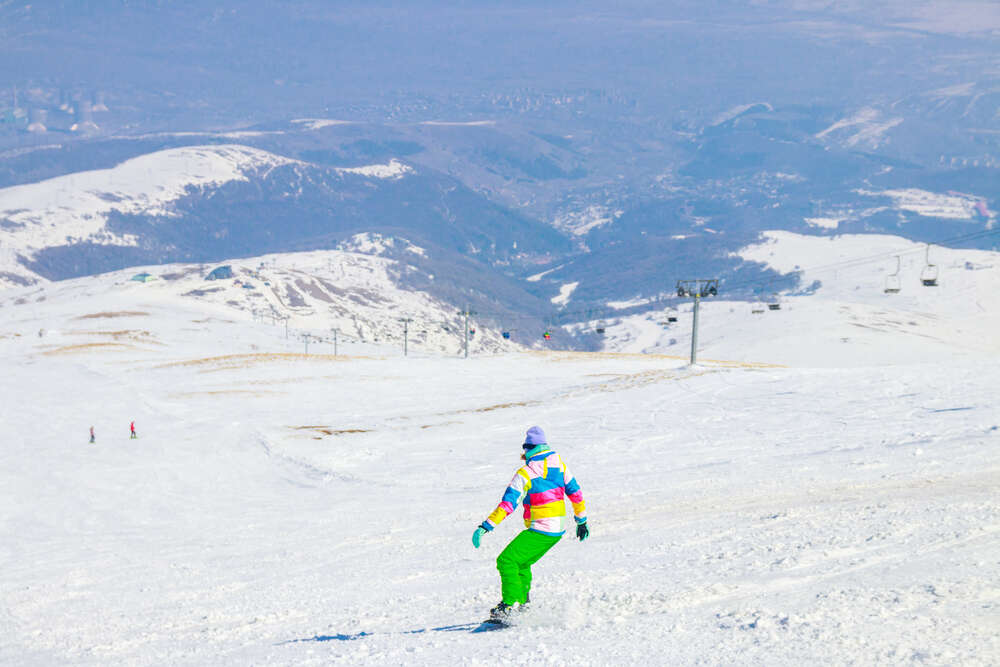 "Sunny Dilijan" is familiar to many people from the film "Mimino". But here you can not only touch the bronze Frunzik Mkrtchan's nose, but also have a good rest in balneological and mountain resorts.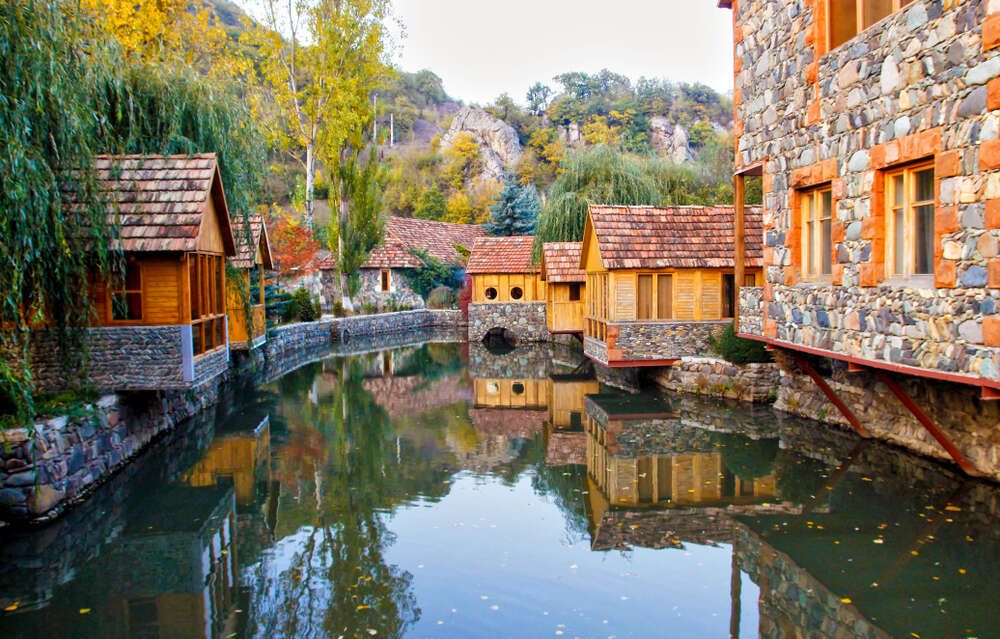 Armenia, like its inhabitants, is a very hospitable, generous and interesting country. Lovers of strong cognacs and adherents of a healthy lifestyle, lovers of antiquities and admirers of modern art will definitely like it. And, who knows, maybe it is in the mountains of Armenia that you will find something very special for yourself that you have not found yet in other countries.