Starting from April, the season of yachting begins in Turkey. This means that you can also plan an interesting sea trip for your holiday. What is the attractiveness of this particular country for this type of holiday? Four major airports on the coast, where you can quickly get to any marina from.
Travellizy prepared tips on how to go on an unusual sea travel.
Main yachting centers in Turkey
The main yachting centers in Turkey are concentrated in the areas of the cities of Bodrum, Marmaris, Göcek and Fethiye. There are the airports of Dalaman, Bodrum, Izmir and Antalya next to them.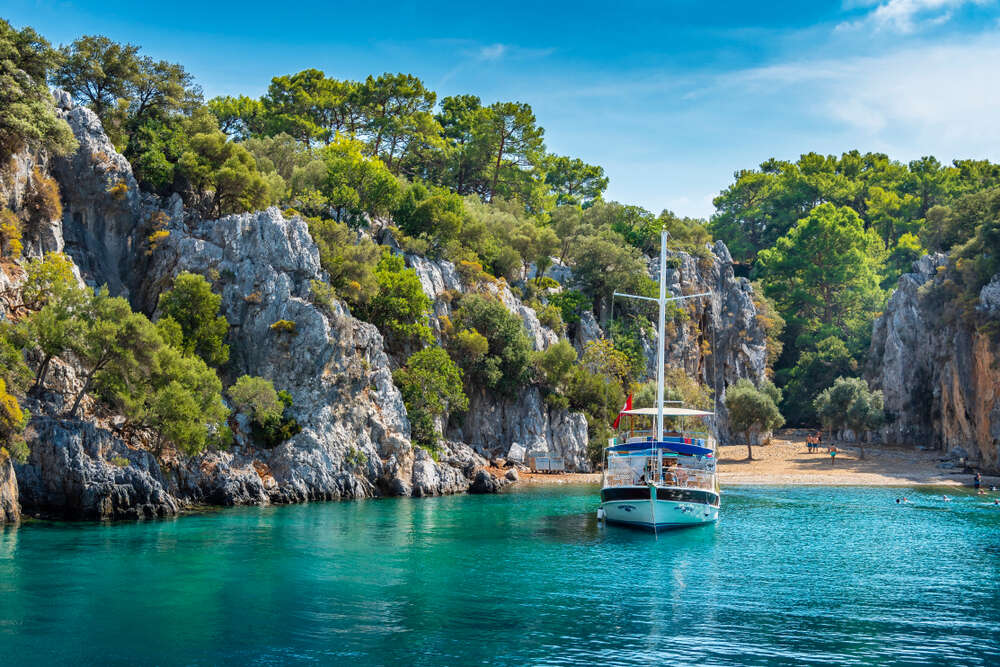 An excellent choice to start a trip is the town of Göcek. The nearest airport is Dalaman, 20 km away. You can fly to Dalaman with a transfer through Istanbul or Ankara. On average, 15 flights are operated daily from Istanbul. Flight duration is 1.10-1.35.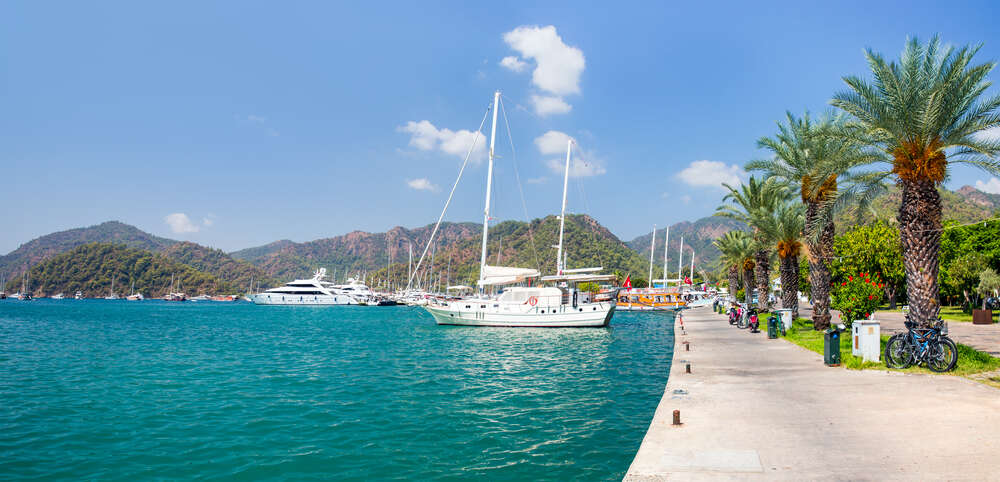 Göcek - once a small fishing village - has become the yacht tourism center for thirty years. There are convenient marinas, resort hotels, fish restaurants, supermarkets where you can buy food for the whole week, and all purchases will be delivered to you on board for free.
Offices of the most famous charter yacht operators, who offer to rent comfortable cruise yachts, are also here. On modern sailboats, you will have your own amenities in every cabin, as well as a bed with an orthopedic mattress and all kinds of cabinets.
How many people will be your neighbors depends on your desire. There are usually 3-4 double cabins on a yacht . And  it's up to you, how many neighbors you will have - three or a large company of ten people.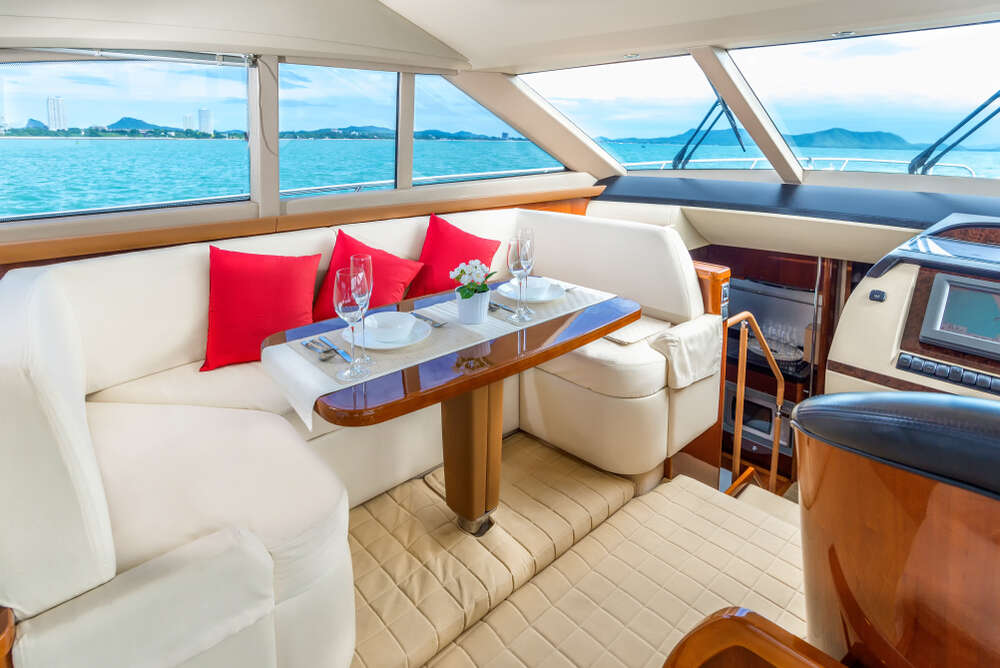 The galley of a yacht is usually equipped with a refrigerator, a freezer, the cabinets have all the utensils - from a can opener to egg coasters, also you can find a modern stove with an oven, bed sets, kitchen and bath towels. In the wardroom, there are comfortable sofas, which usually serve as a bed for a paid captain and sailor, there is a radio and MP3. Many yachts have Wi-Fi. This additional service is connected optionally and is negotiated with the captain.
How much yacht charter in Turkey is
The charter system is such, that a yacht can be rented weekly from Saturday to Friday. Early Saturday morning you will need to leave the board. For the first experience, this trip you will be enough for you. The cost of yacht rental ranges from 2,000 to 3,500 thousand euros, depending on the size of the yacht and the year of manufacture. But we strongly advise you to take a yacht no older than five years. The rental price is divided between all participants of the cruise, except the captain and other team members. That means, if there are 10 people on board, it will cost you 200-350 euros per person. How many people to take on board or which company to join depends on you.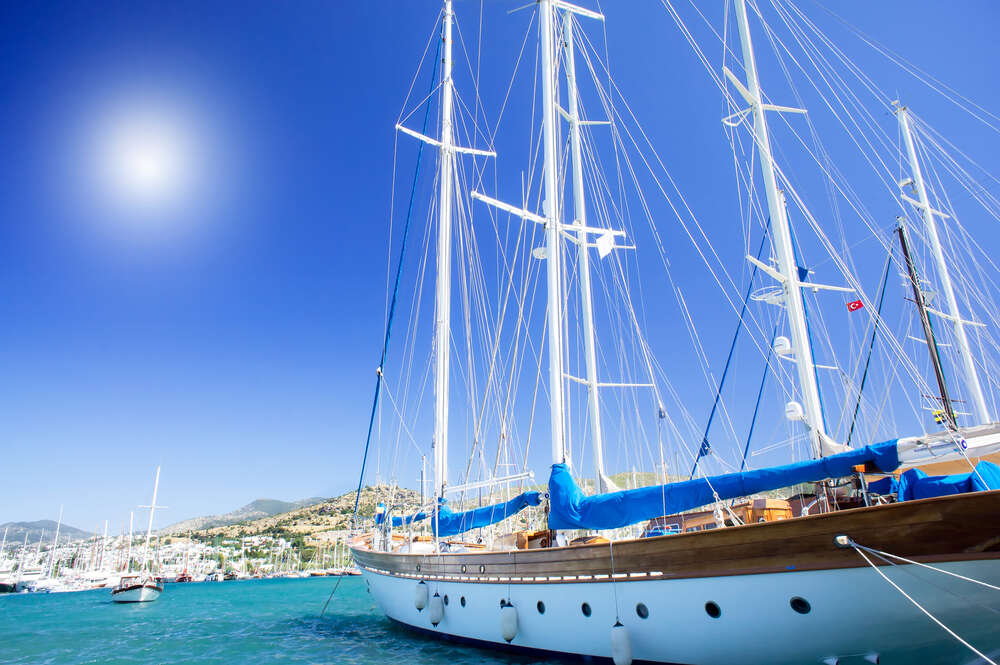 You can rent a yacht in two ways - to sail on your own or with a captain. A yacht can be sailed by those who have IYT International Bareboat Skipper, an international certificate, that gives the right to sail. With this certificate, you can rent a yacht up to 24 meters in length anywhere in the world and sail it during daylight hours. To get this license, you must go through theoretical and practical classes and pass exams. The cost of courses is about 500-700 euros plus practice (costs depending on the chosen trip). But if you are going to go to sea for a week at least once a year, then these investments will pay off in two seasons.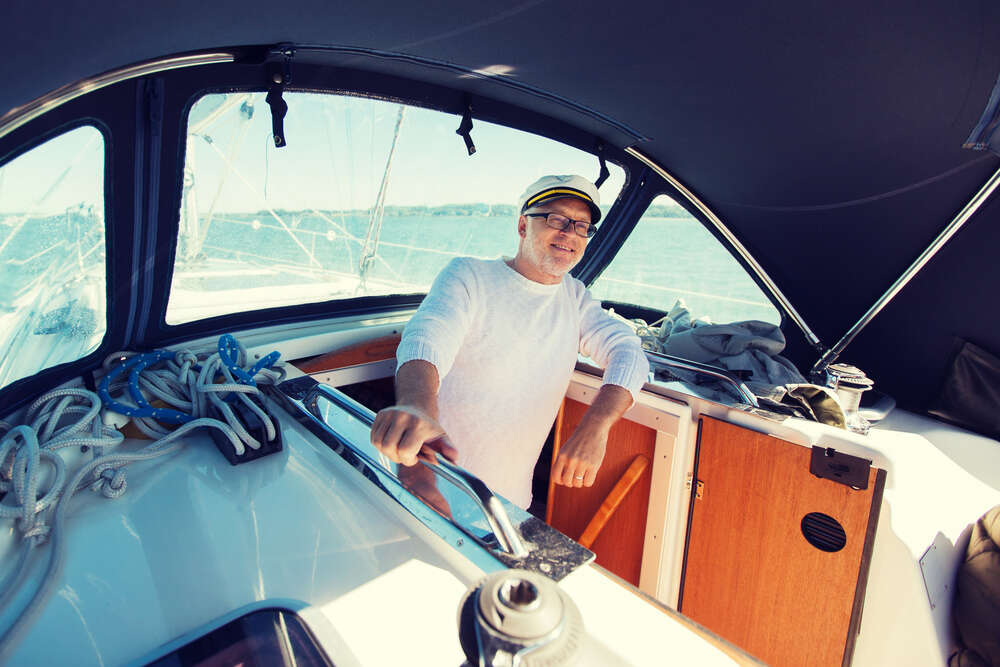 The second option is to rent a boat along with captain services. It will be a bit more expensive. The cost of captain services starts from 100 euros a day. But then you will get rid of a headache about insurance, acceptance of a yacht, communication with services and other minor problems.
The ship cashbox means another 100 euros per passenger. Don't forget to get personal health insurance. High season: July - August. Remember, the sooner you take care of choosing a ship, the better. From the end of September to mid-March, there is no navigation. Discounts on all yacht rental services, parking, massages, prices in restaurants in the off-season may reach up to 50% -70%.
Yacht rental costs in Turkey
An experienced captain must know in advance where to stay for the night. All the marinas and piers are marked in sailing directions - large books containing all the information about the area where you are going to travel. This book of the last publication year should be bundled with the yacht.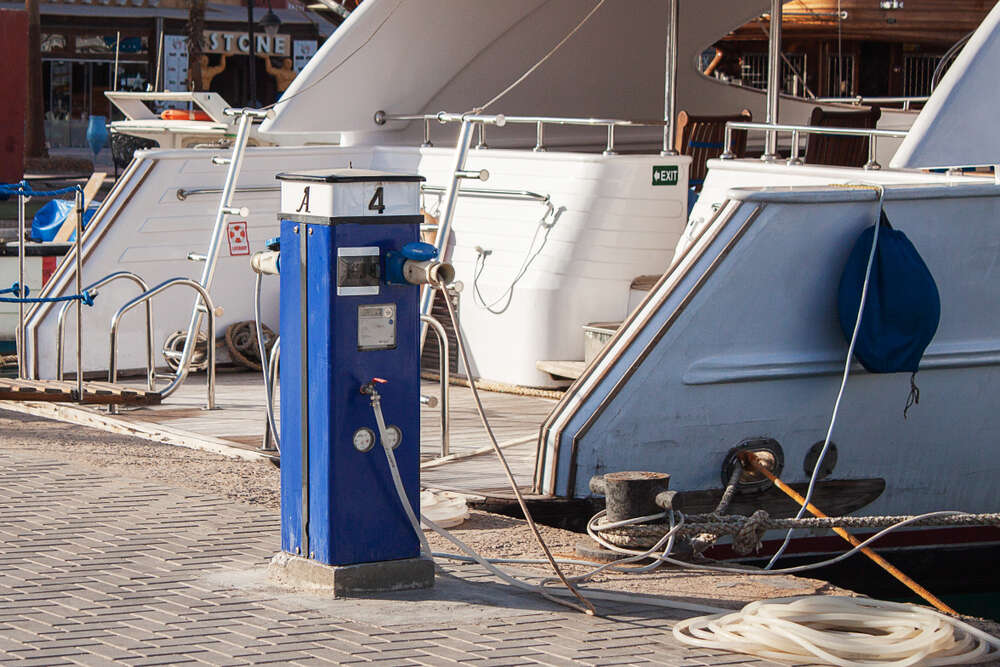 Parking in marinas are paid. For this fee, you are provided not only a place on the pier, but also charging the yacht accumulator, bunkering and refueling services. In the marina, there will be a shower with a hairdryer, optionally - a saloon, bars, restaurant, mother-and-child room, laundry, dry cleaning, ironing, hairdresser, sauna and SPA.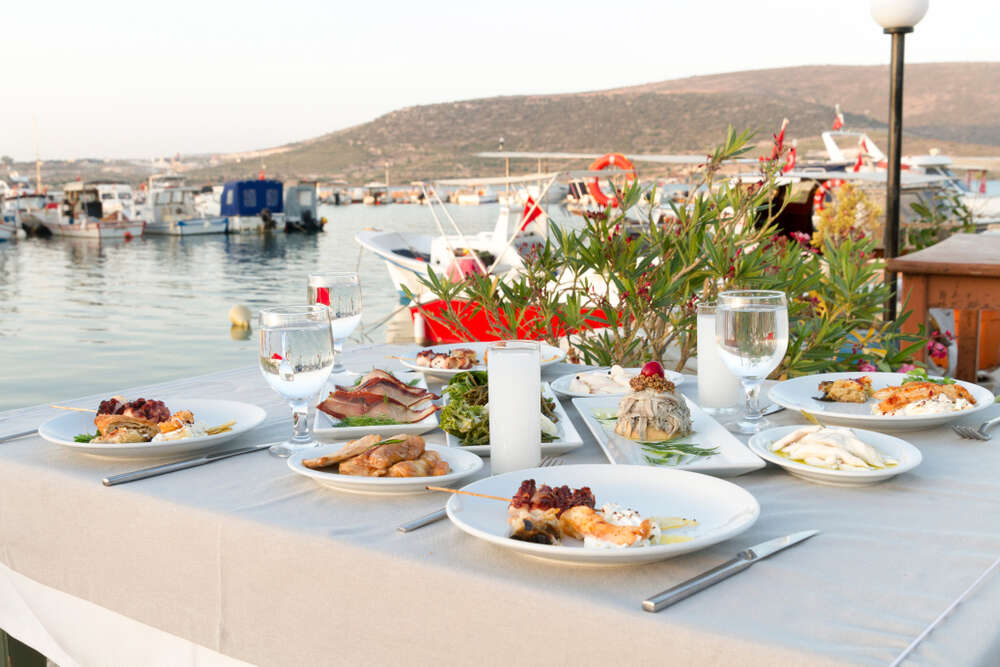 In addition, restaurants who offer mooring are popular in Turkey. They are usually free, but prices in restaurants can be above average. There are whole complexes with showers and picnic areas. Parking conditions on them are usually negotiated with the owner or manager of the establishment. Most often, it is an order for a certain amount. Here you can and should bargain.
What you can see from the board of the yacht in Turkey
Turkey traditionally offers a wide range of entertainment - the cleanest beaches and coves, the fabulous nature of the islands, delicious local food, quiet fishing and noisy club parties, ancient historical monuments, and of course, unforgettable sunrises and sunsets.
The most popular yachting area in Turkey is from the south west of Izmir to Fethiye, where there are numerous islands. But you can choose an interesting route right up to Mersin.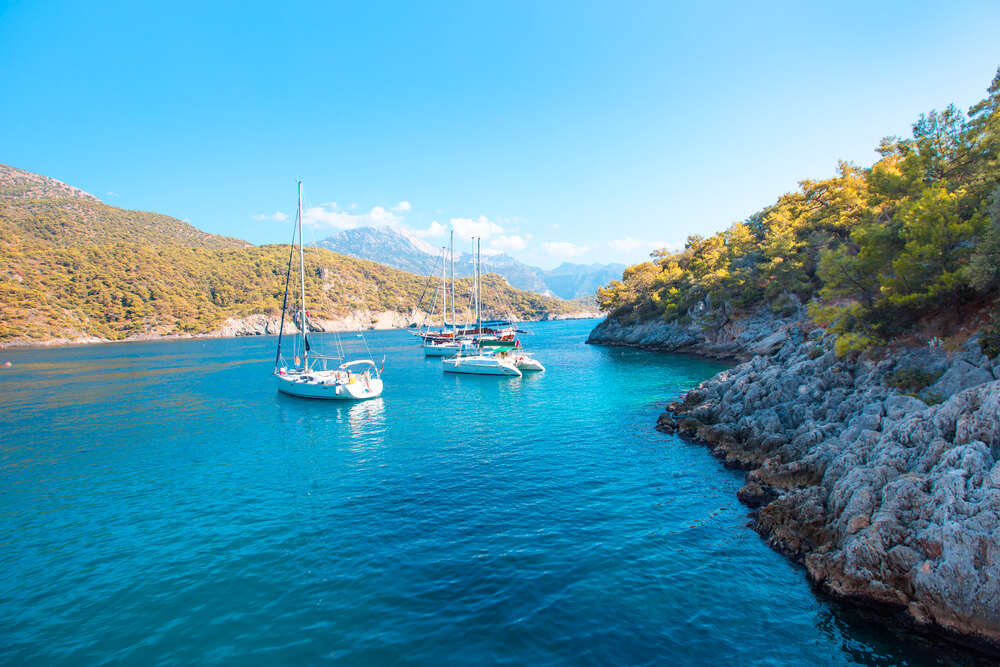 In the Gulf of Fethiye, you will definitely visit the island of St. Nicholas. Yes, this is the first residence of the very Saint, who we know as Santa Claus. There are the ruins of ancient temples with paintings and mosaics. The island itself is very picturesque.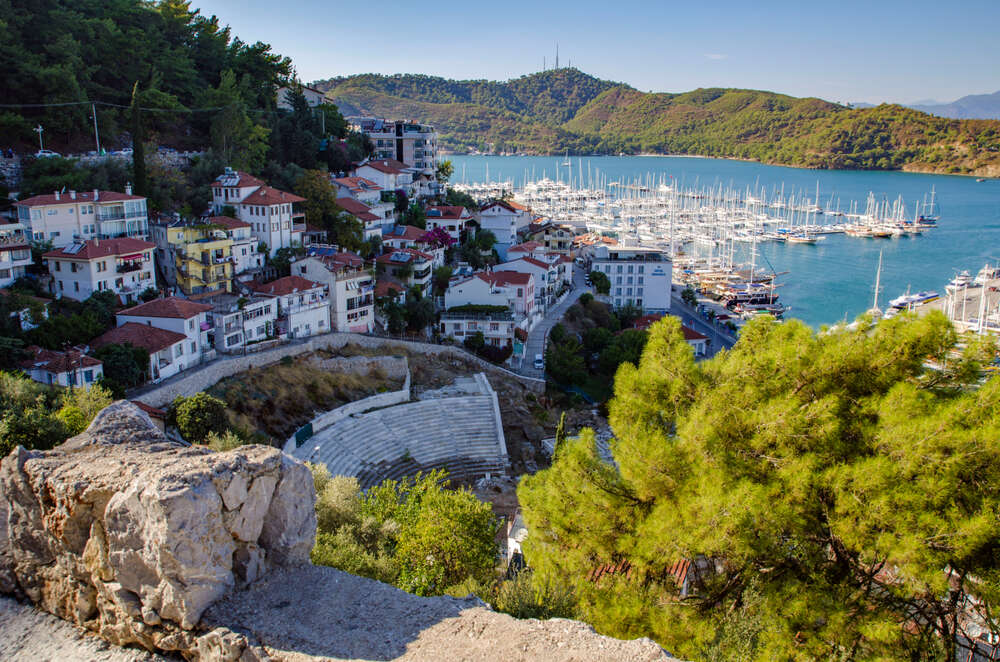 The city of Fethiye is a picturesque city with a large market, where  freshly caught fish will be cooked for you, you can buy here spices, teas, Turkish sweets and good knitwear as well. It's a nice promenade and an excellent marina with a full range of services, which include a hammam with massage and spa.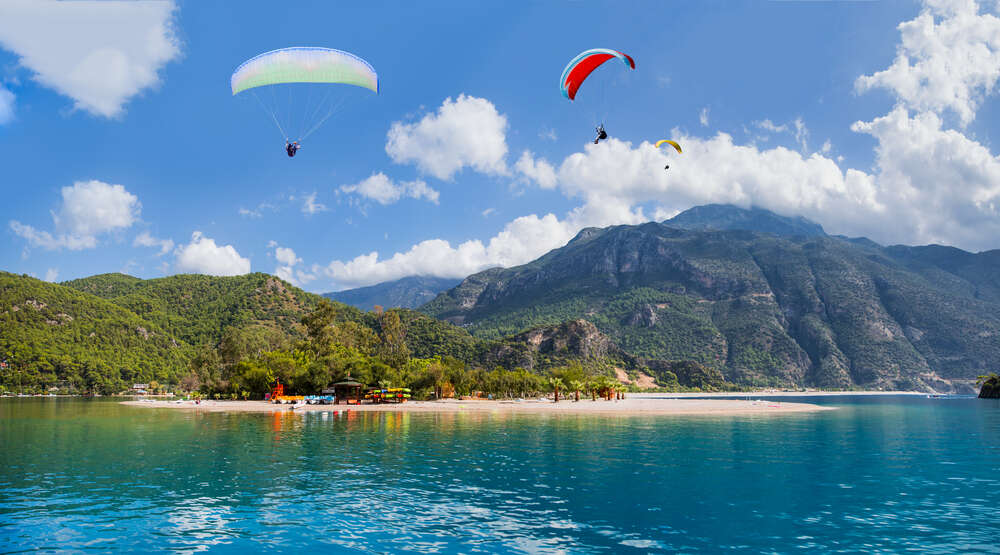 Ölüdeniz Bay will impress you with the white sandy beach. Since mid-March, the water temperature warms to 18-19 degrees in the Aegean Sea. In one part of the bay, there is a reserve, the entrance to which is paid, but there are much fewer people, than on a regular beach. Mount Babadag - Mecca for paragliding - rises above the bay. You will be offered to fly with an instructor for 100 euros, in the off-season (from March to the beginning of April and the end of September) you can bargain at half price. Your flight will be recorded on video and a bunch of cool photos with you will be taken.
In the water area of the bay, there are a dozen nameless small coves and beaches with crystal clear water. You can see unique remains of Lycian tombs carved into the rocks in some of them.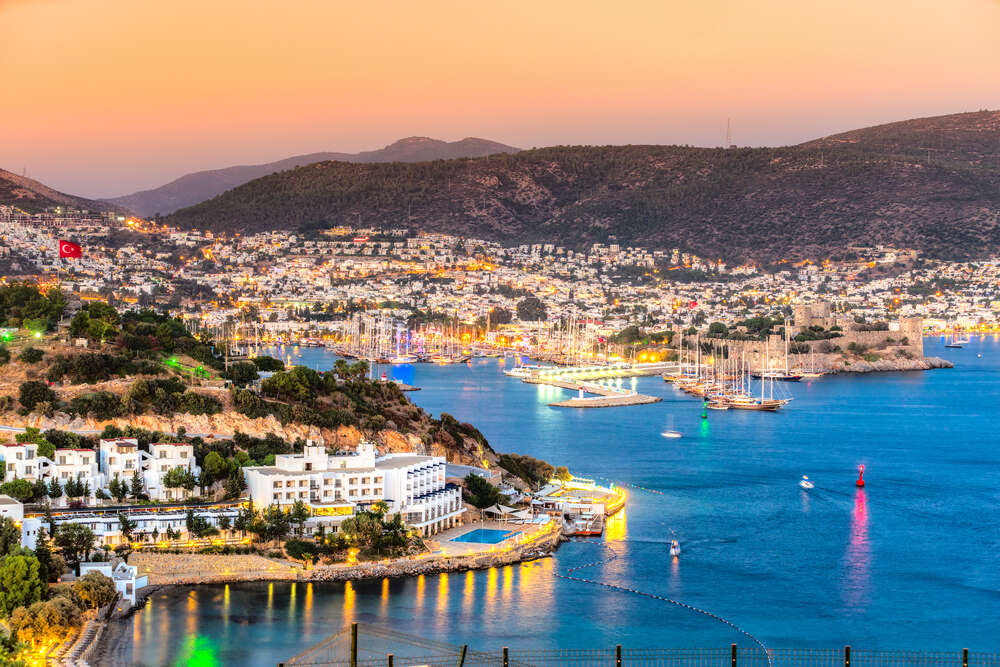 Antalya coast is traditionally considered to be a place of parties with excellent nightclubs. If you and your friends are disco lovers, go there.
In addition, the amazing purity and strict attitude to the protection of nature should be mentioned. When you go out to sea, you will be given a blue card, where special marks need to be ticked about the discharge of fecal tanks in special services. They were introduced in 2010. You may not pour water from a yacht into the sea under any circumstances. If you came with empty tanks, it means that you merged everything into the sea. In this case, when you pass the yacht, and the representative of the environmental service takes part in this process, an impressive fine will wait for you.
In some bays, anchorage is prohibited - it can "injure" the seabed, it is forbidden to moor to trees, and in some places to stones. In the reserves, loud music and cooking on the deck is prohibited. All these strict rules were initiated by the Turkish Marine Environment Protection Association. And you can't argue with the results - clear waters of the Aegean Sea, flocks of wild birds, schools of fish that can be seen even at the depths and huge sea turtles that swim in the marinas filled with boats. All natural diversity feels well protected and actively reproduces.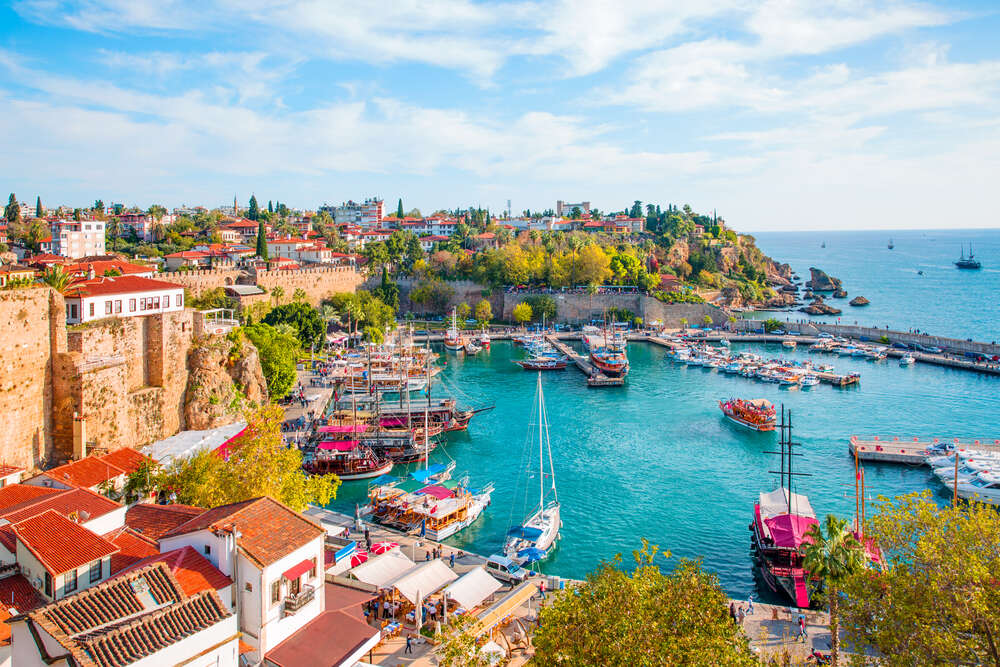 The endpoint of your cruise can be the same marina, or any other, where there is a representative office of your charter company. Therefore, specify in advance the airport, which will be comfortable for your departure home.
Plan a trip to Turkey with Travellizy online platform. Our service analyzes all the offers of tour operators and selects the most comfort flights for the best price. You just have to choose convenient dates!