Bali is an island with a rich culture and many natural and historical attractions. And although initially the focus was on the south and eastern part of the island, historically, tourism began to develop more actively on the west coast.
Today, the coastal regions of Kuta and Seminyak are considered to be the centers of tourist activity, with a gradual shift towards Canggu, as well as the city of Ubud in the center of the island, a unique area, the only large city in Bali with a developed infrastructure, which is located at a considerable distance from the coast.
At the same time, other areas have no less potential: right where there are still few tourists, you can find amazing clean beaches with black sand, and incredibly beautiful temples, and endless rice fields. Travellizy Team will help travelers decide which area of Bali is the best to relax in.
✈️Choose flights to Bali island right now ✈️
Kuta
Kuta is located in the south of the island and is designed mainly for budget vacations. Here you can find a large number of inexpensive bars and cafes, souvenir shops, massage parlors and nightclubs, European youth and budget tourists from Australia in this area. Kuta has a bad reputation because of scammers trying to trick naive tourists into currency exchange and offering counterfeit watches, gold jewelry, etc. The main advantage of this area is, of course, the famous Kuta Beach, which is perfect for beginning surfers.
This is the most youthful, democratic area... if you are not afraid of the simplicity of Asia, if you are going to start surfing, then this is the right place for you.
Pros:
a large selection of inexpensive hotels and guesthouses;
a large number of bars, restaurants and shops;
close distance to the airport;
Kuta Beach;
surfing waves.
Cons:
traffic jams;
many street vendors on the beach;
fraudsters;
noise.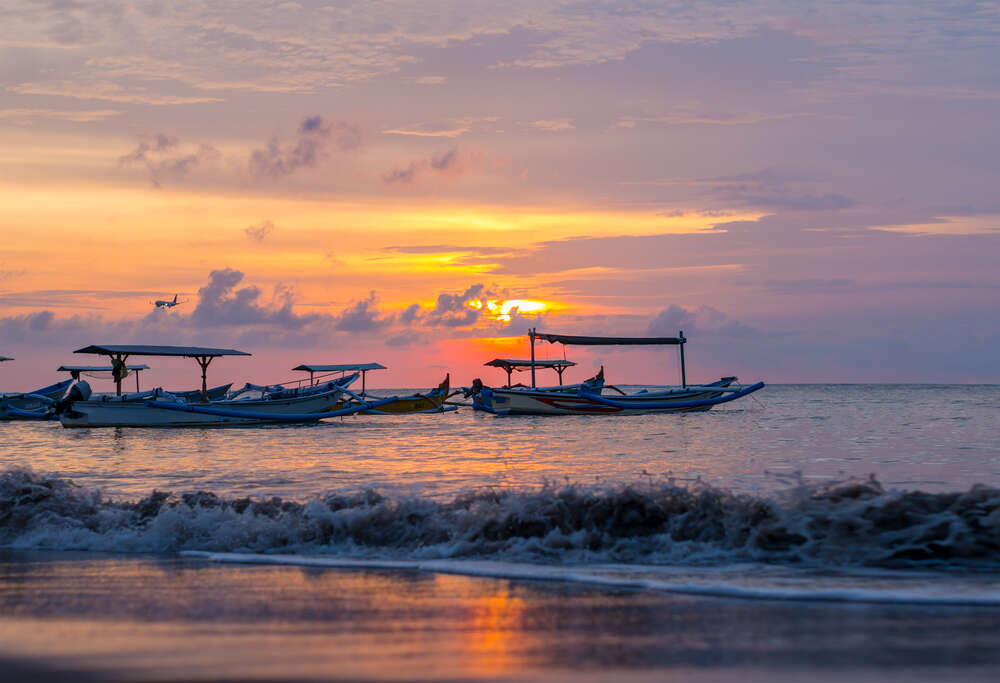 Nusa Dua
Nusa Dua is located in the very south of the island and is a separate resort area. That's where the most beautiful pictures with clear turquoise water and beautiful sand are taken.
Clean and well-groomed territory, the absence of annoying beach vendors, many restaurants, cafes, shops and hotels of 4 and 5 stars level make this area perfect for a quiet and comfortable stay on the island. There is practically no budget housing in this area. The best beaches on the island, quiet and peaceful rest - not all areas of Bali can boast of such cleanliness as in Nusa Dua. Accommodation is expensive here, and low tides are felt as they should.
You should stay here, if you are a lazy beach tourist, if you travel with children or elderly parents and want to have beaches nearby without waves.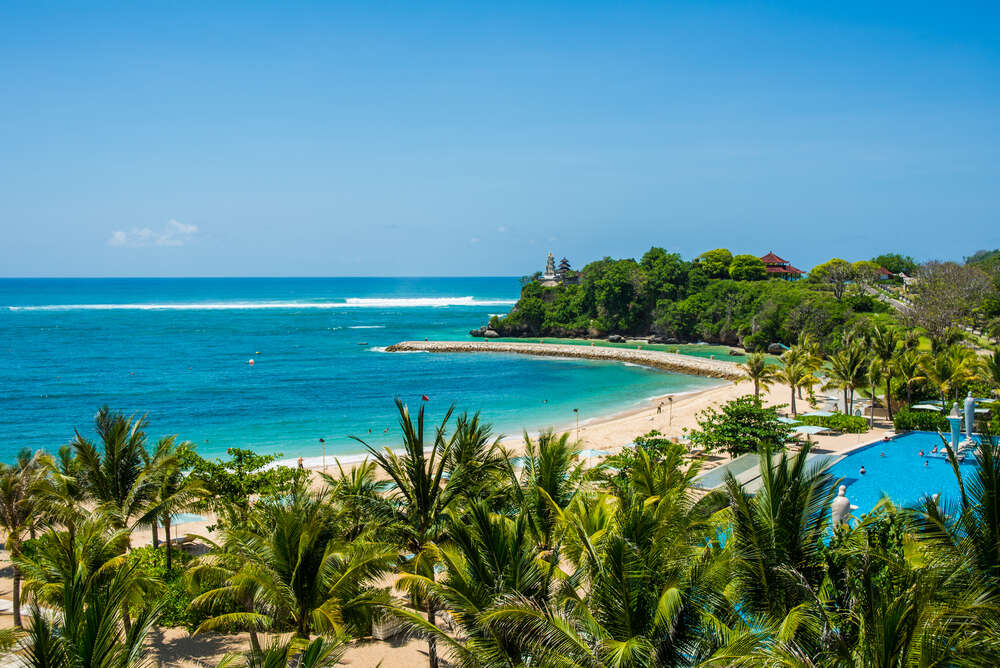 Ubud
Ubud is an area in Bali where you can get acquainted with the true culture and traditions of the island. Accommodation can be found both cheap and expensive. Thanks to a large number of good restaurants with various cuisines and a number of cultural show programs, this area is considered to be the cultural and spiritual center of the island. Also in its vicinity, there are many popular attractions of Bali: the holy spring waters of Tirta Empul, Monkey Forest, Elephant Cave and many others. Ubud is located in the hilly central part of the island, and therefore you can see picturesque rice terraces, waterfalls, mountain rivers and gorges. Ubud has a special atmosphere of friendliness and leisure. It is far from the ocean: 2 hours drive. People come here for relaxation, meditation and inner Zen.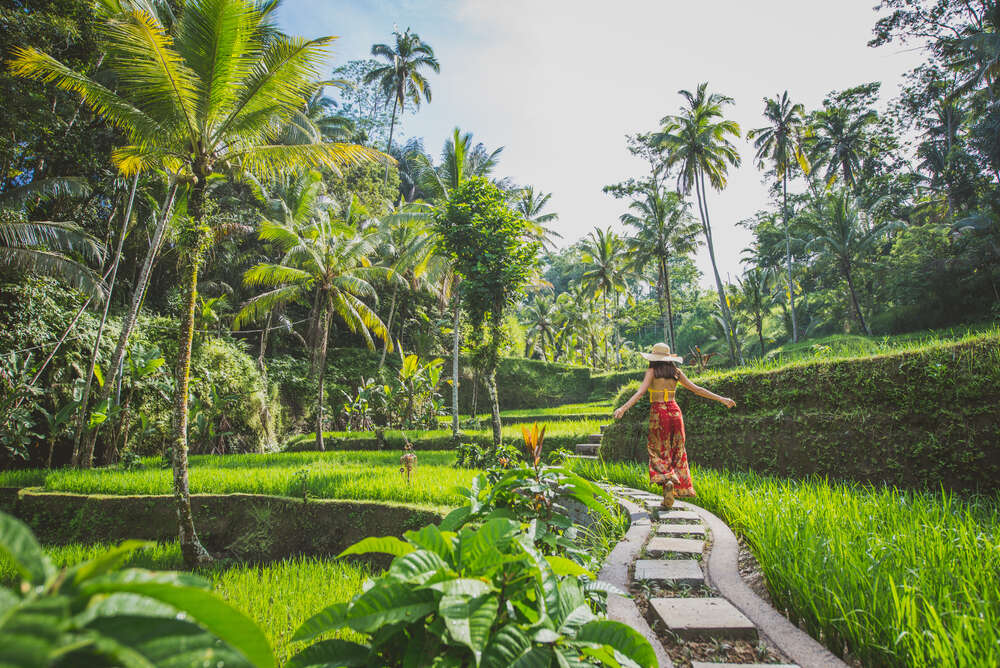 Sanur
Sanur is located in the east of the island, it is a quiet and calm resort area. That is why it was chosen by elderly European tourists. There are many inexpensive restaurants, bars and shops here. It is a quiet and peaceful area, the beach line is quite large, but the low tide on the beaches of Sanur makes swimming uncomfortable.
Jimbaran
Jimbaran is known for its coral sand beach and fresh seafood restaurants. The best time to visit them is in the late afternoon, when you can sit at a table right on the ocean shore and watch the beautiful sunset enjoying a delicious meal. You can find here both budget accommodation and luxury villas and hotels of the same class.
Uluwatu
Uluwatu has one fine sandy beach surrounded by boulders and rocks. The length of the Uluwatu Suluban Beach is 70 meters. At the same time, there is enough space for surfers and sunbathers on the sandy coast, which is crowded all the time. Uluwatu is always beautiful: inspiring sunsets, majestic cliffs, turquoise waters, and Uluwatu Temple, the most well-known attraction near the coast. Its beauty is incredible indeed! At high tide, Uluwatu is almost completely flooded, and you will not be able to rest on it - just admire the temple covered in red flowers from a height.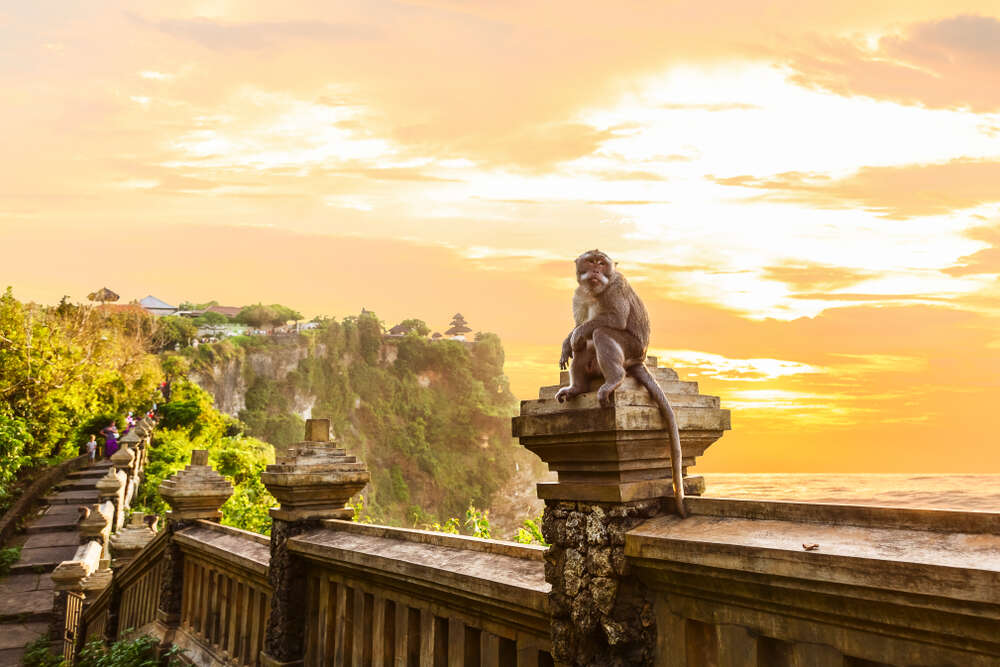 Legian
Legian is located north of Kuta with an equally large number of shops and bars, but the atmosphere is more relaxed and less chaotic. Legian is a small town, but despite its small size, there are good hotels and the beach is less crowded.
Seminyak
Seminyak is located in the northwest, with a large number of excellent restaurants, bars and cafes, clubs, spas and designer boutiques. There are also many luxury villas concentrated in these areas, the price range for which starts from $ 170 per day. The nightlife is busy with a lot of young people. Seminyak Beach is famous for its bars, where you can watch the sunset over a cocktail.
Pros:
developed infrastructure for recreation;
rich nightlife;
it is convenient to get from Seminyak to other areas;
a beautiful beach and waves.
Cons:
the cost of living is quite high;
a relatively large number of tourists;
big waves on the beach and strong currents.
Nusa Lembongan Island
Nusa Lembongan, one of the three islands along the southeast coast, is an interesting option for a beach trip outside Bali, a break from the noise of tourists and the traffic of bikes and cars. You can reach Nusa Lembongan by boat in half an hour. There are very beautiful beaches with snow-white sand, some of which are almost deserted, bright emerald water is not at all the same color as in Bali. You can dive here, and when waves good here, you can also go surfing. Nusa Lembongan is a small island, only 8 sq km, with a larger island called Nusa Penida next to it.
Munduk
Munduk is a pleasant quiet mountain spice village in the north of Bali. It is fresh and cool here in the evenings, as the village is located in the mountains. There are also hiking trails to the waterfalls, cafes with views of rice terraces and mountains in the haze, where you can hang out for a long time. The village of Munduk is small, with only one main street, from which branches lead to picturesque mountains, valleys to rice fields, and to Melanting and Munduk waterfalls.
If you go from the side of Buyan and Tamblingan lakes, then, leaving the village of Munduk, you find yourself in the world of spices. You can see how different spices such as cloves, rice, beans, and even bananas are dried near the courtyard gates as well as near temples, shops on the roofs and just along the roads. There are so many spices here - cinnamon, cloves, and coffee beans. They all grow along the roads and dry here.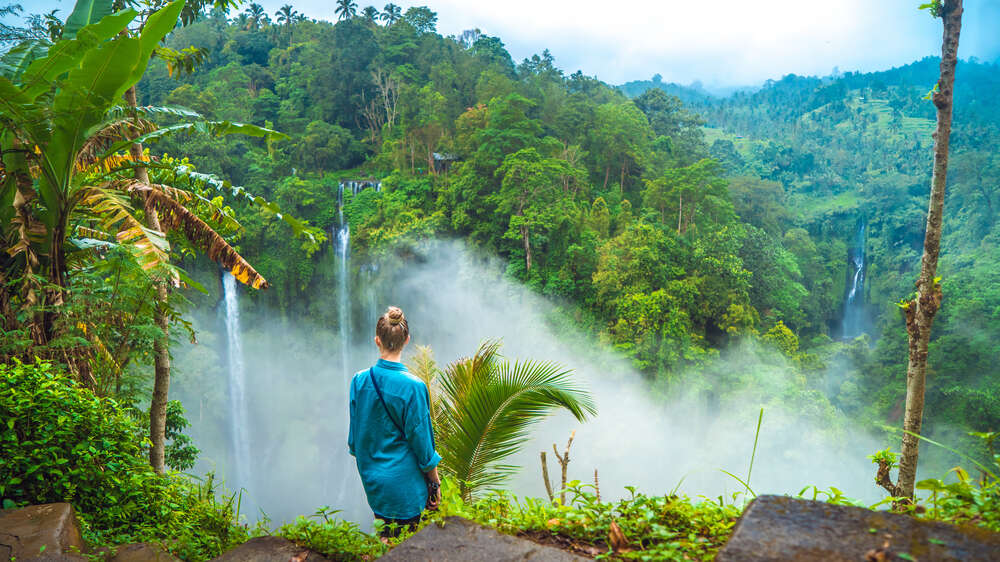 How your perfect holiday in Bali should look like
Do not try to see everything at once. Upon arrival in Bali, check into your hotel and just relax for 2-3 days: swim in the sea, sunbathe on the beach, have fun.
Travel around the island for the next couple of days. You should visit its different areas and get acquainted with the national cuisine. Bali is very diverse, it is important to correctly allocate your time so as not to leave from here with the impression "What's so special?". Every day on the island is a special day.
We advise you to take a few more days to visit the cultural heritage. Balinese culture is the most mystical and unique. You definitely need to plunge into this world to experience life on the island.
And finally, we advise you to return to your hotel and relax for a couple of days by the sea. Reflect on everything that you managed to see. You will definitely not remain indifferent.