Of all the countries of Eastern Europe, Romania is the most intriguing for travelers.  Here, each region has its own legends and traditions, medieval castles rise on the rocks, winding roads lead through the mountains. Romania is big and interesting enough to spend several weeks here, and today, we are going to tell you about the places you definitely should not miss.
First acquaintance - Bucharest
The capital of Romania combines national flavor and a comfortable tourist infrastructure, an abundance of entertainment, cafes and hotels. In Bucharest, you can easily get lost for a few days, exploring its alleys and discovering new facets.
The focus of attraction for visitors of the capital is the Parliament building. The colossal structure even entered the Guinness Book of Records as the world's largest administrative building. It is not surprising that it took as many as five years to build it with the participation of 20,000 people.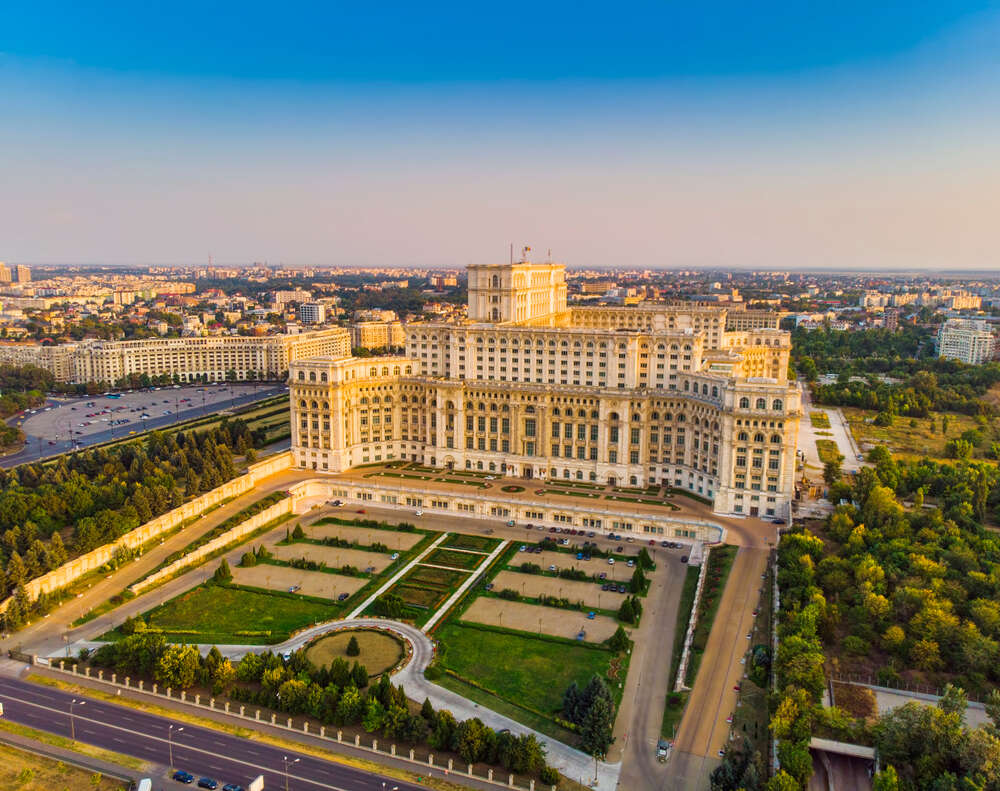 Having admired the size and architecture of the Parliament, you can go for a leisurely stroll along the pedestrian Lipscani Street.  Hundreds of years ago, a brisk trade was conducted in this place, but now overseas merchants have been replaced by souvenir shops. After you buy yourself a souvenir from Romania, get inside one of the coffee shops and just watch the locals. Bucharest disposes to calm contemplation.
Another pleasant place for walking in the Romanian capital is Herastrau Park, in the north of Bucharest. It is interesting that it used to be called Stalin's Park.
For a cultural program, go to the Athenaeum, a neoclassical concert hall.  And if you want to find a national flavor, but you do not have time or do not want to go to remote Carpathian villages, then take a look at the Village Museum. It is a piece of rural Romania, built on the shores of a lake in Bucharest.
✈️ Choose flights to Romania from Ukraine right now ✈️
An important destination point on the checklist of most tourists in Romania is Dracula's castles. Yes, this is not a typo, the fact is that Bram Stoker "settled" his most famous character in one castle, and legends - in another.
Castle # 1 in Romania is Gothic Bran Castle.  It was here, according to legend, that Vlad the Impaler, nicknamed Dracula, lived, so the concentration of vampire-themed souvenirs begins to go off scale even at the entrance to the attraction. As well as cafes and hotels, in the names of which the word "vampire" appears. But Bran Castle itself is mesmerizing, even despite the eternal crowds of tourists. It's a powerful fortress outside, a labyrinth of passages and rooms inside. Come to Bran early for a leisurely stroll through its interiors and take spectacular photos in the background.
Peles Castle is not so gloomy, it looks more like a castle from a Disney cartoon.  Previously, the rulers of Romania from the Hohenzollern dynasty lived in it. 30 years ago, Peles became an attraction available to everyone, and nowadays, you can be impressed with the luxury of the royal chambers or sit in the shady garden overlooking the graceful turrets. By the way, this is a great place for romantic dates.
Most of Romania's territory is occupied by the Carpathians, the second largest mountain range in Europe. Small picturesque villages are scattered along the wooded slopes, ski resorts attract fans of extreme sports in the highlands. If you are an experienced driver, then do not miss the chance to drive on the Transfagarasi Highway, one of the world's most beautiful roads. Travel on it is allowed only in summer and only during daylight hours.
The City Of Towers - Sighisoara
Sighisoara is not only a pretty Romanian city, the historical center of which is under the protection of UNESCO, but also the birthplace of Dracula. Yes, most of the sights of Romania are somehow connected with the name of Vlad the Impaler. Sighisoara is one of those cities for which you do not need to draw up a plan and mark places to visit. It is enough just to go for a walk along the old streets winding among multi-colored facades, and your feet will take you to some interesting place.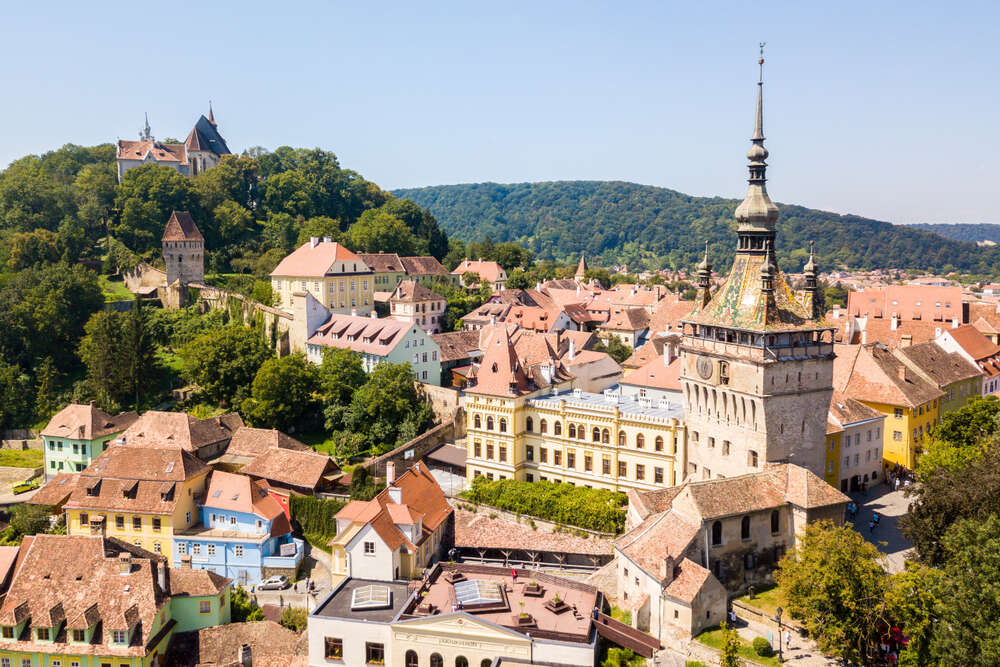 Another remarkable architectural city of Romania is Sibiu. If might seem to you that it differs from other cities in the country - it is because it was built by immigrants from Germany. You can walk around the Upper and Lower Old Towns of Sibiu for hours, stopping every minute to admire every turret or take a photo on the square.
Not far from Sibiu, there is the ASTRA National Museum Complex. In its vastness, you will get acquainted with the history of Romania, its traditional culture and rituals.
The nature of Romania is not limited only to the Carpathians. There are other natural attractions in Dracula's homeland. For example, the Nera Gorge-Beușnița National Park. On its territory, there are many lakes and waterfalls, tourist routes are laid, so you can have a very pleasant time.
Driving along the Transfagarasi Highway, take a look at Lake Baleo. The reservoir is located high in the mountains, and on its banks, there are comfortable chalets where you can spend a perfect weekend. There is also the famous Hotel of Ice, which is restored every year using frozen water from the lake.  Have you ever dreamed of being the Snow Queen or King? Then you can become one here.
The Most Incredible Hairpinned Roads On The Planet
An excellent option for exploring the nature of Romania would be a trip along the Danube Delta. The biosphere reserve, which passes through the territory of not only Romania, but also Ukraine, will delight you with a variety of plants, birds, fish and amphibians.
The most remarkable waterfall in Romania is Bigar. Its rocks are covered with moss, so there is an impression of a light water veil trembling in the wind.
And of course, there are caves. The Scarisoara Glacier Cave is a stunningly beautiful and very cold place. When going to the glacier, make sure you bring warm clothes and shoes.
Churches, Cemeteries And Mines
In the city of Brasov, there is an unusual church called Black Church. What exactly is unusual is clear from the name. After you take a spectacular photo on Instagram against the background of coal-black walls, do not be too lazy to peek inside. A surprise awaits you there - Turkish carpets, which were once donated to the church by parishioners.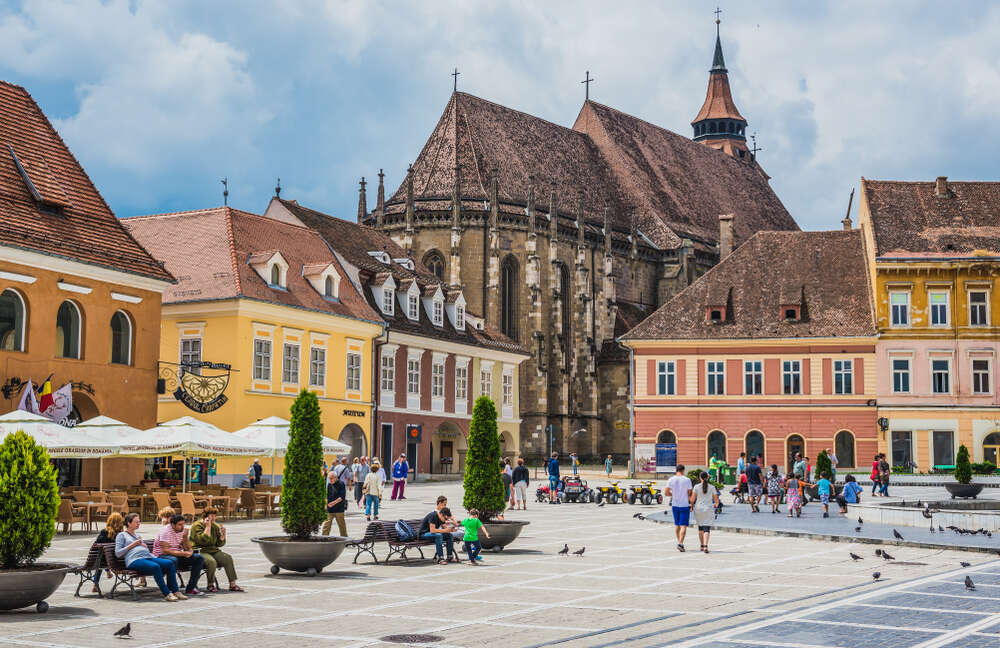 The Church of Saints Constantine and Helena in the Horezu Monastery, on the other hand, shines with whiteness. It was built in a unique Brankovian style and is nothing like any other church that you may have seen in other countries.
Having visited churches, it's time to go to the cemetery. Do you think this is necessarily gloomy and solemn? The cemetery of the village of Sapanta will break this stereotype. The gravestones on it are dazzled with bright colors and floral ornaments, and if you look closely, you can see ironic inscriptions dedicated to those who are deceased.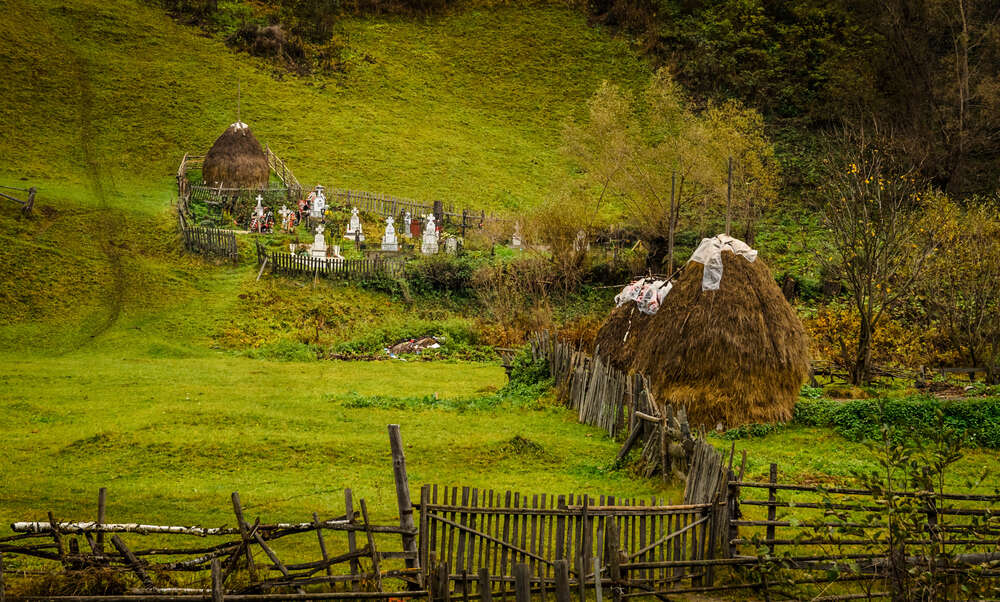 If the fun cemetery doesn't seem original enough for you, go down to Salina Turda.  The amusement park is located in an old salt mine tens of meters underground.
Romania is a surprise country. Travelers arrive here with low expectations, and the result is a heap of pleasant impressions and a unique experience. Many of them gladly return to Dracula's homeland over and over again. Who knows, maybe you will become one of those travelers too.
✈️ Choose flights to Romania from Ukraine right now ✈️