Where to go for spring romance? Of course, to France! This time - to Alsace, an amazing region that combines French and German cultures.
Wherever you go, there are picturesque streets with multi-colored half-timbered houses everywhere as well as delicious local wine and plenty of flowers!
Alsace is famous for its beautiful vineyards. The town of Colmar is called French Venice. Travellizy Team is inviting you to travel right now!
Why visit Colmar
If you want to get into a fairy tale, then feel free to go to the ancient town of Colmar in the Alsace region.
It resembles a fairy tale town from Beauty and the Beast, only better because it is real. It's one of the most enchanting places in France, with beautifully preserved old quarters.
Although the town is small, it contains almost all styles of architecture - from Gothic to Art Nouveau.
The best time to travel to Colmar
In Colmar, summer begins in late April and lasts until the end of September, and often until mid-October... We think, the end of spring is the best time to visit the town. Yes, it will be hot, but it will be Beautiful - Tasty - Interesting... and hot again. Cool white Alsatian wine will keep you safe from hot weather! What could be better in the heat than a glass of delicious white wine among the vineyards, or in the shade of a medieval half-timbered house...?
What about a snack, you might ask? We recommend you delicious snails for a hot meal! How do you like it? Or try the hot flatbread called tart flambé, which is an Alsatian specialty. Well, and don't forget about cheese! After all, you are in France.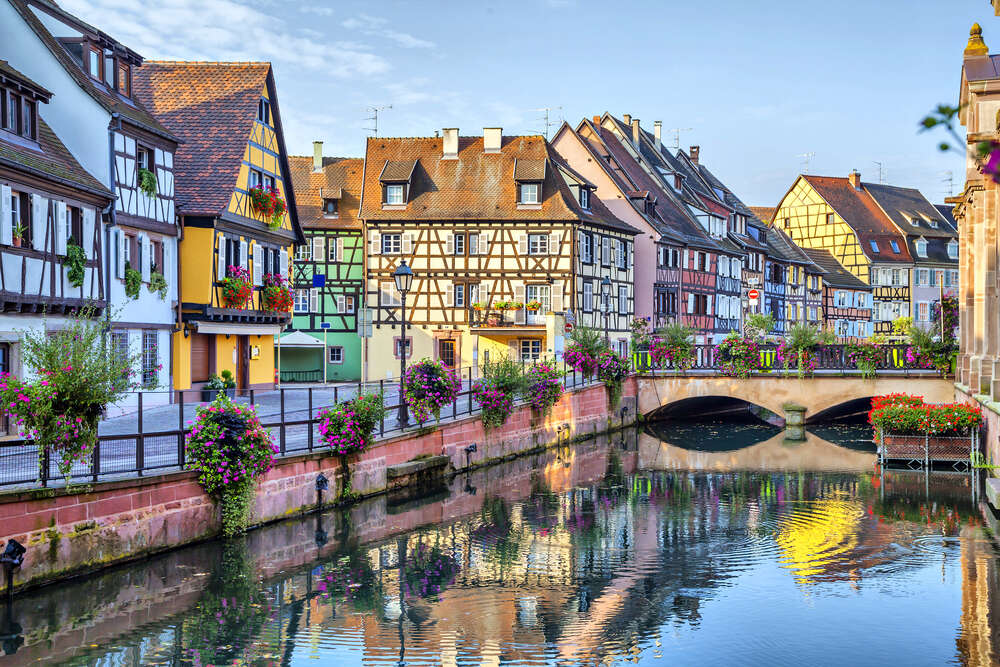 Where is Colmar and why it is interesting
Colmar is a town in the Grand Est region of northeastern France, near the border with Germany. It's also a wine capital of Alsace. No wonder they call it Little Venice! The Lauch River flows through the middle of the town. But it is located in the driest place in France, which contributes to the development of winemaking.
Colmar is the very place where you need to listen to the guide, and you need to photograph each house, and then try on a nice dress, and sit with ice cream on that bench by the canal. And dining in a cafe with swans is also a must as well as riding a boat, just like if in Venice, and seeing a peeing boy from Brussels again, because they are brothers.
It is this town that is included in the 100 most beautiful settlements in France, and a few years ago, it received the Flower of Europe medal. It is a tiny and completely fabulous world on the Alsace Wine Route. Narrow streets, half-timbered houses, an incredible amount of flowers! Probably, all residents are secretly taught landscape design, otherwise it is simply impossible to explain all this beauty. That's where you want to take pictures of every house, every window and every flower bed. This is the most beautiful town in Alsace, so you don't miss it in any case.
There are picturesque vineyards and fields around, we advise you to walk through them for at least half an hour. And the residents value their history very much.
They create societies and decide how to spend the collected money the right way. And when you arrive in the town, they describe everything in great detail. These are the wine villages as they should be.
Therefore, it will be necessary to come back here again. And already slowly and savoring...
Things to buy in Colmar
In Colmar, there is an excellent covered market not far from the Little Venice quarter. There are cheeses, wine, vegetables, and, of course, tart flambé.
If you want to buy good wine with a distinct taste, do not buy it in supermarkets, it is better to come to this market, where you can find it as well as purchase excellent goat cheese.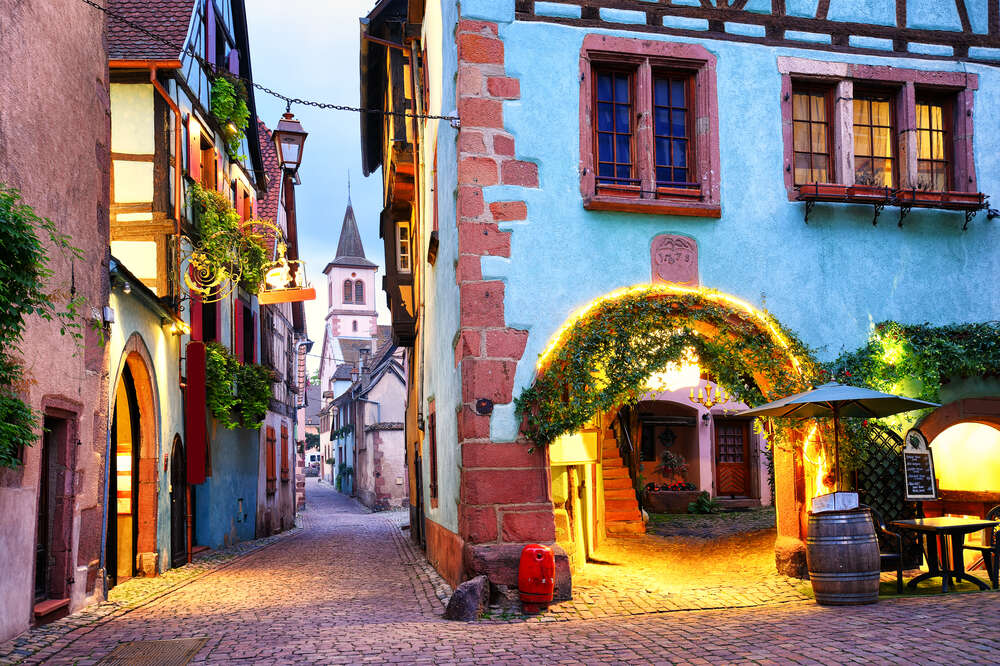 Things to do in Colmar
You can see the town on an excursion train (the fare is € 6), you can ride a boat along the canals, but it's better to choose a walk on foot. Wander the streets and accidentally find gorgeous trees in hidden courtyards, have some tart flambé for a snack and drink a chilled Gewürztraminer.
Top places are the area of Little Venice and its canals, the streets near St Martin's Church and Dominican Square.
On the latter, the Easter Market takes place on Catholic Easter, and all the streets of the town are beautifully decorated. Colmar is lively and very romantic.
You will experience a little fairy tale, a favorite song near St Martin's Church as well as delicious wine in Colmar.
As for the local food, you should try choucroute garnie: it is salted (or sauerkraut) stewed cabbage and several types of meat for it. Sausage, knockwurst, brisket.
The most interesting places in Colmar
What to see? Despite its small size, the town has a rich history and places to visit.
The Little Venice quarter (La Petite Venise de Colmar).
This place can be called the pearl of the town. Between the three-storey gingerbread houses, there is a canal along which you can take a boat ride. In spring and summer, the fence along the canal is decorated with geraniums, which gives this place even more charm. It's an extraordinary picture!
Two of the most beautiful views of Little Venice are from the bridge near Place des Six-Montagnes-Noires and from the Pont St-Pierre.
Wineries Grands Crus and Crèmants d'Alsace.
Colmar is considered to be the driest town in France, which is favorable for winemaking. White and sparkling wines are produced here. One of them, a witness to the old ties between France and Russia, is Cuvée St Pétersbourg.
Quai de la Poissonnerie, or the Fishmonger's District
Unterlinden Museum
Farm Versant du Soleil
Museum of Wood Trades in Labaroche
St Martin's Church 
Auguste Bartholdi Museum 
Swan Pharmacy
Here are the most beautiful buildings that are marked as historical monuments:
Château du Haut-Koenigsbourg, a castle, built in the XXII century.
L'ancien corps de garde, an old police station.
Maison zum Kragen, a residential building, built in 1558.
Maison Pfister, the house of the hatter Ludwig Scherer, built in 1537.
Maison Ou Sejourna Voltaire at 10 Rue Berthe Molly.
Gare SNCF de Colmar, a railway station, 1905.
Poêle des laboureurs, 1626.
Cobblestone streets, special Alsatian houses decorated with wood, flowers on every windowsill make this place truly fabulous. The town has a circular system of streets, so you will just walk in a circle. But in order to truly experience all the beauty and peaceful atmosphere of this place, it is better to stop at one of the cafes right on the street and taste the local wine. Make sure you spend at least a day in Colmar. If Strasbourg is the capital of Alsace, then Colmar is its soul. Here you can try Alsatian сhoucroute garnie, taste wine or beer, or simply walk along these pleasant streets or swim along its canals.


Read more:
➱ Le Mont-Saint-Michel: French Abbey on a rock
➱ Strasbourg: the most beautiful city in the French province of Alsace
➱ Postman Cheval's Palace, or Creation of a Naive Artist
➱ French cuisine with a view of the Eiffel Tower