In the heart of New York, in the famous Times Square, a traveler can see dozens of advertising signs and many stores around. One of them is completely devoted to button-shaped chocolates called M&M's. Today, Travellizy will tell you about how a simple idea of ​​an enterprising American brought dizzying success and made every sweet tooth in the world fall in love with it.
Chocolates and cat food
M&M's began its history in the forties. It happened for a reason: the family who owns this trademark are the same people who own Mars, Incorporated. The factories of this company produce not only chocolate sweets, but also drinks, rice products, sauces, semi-finished products, spices, marinades, chewing gums and even pet food. The company receives part of its profits from the sale of souvenirs associated with popular sweets, which, according to the slogan, "melts in your mouth, not in your hand".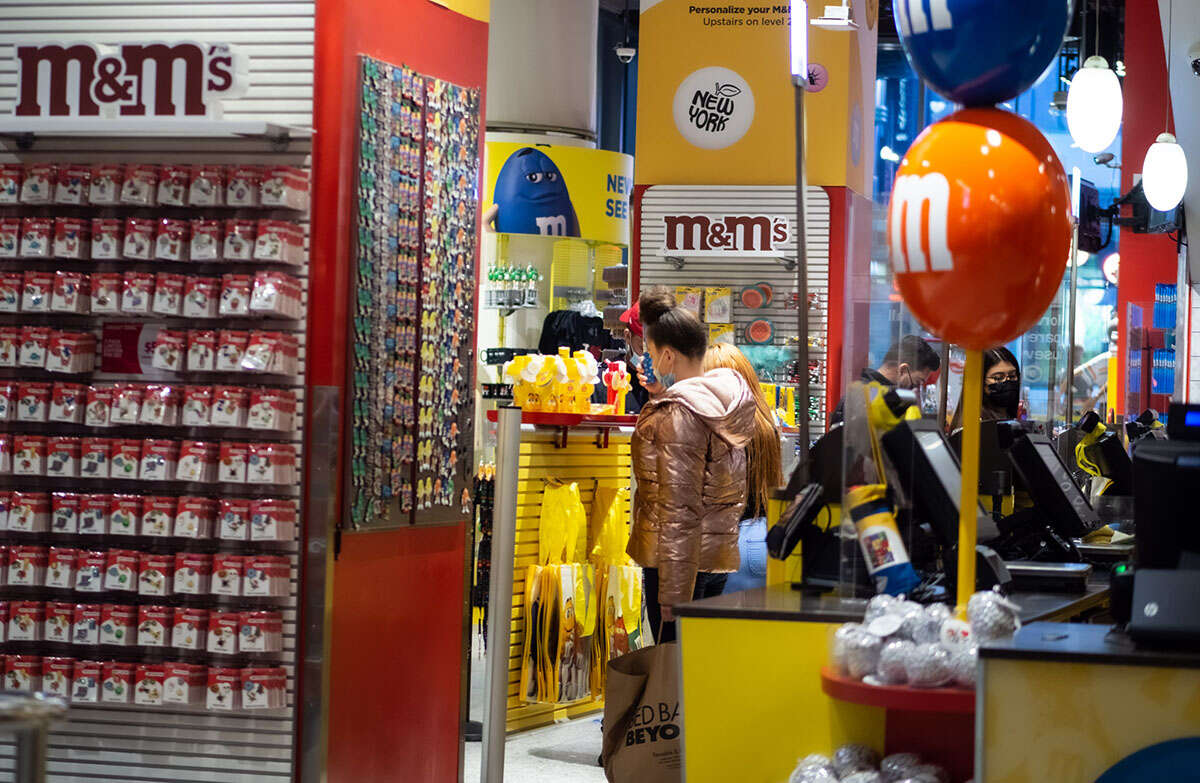 Icing and the army
In the 1930s, the son of the founder of the Mars Incorporated spied the idea of ​​using icing in the production of chocolates from the British. Sugar has a higher melting point than chocolate, so the icing protects it from melting. In 1941, this method was patented in the United States, and so production began. Convenient and inexpensive chocolate candies caught the attention of the military. They bought a huge amount of this dessert in a paper tube, convenient for transportation, and sent it to the front. The military became the only customer of Mars during the Second World War, providing manufacturers with stable profits. Tens of thousands of soldiers tried M&M's and fell in love with them, keeping the habit of eating them when they returned home. Sweets began to appear in all American stores, but already packaged in familiar bags.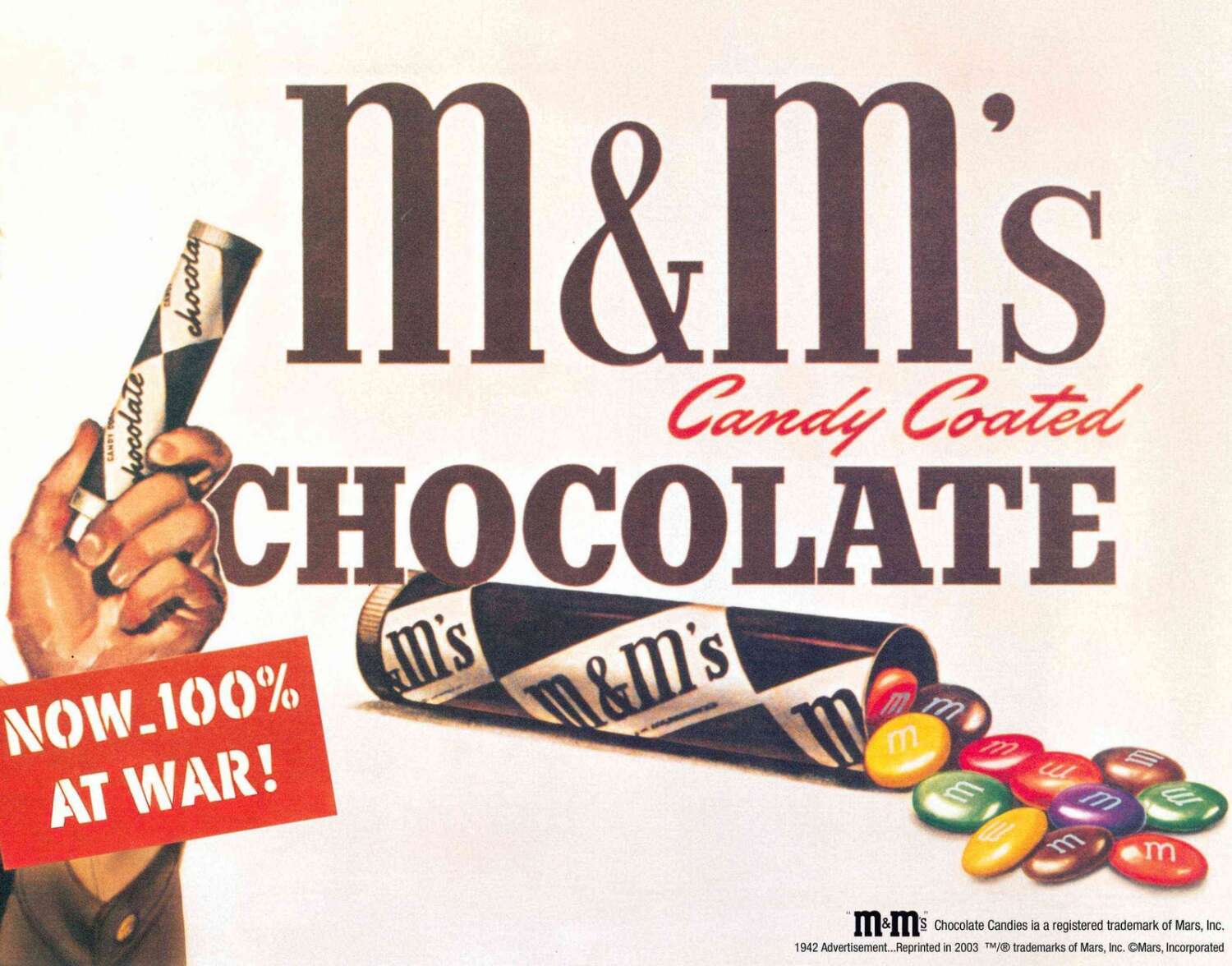 Successful promotional deal
In the 1990s, sales of M&M's sweets dropped, and the company was forced to hire a large advertising agency to lead the brand out of the recession. By that time, progress in graphic design made it possible to quickly and inexpensively create three-dimensional animations. That's how animated little chocolate candies appeared. Each candy has a name, character and distinctive features. Ms. Green, the most attractive character, wears high-heeled boots, has puffy lips and loves to pose.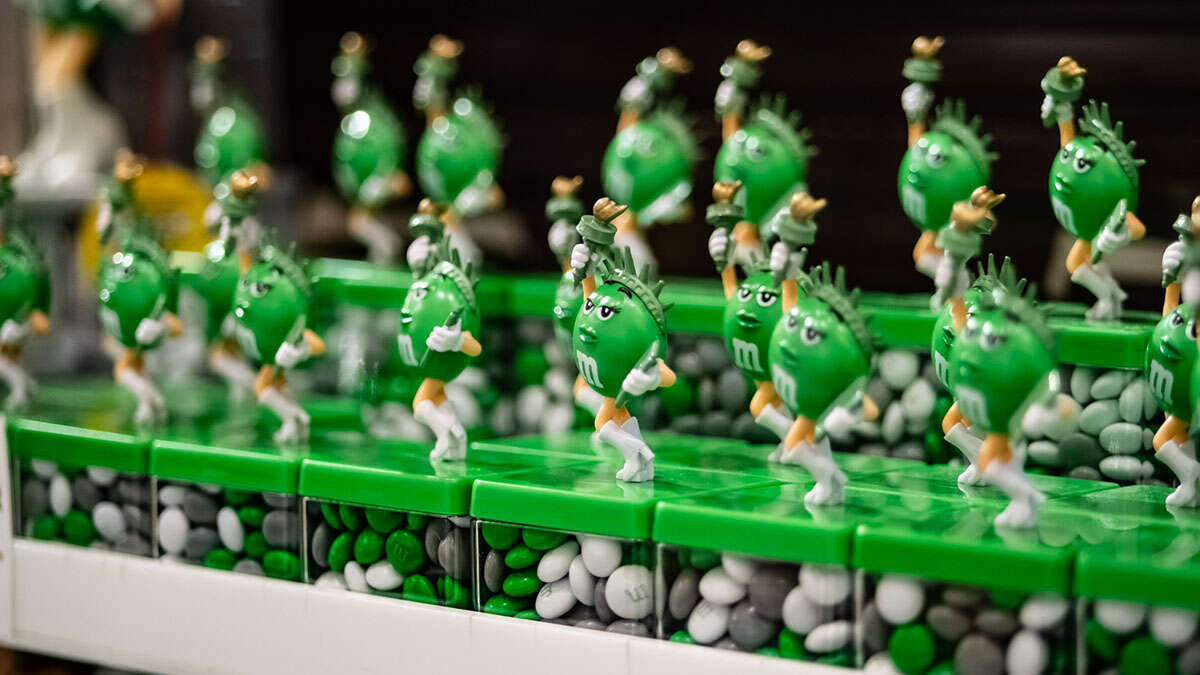 Immense popularity
The idea of ​​marketers fits so well into the advertising strategy that nowadays, M&M's are ranked first among the most popular US sweets from year to year. The brand is in demand so much, that it has about 9 million Facebook followers! They closely follow new products and buy symbols with their favorite sweets. On Times Square, the most famous square of ​​the United States, there is a huge brand store called M&M's World. This is one of five M&M's branded stores on the planet. The rest are located in Las Vegas, Orlando, London and Shanghai. The store area is 2200 square meters, and it is the largest candy store in the city. But you should be prepared for the fact that there will be more souvenirs than the actual sweets.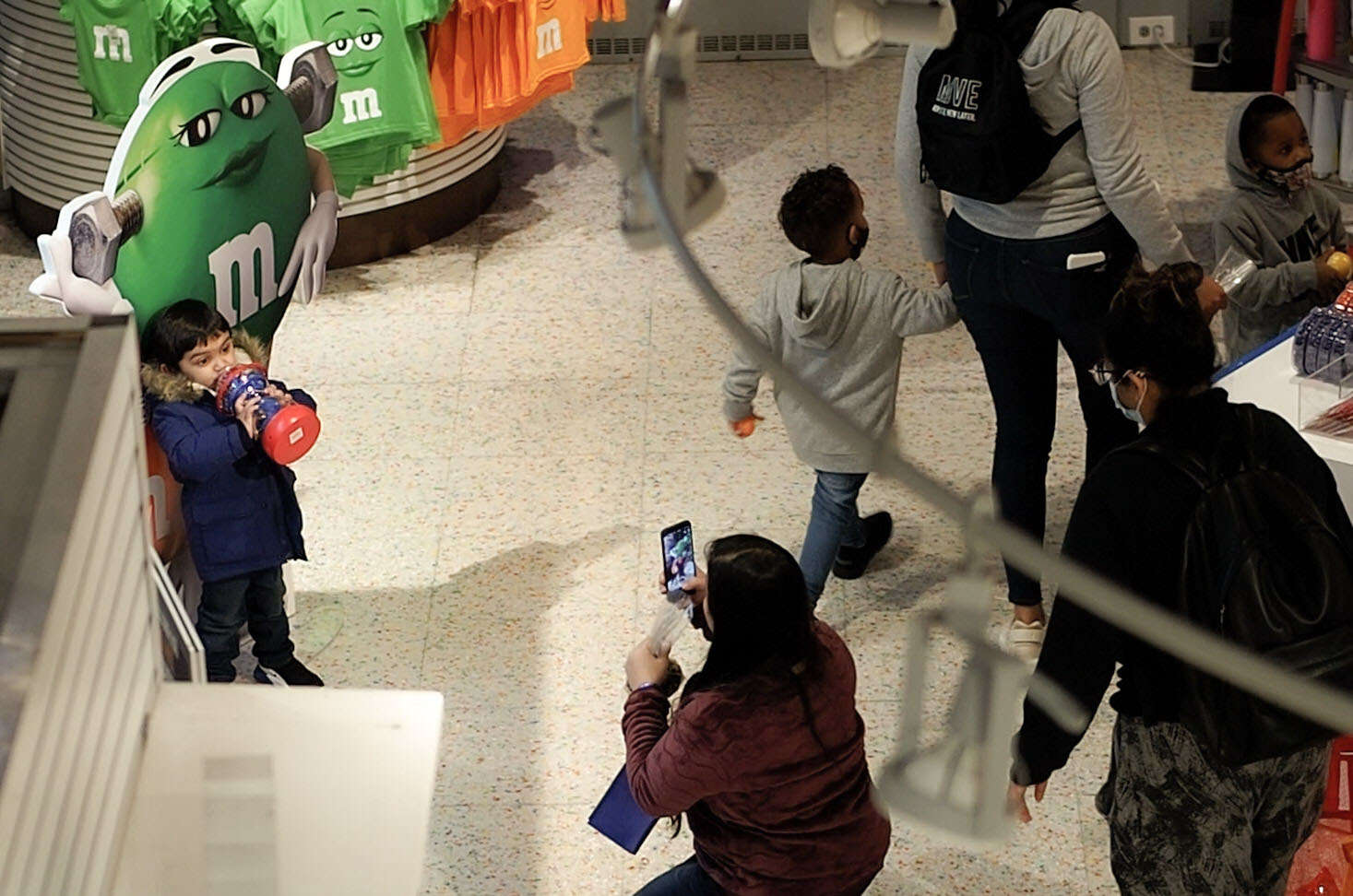 Here, you can buy M&M's and all kinds of gifts associated with these sweets. Dozens of buyers of all ages and nationalities always walk around the huge hall. The selection of souvenirs is wide, and the prices are high. Clothes, dishes, keychain, pens, figurines - it's hard to decide, if you have so many different options! Therefore, if you want to get rare souvenirs, get your wallet ready.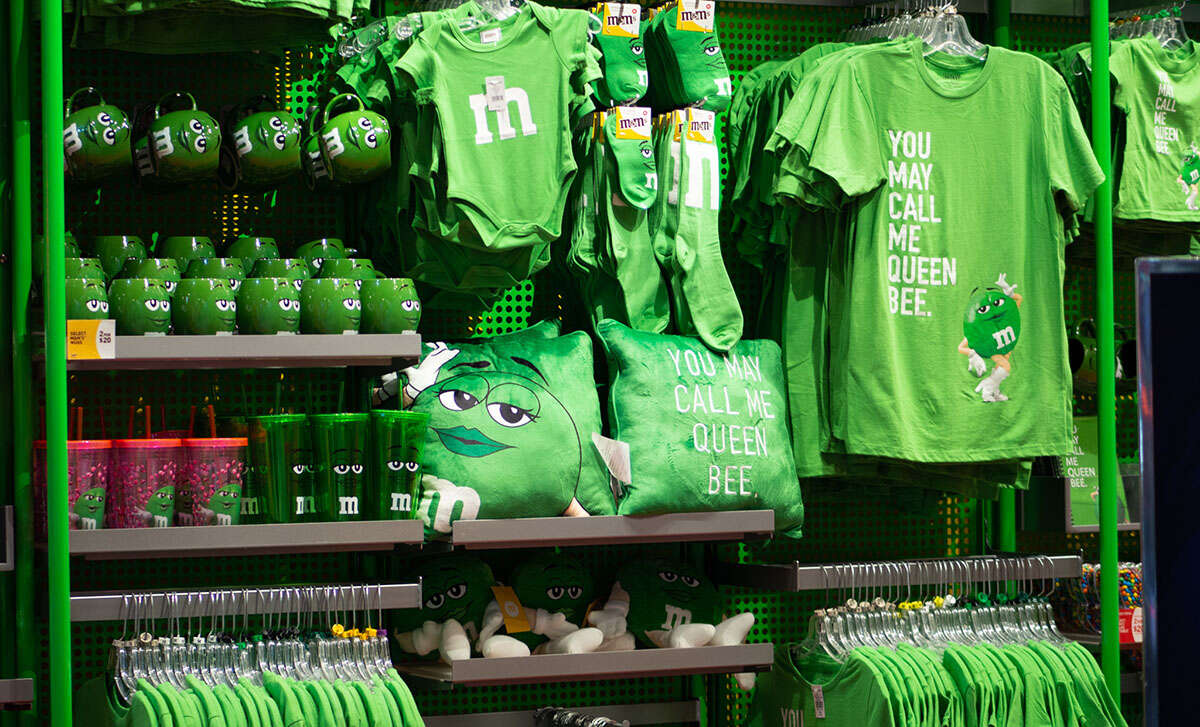 Statue of Liberty as a publicity stunt
The huge statue of Ms. Green always attracts public attention. This smug beauty is one of the most popular characters. In a New York store, she was even dressed up as a symbol of the American nation: Lady Liberty in the performance of candy, all dressed up.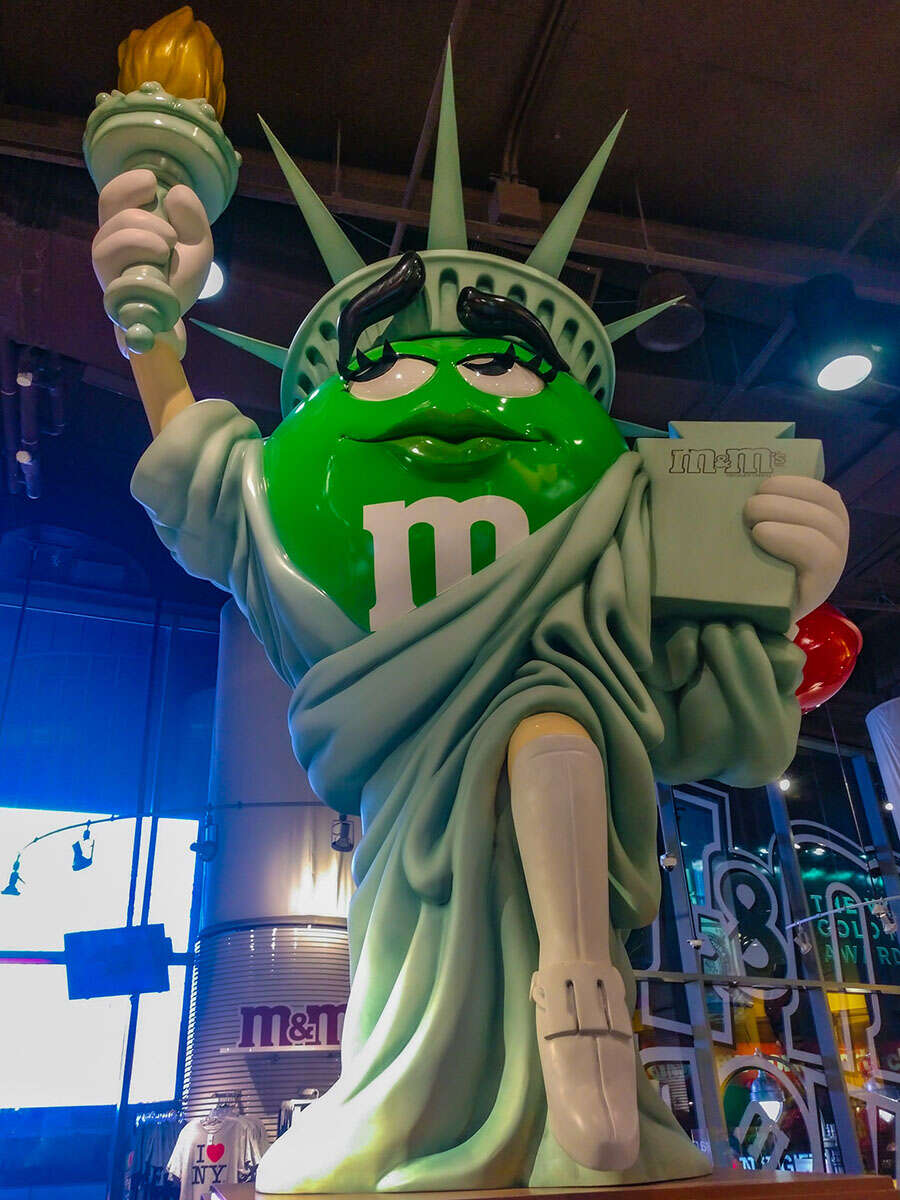 Red, light blue, dark blue: the choice is yours!
Americans like throwing themed parties, and all major holidays have their own popular colors. Table, food, decorations and ornaments are chosen according to the event. Halloween decorations, for example, are traditionally recognized by their orange and purple colors. M&M's candies are often used for baking and decorating desserts. In a brand store, you can choose a color by looking at an entire wall of chocolates. The wall is 15 meters long and features 72 types of M&M's. Some of them are already sold in combination with others. The price is the same at $31 per kilo.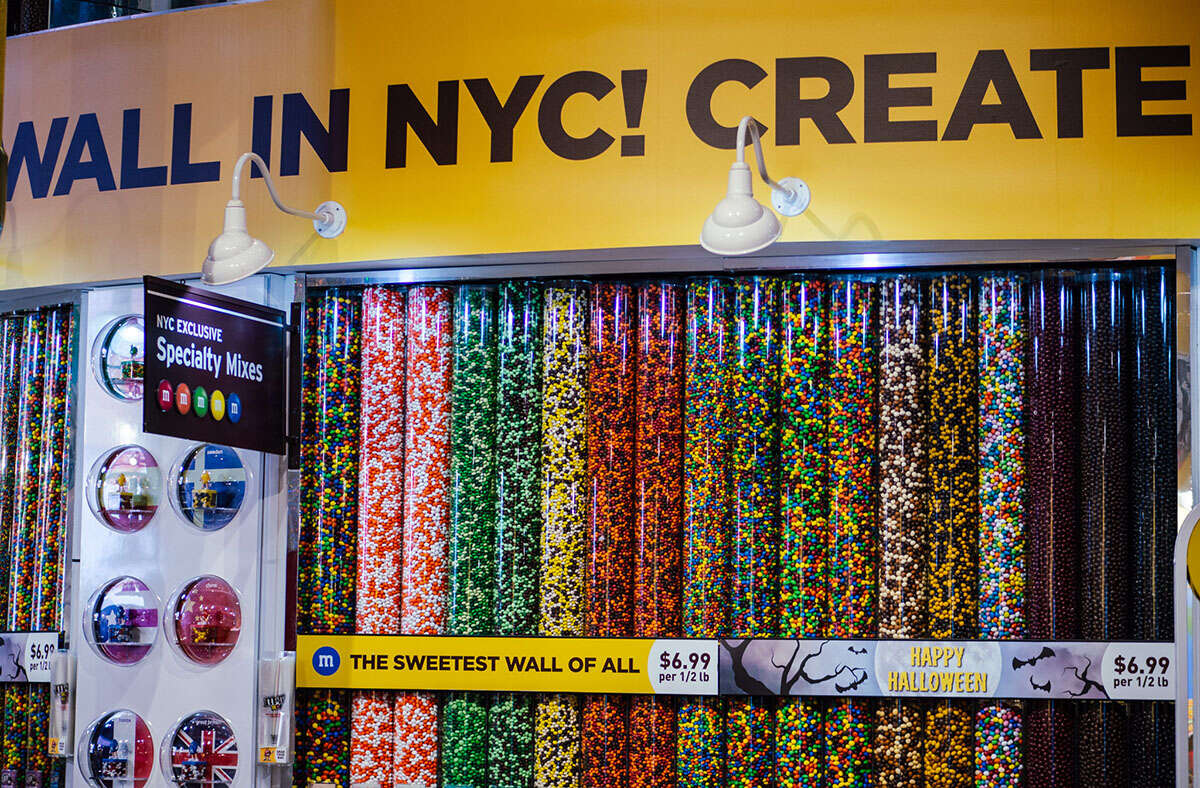 The rarest ones in ordinary packs that can be bought in the store are brown candies. But in a company store you don't need to stop yourself: you can buy any color as much as you wish! There is a little trick: what looks like a one-piece transparent tube filled with candies on the wall consists actually of two parts. The two pieces are connected underneath the label strip. From time to time, when customers take sweets from the bottom of the store, store employees fill them up.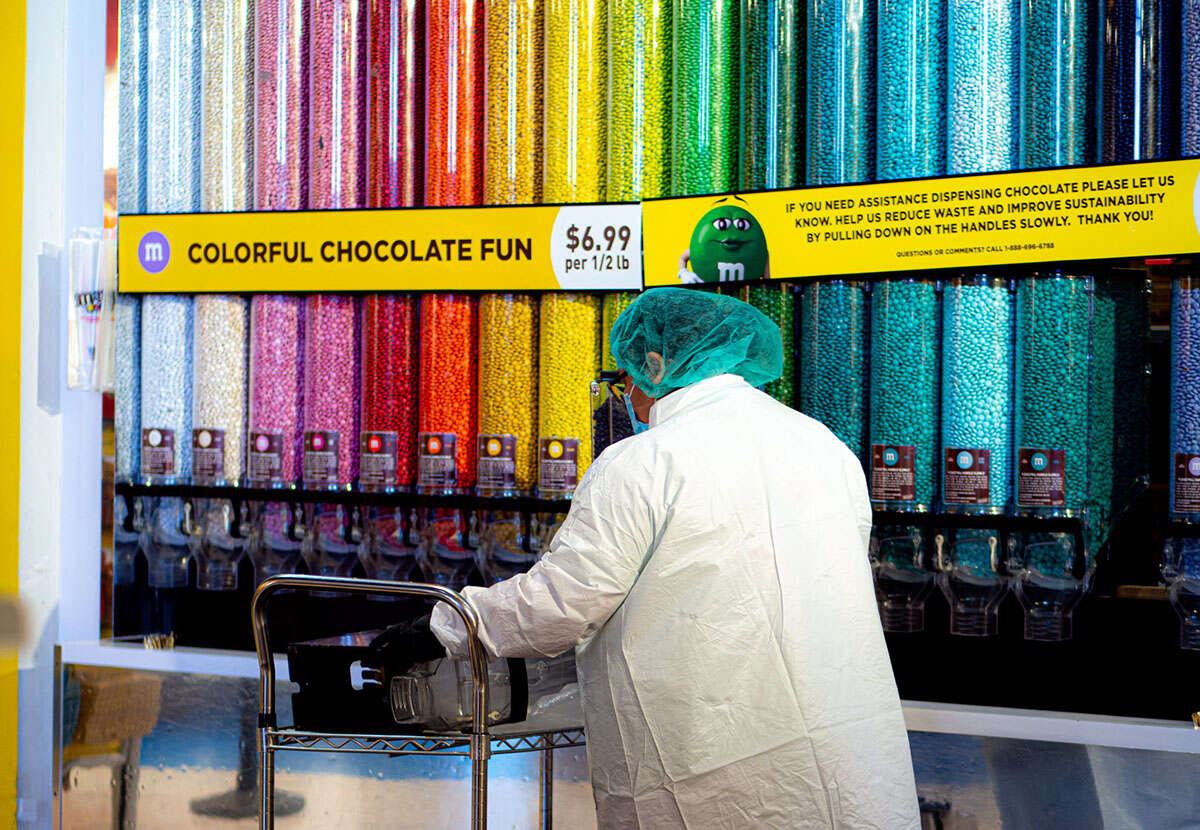 Seasonal and limited-edition flavors: hurry up to taste it!
This store sells rare and seasonal candies. Occasionally, to the delight of those with a sweet tooth, unusual flavors come on sale. These were crispy raspberry sweets, orange-vanilla and coconut ones. They even tried to produce them with the flavor of white chocolate and carrot cake! Manufacturers surprised their customers with completely unexpected combinations: would you dare to try a jalapeño-flavored chocolate candy? But there are also salty pretzels, English caramel, cherry, cheesecake and boiled condensed milk. Coffee lovers will be delighted to taste the espresso and cappuccino flavored candies!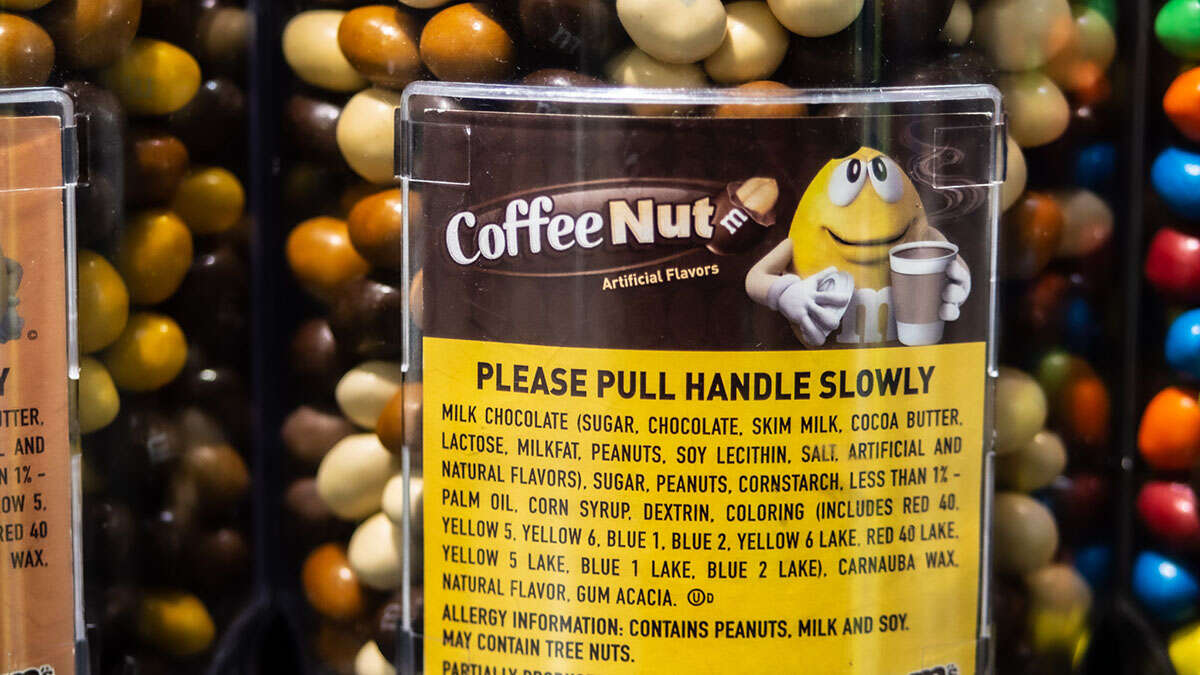 Personal touch
For those who plan all the little things in advance, M&M's World offers chocolate candies with individual inscriptions on order. A food printer is installed right in the store. It prints any image to each candy. The order can be made both in person in the store and online, by choosing the appropriate color combinations and inscriptions.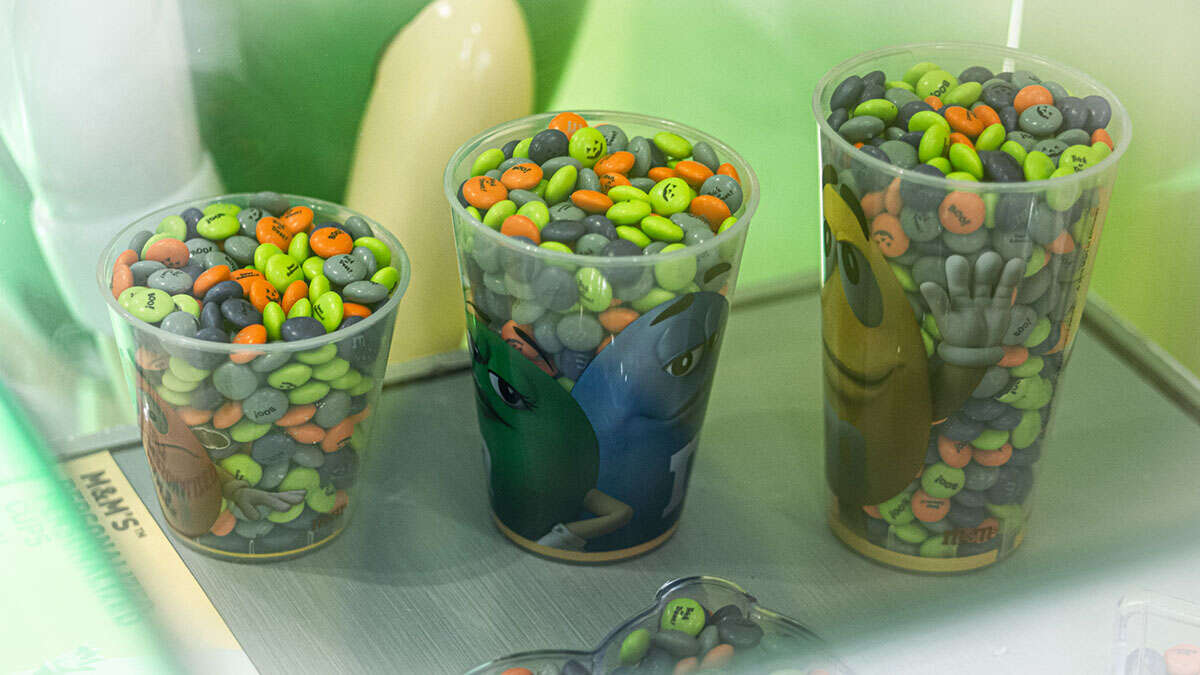 The buyer can make personalized sweets, or with the logo of the organization, or you can put your portrait on the chocolate candies! This service is especially popular: in Western culture, guests of large family holidays are presented with small souvenirs, almost always containing sweets. Therefore, chocolates with the faces of guests of honor are a very good idea! The cost of such candies is higher than ordinary ones: 732 grams of candies in a plastic bottle will cost the customer $55.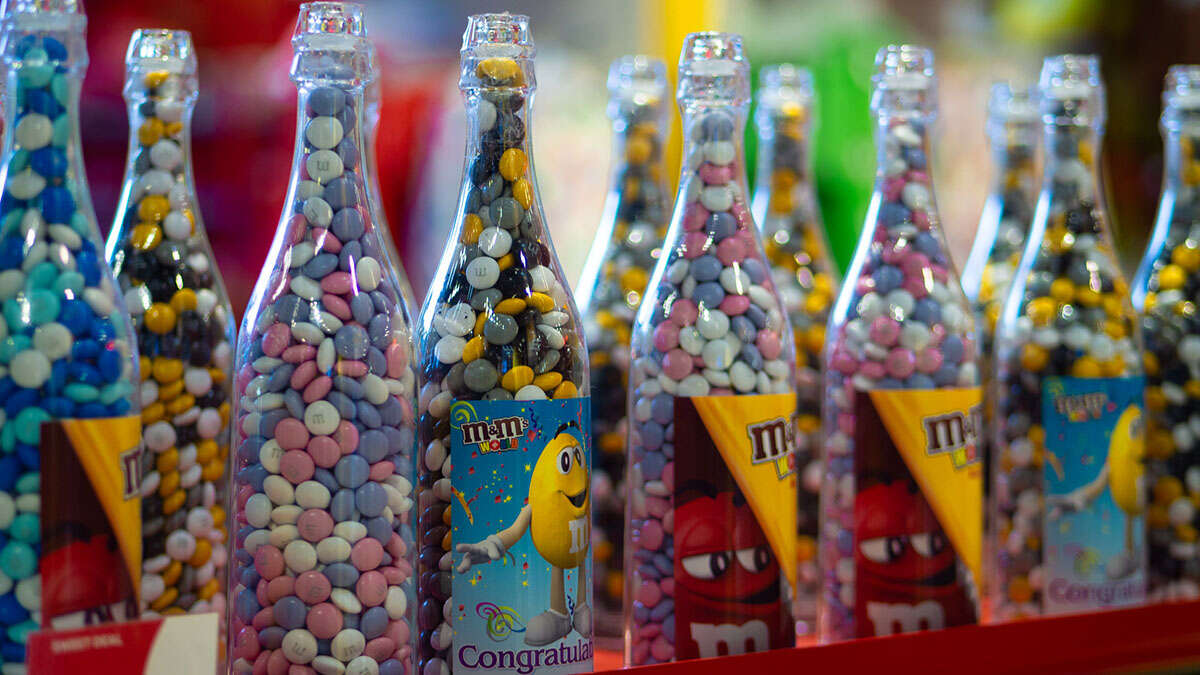 Fans in space
If you are not surprised by the worldwide popularity of chocolate candies, the fact that M&M's have found their customer in space orbit will surely impress you. This is exactly what happened in 1981, when the space shuttle Columbia delivered the first batch of M&M's to the astronauts. The picture of sweets floating in zero gravity and an astronaut catching them with his mouth against the background of our planet became a great advertisement.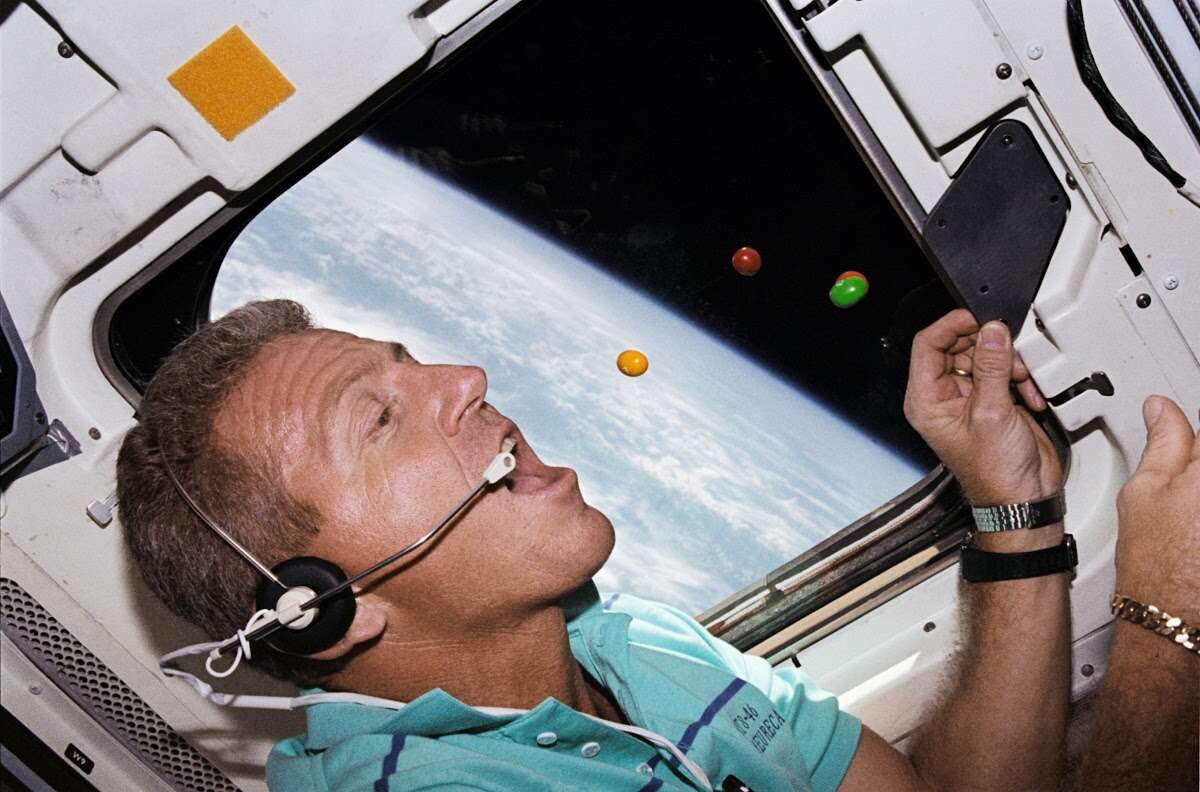 In the M&M's store, those who wish can purchase a corresponding T-shirt dedicated to this event. It will surely draw attention to its owner, because almost no one is interested in such an aspect of the life of astronauts.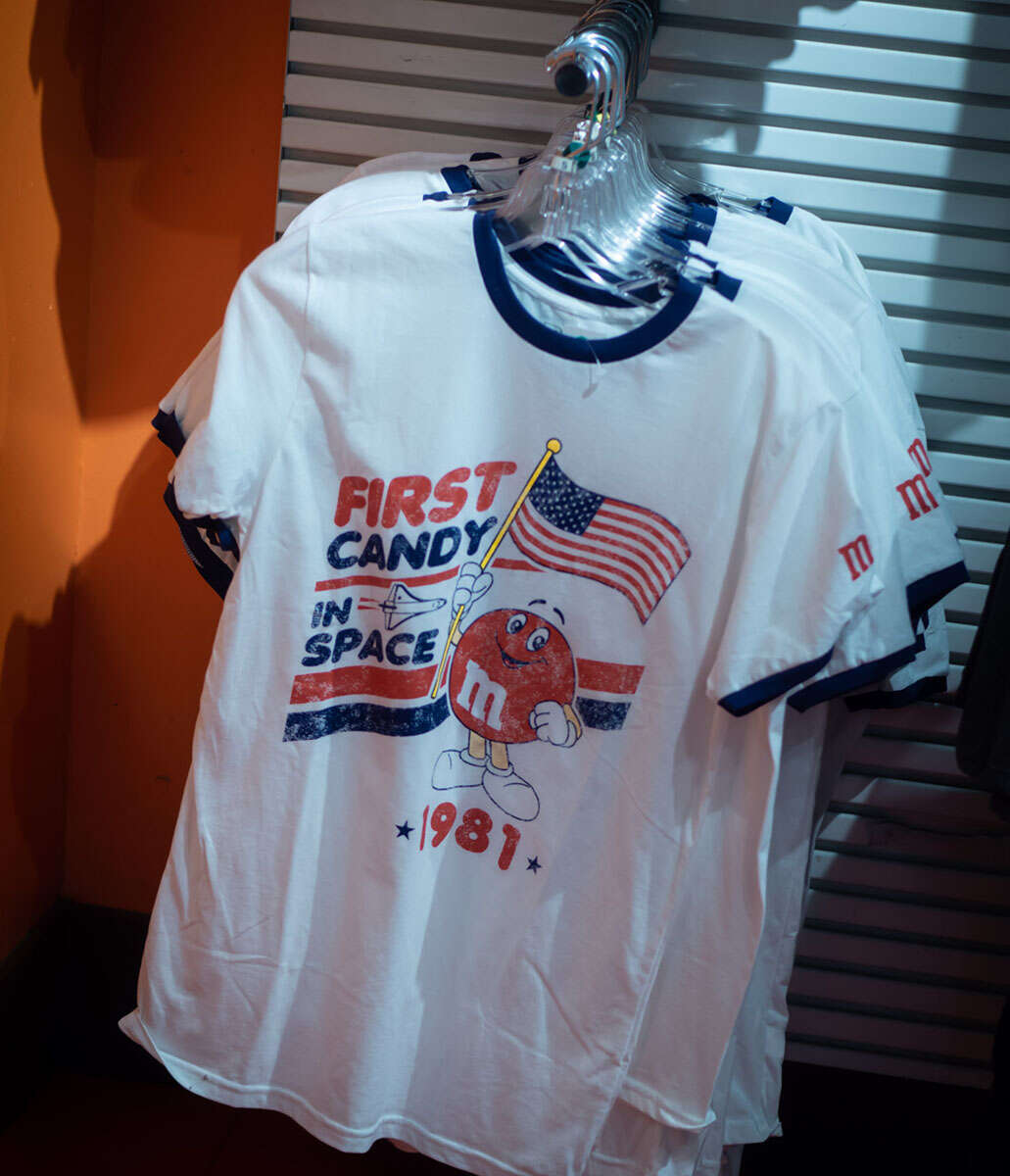 We wish our readers the very best travel experience! You can read about the history of Times Square in our article "Times Square: the Symbol of New York Today". Travellizy Team is always ready to help you plan your trip and tell you about the tastiest experiences and locations!