Bright lights in the middle of the desert, the gambling capital of the world, entertainment and performance for all tastes: travel enthusiasts will recognize in this description the legendary vacation spot - Las Vegas. Today's Travellizy report is about how Christmas is celebrated there.
Gambling - only after paying taxes!
The city, which was founded in 1905 and became legendary during the twentieth century, is located in the Mojave Desert, Nevada. Previously, only Indian tribes lived on these lands. During the period of colonization, they were replaced by several families of settlers. It is impossible to get rich on trade or agriculture here: local lands are extremely scarce with no minerals.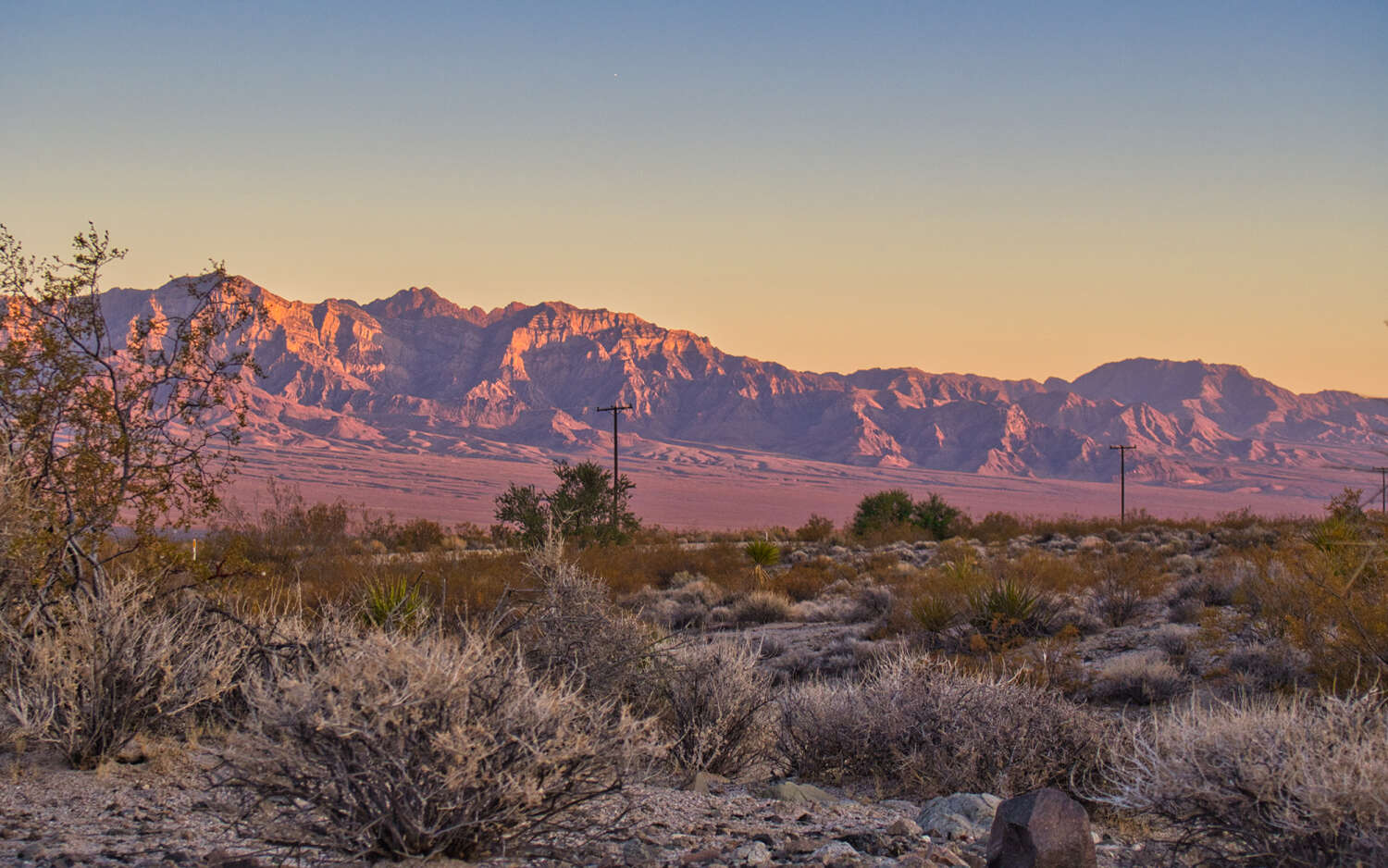 But as the railway passed here, and in the 20s, cars became widespread, the main problem was solved: transport and delivery. In 1931, during the Great Depression, Nevada legalized gambling, thanks to which those who wanted to get rich quickly from this dubious but very profitable business began to invest in existing casinos. Gambling is frowned upon by most religions, so there were few places in North America for playing poker for money or placing bets officially.
Even now in the United States, the majority of citizens are religious, and almost a hundred years ago, such an action by the government of Nevada, where a significant part of them were Mormons, led to a scandal. But recognizing their helplessness in front of shadow gambling houses, religious Nevada executives have passed some very liberal laws. It is thanks to them that Las Vegas has become the most famous place in the world where you can loose some money quickly and happily.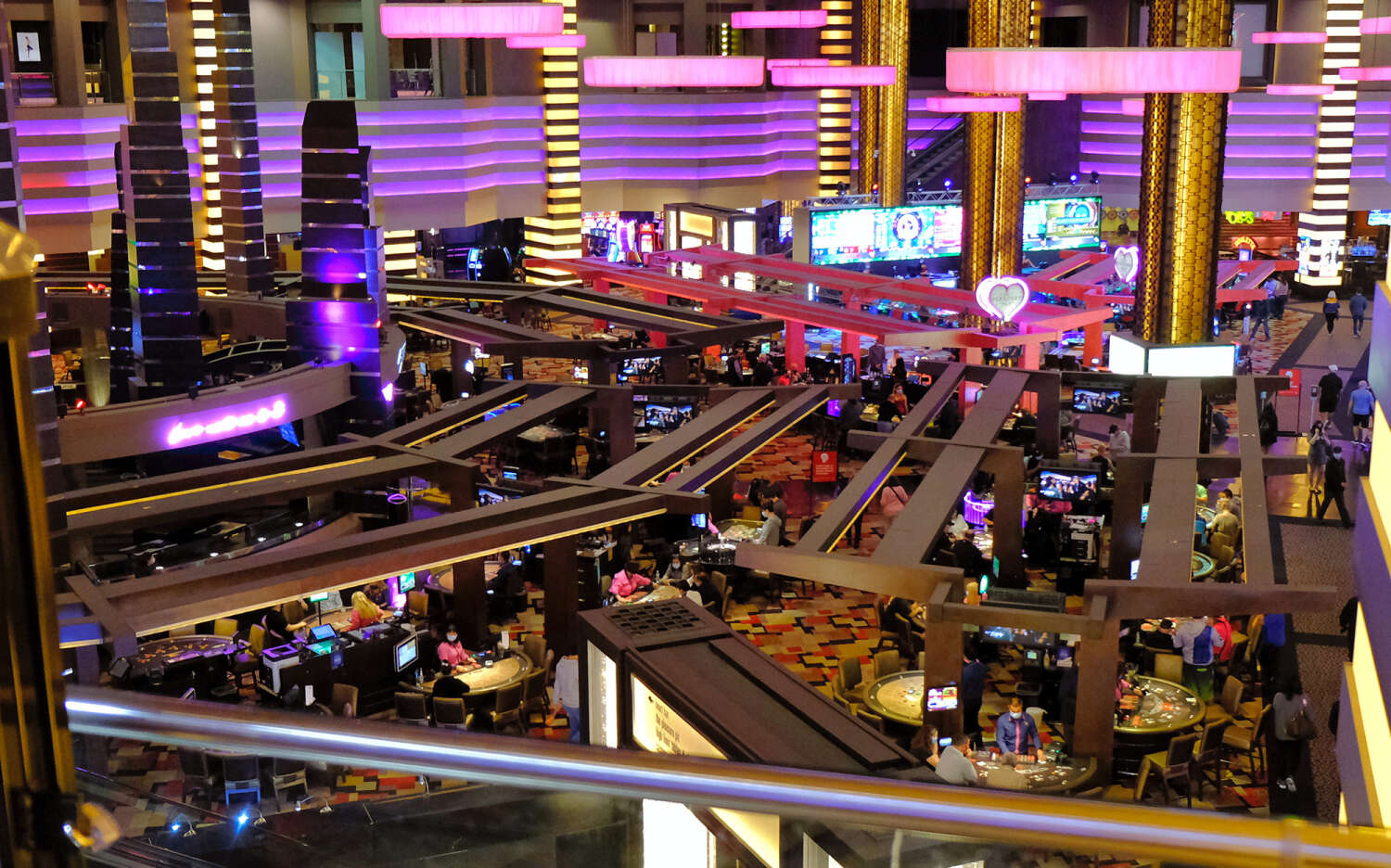 The climate of the Mojave Desert is subtropical, it rarely rains. Thanks to highways, you can get here from almost every corner of the United States, so it is not surprising that people from the northern states flock here in winter and autumn. In 2021, despite the pandemic, Las Vegas is ready to meet vacationers with dignity and surprises them with winter decorations made of fresh flowers. A cute polar bear as big as a real bear made of fragrant carnations - where else can you see such a miracle just by entering a hotel?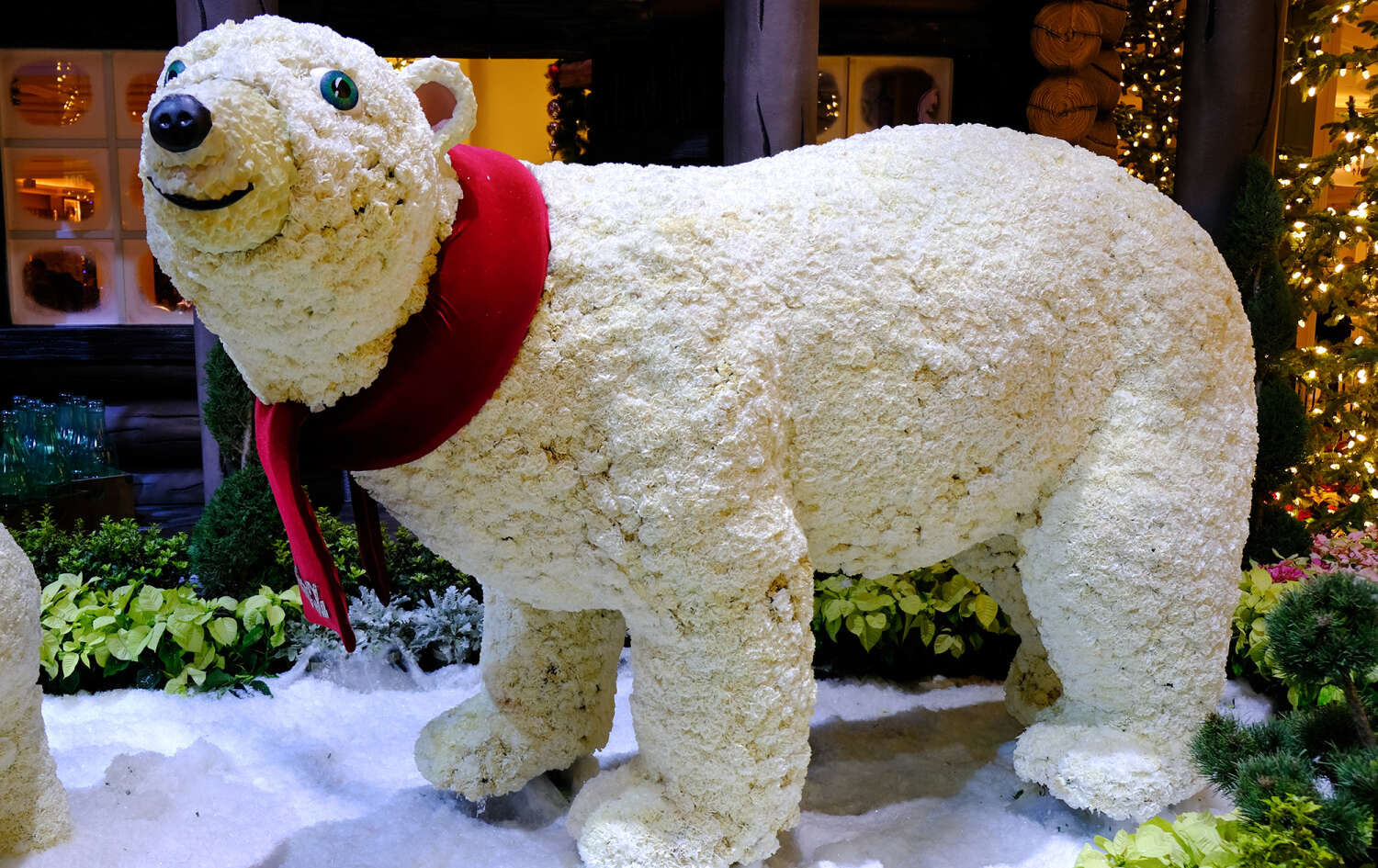 This and many other Christmas flower sculptures are located in the huge garden of the famous Bellagio Hotel. Another composition shows a sentimental scene: a glowing fireplace with an open huge gift box and a fragrant puppy peeping out of it! Someone's cherished dream of a dog came true on a magical Christmas night!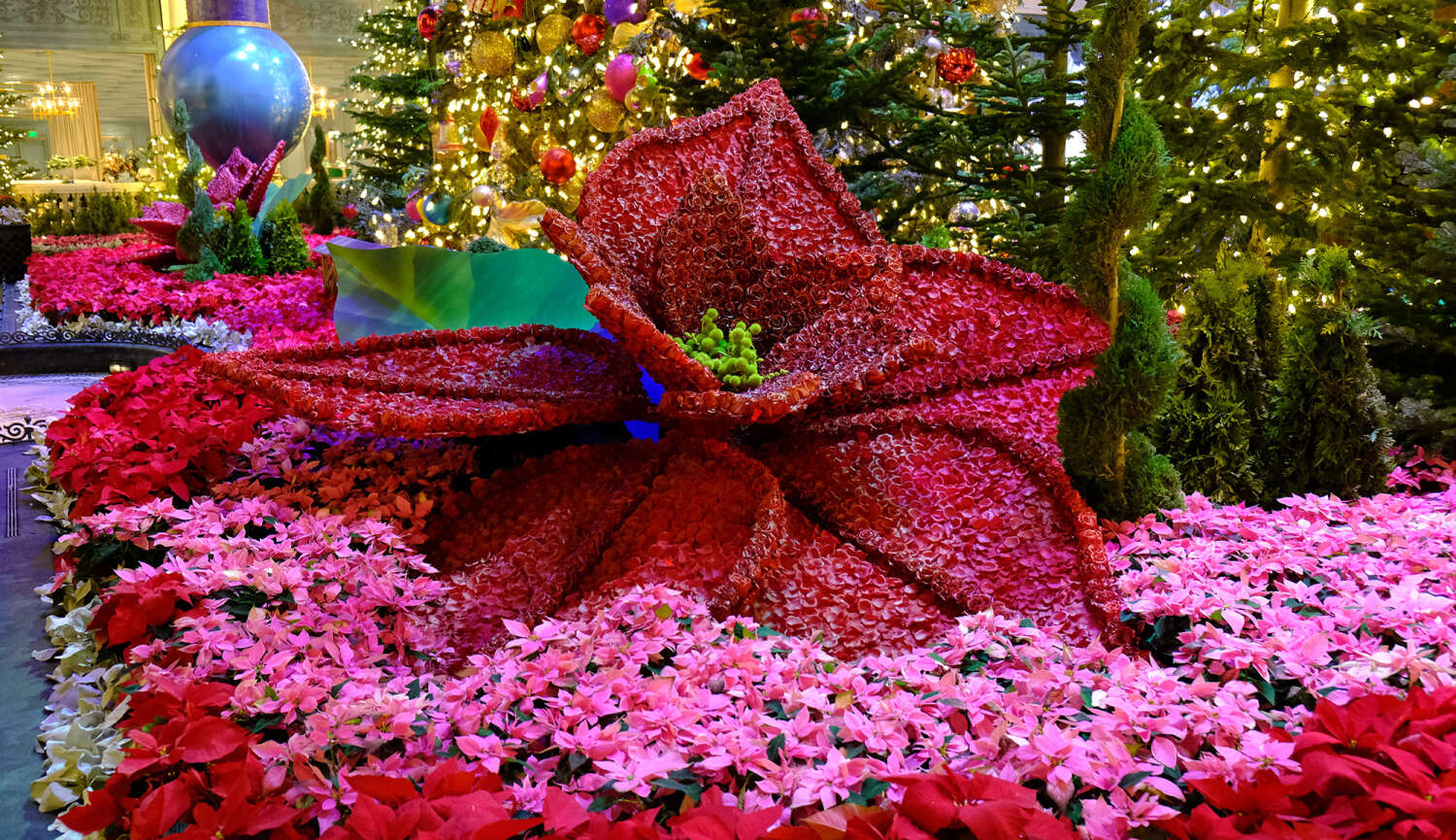 Every masterpiece is the result of the close-knit work of artists and gardeners. Flowers should please the eyes of visitors for several weeks, they need watering and care. Stunned by the beauty and delicate floral scent, the guests of the hotel look at the compositions: in the photo below, you can see a Swiss house by a huge ice mountain. It is buried in brightly colored leaves, reminiscent of the golden autumn in the forest, where pine bonsai trees can be seen.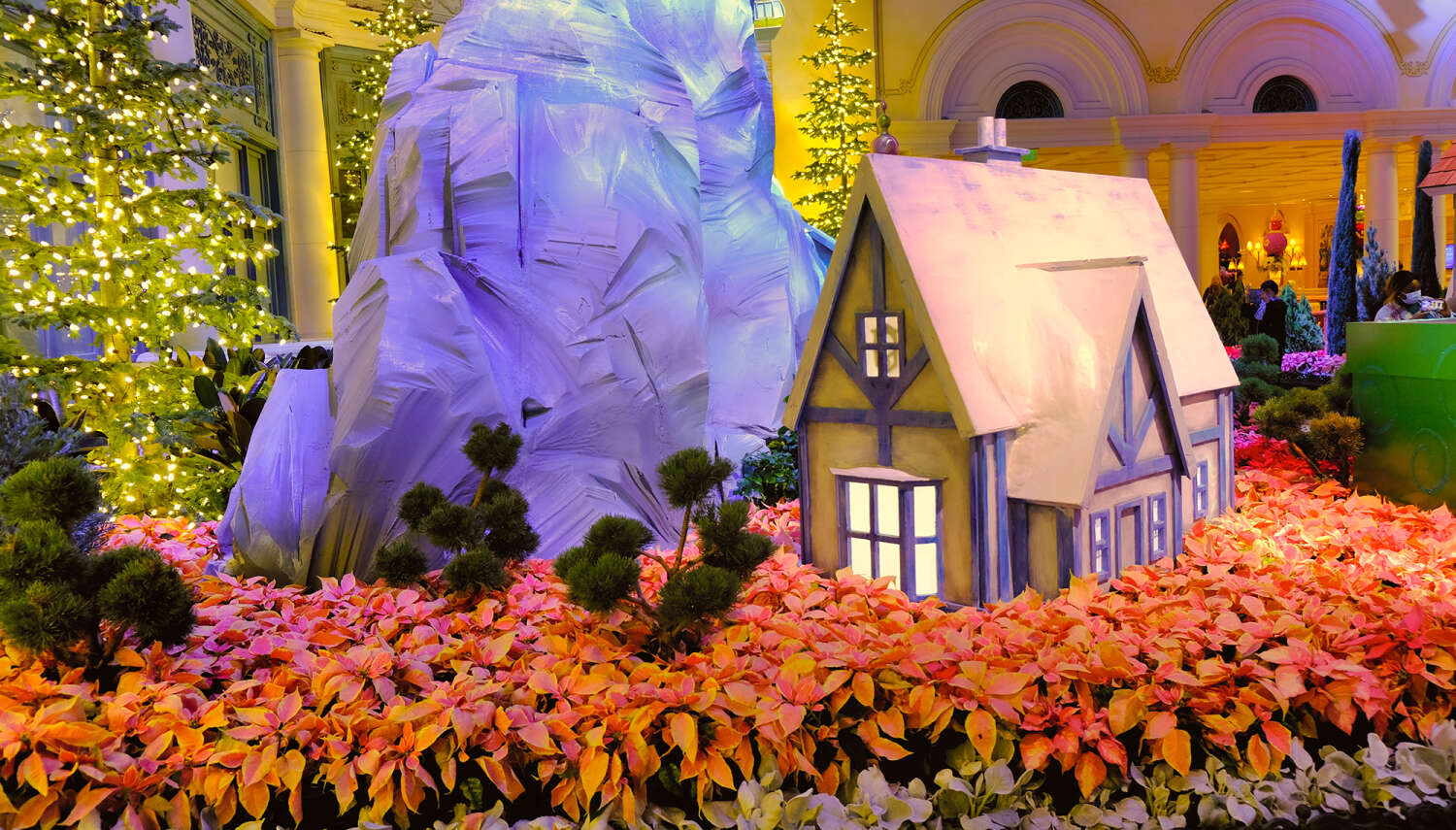 The exhibition changes several times a year, so don't miss out on this amazing flower garden when you visit Las Vegas!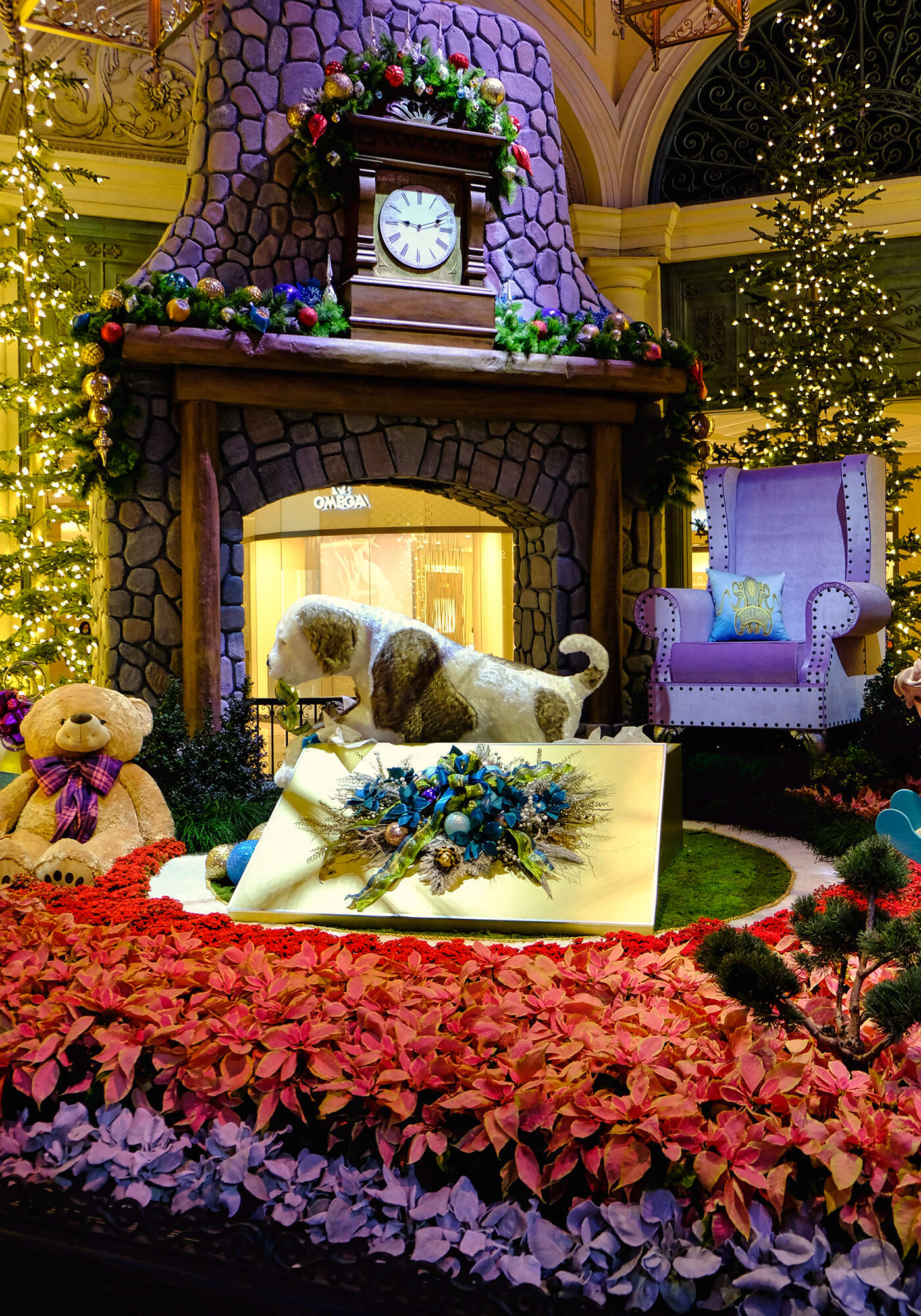 The Christmas tree, this beauty of the forest, is decorated here in a classic style and literally hung with ornaments and electric lights. Each year, the designers change the style, taking into account the restrictions on the height of the roof of the building. In 2021, the height of the tree is 12 meters. In order to keep the exhibitions in good condition, 120 people constantly work here. Someone is responsible for water supply and irrigation, someone for safety, and someone thinks over original artistic solutions so that the tree looks harmoniously with flowers and plants.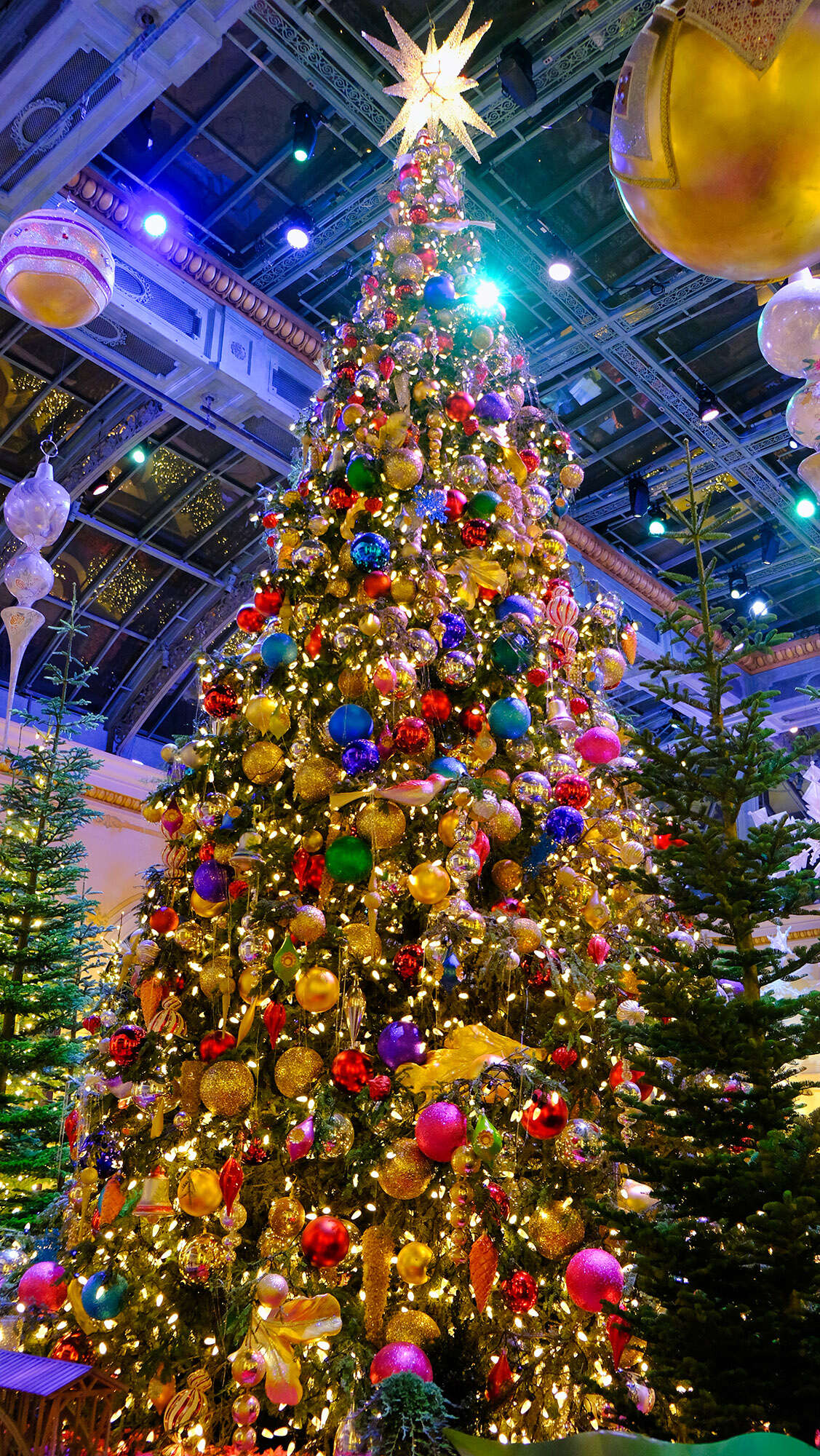 Roman Empire and American Christmas
One of the most famous hotels in the city is Caesars Palace. It was opened in 1966 and since then has amazed its guests and curious tourists with its pretentiousness with references to the culture of Ancient Rome. This is one of the few themed hotels in Las Vegas, so don't be surprised if the bartender or waiter greets you with "Welcome to Caesars Palace, I am your slave".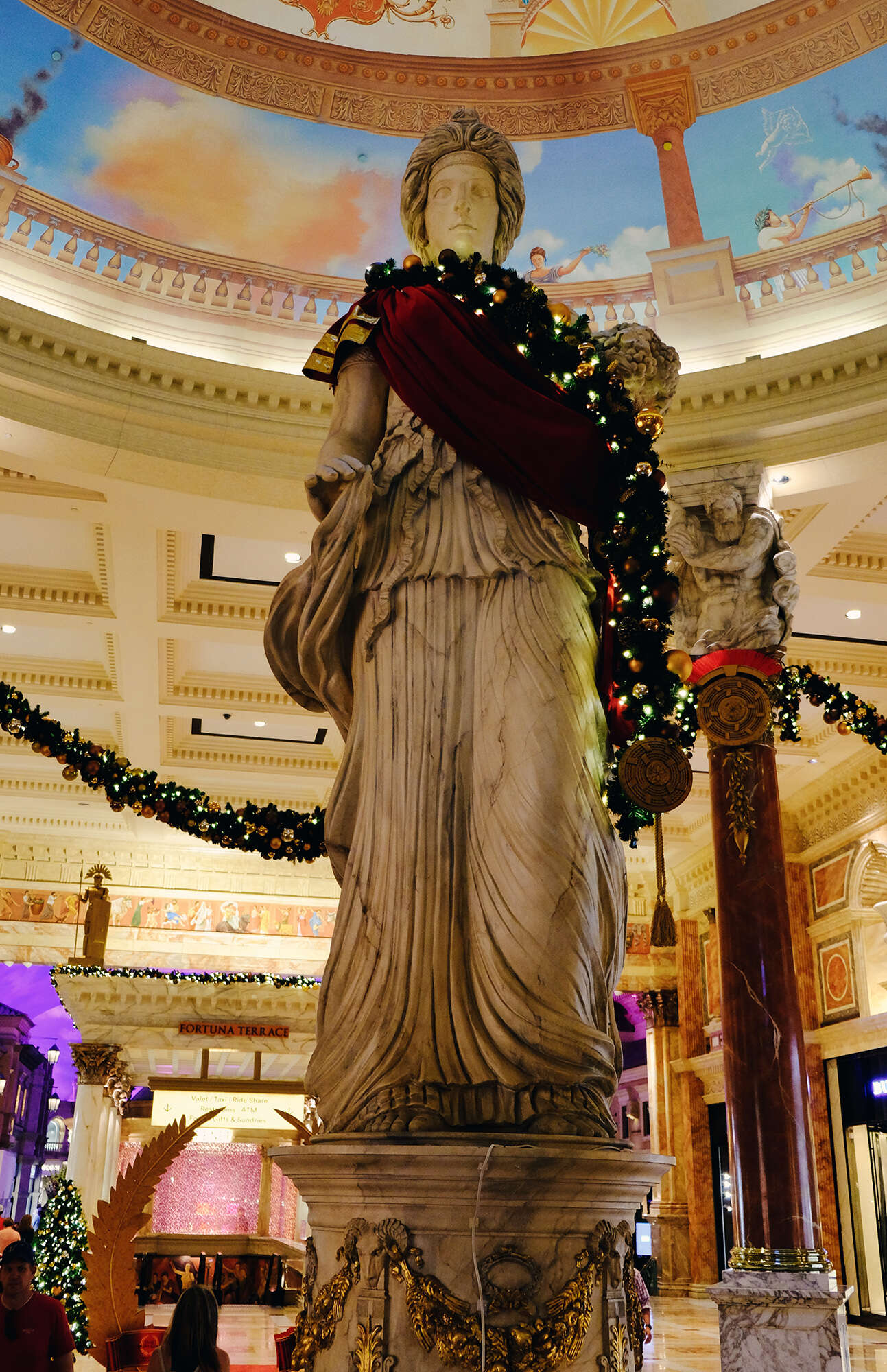 In the lobby, in the galleries and at the entrance to the hotel, there are copies of Roman masterpieces of art. In the winter season, they are decorated with Christmas lights, mistletoe, spruce branches.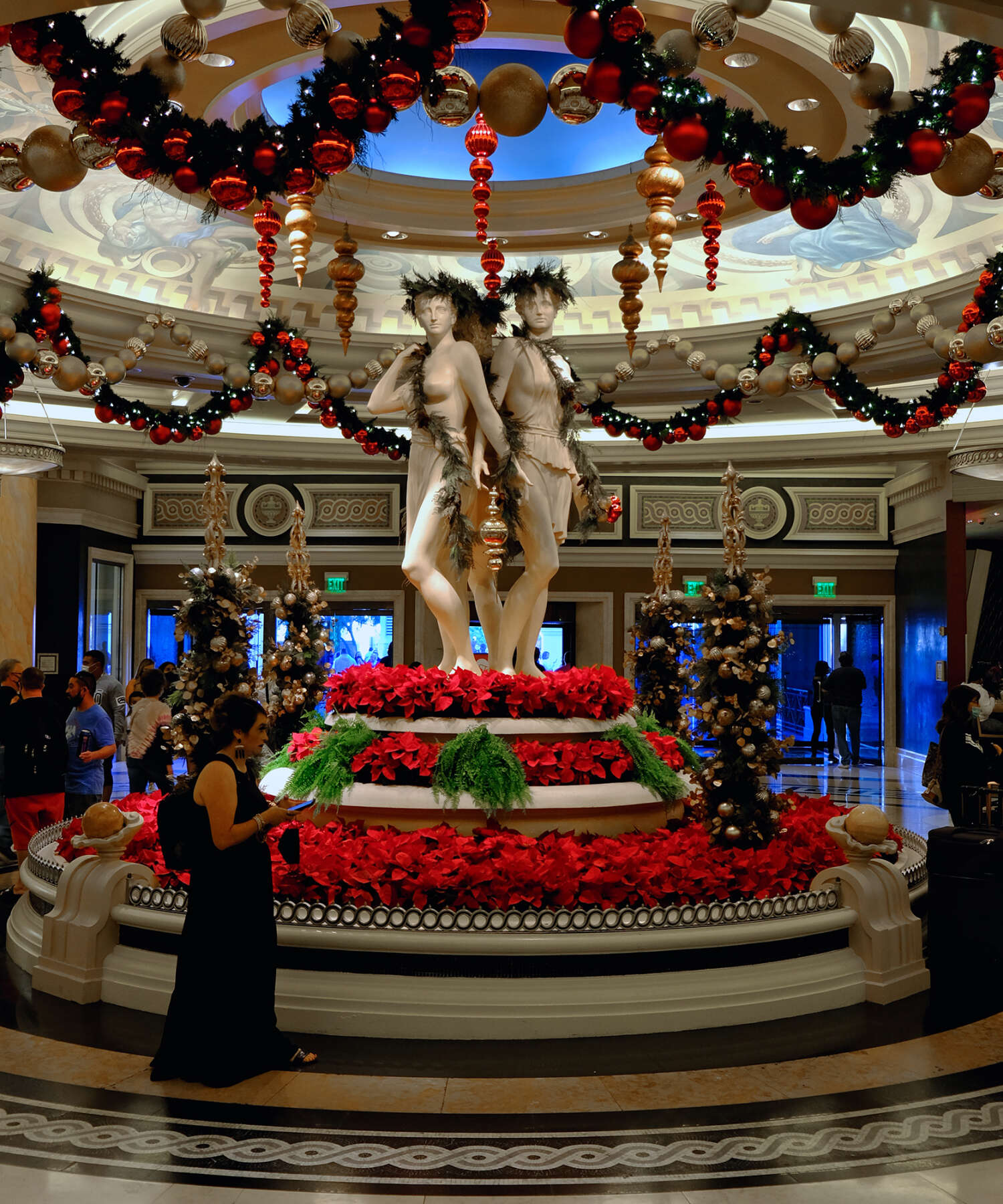 There are busts of great thinkers and commanders in the middle of a flower bed of an evergreen poinsettia bush: it is impossible to imagine such a sight in Italy, but here, where cheap McDonald's is sold in front of the hotel, where they can charge $ 5,000 per night, everything is possible. Therefore, there are modern copies of ancient art objects, carefully wrapped up.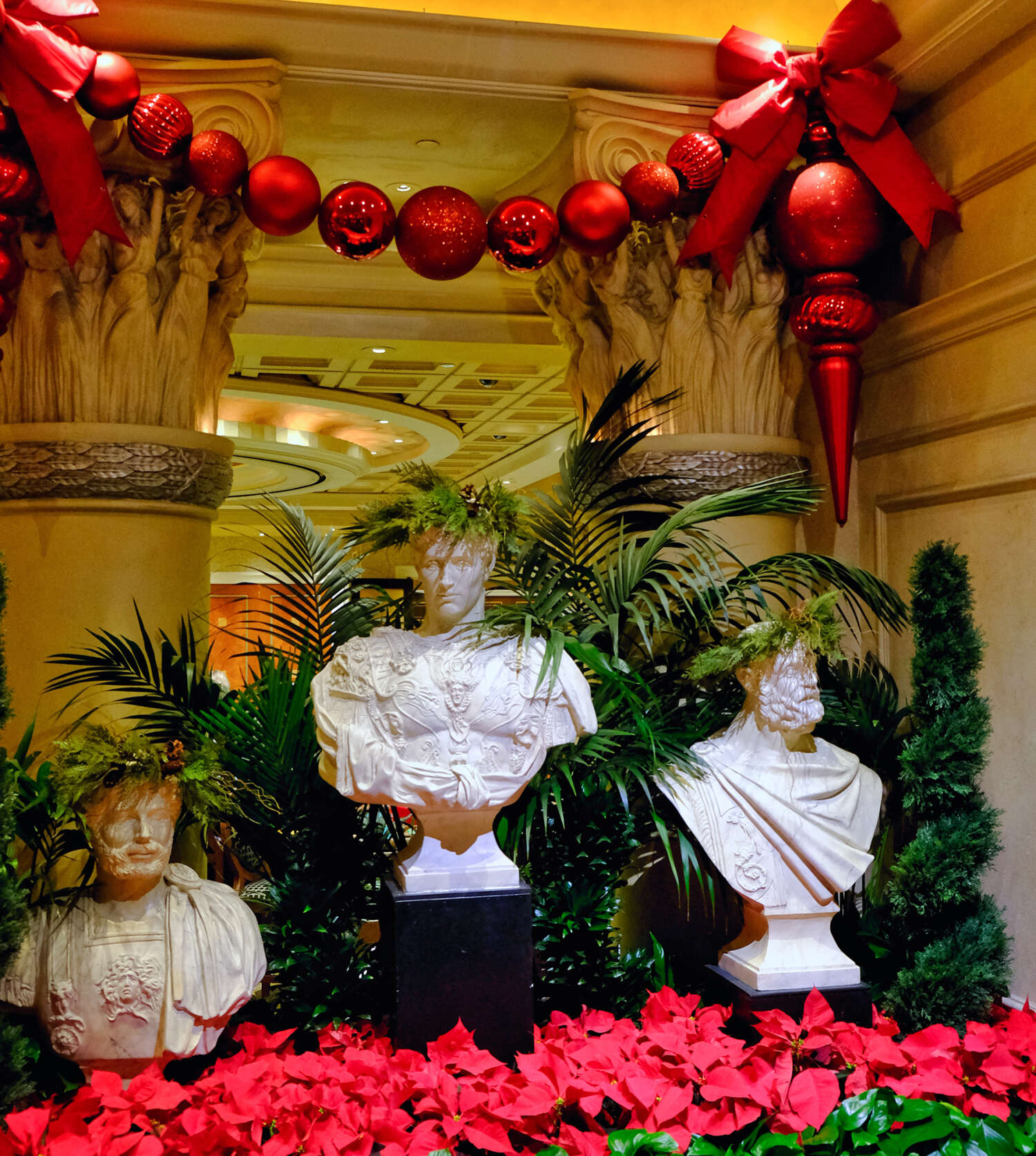 The fountain depicting the Three Graces is completely decorated with poinsettia, water is not visible, and wreaths are on the heads of Aglaia, Euphrosyne and Thalia. Once the pinnacle of creativity and craftsmanship, this sculpture has become a part of pop art. Despite the pandemic, the hotel has recently undergone extensive renovations, so that the lobby looks even more magnificent and impressive now.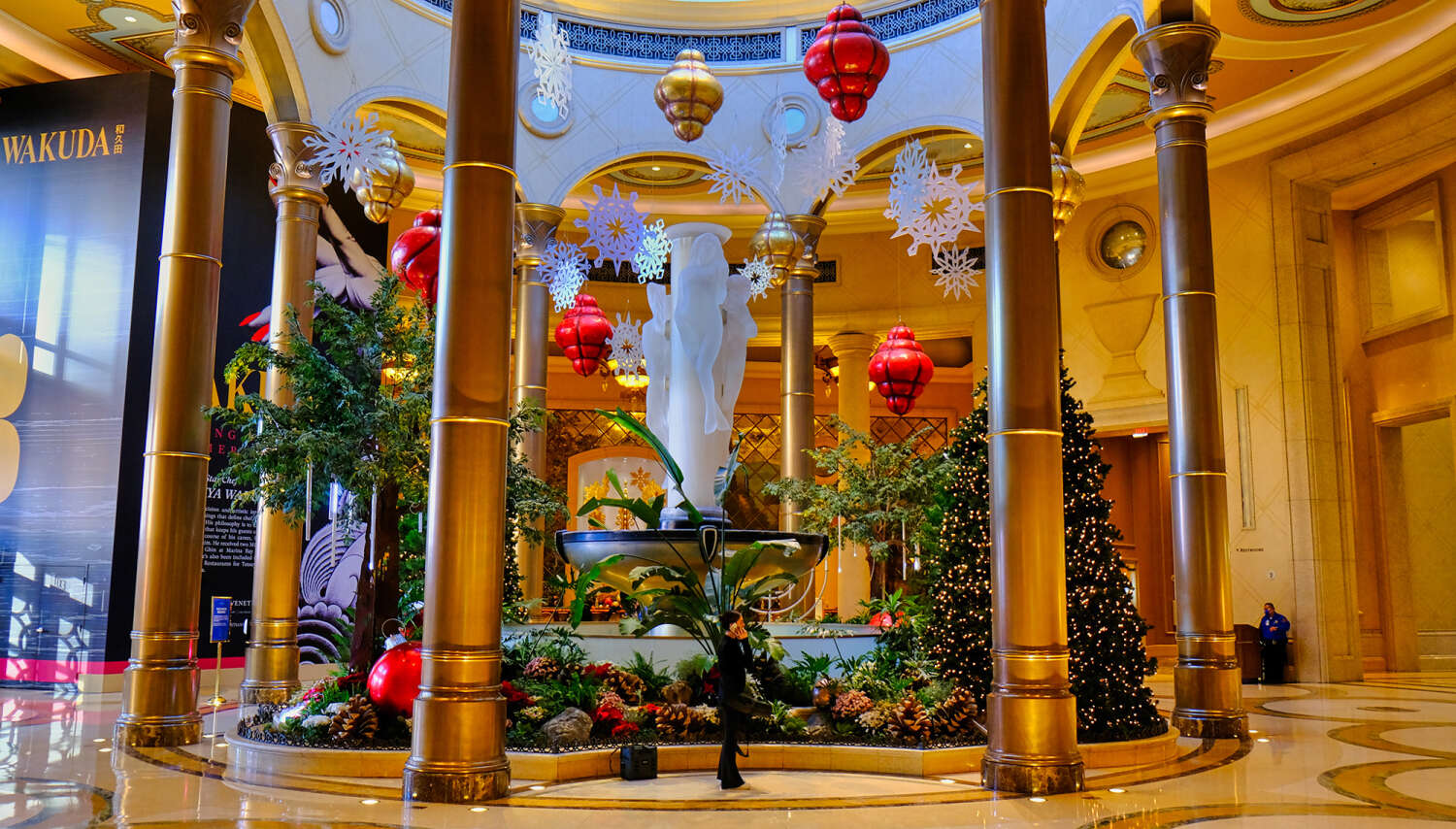 The hotel has many expensive and cheaper boutiques where you can walk for hours looking at fashionable clothes and jewelry. Since the desert climate is very hot and dry, the whole block of shops is built in a huge hangar, with air conditioning and artificial lighting. Tired of shopping, tourists relax in a cafe near the Fountain of the Gods.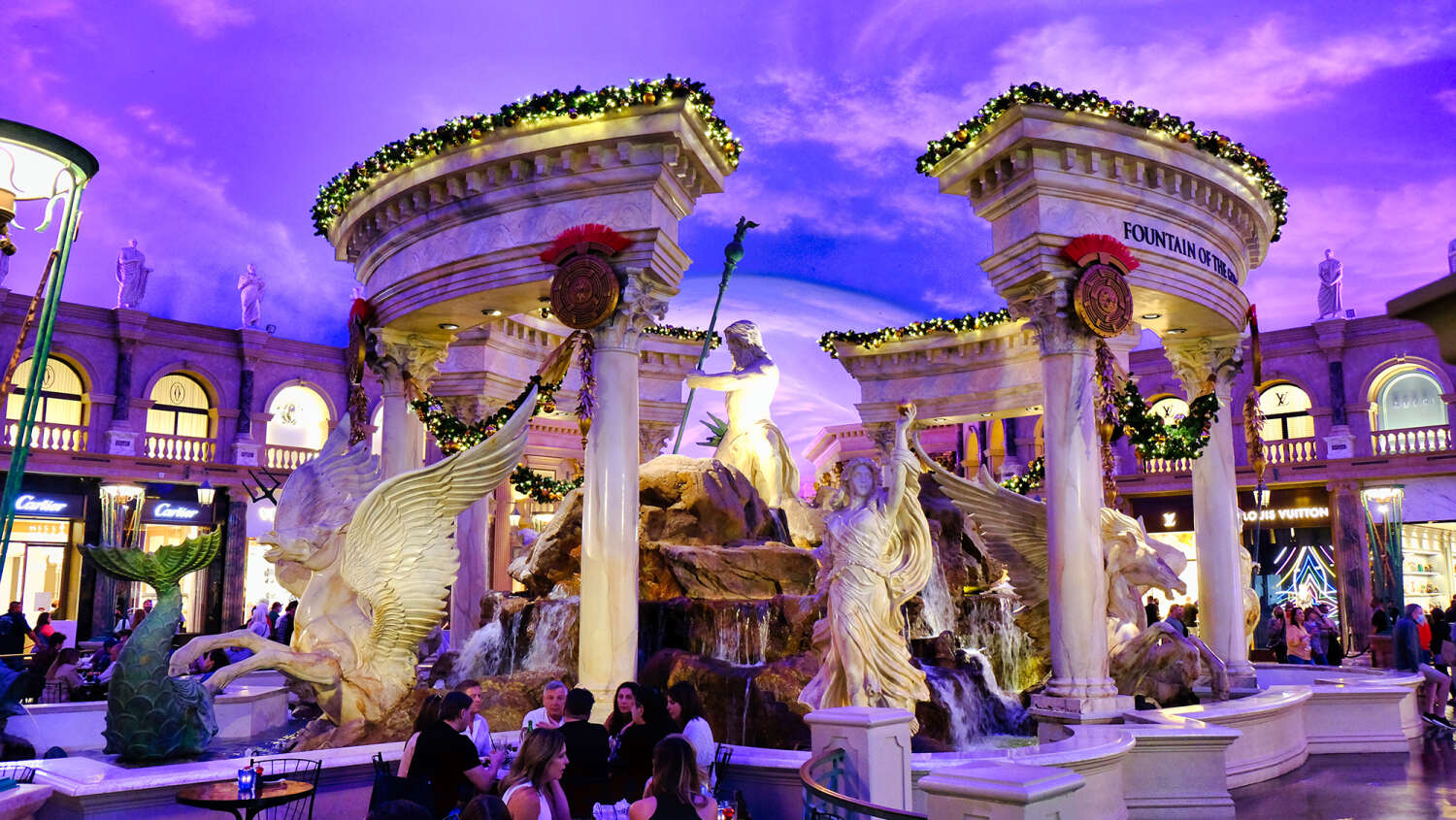 Pandemic is not a hindrance to entertainment and meetings
In the midst of the COVID-19 pandemic, most US citizens were vaccinated and boosted. Many people travel and try to see relatives and friends during the winter holidays. Service personnel are required to wear masks and many companies require employees to be vaccinated. Therefore, even musicians and dancers during the show can wear masks, trying to protect themselves and others from the dangerous virus.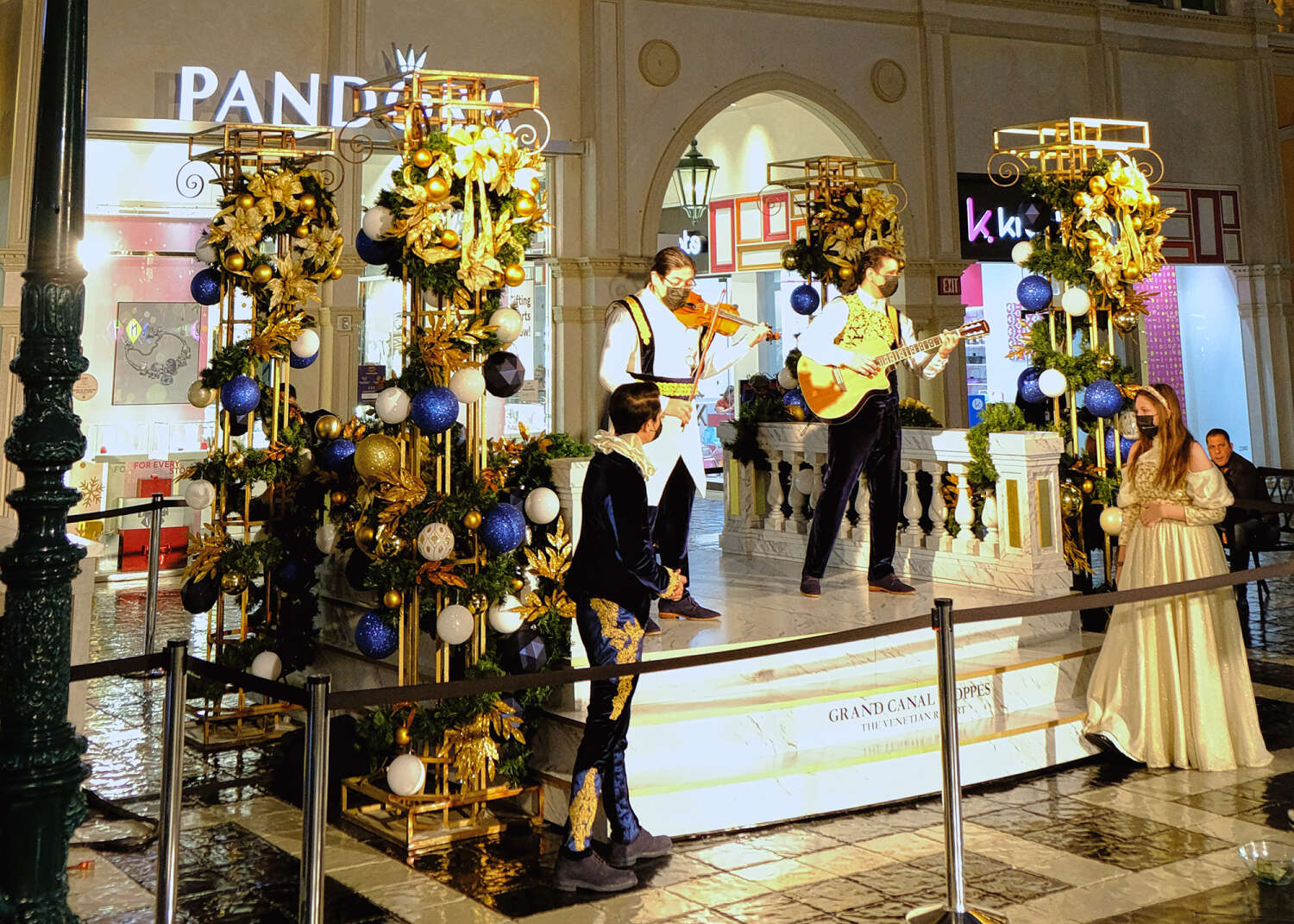 Las Vegas is a very compact city where you can live and gamble for weeks without leaving one street. Therefore, it is convenient to organize conferences and exhibitions here. There is also a clean and safe city train, so getting around the hotel, casino and concert venues is easy. No wonder that even on days when morbidity and mortality rates rise, people flock to this sleepy city. Gambling tables and gambling machines are often located right in hotel lobbies.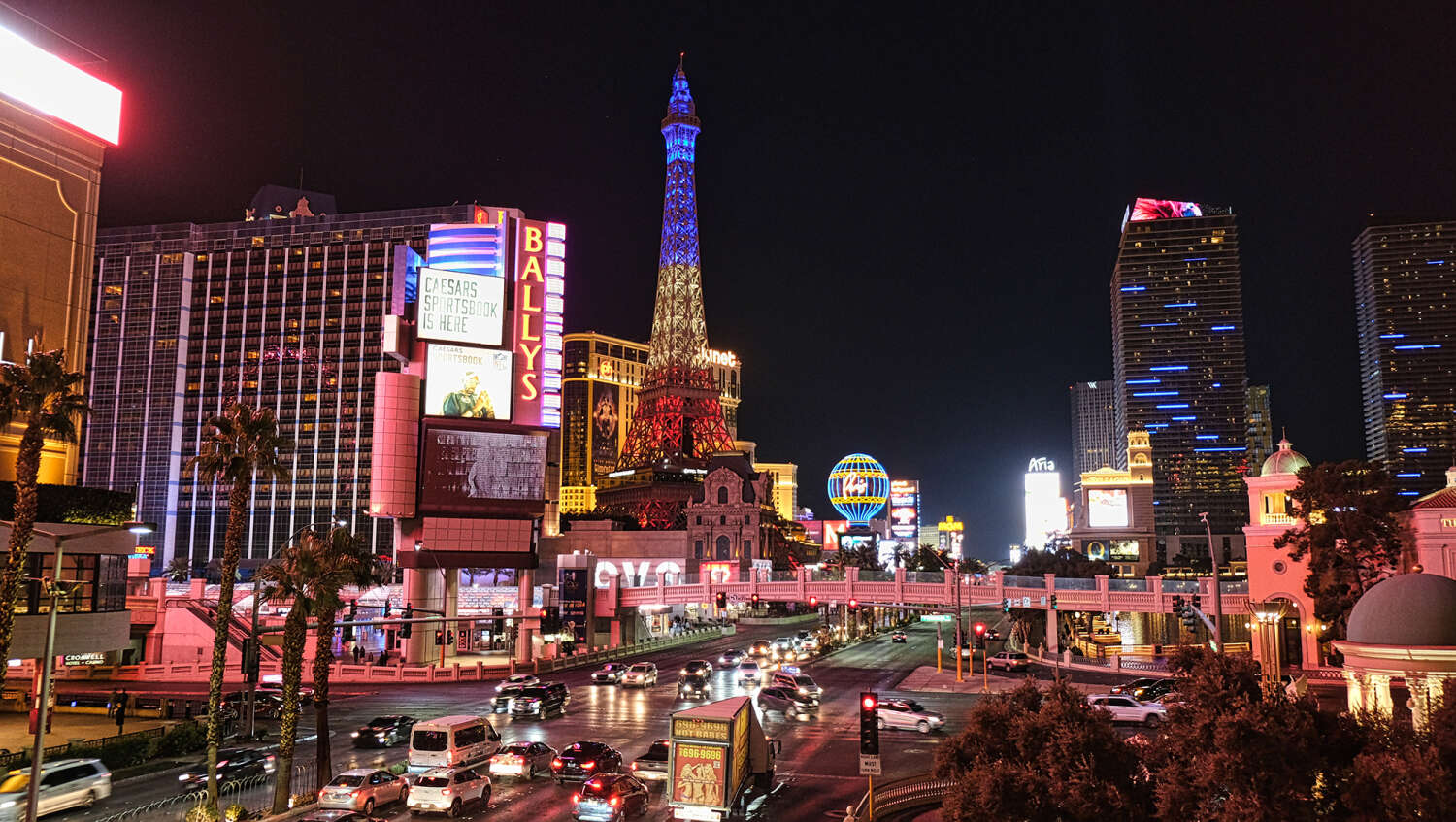 Attractive show-girls dressed in bright costumes with feathers and sequins walk down the streets. Their job is to be photographed for a small fee. So get ready to pay a modest price of $ 5-10 for an immodest burlesque photo!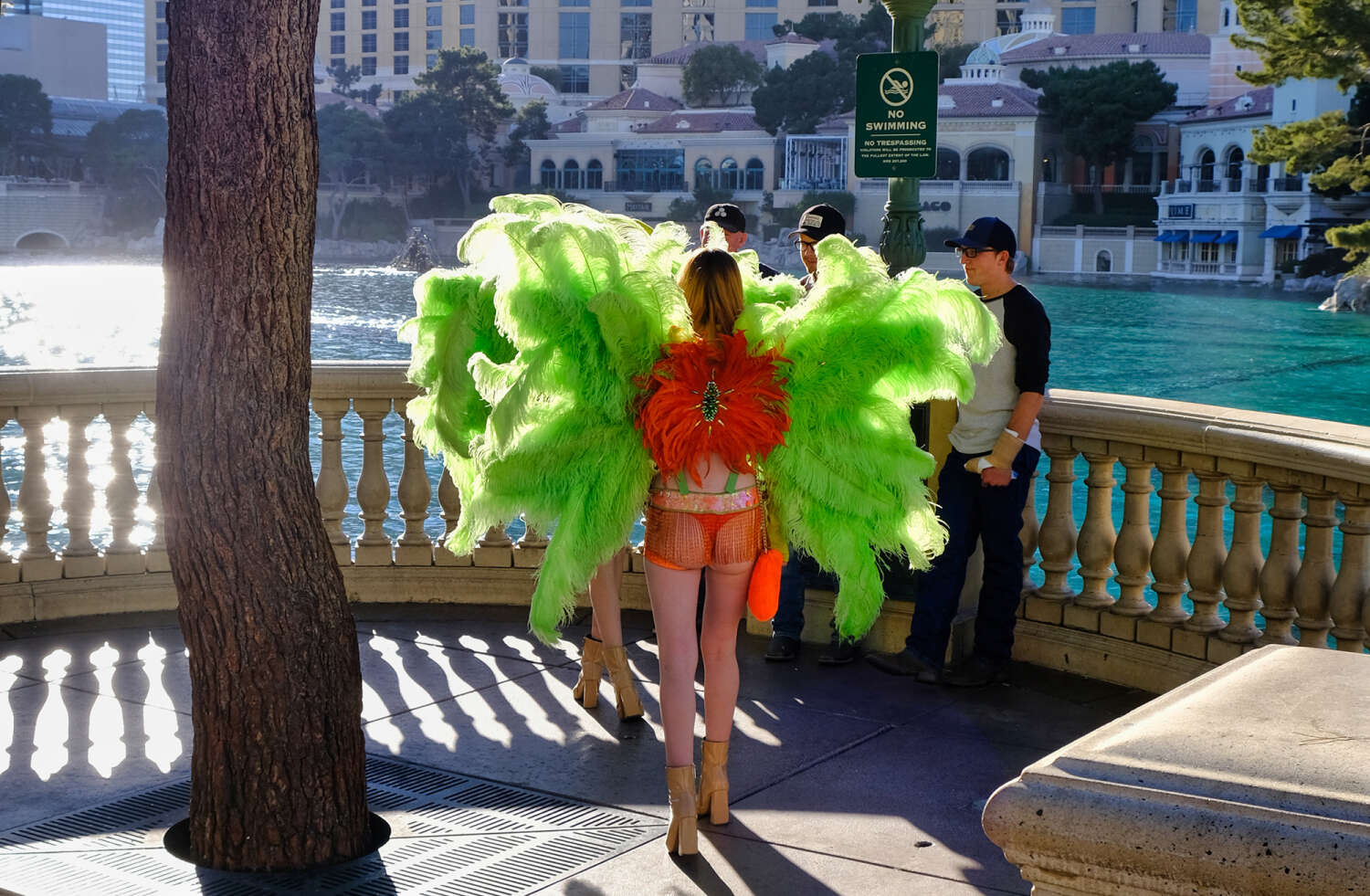 Las Vegas is getting prettier, safer and cleaner every year. Travel here is often combined with a trip to Los Angeles: the distance between cities is about five hours drive along an almost straight highway through the Mojave Desert. We at Travellizy are always ready to advise you on the best way to get to the USA, where the unforgettable and unique Las Vegas awaits you at any time of the year!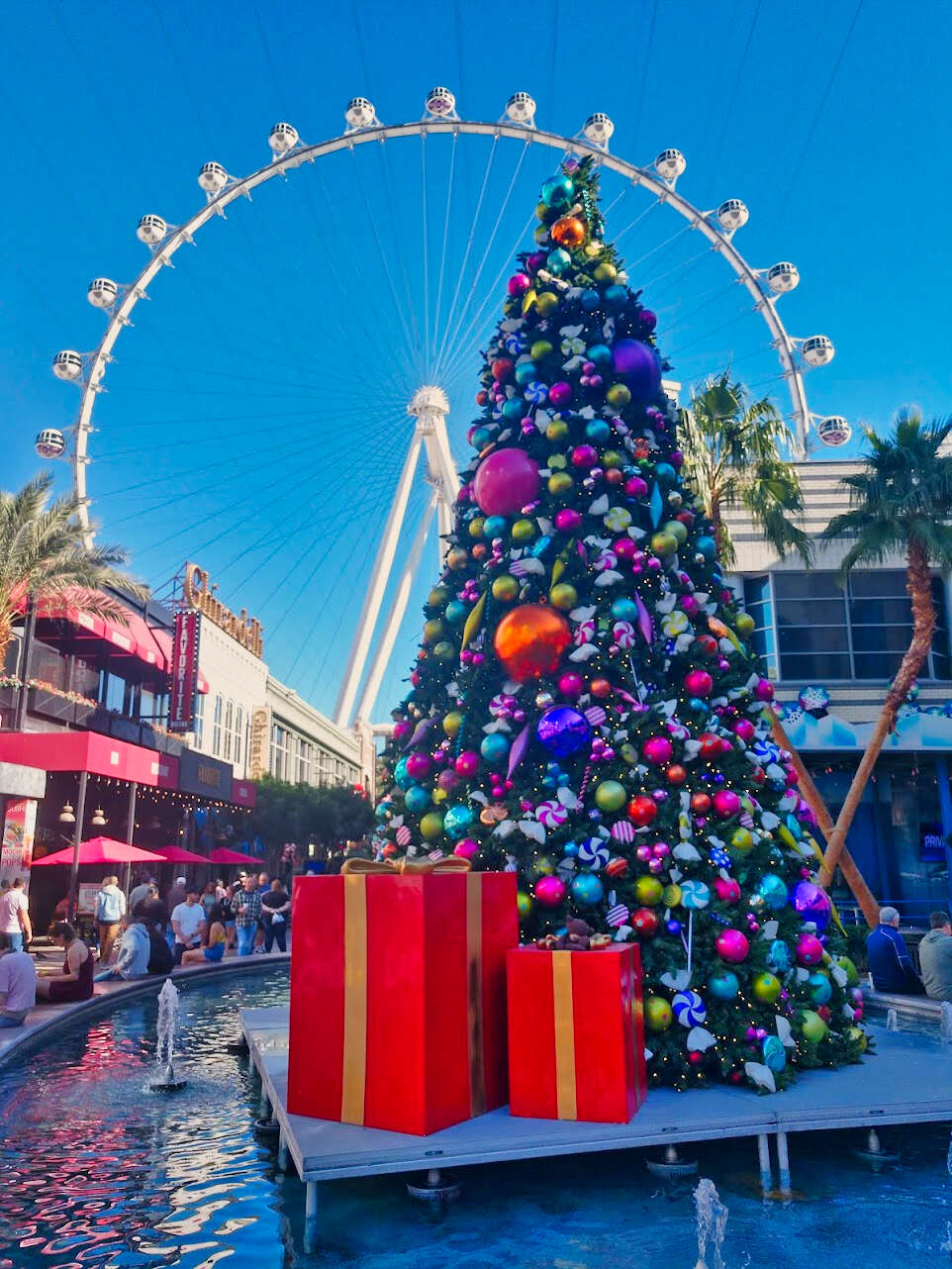 ✈️Choose flights to the USA right now at the best price✈️
Read more: 
➱ Reporting from the Residence of Santa Claus in Alaska
➱ Must-See Museums in San Francisco
➱ Death Valley: The Famous American Desert
➱ Orthodox Indian Cemetery: Report from Alaska
➱ Summer travel by car around Alaska on your own